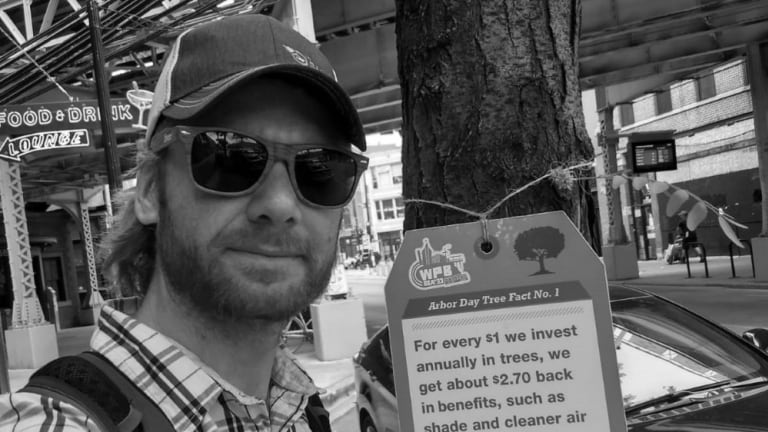 Stephen Cutter: Dream Chaser
What is a suitable job for a rebel in search of a cause? It may have taken some time but, for blockchain zealot Stephen Cutter, it turns out his path was always moving toward blockchain. When he finally intersected with the industry last year it was to propel him to the moon, minus a Lamborghini, but with an ethical ride-share project under his belt.
Cutter is the founder of The Wuji Foundation and that newly-launched ride-share project that connects communities, promotes sustainability, and enshrines driver equity principles. And that is only the tip of the iceberg. Cutter has sailed full-steam into blockchain and ramped up his vision-chasing over the past fifteen months and it is all about to fall into place,
Blockchain is a cornerstone of Cutter's philosophy despite only stumbling across it eighteen months ago. It was an 'aha' moment at a conference in San Francisco when he bumped into David Kam, founder of the Earth Dollar and member of the US Blockchain Association.
The event was a Future of Humanity Conference organised by Melinda Woolf, which identifies the people and technologies striving to create a positive impact on the future. Woolf took it upon herself to throw a Sustainable Development Goals (SDG) live event at the United Nations General Assembly which Cutter also got to attend. From there she made the right connections to bring together a series of events at The World Economic Forum (WEF) where she hosted the first Hackathon.
These global conferences not only introduced Cutter to blockchain, it opened myriad doors and networks which are transforming his sustainable projects.
"We
actually have many solutions to some of society's pressing problems, but we
have not put them into action," explains Cutter. "Scientists and innovators are
not politicians or business people. They like to find answers but are less
excited about the implementation of these solutions."
Cutter was always a rebel. As a kid he found other students gravitated to him, he possessed a pied piper attraction which could lead him into leadership or trouble.
"I
would say my high school teachers would all at the least remember me," he says
ruefully. "I never wanted to follow the crowd and frequently rebelled against
authority."
Asked
if his parents were the same or even his two siblings (an older sister and
brother) and he replies in the negative. "My parents are fairly normal and so
too are my siblings. One is an electrical engineer and the other a successful
real estate broker."
Originally, a conventional career beckoned. Cutter had a good swing and was a near scratch golfer. He was looking at pursuing professional golf and his father was very keen on this idea.
However, fate intervened and his girlfriend fell pregnant. He was only 19. So was she.
"I bought the pregnancy test – it was only $10 – and was on my way back to my girlfriend. On the way, my mom called and I sat by a frozen river near the campus to talk with her and saw a frozen ten dollar bill under the ice. It just seemed as though this was meant to be. There was some kind of message."
He had to abandon his college plans as he needed to be the breadwinner for his new family. He was excited and optimistic about his future and did not look back at the golf plans. He did not have time for golf now.
First, he worked in construction, then in real estate, and then started a pipeline supply business based in a remote part of the country where the nearest Walmart was a 45-minute drive away. This is an ironic time in his life in hindsight, working for the oil and gas industry. He was successful and set up his own business. However, he knew this wasn't for him and decided to relocate home to Chicago.
His sister, now a successful realtor, offered him and his family a home in the loft space in her large house. They moved in, she had a daughter the same age as his first son, and settled in well.
This was the first epiphany Cutter had. His sister had no cable, only Netflix. Before he would allow his two sons to watch cartoons, they would watch documentaries on the planet earth, food, space, and many different topics that would expand their awareness of this magical and beautiful world.
"I was consumed by what I watched. I could see the health of our environment was very precarious, that many systems in the US were not working – in healthcare, the prison system and education. I didn't want to be part of the problem, I wanted to be part of the solution."
Step
one was to become a vegetarian. Step two was to become an organic vegetable
gardener. Step three was to start reading.
"Like many young men I hadn't read a book since high school and so I went down to my local library. The philosophy of Pythagoras jumped out at me. I read it cover to cover, and not just about his famous theorem, I read about his view of the world where he asked his followers to denounce their wealth, become vegetarian and embrace art, music, and math.
"From there I devoured the other Greek philosophers – Plato and Socrates – and then I read all about an eclectic mix of leaders of this world – Da Vinci, Tesla, Einstein, and Benjamin Franklin – and wondered what would this planet have been like without them."
Here Cutter pauses. "And then I thought: if these men can make a difference to the world – why not me too?"
As Cutter was travelling down his path of self-awareness he was turned on to spirituality, meditation, yoga, consciousness, and neuroscience through a childhood friend who was setting off to become a monk.
"I could not be still knowing that a handful of people have a much wealth as half the earth's population. I became very angry. I could not be still."
His new awareness and passion for a better planet landed him at a job that entailed a lot of travel and he missed the home life and his family.
After a year of travel, he knew he had had enough. He desperately wanted to work with horticulture and, in particular, permaculture. Permaculture, a term coined by the Australian Bill Mollison in the late 70s is used to describe an integrated, ethical approach to designing healthy, productive, sustainable, planet-friendly systems where humankind works with nature rather than against it.
Cutter
wanted to teach permaculture to children but needed more experience so he spent
a year working with Liberty Gardens with Ron and Vicki Nowicki who were very
much in harmony with the earth and shared their wisdom and passion for this
miracle that is life.
"Every new flower, new sprout was celebrated as an event. I learned a lot from that experience. I learned really to appreciate nature and all it can provide and teach us."
When the seasonal work finished, Cutter – armed with a mini-van - decided to try working with Uber. This was to result in two outcomes. Firstly it allowed him a unique engagement opportunity with his passengers where he would debate sustainability, share positive energies, and even try and persuade them to vote for Bernie Sanders by selling hemp t-shirts and making buttons to give away.
Secondly, it made him see that while Uber had huge potential it was very much driven by commercialism with the drivers making little money. Moreover, he believes that autonomous transport is coming in the very near future and current Uber drivers will lose their income.
"I wanted to create a ride-share system where drivers were paid properly, where they could earn equity from the company and also even benefit directly from running targeted ads in their cars. And as the automated cars come in I wanted to ensure the current members of the ride-share project would benefit from those income streams."
Cutter put together a pitch deck and presented at a Venture Connect Network. One VC saw value in the idea but was unable to persuade his colleagues. Uber was too big, they said.
"However, it gave me confidence to pursue my plan. I asked over a thousand passengers in my Uber van what they thought about the idea. Again my Ubering was a unique engagement vehicle and I did a lot of market research while driving."
Six months later Cutter scraped together the money to attend the Future of Humanity Conference, organised by Melinda Woolf in San Francisco. At the two-day event he met the most amazing people of which more than half were using blockchain to solve problems.
He and Woolf clicked and she invited him to participate in a hackathon for the SDG's in Davos Switzerland at the World Economic Forum.
"I
had no idea what I was meant to create but I gathered a bunch of like-minded
people and we came up with a game idea: a game that involved tree planting but
on a digital platform – think Sim City. I wanted to educate people about
Natural Capital Accounting (NCA)."
This is where the idea for Wuji's NCA platform really took shape.
NCA is a principle recognized by the UN, World Bank, Natural Capital Coalition, Waves, Seea.org and many other universities that understand how the living eco-systems have monetary value.
For example, elements such as CO2 sequestered, Oxygen produced, soil retention, biodiversity created, and water purified are all metrics of value.
From the hackathon Cutter established the Wuji Foundation, a blockchain platform that tracks tree being planted and issues rewards for the regenerative earth action. He realised that he didn't need a game but could actually plant trees.
At the same time, he extended the idea so that every journey in the ride-share would generate a real tree.
"I also realised that I had been looking for partners in the wrong direction – VC funds are only interested in profit. By chance I met an amazing group called One Minnesota http://www.onemn.org/ This is a 20,000-strong organisation that includes city officials, universities, environmentalists, business people and leaders all looking to improve the lives of the people living in Minnesota.
'I showed them my vision for the ride-share and they loved it. We are launching in the city in the autumn. They have agreed to fund the beta development of the app. Melinda, with her SDG fund, is also committed to funding this project. And once up and running, 5% of all rides will be used to plant trees and other regenerative actions."
A year ago Cutter told his mother that he was giving up all the day jobs and was going to concentrate on pursuing his dreams. This resulted in her insisting he get a full seven-point personality test done. Cutter was courteous enough to humour his mother's request to be investigated. The test included an IQ test, memory test, Warshak, behavioral tendencies and more. His IQ was upwards of 140, his memory was one of the best the doctor has seen and he proved he had a notable ability to handle stress, anxiety, and depression. Her maternal intervention proved his point, not hers.
Since
then the pieces have been swiftly falling into place. Cutter has partnered with
David Kam. He is working with iamawakeandalive – a programme tapping into 10
million children and encouraging them to fund the planting of trees. Rather
than just learning to donate, the children could now receive a reward using
NCA. He is also partnering with other platforms run2play.com for exercise,
selmind.org for mediation and give.si to teach the children the power of
giving.
He has formed a hemp alliance and points to this crop being one of the most sustainable, powerful and highly rewarding of any crop. Not only will it yield incredible value, the crop can also be used in clothing, medicines, plastics, construction materials, and much more. Hemp can create over 20,000 different products and is one of the best crops for regenerative actions and NCA.
He is now speaking at conferences about his vision. From the last one at glappitnova.com he was invited to join a fully-funded Smart City project in Norway and to lecture and intern students out of Columbia University. He is being featured in Woolf's new TV show and he works to ensure blockchain and cryptocurrencies will be onboarded for mass adoption towards sustainable and humanitarian actions.
"My
skill is in taking ideas and building networks. I was right to chase my dream
but it is happening even faster than I could imagine.
"I have learned, through my journey, to lead with curiosity and to hone in on my talents, combine them with my passions and then find a way they can give back to the world. This, I feel, is what can provide lasting motivation and happiness."