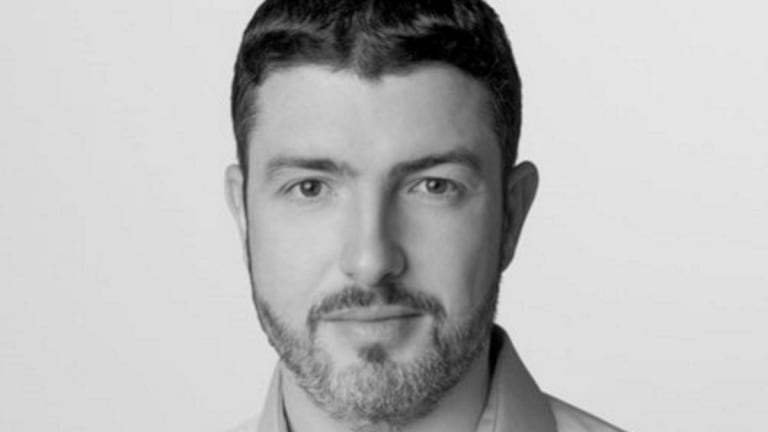 Stephen Brett Talks Gamification in Music
Stephen Brett moved lock stock and barrel to New York to start again, armed with his laptop, clothes, and his Harry Potter books. Learn how his perseverance is creating a major game changer in the music business. Music to my ears…
Stephen Brett was born with a guitar in his hand, almost. From a very early age, music fascinated him and as soon as he was able to get his hands on a guitar he was strumming. Now, 26 years later and living in the States he still plays the guitar on a daily basis and he has turned his love of music into his business. If you love what you are doing then you never work a day in your life, except perhaps this path has not been the simplest and includes two near homeless stints.
Right now he runs 500 Designs, a web design business, with his wife Vivienne. They have a number of high-profile fortune 100 clients including a number of household names. And it is this successful business that is subsidising his blockchain project Inmusik, which he believes will far surpass his design business very quickly.
Inmusik is an ecosystem based on a blockchain database that supports the music industry, streaming, and social interaction, with cryptocurrency rewards and a financial framework on which future music industry applications can be built.
But before we get to the current blockchain business, we need to go back to Stephen's earlier career. As he offers himself, he was a drop out at college. "I lasted two years in GMIT studying electronics but it wasn't for me.
"Instead I started gigging around Dublin in the boom period. I got a paid a fortune and, rather than investing this money into property like all my friends seemed to be doing, I used it to equip a recording studio."
The recording studio ran for seven years with Stephen acting as owner, producer, and session musician. In all, some 1700 songs were recorded in the FastLane Studios and some of them were even quite high profile including a number of X Factor candidates. "I made good money in the studio and got to do what I wanted."
But for all that Stephen is a musician, he is also an entrepreneur. He constantly looks at things and wonders if they could be done in an alternative fashion. So even before blockchain appeared on his radar, he started looking at the issue of maintaining copyright for artists in an increasingly digital world.
The result was Emeraz, which ended up as the world's most popular music collaboration site. Prior to this platform, the route to maintaining IP was a last-century approach of sending a registered letter to oneself, dated and with the original content inside the envelope. On Emeraz, artists were able to upload their music and have it time-stamped and verified online.
"I manage to find a few investors who put in almost €180,000 which was a nice start. We also had a strong community, but I could not figure out how to monetise it.
"So I had a tough decision to make – did I keep on trying to rescue Emeraz, or would I go to America and see if I could start fresh and raise big money? This was not going to happen in Ireland."
And so like many compatriots before him, Stephen set off for the West Coast. He sold his recording studio, his car, and all his earthly possessions and, armed with just his laptop, his favourite books, and his clothes, he arrived in California with his then partner.
Asked why, as a digital native, he carried heavy books in his luggage, he answers that he has a weird affinity with books. When asked which ones, although he is on the telephone, I sense him get up and look at the bookcase in his office where of course all seven books are still there. They range from Think and Get Rich by Napoleon Hill to the Happiness Book and the Harry Potter series, which seems rather appropriate.
Stephen landed in San Francisco and stayed initially in AirBnBs. "I had enough money to last for the year but I wanted to get Inmusik off the ground. We were very lucky initially as I managed to secure a $7million deal with the Times Group in India. This was not hard cash but advertising spend. We still needed another $2million if I was to build up the team."
Stephen was in start-up. He and his girlfriend worked long days. The Inmusik site attracted attention and soon numbered one million users. But his money was running out.
"Everything was going great on the development of the community but I could not find investors. It was looking as though we might have to return to Ireland – I literally was running out of time."
Then, in what seemed like a stroke of pure luck, a Los Angeles business offered to acquire Inmusik for a nice sum. "It was the eleventh hour and I could not believe our good fortune," he remembers.
Sadly his first relationship had fallen by the wayside in no small part due to the stresses. He moved with another team member, a talented designer, to Los Angeles. "At first it was wonderful, we had offices, we had salaries and we really believed in our project."
However, two months in and the salaries stopped. Six months in and Stephen knew the other company was in serious financial trouble and, despite the frequent assurances about the bouncing cheques, it was not going to work.
"At this stage I was again looking homelessness in the face. I had one ace in my sleeve, however: Vivienne and I decided to apply ourselves to something we were both very strong at – web and app design."
The team went contracting and found work. Starting on one small contract on which they strived to do an excellent job. Through referral it lead to another and another. As their reputation grew so too did the size of the contacts and the size of the clients.
Blockchain had yet to enter his life. Stephen and his partner moved back to Ireland during a cold and wet in January and there wasn't much to do, he remembers.
"Vivienne and myself were sitting down one day over dinner and suddenly we got thinking about our business," he says. "We had also got a number of blockchain clients and we had an 'aha' moment when we realised blockchain was the solution to our Inmusik platform – the thing that will make it work."
Within three days they had written a white paper and shortly afterwards pulled together a strong advisory team. They are now in the middle of their pre-sale which is going well.
"We are in discussion with the major labels and have a large number of independents already on board. The journey may have started from a music collaboration platform, but now with blockchain we are revolutionising the way money is made in music – creating an even bigger disruption."
Inmusik allows for streaming of music directly from the site with fans paying for subscriptions or individual songs in either fiat or the platform's coin, Sound.
Using cryptocurrency and the magic of micro-payments within the Inmusik ecosystem, Stephen has broken down the income into three pools. The majority (let's say 70%) goes into the artists' pool, a portion is reserved for the community and, finally, there is a pool for referrals.
"However, the clever and disruptive bit is how fans can identify songs they like – becoming an early talent scout – and if they are successful, then they will earn lifetime royalties based on an algorithm of when they identified the winning song and how much coin they punted in it. People coming in later or with less coin will earn less ongoing royalties.
"It creates a unique system where fans can support their artists and also benefit from their success. Fans will have an opportunity to have a stake in their chosen artist and be rewarded for that faith."
It is not just labels that are excited, so too are artists. Stephen has been speaking with a number of artists who are looking at launching content on Inmusik first, before adding to other streaming platforms. "Crowdfunding to produce music is tough. This is an advancement of that idea that allows the fans to really be part of the process and the success. It's combining game theory with music – twin passions.
"And the artists in turn can reward their fans further by setting up VIP events and other exclusive offers for early 'Voters'. Imagine if you can not only love an artist but be able to 'invest' in them and avail of a lifetime of future earnings. How cool is that?"
I'll finish with what it says on the white paper because we need to give a nod to the technology behind this exciting ecosystem.
"The platform is a fusion of concepts from music streaming and social media which includes community curation, verification and transparent payouts to both content owners and contributing listeners/fans. To enable a fair market economy for an industry built on all types of music assets requires a system capable of easily accounting every user's contribution. Inmusik's Token is the first cryptocurrency that attempts to accurately and transparently enable an industry to thrive in this new digital age while rewarding its users for their subjective contributions to the ecosystem and enabling a host of applications not yet imagined.
There you have it. Imagine telling your grandchildren that not only did you spot a major artist's talent from the early days that you also earn residual income from the sale of their records – for a lifetime. That would definitely make you a super cool grandparent.
You can find out more about Stephen and connect with him on LinkedIn here.