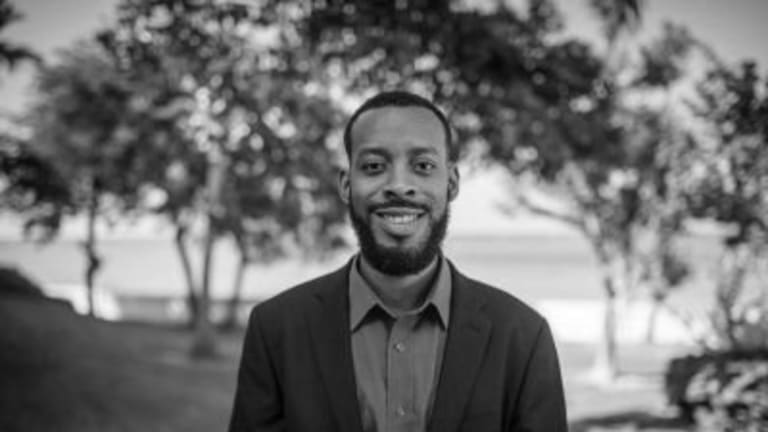 Stefen Deleveaux - It's always sunny in the Bahamas
How can a young man on a gap year make a difference? Check out this interview with Stefen from the Bahamas who is dreaming big for the blockchain in the Caribbean.
How can a young man on a gap year make a difference? Check out this interview with Stefen from the Bahamas who is dreaming big for the blockchain in the Caribbean.
Stefen sums up small-town life exactly – 'People know who your parents are' and with that statement sums up the accountability bestowed on young people in a small community. It can modify in positive ways the behaviour of young people growing up but it can also restrict risk-taking in other ways, so it is not always a blessing.
Stefen was born and bred in the Bahamas. The only child of bankers he denies he was too lonely growing up – he had dozens of cousins instead.
He attended school all the way to the end of high school on the island before moving to Hartwick College in Upstate New York as an economics major. A liberal arts school, it also allowed him the opportunity to study politics. He adds that he was not so much interested in politics with a capital P but more the role of economic policy and the impact of public policy on economics.
Moving to Upstate New York for college was ultimately difficult for Stefen – less for the studies and more for the environment.
"It was extremely rural and extremely cold. We were literally in the middle of nowhere."
When Stefen returned home he was still less than interested in the traditional form of financial jobs on offer. "Most of the middle class ends up in banking but I just found it wasn't my passion."
Eventually, there was an opportunity to join the Inter-American Development Bank or the IDB as it is known. Stefen spent a year and a half here and enjoyed the less traditional setup. IDB is a multilateral bank with offices across the Caribbean and Latin America. Unlike commercial banks, much of its client base was the government and the IDB funded public interest projects, typically offering interest packages at significantly lower rates.
When his contract there ended, at age 26, he decided to take a year off.
"The whole year wasn't on purpose – I took some time out to figure out what I really wanted to do and then, bang, it was twelve months later."
Part of what occupied Stefen was his involvement with Global Shapers. I had not heard of this organisation but it is an offshoot of the World Economic Forum, better known as the organisation behind the annual financial Davos Conference in Switzerland.
Stefen explains: "Global Shapers was set up to influence leaders. If you think of it, most governments are run almost exclusively by older folk and as a result, young people can feel very disenfranchised. However, the intention of Global Shapers is to bring young people together, globally, so they can find their voice and be heard."
Stefen went to a Global Shapers summit in Geneva and literally found his tribe. "I met some incredible people who inspired me to no end. I met people who wanted to make a difference and were not held back by fear or inertia."
It was at this point Stefen made the point about growing up in a small community. "Everyone knows everyone else. It is hard to be free or outspoken or radical in that environment."
The summit really liberated Stefen and he felt he had found his voice. He travelled afterwards all over the Caribbean. He was surprised at how similar the people were in the different countries of the Caribbean but he also noticed a lack of unity in the region.
This was all happening between 2016 and 2017, Stefen's gap year. He travelled to Jamaica to attend Tech Beach, the biggest tech conference in the region. The founder of the conference was also a global shaper and so Stefen knew he was right to attend.
What he did discover was that the Bahamas was lacking in tech representation. There were tech leaders from Jamaica, Trinidad and Barbados but none from his native island – at the same time Stefen fell head over heels in love with the entire tech world.
This enthusiasm had long been brewing from his involvement in an advocacy group called 'Shift the Culture' that he helped start, which has as its aim to assist entrepreneurs and tech startups.
"Everyone I met at the conference was equally crazy about tech. There were no egos just people wanting to engage with, and discuss new technologies. I knew I had found my passion."
Stefen had already discovered blockchain in 2015. It hadn't fully taken over him yet but he knew it was important technology. Meanwhile, he was looking for a job that somewhat aligned his passion for tech with entrepreneurship.
"I was offered a role with the John Templeton Religion Trust. It's a great foundation that focuses on research-based grants. So I was happy to work in this environment."
However, Stefen still had to find a way to live his passion and, fuelled by many late night conversations with his friends in the Caribbean blockchain space, he decided to set up the Caribbean Blockchain Alliance.
That was in November 2017 and initially, there were no roles assigned – again wanting to reflect the lack of hierarchy that Stefen so enjoyed in much of the tech world.
"We wanted people to connect and network. We set it up with an open agenda."
There are two main thrusts to the Caribbean Blockchain Alliance. The first is to advocate for blockchain throughout the Caribbean. "There are many small countries and governments in this region and they are all looking at blockchain in different ways. I am really keen to pull the region together and develop a strong regional policy – a shared policy."
The second thrust is to promote education in the blockchain region. "We are running meetups and developing educational courses to upskill interested people."
Stefen has partnered with the IDB, and Blockgeeks in Canada, to develop the software courses. Already a pilot scheme has been developed with great success and Stefen hopes to create more over time. They also hope to run hackathons in Nassau this year to generate more interest.
"The Caribbean Blockchain Alliance will soon become more formalized, but that is out of necessity. At the end of the day, I just want to help the whole region move forward."
It looks very sunny for blockchain in the Caribbean.