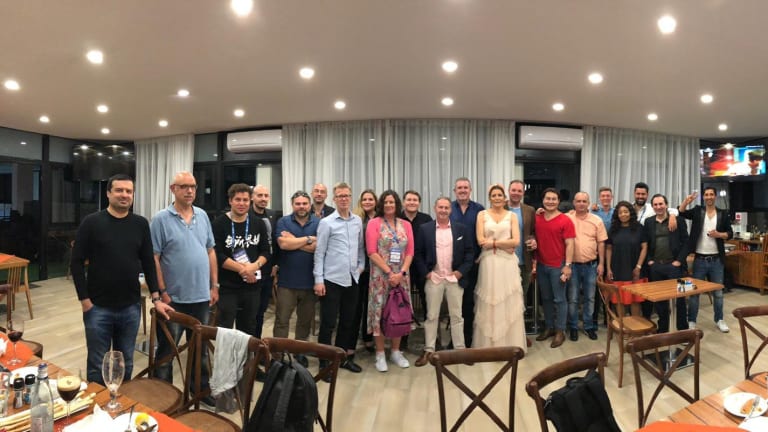 Special report from Malta AI and Blockchain Summit - Jillian Godsil
Last week I was invited by conference organiser Eman Pulis to attend as a VIP guest and awards judge at the 2nd Malta AI and Blockchain Summit.  With the help of my sponsor monart.art and CEO Malo Girod de lÁin - I said yes very happily.
Malta – I'm coming back (I left too soon)
Last week I was invited by conference organiser Eman Pulis to attend as a VIP guest and awards judge at the 2nd Malta AI and Blockchain Summit. With the help of my sponsor monart.art and CEO Malo Girod de lÁin - I said yes very happily.
This is a very polished, sophisticated event. We had loads of Archdukes, Prime Ministers and Archbishops from the traditional world, and then we had lots of blockchain archdukes and shakers from the new world such as Roger Ver, Tone Vays, Vinay Gupta, David Carvalho, Clara Florey, Jonathan DeCarteret, Dinis Guarda, Bruce Jeong, Paul Scott, Frazer Brown, Rob Charles, Steve Good, Jorge Sebastiao, David Gold, Juliet Annerino, Brock Pierce and Eloisa Marchesoni. And those were only some of the people I met – actually I'd need a roll call to list out the great and good in attendance. (and btw I am sure to have left our your name so drop an email and I'll go back and edit retrospectively! )
Dublin to Malta has an infrequent flight schedule so I was forced to arrive a day early. This was a pleasant enforcement as I got to sit out in the warm sun for an hour or two on my first day in Malta. However, the return trip was not so pleasant as I had to leave early, travel via Frankfurt, almost was late for a connecting flight back to Dublin and definitely missed out on some awesome parties. I had to leave early as I needed to be in Dublin for my popular East Coast FM's Wicklow this Week show on Saturday morning. I say popular as East Coast FM is statistically the most popular show in Wicklow and I shall piggy-back on that accolade with impunity.
Wednesday was the first day in Malta. I was hanging out with my new bestie Malo and talking lots of art. Monart.art is a fascinating project aiming to disrupt the art industry worth in excess of $3 trillion. That's a lot of trillions. The project will also act as a marketplace for people to buy or sell art, from up and coming artists or release equity in masters through tokenisation. The real beauty of the project (which has other rivals in this space) is that both Malo and his founding partner over in Beijing are experienced gallery owners and managers. Currently going through private sale, the MVP is being launched in June along with the public offering. Watch this space (monart.art)
Speaking of art, I had the pleasure of sitting next to Nitin Nanda, a solicitor with a social conscience, at the Gala Awards dinner. In the artworld, while not a massive collector like some of his friends, he likes to invest in living artists. He put his money where his mouth was when he purchased one of the auction paintings at the dinner. It was very exciting sitting next to an auction bidder – and even more exciting when he got his first painting. He tried for another but a friend was also bidding and he let him win that piece. "It's a good combination – art and charity," he said.
Nitin has a number of interesting projects as he is a social entrepreneur. One of these is fostering good news stories. We both agreed that the dominance of bad news impacts our society. Why should some awful killing be more important than some wonderful saving? Of this more later.
I also bumped into the Coin Rivet lads at the event – Ross, Ollie, Jordan and Billy. They were working hard for the two days (they paid me to say that - Darren Parkin, editor) interviewing lots of characters. They even interviewed me on camera too. I pointed out that they needed women of a certain age to balance out their interview demographics and as a fellow writer for Coin Rivet they could not disagree.
The setting for the Summit was the Hilton in St Julian. It was very impressive; there was a huge buzz and lots of mingling. There were also a lot of professional women – more than I have witnessed at other events which was very welcome.
There was an evening welcome drinks where I bumped into good friend Steve Good of Coin Chat fame. Then a drinks reception of Hugh Boss where I met the wonderful Juliet Annerino; jazz singer and blockchain advocate.
That evening, we were invited to a meal hosted by Bruce Jeong of Tokenncoin. It was an eclectic mix of people organised by Clara. Her team were there: Paul, Frazer and of course Gio. Peter Kristensen, fellow advisor and colleague, sat next to me. Vinay Gupta was there with his William Shatner collector's Star Trek toy (which never left his hand all conference). Jonathan DeCarteret bounced up and explained about Master nodes. The founders of Naoris, David Carvalho and Fernando Martinho were up the far end of the table (with some other folks to whom I did not speak). I met Graham Doggart who resembles a younger version of my rector back in Ireland. We google the rector's picture and he agreed – albeit with a bit of an age gap.
And we all ate pizza because it was Bitcoin Pizza Day, May 22.
We were forced to social again on Thursday night at the Gala Awards dinner. These conferences are tough going. Marc Taverner was also at my table – a fellow blockleader and interviewed here before. I also met Bette Midler lookalike and growth hacker extraordinaire Elosia Marchesoni. I won't tell you what age she is because you will not believe me.
EuropeChain won an award as did Holochain – this was pretty impressive with David being a co founder here and Roman (co founder of Europechain) also featured in these pages. We sure can pick winners!
I met Brock Pierce and Roger Ver at the dinner – it was a good night.
Friday I felt I was on steroids. I had to prep for my radio show and check out of my hotel room by 10am. I had a taxi booked for 3pm to take me to the airport. I whizzed around the show chatting to folks before heading off in the bright sunshine of a Maltese afternoon.
As I mentioned – I nearly didn't make it home in time. I would have been doubly hacked as I was by now getting videos from different whatsapp groups of cruises, pool parties, boxing matches. I know I left too early and I am certainly coming back soon (please and thank you Eman).