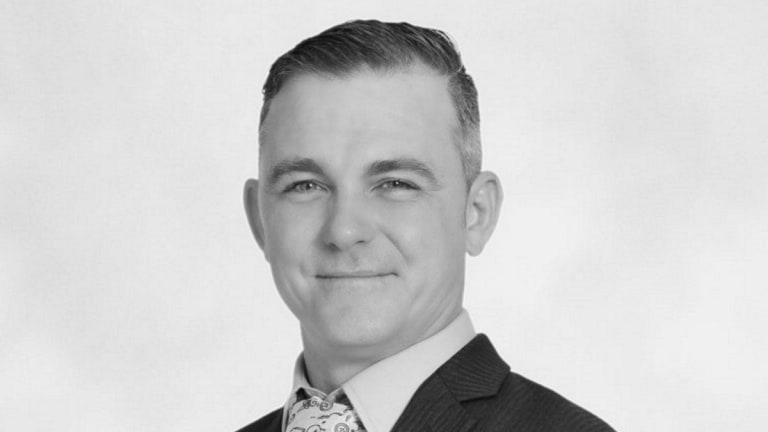 Shane McQuillan: Blockchain is Like a Drug
Shane McQuillan hardly ever sleeps and is rarely off his phone. Even when he enjoys a quiet moment of fishing by himself, he sets up two laptops to keep in touch. Be prepared to be exhausted in this roller coaster ride as he talks Jillian Godsil through why he is striving for trust and transparency in the financial sector.
There are a lot of very busy people in the blockchain space. Conference calls, emails, and communication all happen across many time zones, countries, and industries. Blockchain is like a drug. It doesn't matter why, where, how, and what time but there is always something going on. Shane is one man on this ride, though he doesn't take drugs, not even alcohol. He doesn't have time to be distracted from blockchain.
An Irish man from the wrong side of the tracks – at least this is how he describes himself. His North Dublin accent has not lessened over the years of his exile. If anything, the accent may be more pronounced and he punctures every sentence with a robust laugh that shouts of late night speakeasies, only not for prohibited alcohol but rather the equally addictive blockchain.
McQuillan lives in Thailand where he has been based for more than a decade, where he married a local Thai woman and has two children. While it is normal for parents of young children not to get much sleep, he doesn't bother with such comforts anyway.
"I get between two and three hours sleep a night and then I am up with a cup of coffee at my laptop checking emails, news or social media. If my phone pings during the night then I wake up and look at it."
It is somewhat exhausting to talk with him. He jumps from subject to subject. He knows a lot of people and he has some pretty strong opinions on other people and behaviours in this Wild West. In fact, it was one such incident that led him to think about his current labour of love, Trusted.
"After I first moved to Thailand I was interested in blockchain and cryptocurrencies and joined online groups where people were chatting and helping each other. But it was in a group on Linkedin that the idea for Trusted was born. In one group, a so-called expert managed to extract $30,000 from another member who was looking for project funding and ran off with it.
 "That made me very mad and I wanted to do something that would stop fraud online."
The result is TrustedIn Trading, a project that has been under progress for the past three and a half years and is now a well-developed mature platform but that will never be finished: "There will always be new developments and changes," and which plans to create a safe platform for people to do financial activities safely. Its tag-line is building trust in the financial sector one node at a time.
"Our primary concept is based on the development of a social validation process – using biometrics – on which both corporate and individual users are validated in a complete and certain process.
"We want to be the Linkedin of Finance and Crypto, but in a secure way. It's a social platform where the players, be they individuals or companies, are validated and you know it is safe to do business with them, where projects can be launched after full due diligence"
Trust is at the heart of McQuillan's business ethics. He has a strong career in finance across Europe before coming to Thailand, but one stint in Denmark saw his business ripped off. He doesn't want to talk about it and refuses to go into any detail but it still smarts. And not without reason, for who likes to be the subject of fraud?
He says of his career that many times people have literally walked into his life and changed his direction. When he first moved to London as a young man he met an investment banker in a pub. They struck up a conversation and before he knew it he had been hired as an account manager at a small brokerage. His gift of the gab granted him great success and soon he was spotted by another investment banker who head-hunted him to work for a leading fintech operating an online trading platform, the first of its kind in the world.
The company was Midas which went on to become Saxo Bank, a leading online investment bank. This was a steep learning curve for McQuillan as he moved from account management to a sales trader working with clients. One aspect of his career of which he is most proud is being part of the team involved with the transition of Midas from an investment brokerage to a fully-fledged investment bank.
"This was an amazing time and I knew what we were doing was revolutionary and it fed my current trajectory into blockchain and our Trusted platform."
When McQuillan first arrived in Thailand he did not dive into the fintech industry, however. He has always been interested in marketing and worked with a leading growth hacking organisation, Move Ahead Media.
Around the time he read about the person being swindled by an unscrupulous and dishonest conman and he knew he wanted to put the two skill sets together.
"There is a huge amount of regulation in finance and it's growing in cryptocurrency so our platform will also help businesses target customers based on rules around geography, income, licences, currencies and countries.
"We have designed our platform along social media lines, because that is how people interact online these days, but without the spam because of the underlying validation."
McQuillan is very serious about his project, despite the throaty laughter, and has recently returned from a meeting with the Thai SEC. The Thai government want to protect their citizens from rogue ICOs and are looking for a platform that can force KYC and validation.
"They were very impressed with the Trusted platform. In fact, they stated that we were the only applicant as an ICO portal for Thai Regulated ICOs so far which actually came in with a developed platform, and this impressed them
"Our vision is to have a fully transparent, self-regulating ecosystem. People can be anonymous if they wish and it is free to join, but once they want to do business, any kind of business, then they must validate. Once validated, they can do business with any other validated entity on the platform."
I push him again towards the end of the interview to see if he has time for any other hobbies or activities and he confesses that he went fishing the other afternoon. He rented a floating hut on the river in a popular fishing resort. But then adds that he took his computer with him and set it up beside his rod. He still managed to catch seven fish and that does not surprise me at all.
You can find out more and connect with Shane via LinkedIn here.