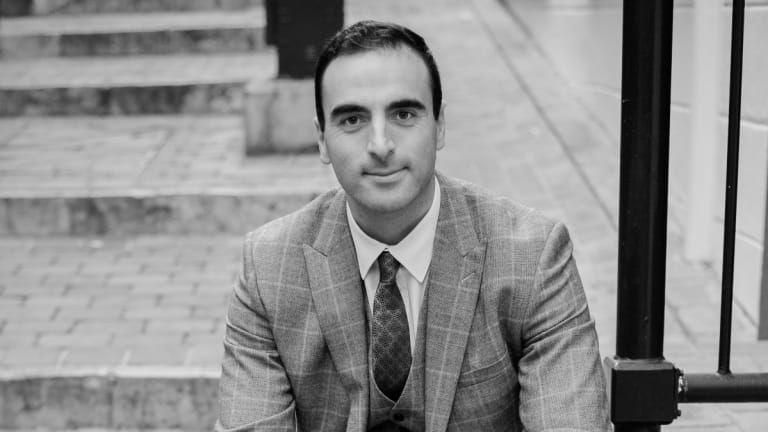 Sam Buxton: Standing Tall in The Face of Cryptocurrencies
Sam Buxton, CEO of Digital Asset Management, began his career on the basketball battlegrounds. A twist of fate involving a bankrupt airline sent him on his way to wealth management and investing in his own successful future.
Sam Buxton is the quintessential gentle giant. Standing at six feet five inches, Sam is many things: an accomplished basketball player, for starters. A trained investment analyst with long and wide-reaching experience in finance, a fluent Spanish speaker and, more recently, a professional manager of digital assets and crypto enthusiast.
Such eclecticism made Sam the perfect candidate for a Blockleaders feature, so I had a good chat with him about how he moved from life on the basketball court to the crypto realms.
Sam's story is a tale where hard work, good sportsmanship, and pure chance all came together to open the right doors for him.
Shooting hoops and scoring big: on Sam's basketball career and how a scholarship led to a big break
Basketball courts are challenging, fast-paced environments where two teams battle to win. The international finance arena is not so far removed from such a competitive setting, perhaps fielding even more players with much bigger stakes.
Yet, Sam's ambitious streak sharpened across basketball courts and being a keen sportsman opened a very important door in his life.
"Basketball treated me well. I was offered a scholarship to play the sport at college level, which enabled me to travel to America and experience American culture. In the States, studies and sport go hand in hand. So through my scholarship, I was able to study finance, and get a bit of banking experience, which was a real eye-opener.
"I played for the University of St. Louis UMSL team and for the team at the University of North Alabama. After that, I played for a number of lower-division teams in Europe.
"When I was 17-18 years of age, it was a dream of mine to join the NBA, but the level of competition in the States is incredibly high, so I realized I needed to focus on my finance studies."
That basketball scholarship turned out to be the key that opened the door to a prosperous path.
"One of the sponsors of the team I was playing for was a bank called Progress Bank and Trust. When you graduate, you go into what's called Senior Night, which essentially is your last game in college. On that night, the bank's CEO approached me and he asked me if I wanted to work for him. That was my opportunity to get my first job fresh out of school, so I walked into work the first day after graduation.
"Playing basketball while studying finance was a test of character. But basically, basketball gave me the platform to be who I am today."
How American Airlines' bankruptcy propelled Sam's career
The second decade of the 2000s began poorly for American Airlines. Late in 2011, AMR (the airline's parent company) filed for bankruptcy, the latest in a long list of airlines to do so in a short space of time. This started a chain of events that led directly to Sam's passion for stock market trading.
"One of my classes when I first started going to university in the States was Portfolio Management 101, where you learn about different types of investments. I remember sitting in a class with Dr. Foster, my finance professor. During a class, he asked us to pick a stock. One of my classmates chose American Airlines, whose stock was worth very little then, just a few cents. This would have been around the time when American Airlines went bankrupt. So I went home and I used some of my college funding (unbeknownst to my parents, of course) to purchase some stock in the airline. Some time passed, and US Airways, or some other big player, announced that it would be buying American Airlines out. The stock price rose to about $2, so I made my first gains in the stock market world! At that instant, I was hooked for life.
"It felt great to make that money. I used most of it to throw a few parties and have a good time. I was a student, remember.
"That was the catch for me, that's what brought me to the industry."
On what the world of finance means for Sam
The finance market is a game of swirling numbers where the stakes are high and the stress levels are even higher. I wanted to know why this environment held such thrall for Sam. Is it the thrill of making money, perhaps? Or something that runs deeper than the superficiality of cash?
"At first, when I was just about to finish university, I was certainly looking for careers with high financial rewards. I was aware that a professional career in Portfolio Management or Investment Banking would be very rewarding indeed, in the financial sense at least.
"So money was a big factor in my career choice, also the numbers aspect. I am a math lover, so I could use that too.
"But in time, as I did further research into the investment world, I started learning about equity, different business models, revenue models, etc. I think it was then that I started building a passion for business in general.
"I developed a liking for start-ups also. I never worked for big companies like Apple or Google. I have always worked in small teams of 10-20 people, and it was during these times that I realized that I wanted to start my own business. But still, I needed to keep learning and acquiring skills before I could do that."
On crossing paths with John Conley from Geeq
I recently interviewed a heavyweight in the finance world, a genius economist by the name of John Conley. John is now running the Geeq project, who happens to be a client of Sam Buxton's own business. I wanted to know more about this professional liaison.
"John is a genius. He's a really smart guy, and he's a client of ours, we are doing a lot of work together. Geeq is a phenomenal project.
"We met with John in Gibraltar and we hit it off. And, John happens to be from Nashville, Tennessee, which is only about an hour away from where I used to live, so we had a lot of common ground from day one.
"We also happen to have a lot of similar beliefs when it comes to the blockchain industry."
Let's talk about cryptocurrencies
Digital currencies are, in historical terms at least, barely in their infancy. Satoshi Nakamoto's Bitcoin only became a thing about a decade ago and, in the intervening years, cryptos have risen from relative obscurity to a more prominent position that may topple the current status quo in the financial world.
Sam works with crypto assets on a daily basis, how did he became involved with cryptocurrencies in the first place?
"I was working for Plurimi, a start-up wealth management company. They sent me to a conference at Bloomberg's HQ in London, basically to do a report on Bitcoin. This was September 2014. Plurimi wanted to know what Bitcoin was, how it worked, and so on. I met this guy at the conference called Dominic Frisby, who was talking about his book, Bitcoin: The future of money.
"So I went back to Plurimi and worked on my report, and basically I said that I didn't think Bitcoin would be a great investment tool for our clients. I pitched against Bitcoin really, since the currency had no visible infrastructure, no way for us to get investment for our clients at the time,.
"Still, that conference served as an introduction for me. I became acquainted with Bitcoin, and I started buying some, also some Ethereum. So I'd buy small amounts, just $100 here and there every now and again. I thought it would be a savings plan, while learning about the technology. Soon, I became really involved with the crypto industry."
On blockchain
Cryptocurrencies and blockchain technology go hand in hand. As an emerging framework, blockchain is slowly permeating a wide range of projects, showcasing the versatility and potential of this tech.
Sam has clear view about blockchain.
"I feel like it's very early days (for blockchain), and that the technology needs to mature before people realize its real, true-life applications.
"We are currently in the nascent phase of blockchain. The technology is slow and there are some scaling issues. We struggle to find use cases, and when we do, there's a lot of hype around these projects. Cryptocurrency being one of these use cases, for instance.
"But I think blockchain has remarkable implications for the way we will live our lives in 10, 20, or 30 years."
On how cryptos can disrupt the traditional status quo
The finance industry worldwide hinges on 'traditional' values that underpin the industry. These values may not necessarily benefit the customer, however. Rather, the banking industry is designed to benefit itself first, and use the customer as an accessory to support its status quo.
Cryptocurrencies may pull the virtual rug under such establishment, and turn the industry on its head.
I wanted to know what Sam's opinion on this issue was.
"I think there are a few areas of traditional banking that cryptos could potentially revolutionize. The sector that we have seen changing the most is value transfer, i.e., payments. Traditional wire transfers, for instance, can take 2-3 business days, whereas transfers made in cryptos can take seconds. So I believe that the part of the industry that has already been solved is payments.
"I feel that what we're going to see more over the next four to five years is transitioning from traditional investment vehicles and assets into a tokenized environment. I think this will open up the true potential of institutional investment.
Banks and financial institutions have a reluctance to accept cryptocurrencies, however, and for good reason, as they see cryptos as a Sword of Damocles.
"I think that cryptocurrencies and blockchain represent a huge threat to the traditional institutions, because blockchain opens up a transparent, decentralized, peer-to-peer environment where there is no need for a middle man. Still, I believe that true decentralization remains largely as a conceptual idea at this point.
"The world's entire financial system currently depends on banks, payment institutions, and so forth. But if crypto and blockchain are to thrive, those institutions will need to accept us and embrace these ideas."
On the future of money
Sam's little boy just turned sixteen months old. He's preoccupied with crawling around the place and remains blissfully unaware of the crypto revolution.
But how about in ten or twenty years' time? Will this little boy grow into a world where fiat money will have become obsolete and confined to glass exhibits in museums?
"That's a difficult question to answer. I think my son will grow into an economy where everything is shared, and everything is transparent, and more efficient. I can't say what the scenario looks like for banks. I can't see banks being completely out of the picture, can't see them disappearing in the near future.
"However, I do see a world where my son can pay for everything in mere seconds, no matter where the payment is going to in the world. I think he will have access to a lot of investment opportunities that don't even exist yet."
On Digital Asset Management and custodianship of cryptocurrencies
Sam got to fulfill his dream of starting his own business, and has been running Digital Asset Management Ltd. since December 2017.
"The company offers three services: help for individuals and businesses buying cryptocurrencies, a wealth management department, and custodianship, which we believe is a game-changer. We have a military-grade, cold storage facility here in Gibraltar. That facility houses our hardware and software, which keeps crypto assets offline, and therefore safe, at all times.
"We believe this is a major point in the ecosystem for future development. We have new services coming up and some announcements. We applied for a Distributed Ledger Technology (DLT) license back in March of this year and we are one of the seven companies in Gibraltar that have received an in-principle decision. So we expect to receive our full license over the next couple of months or so. Essentially, the license will mean that our business will be a fully licensed and regulated custodian and brokerage, one of the first in Europe in fact.
"We have big plans for the future."
Closing words
The world of finance and blockchain gathers some of the brightest minds in the business space. Men and women full of talent and enthusiasm to develop ground-breaking new ways of creating wealth and helping others.
Sam Buxton has built a successful career that was propelled by a well-earned scholarship and a lot of hard work. His professional path has led to the rocky land of Gibraltar (his hometown), where he and a few others have established a safe cold storage facility for cryptocurrencies.
Sam's sportsmanship carries over to his professional life. In the basketball court, you have a team strategy to devise the best play, while being prepared to face your opponent's own plans and adapt to them.
And the same is true in business.
You can follow Sam Buxton through his LinkedIn page or Twitter.