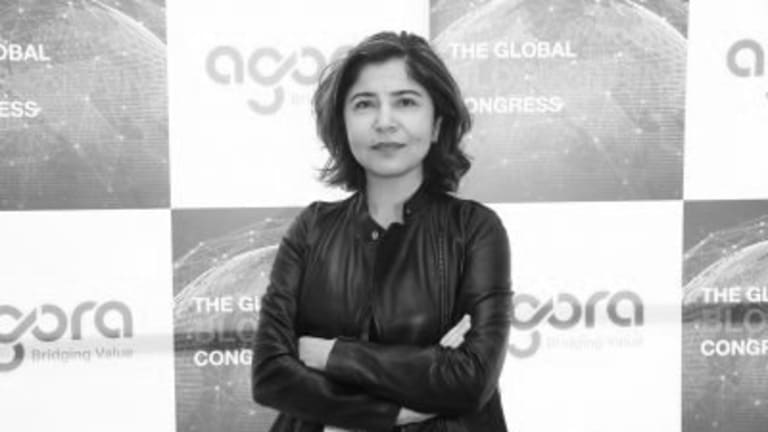 Sahver Kaya: Curiosity Inspired the Cat
We learn about Sahver Kaya's different high profile blockchain projects in Europe and Asia, including an easy to implement and use crypto wallet
From wine to blockchain, this profile of curious entrepreneur Sahver will leave you wanting more.
I've never had a guest who peppered me with career milestones in such rapid succession. I was writing frantically trying to keep up and had already filled in two pages of foolscap before I had to say 'stop – let me catch my breath.'
To say that Şahver is an overachiever is an understatement. But while her career is really interesting, impressive and diverse – her manner of delivery of these results is very matter of fact and modest without that false sense of modesty sometimes found in greatness. She is curious – she repeats this expression many times – and cites that as the source of her actions.
She was born and raised in the Aegean part of Turkey, in the city of Kusadasi, near the ancient city of Ephesus. With one younger sister, she remembers her upbringing as being largely idyllic – great climate, beautiful countryside and golden beaches. Oh, and lots of philosophers and reading.
She asks at the very beginning have I read Goethe and I have to confess to not having read the great German poet. Seconds later she is showing me a copy of Marcus Aurelius' Meditations via our Zoom link and I have to confess not to having read that either. Wasn't he in the film Gladiator? I stammer and yes I am right but such pop culture knowledge is not quite the same as being a reader of that philosopher emperor.
At which point I know I am going to be in for a roller coaster experience over the next hour as I learn more about Şahver's career.
Şahver's insatiable curiosity brought her to the top of her class in primary school and so she skipped several classes to move to secondary school. After finishing high school she studied physics and math in a local college and received a pedagogy diploma, which she loved. It was that point she discovered she could apply to foreign schools, notably in the States, and soon had applied for and been accepted on an engineering degree with Northeastern University in Boston.
While studying she was also a teaching assistant (TA) – a role she managed to combine at every university she attended. It was as if the base degree was not enough. Her early experience of skipping classes in primary school might have been avoided if she'd been given a TA role as a child.
IBM then secured her services and she enjoyed a career with the computer giant for four and half years before her studies at MIT.
"It was a great experience, a truly inspiring time of my career." At the same time, Şahver worked as a TA in Harvard. It was at this stage in her career that she knew she wanted to study for an MBA.
Şahver applied to three top business schools – MIT, Harvard and the London Business School - and was accepted at all three.
"Sometimes more choice is harder than none but in the end, I opted for MIT. It represented my character better. At MIT there is no room for egos. Everyone operates from a place of zero ego. Everyone is super focused on their job or their role – they just want to get things done.
"It was one of the best decisions I made."
MIT Sloan operates an unusual course allocation programme for its MBA students. Courses are offered and the students have to bid for the different courses. It was and is super competitive. Each January the university closes and students are sent off on their respective internships. No one wants to stay in Boston; everyone wants to travel to exotic places.
"Boston is too cold in January anyway."
Şahver has the distinction of creating her own course, which other students had to bid for.
"That was an unusual situation having to interview my own class to see if they could get a place on my course," she remembers.
Turns out four of her classmates joined her on a project that involved 8 wineries in New Zealand the following January.
Whoa! At this stage, possibly six foolscap pages in, I lift my head from the scratchings on my notepad and say – What?
The previous year Şahver had bought her own vineyard back in the Aegean. Her family have a number of vineyards and olive farms in which they produce wine and olive oil for distribution locally and internationally. How did I miss this? I can only put it down to the rapid fire and relentless description of her career to date. There was no time to stop and drink the wine.
"I thought I could use my family background and my own new vineyard as a backdrop. I approached my mentor Ken Morse, who was the Managing Director of MIT Entrepreneurship Center, and he guided me through the process of creating a course. We targeted New Zealand and pitched to a NZ Wine Association. They loved it. To have five MIT graduates come and work for them was a great opportunity."
As a result, Şahver and four of her classmates escaped snowy Boston and went to New Zealand for three weeks in January 2017 in the middle of their summer. Şahver had targeted Hawkes Bay on the north island, renowned for its wine, sunshine, art deco architecture and Cape Kidnappers. I know, I paused there too – Cape Kidnappers – it's actually the name of a place which hosts the world's largest colony of gannets.
Back to the course: in Şahver's opinion the region had opted to make every kind of wine and as a result had created mixed messages. "In direct contrast to somewhere like Marlborough on the south island which is very much identified with Sauvignon Blanc, Hawkes Bay had too much going on."
It was one of the most oversubscribed courses that year in MIT Sloan – possibly of any year. It certainly stretched the boundaries of what MIT MBA graduates could achieve.
Şahver had now spent 12 years in the US and her family wanted her to come home. She wanted to go home. Again she references Marcus Aurelius and his meditations.
"Homecoming was important to me. I am curious about why people do things and this is covered in his writing. Homecoming was right for me – I was still going to be a workaholic but I wanted to be close to my family, in beautiful Mediterranean surroundings.
"I understand the work ethic and the commercial life but I am also constantly exploring what higher purpose lies ahead of us. This is why I read so much – non-fiction – and mostly philosophical authors."
I ask at this stage why didn't she study philosophy at college but Şahver just says – "I loved and still love maths, physics and engineering."
So while back in Istanbul Şahver started a business in the US – I know that seems counter-intuitive until you understand the nature of the company was producing natural personal care products made out of high-quality olive oil from the Aegean. Her great friend and mentor Ken was an advisor also. She bootstrapped the company and produced 7 MVPs. With zero marketing funds and prior consumer experience, Şahver managed still to get the product featured in Marie Claire, Elle and Forbes. During the first year of the operations, the products were available at the largest US national natural products distributor with 8000 points of sales.
She received scientific support in MIT on the benefits of the products. The products featured in final year theses and as a result, sales grew very fast, in three different countries. But it now needed capital to scale.
"It reached a point where I had a choice – bring in an investor or sell the company. I could not find the right investor that matched my growth plans and then I got an offer for the whole company. So I sold it."
Next up, Şahver linked up with a project incubated in MIT. She was invited as a CEO to co-found a startup with two faculty members based on 3 MIT research papers. She studied the papers and created the business model and the company. The business model was a SAAS (software as a service) and there was a lot of research on hand. She hired a CTO and all looked very promising.
"However, at the end of the day, the base premise was too academic. It was too hard to translate from academia to the real world. Scaling was an issue." So, she decided to not continue with the project. This project stayed as a small consulting project.
More recently, she continued to work on fantastically interesting projects with Ken Morse to help companies create agile and high performing tech teams. She also collaborated with Christy Johnson, a Stanford alumna based in Seattle, to write business cases for Stanford University or to support Silicon Valley startups that are in need of growth strategies.
So what next for Şahver? She had forgotten to mention she writes a weekly column for the largest national Turkish paper on the digital economy. As part of that column, she needs to research new technologies and she was fascinated when she began reading about blockchain.
This, in turn, led her to become involved with a number of different high profile blockchain projects in Europe and Asia, including an easy to implement and use crypto wallet based out of Brussels called Arkane Wallet.
She discovered Algorand through her MIT network. Silvio Micali is the founder of Algorand and is a Turing award-winning cryptographer and MIT professor of computer science for the last 35 years. He is best known as the inventor of zero-knowledge proofs and for some of his fundamental early work on public-key cryptosystems, pseudorandom functions, digital signatures, obvious transfer and secure multiparty computation.
Şahver is based still in Istanbul and travels at least once a month, spending one to two weeks away. She is used to working remotely and with agile teams so this is not an issue for her. Agility and high performance are the keys, she underlines.
Şahver is in charge of the Algorand ecosystem building partnerships for the project globally. This is a job in which she thrives – crossing borders and time zones with ease.
"The blockchain industry is a fascinating world. I love the fact that we can bring trust to a global marketplace. Right now it is still in its infancy but it will grow.
"Currently the only funding in this space is from financial capital which is speculative in nature. However, I see production capital coming in slowly to build real applications."
When will blockchain reach its maturity? "I think we need to wait until 2020 before the space will start to open up, albeit slowly."
Şahver is excited about the opportunities in blockchain. This coming February she will be speaking at the Blockchain Economy Conference, along with Tim Draper who is keynoting at the conference. [note I hope I to be speaking at the event]. Her life is good right now. She has her vineyard producing wine and olive oil (and mostly managed by her father it must be confessed), she and her husband are voracious readers of non-fiction which results in some pretty heated and debates (which both enjoy) and while he holds a senior executive position with an industrial company, he does not travel which is just as well as otherwise, they would be ships in the night.
Şahver's younger sister is still living in Kusadasi. "She never left the town and is a real home bird. We are like oil and water but we are very close. She is very happy living in the home town. She just isn't a curious as me."
For more information about Algorand please visit the website https://www.algorand.com/
To learn more about Sahver - visit her LinkedIn profile