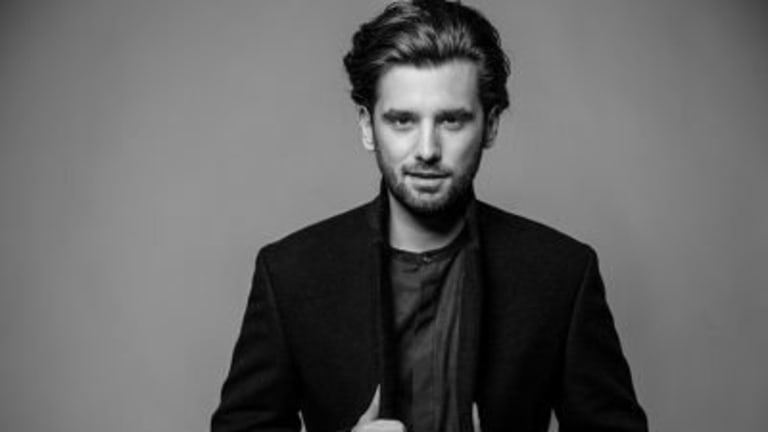 Ruud Feltkamp – Hooked on Crypto
Ruud Feltkamp talks Christmas, acting and how he follows his passions.
From Soap Star and DJ to CEO of a cryptocurrency trading platform, Ruud Feltkamp talks Christmas, acting and how he follows his passions.
I joke as I start out the interview that I am going to ask Ruud what he ate for breakfast. His English is very good but the combination of my Irish accent and the rather strange opening question means we flounder for a bit as Ruud tries first to describe his American fillet steak sandwich to me and I then challenge him on what warranted the occasion. When I finally made myself clear - and I am by now a bit mortified that a throwaway line had somehow managed to turn into a question of worth – we settle down to talk about cryptocurrency.
Actually, we don't and here we digress into another interesting cul de sac – Christmas. Ruud is a well-known actor in the Netherlands. His first main role at age 9 was as the lead in a Christmas film called Kruimeltje. This is a heartwarming film about Christmas. It is played on television every December in the Netherlands and Ruud's friends often tease him about it. However, this film made a big impact on Ruud and his family as Christmas is not really that well celebrated in the Netherlands, or maybe it is celebrated well enough. Christians go to church and atheists (such as the Feltkamps) share a dinner, maybe put up a tree but do not exchange presents in the same enthusiastic way of Americans or other Western countries.
"After watching the film we got to share lots more presents – so the film made a big impact on my family."
I then discovered something else new from Ruud. On December 5th the Dutch celebrate the feast of Sinterklaas. This tradition involves a Sinterklaas arriving in a boat with presents for the children, so I guess parents were not too keen to replicate the present giving experience again twenty days later. Ruud tells me that Coca-Cola copied this tradition and created what we now know as Santa Claus. I google this afterward and it makes a lot of sense. I always found it etymologically odd that the name St Nicholas, from the popular saint credited to become Santa Claus, have morphed so strangely. What is missing from that explanation is the Dutch gave the interim name of Sinterklaas (a shortened form of St Nicholas in Dutch) which was more easily funneled into Santa Clause by copywriters in New York in the 19th century.
And two other interesting facts about the transformation of a 4th-century bishop first into a saint and then to a universal present giver at Christmas are worth mentioning. The original St Nicholas gave away all this wealth to the poor, especially children which made him a patron saint of children. As an aside there is gruesome fable is that he managed to piece back together three young people chopped up by an innkeeper and put into a vat of brine. The second story is less bloody but slightly strange. He saved the lives of three young women who were being forced into prostitution by giving them dowries consisting of sacks of gold delivered under cover of night – hence the present giving at night time. Needless to say, he is also the patron of prostitutes.
So, steak sandwiches and Christmas aside, we can get on with Ruud's story. He grew up in a small village outside of Amsterdam which literally is translated into English as 'Trousers in Water Land'. Sadly when I googled this afterward I could not find any corresponding humorous or interesting explanations, so we shall have to just leave it at that.
His parents were both entrepreneurs and he has one older brother, Pim, now working with him also. His parents ran a number of restaurants in Amsterdam but when the boys were born they gave up these busy careers. His father now works in a sailing provision business and his mother became Ruud's manager and also now works in Cryptohopper.
Acting was and is in Ruud's blood. It was the first thing he wanted to be and he scored a number of high profile advertising appearance breaks for big brands like McDonald's before getting into acting as a profession at age 9. After his first successful film, he did two more adverts, again in the lead roles. They both proved very successful. Then his next big break came when he was offered a leading role in a day time soap He was now 13. For the first year of acting his school was very accommodating and helped him study around his long acting hours. The following year he moved schools and they were less than helpful. He had a choice to make but it was an easy one for him. He spent the next 12 years in that role.
I asked if it was boring or stressful to be in the same show for so long but Ruud's enthusiasm for acting is obvious. "I worked with great people. We thought the same – we all loved the entertainment industry. It was my dream job."
I then asked him about his fans and he is much more coy. "Maybe I had some, when I was a DJ yes there was some screaming but whether I had many or not, it's not for me to say."
So where did technology come into his life?
"I've always been fascinated by technology and science. In fact, I had an idea to present a TV show in this area. I find it fascinating."
Ruud was aware of bitcoin from the beginning pretty much. However, when he tried to buy some coins it was just too hard. "This was just after the Mt Gox hack and it was so hard to physically buy bitcoin. The infrastructure was not there so I gave up."
It wasn't until 2016 that bitcoin came back on his radar. He began looking at the sector again and by 2017 he was actively trading.
"The infrastructure was there and it was so much easier to buy and sell. I was hooked."
Ruud is unashamedly fascinated by day trading. He learnt to understand indicators and graphs. He studied price, he was clued into different channels, learning all the time. Acting involves a lot of downtime. Ruud found that when not on the set he rushed back to his dressing room to trade. Other actors and staff on the set would pop in but could not make head nor tail of the young actor perched over his laptop intently watching the market.
Then one day his brother took notice of what Ruud was doing and instead of being impressed with his fanatical attention to the trading desk, Pim basically said he was wasting his time. Not because Pim didn't find trading cryptocurrencies interesting, just that he reckoned he could automate much of what Ruud was doing manually.
Pim was true to his word and soon had written code that allowed Ruud to automate much of his activity based on simple trading indicators.
While Ruud had been following a life of acting, Pim had taken another course into IT. Ruud remembers his big brother at ten years of age sitting on the couch at home reading books way beyond his years on web design.
"He was reading books on using Dream Weaver or how to code. The family would not understand how a boy so young could understand the words let alone teach himself how to code."
So, from Ruud's enthusiasm for day trading, Pim created a platform that could make it easy for anyone to trade. Now family and friends began to become interested. This was something they could grasp.
"From that interest, Pim and I created Cryptohopper – the name taking its origin from the idea that traders would hop from one trading position to another. With little or no marketing we found we had gathered a large community. In fact, it grew so fast that we had to cancel all marketing as we managed to scale for the numbers coming on board."
Now Cryptohopper has in excess of 94,000 users of which 15,000 are active. The majority of the traders come from the US, with the Netherlands the second largest user base, following by Germany, Canada, France and so on.
The two brothers have bootstrapped the business so far. Initially, they both put in €1000 each and managed to build the company rapidly. At the beginning of last year, they opened an office, hired dev staff and put in more support staff. They are still bootstrapping the project.
"We are talking to potential investors but we know that once we take in money we will lose our autonomy. We both love the fact that we are agile and can make changes on the fly – if we take in an investor that freedom goes."
Cryptohopper is set up as a Software as a Service (SaaS) platform. Traders pay a subscription to use the platform. There is an internal marketplace where experienced traders can sell their tips, methods and trading strategies. Cryptohopper takes a percentage of those internal sales.
"We don't take any part of profits though. That would mean we'd need to have withdrawal rights on user accounts and that is not our business model."
Cryptohopper received support from the Dutch HRH Prince Constantijn's Delta fund to showcase the product at CES in Las Vegas a few days ago. Ruud is only just back from Las Vegas and hence why he felt he had earned his American fillet steak sandwich as the start of our conversation. For all that Ruud is a seasoned performer and used to being in front of the cameras, it is still possible to hear the excitement in his voice as he tells me he was interviewed by Forbes and CNN.
So what does he love about this sector – is it just the excitement of trading?
"No, I truly love the underlying technology, the blockchain. I find it very satisfying to look at a world where money can be separated from the state. This generates a lot of opportunity."
This concept is of interest to me too. We may have discussed at the beginning how the Netherlands is a mostly secular state, whereas the opposite is true in Ireland where I live. Church and State in Ireland have been very tightly intertwined since the establishment of Ireland's independence from Britain at the beginning of the last century, often with disastrous consequences. I am very much in favour of rendering what is Caesar's to Ceasar. Now it is time to consider the incestuous linkage between government and banking.
"Cryptocurrencies create an environment where government no longer has the monopoly on money," Ruud continues. "In the recent financial crisis, you had examples of governments dipping into private accounts – such as in Malta where they froze private deposits over a certain amount."
I pause here to think how the Irish government decided in 2008 to use the public purse to bail out the private banks to the tune of €64billion or approximately 45% of the entire debt in the EU during the financial crisis. Ireland represents less than 1% of the EU population – go figure that one with Irish children forced into paying back a debt not of their making for generations to come.
However, Ruud is not going down the activism rabbit hole, he is just making reasonable assumptions about how the new financial world of cryptocurrencies offers lots of opportunity.
This polite regard for cryptocurrencies is reflected in Cyrptohopper. Ruud's love of trading and Pim's expert coding has produced a platform where inexperienced users can register, purchase a trading strategy from a professional trader and have their trading bots execute trades on their behalf 24x7.
There is also an option for ultimate newbies to play around without risking any money. A Paper Trading Option allows users to try out trading with weightless cryptocurrencies (fake digital assets) before they sign up and trade with real assets.
So what next for the Feltkamp brothers after their breathless trip to CES? I am told there are lots of secret plans that cannot be revealed at this stage,
"We can say we are developing an app so people can trade on their phones. We also want to attract more professional traders and we want to increase the user-friendliness – these improvements we can say are coming."
Finally, I ask does this success mean that Ruud will no longer grace the silver screen. I am sure there are a lot of fans out there hoping the 29-year-old has not hung up his acting boots. Don't be worried – as Ruud points out there is always the weekend. (Ed – does he work in blockchain? Weekend?) and he plans on shooting and directing shorts.
As much as he is hooked on crypto, he is still hooked on acting and film.
For more information, you can find Ruud on linkedin or visit Cryptohopper
.