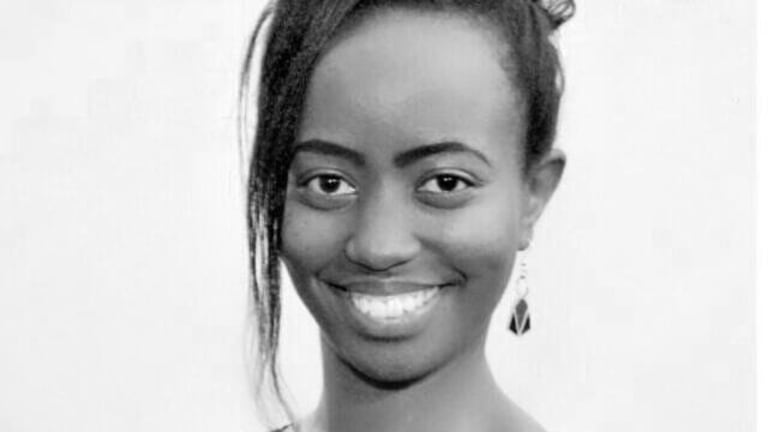 Roselyne Wanjiru: Blockchain Isn't Just About Codes and Nodes
Today, we take a voyage to Eastern Africa, where Roselyne Wanjiru will be sharing with us her story of getting involved in blockchain through her research in finding ways to protect the copyrights of authors; and what it feels like being the only female in the EOS Nairobi core team.
What potentials would one with an Economics background, who once desired to be a pilot, see in blockchain? A new world economy flying to the moon? Today, we take a voyage to Eastern Africa, where Roselyne Wanjiru will be sharing with us her story of getting involved in blockchain through her research in finding ways to protect the copyrights of authors; and what it feels like being the only female in the EOS Nairobi core team. 
If you've ever read the book: "Who Moved My Cheese," one key takeaway is that those who do not evolve in tandem with developmental changes would soon find themselves left behind, and eventually hungry. Roselyne is smart enough to spot when a paradigm shift is in motion. "I started looking at options for a master's degree in Data Science because I felt a strong need to integrate something in the field of IT with my background in Economics. I observed that there would be quite a shift in careers/ the work landscape in the coming years, and I wanted to be ready to work in a dynamically changing environment."
Before now, Roselyne was "involved in doing project performance appraisal, and also did book editing." Her work in editing inspired her into embarking on research, with protecting the copyrights of authors as the goal. "Having worked with a few upcoming authors, I was acquainted with some of the pain points in the process of publishing, so I thought about building/ developing a solution for authors, to connect them with editors, designers, and publishers, to make the process of publishing easier and more transparent. I thought of it as being able to offer a lot of value. However, in setting out to do it, one of the challenges I frequently encountered was with regards to copyright management. There wasn't much information or regulation about how blockchain could come in to solve that, and I recall someone telling me that it would take up to five years to see a viable solution coming up. This drove me into doing more in-depth research about where blockchain could be used as a 'proxy' solution to this problem. Although I haven't built out the idea, I have seen a prototype of it, and my love for research has led me to where I am today."
Copyright management is just one of the use cases of the blockchain technology, which is why she is "working on developing a program to equip people with the needed skills in understanding and appreciating the ecosystem around this technology." Blockchain to Roselyne is "a digital record/ledger. It is unique in that one can only add information to it, and not be able to change previous information on it. Also, no single person owns it ( because it is shared) and it is transparent to all (or in some cases permissioned) parties that have access to it."
Perhaps, Roselyne's fascination with copyrights, editing and publishing could be related to her childhood activities? "I was really into reading fun books while I was young and remember having a small library of storybooks. Unfortunately, some of the books were never returned when I gave them out, but I recall a love for reading from a tender age." As a little girl, growing up as an only child with her father and nurse mother, Roselyne had the desire to be a pilot like her father. Although she has long outgrown that desire, she is ever curious about researching emerging technologies. "On my first flight, I was so impressed that we could be up in the air like birds, and that placed a desire in me to be a pilot later in life. Along the way, the desire to dream big remained at heart and it's finding expression in a greater sense through my current interest in blockchain and other emerging technologies."
Of course, by now, you know that one of Roselyne's favorite blockchain industry use cases is copyright protection. "The first one to draw my attention was copyright management, although it has taken a while to see the first application built on a blockchain protocol. My other favorites are in education, health and supply chain management." As she keeps up with her activities in the space, she hopes to "inspire people to think beyond what they know, where they've been and what they've been exposed to so that they will be able to contribute more value than they thought they have ever been capable of doing. I find that this is one of the prevailing thoughts that have challenged me to keep going, growing and sharing what I've learned in the course of my journey."
As the only female on the EOS Nairobi core team, Roselyne shares with me what this feels like, while at the same time hoping for more females to come on board. EOS Nairobi is a Block Producer on the EOS Main net serving the community from Africa. EOS Nairobi aims to grow the potential and capabilities of Africa and share these with the world. "I work with an amazing, brilliant and talented team that's gone above and beyond their scope to build the community that's EOS Nairobi. It takes consistency, visionary leadership and discipline to get to such a place as I've witnessed. They've made me feel very much a part of the team, supported me in my work and the areas I needed to improve with regard to my work, and they challenge me to keep on getting better at what I do."
"I would love to inspire many more women to join the space because their contributions will unlock a diverse range of solutions we're yet to see, definitely in harmony with and in addition to what the men have pioneered. Another advantage of the blockchain space as it is is that it's still in its early stages, therefore, a lot needs to be done in terms of education, awareness, policy, research, and building bridges between current structures of business/industry and emerging ones. Furthermore, there is a variety of roles for women to take up, because the blockchain ecosystem isn't just about the code and nodes, but also the systems that complement the basic technical infrastructure."
Training and enlightening others being Roselyne's core priority in the space, she shares her method of holding her audience's attention and most importantly ensuring they understand the message she is trying to pass across. "I do my best to connect with the audience, as though I'm telling a story. I also do my best to take the mystery and 'monstrosity/intimidation' out of the topic I'm addressing before the audience so that they can leave home with at least one or two good take-home thoughts. I've observed that by relating blockchain to concepts the audience is familiar with, they're able to see it in a better lens, or for that matter, what is relevant to them. I smile when I see the "aah" and "aha's" after the talk, such that someone is then able to see what they can do next, be it in research or otherwise."
When we sit on the shoulders of elders, we are able to see further. One way Roselyne chose to give back to the community is by participating in a mentoring program in her high school alumni. "I joined my former high school's mentoring group, to be able to give back to the girls. That has challenged me to appreciate the need for mentorship among young people, as some of the questions I'd come across are the ones I didn't necessarily find too much of a big deal when I was growing up. Times have been changing, but the need for trusted guidance hasn't changed." She too has mentors who "have been instrumental in giving me direction, advice, and perspective about how I need to get to achieve my goals."
In as much as the potentials of the blockchain technology are massive, Roselyne gives a caveat: "It's not the one that's going to disrupt everything, it's just a (distributed) ledger. Necessity is still the mother of invention, thus, it's people's needs that will pave the way for disruption to come about. Innovators sometimes unwittingly disrupt existing models and systems because they were addressing pain points, that could carry over into blockchain. it's a tool, and what people do with it is what counts; that could well change when a far more efficient system is in place."
Professionals building a career in blockchain simply brought along their respective skills and expertise. Use cases of the technology can easily be listed from A to Z. This is why Roselyne advises newcomers in the space: "While the industry is still young, ask yourself how this tech is likely to have an impact on your industry. How can it improve your existing business? How can you equip yourself to build or support existing blockchain ecosystems? What matters greatly is being able to adapt, and be able to offer value in the face of changing trends of work and industry."
You can reach out to and follow Roselyne's activities on LinkedIn.