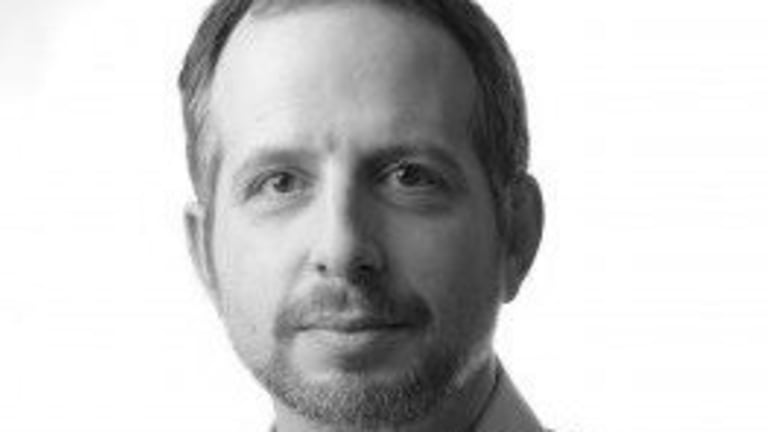 Roman Skaskiw - Practicising Grownup Libertariansim
Is it possible to be both military and a libertarian? Today's blockleader certainly thinks so and his weaving of the blockchain narrative into everyday terminology produces some really insightful observations on life, responsibility and grace.
Is it possible to be both military and a libertarian? Today's blockleader certainly thinks so and his weaving of the blockchain narrative into everyday terminology produces some really insightful observations on life, responsibility and grace.
It is unusual to find a military man also self-identifying as a libertarian, but a common factor is that he doesn't suffer fools gladly – whether in command or proselyting – as he has a low BS tolerance. This makes him a disciplined, leader who likes to think outside the box and get things done. Great skill sets for an entrepreneur.
Roman Skaskiw is a US citizen born of Ukrainian parents. His parents separately escaped the advance of Soviet Communism from their native Ukraine and ended up in displaced person camps after World War II before ending up in New York where they met and married. They were part of a strong expat community but also welcomed their new nationality, a love that carried Roman into the military later on, with him wanting to give back to his adoptive country.
Roman explains initially that his parents ran a grocery store at St Marks Place. He is chuckling. I ask why and he says because it became famous as a place to score drugs or get tattoos – the road, not their shop I hasten to add.
Roman went to high school but he also held down two jobs; a lifeguard and worked in a software company. As he finished school, the software company offered him a job with a salary of $40,000. This was more than his parents then earned. "It was a weird feeling but I wanted to prove myself – so I took the job."
And in order to further prove it wasn't a fluke, he found and took another job in the same industry with a similar salary.
He started studying at night time – Roman was not one to let the grass grow under his feet – and after gathering excellent grades, moved to full study to finish his degree at Stanford. "How I wish I could talk to that young man now," he says ruefully. "I would have given him very different advice."
The advice offered to the young Roman would have been not to take so many difficult courses. Roman had proved himself in top ten percentile but moving to Stanford the bar was raised and he set himself almost impossible challenges. In two and half years he completed his degree but it was not a good experience and Roman was not in a good place.
In the US there are two ways to join the army at officer level. One is to go to Westpoint, mostly the preserve of the very rich, and the other to take ROTC classes. Roman, impelled by a deep love of America, took the ROTC classes and upon completing his degree was offered an officer role in the infantry.
This was in 2000 and his university colleagues, in particular, those entering the financial world, were being offered six digit starting salaries. This did not bother Roman especially he was already searching for his next challenge. As an infantry officer, he had chosen to be as far removed as possible from computers and software. He even entered the notorious ranger school while in the army which only had a 40% graduation rate.
Roman graduated.
Shortly afterward Roman was put second in command of the 82nd Airborne Division and was deployed to Afghanistan. "It was tough but it was also good. We were located at a base that was miles from anywhere. We would eat, exercise, sleep and patrol. So we were either 'on' or 'off' meaning it was very intense but the 'off' periods allowed us to come down."
2002 was a good year for Roman in Afghanistan. But he was then moved to Iraq and, with his battalion, he was based in the city. "This was so much tougher. We were there for 9 months but you could never switch off. At the end of this tour of duty, I was so very tired."
As a battalion, they saw a lot of fighting. Not that many were killed given the ferocious conditions, maybe two or three, but there were at least 50 wounded, some of which Roman remembers were terrible and life-altering wounds.
"As an additional duty in Iraq, I worked with the local city council and was given a trickle of money to improve situations such as was needed in refuse collection or sanitary work. We had a fantastic working relationship. The sheiks on the city council gave me Christmas presents. I was touched. We really had a close relationship. I wanted to do everything I could to help, and I think they saw that. This was 2003 and 2004. We thought we going home in a few months, and there was a lot of optimism after the fall of Sadaam's regime."
While in Iraq, Roman read about the high profile "Green Zone" located just 20 km from his base, where large American corporates connected to the Military were given multi-million dollar contracts to upgrade and restore Iraqi infrastructure.
Here Roman gets very incensed. "The people administering these contracts were incredibly arrogant. They were handed huge sums of money and they flittered it away. For example, we had a project where we needed manual labour to clear out the gutters. We were offering the equivalent of $2 a day. When we advertised the project we had a line of people down the street looking to work for us.
"By contrast, these Green Zone contractors were offering jobs that paid security guards $1000 a day. This was crazy money even by Iraqi standards and they achieved very little if anything."
This left Roman, while still emotionally connected with the military, increasingly cynical. Returning home he completed a Master's Degree at the University of Iowa. He was picking up his civilian life when he received a letter from the Army. He was being called up from the Inactive Ready Reserve for a third combat tour.
As Roman explained, these letters were often ignored by ex-army personnel and the army did not prosecute or follow up on the 75% of letters ignored. There was a scandal at the time with the Bush administration, called them a "backdoor draft" and it seemed politically impossible for the military to force veterans to return.
Roman, now cynical about the wars in Afghanistan and Iraq, considered long and hard but decided to return. In 2008 he was back in Afghanistan, this time in as a civil affairs officer. His training was led by the same Green Zone technocrats whose job Roman felt like he did before on their behalf in Iraq. "They received enormous salaries to swim in Sadaam's swimming pools, while we grunts got shot at doing the work that they were supposedly getting paid for."
He survived the tour again but when back in America he penned a number of OpEds for the New York Times on his disillusionment with the military and his country's international military policies.
One such piece for the New York Times was in 2010 where he wrote about the life without the army in a moving tribute called Home Fires: Bidding Farewell to Arms. https://opinionator.blogs.nytimes.com/2010/01/09/home-fires-bidding-farewell-to-arms/
One paragraph sums up the dichotomy of responsibility in both places.
Life is a privilege. I now recognize that responsibility isn't gone when you leave the military, it is changed. Greater by far than the responsibility to comrades in arms is a responsibility to friends, family, and self, responsibility to the one life each of us gets to live. Such responsibility is harder to recognize because it is long and slow and unlikely to manifest itself in some violent sacrifice.
Roman was happy to write his OpEds which received some acclaim. He had the teeshirt if you like. His Civil Affairs Team had patrolled some of the most dangerous areas in Afghanistan and yet he had brought all his men home safe. The same cannot be said of the infantry company in Iraq for whom Roman was second in command.
"I needed to get stuff off my chest and the New York Times gave me a nice stage.. Having said that, the precarious recent history of my parent's homeland shows that you need an army. It is very easy to be a libertarian when your country is not under military threat. As a country [Ukraine] we have been a border against the Mongols, the Soviets and now the Russians. Things are less idealistic when there is actual conflict."
After his military service, Roman returned to Ukraine with his mother to show her where she had been born. She was four when her parents fled. Growing up in the largely Ukrainian community Roman had spoken both languages as a child but there had been a gap of some 20 years in between where he spoke only English. Now he found the Ukrainian language returned to him with only some difficulty.
"The trip was very meaningful. I liked the people. Ukraine is part of my story. In addition, there is awesome technical talent in Ukraine. The country began to pull at me."
While a student at Iowa, Roman had thought writing might be his career. In addition to the New York Times, he also wrote for the Daily Anarchist, a libertarian publication. For Roman's first article, the editor tried to pay him in bitcoin but Roman initially found himself too busy to learn a new technology and asked for twenty dollars instead. For his second article his editor insisted and Roman became the proud owner of 8 bitcoin, long since spent.
"I doubted that writing, while a passion of mine, would pay the bills. I was being drawn back to software and business as well as to Ukraine."
Accordingly in 2012 Roman moved lock, stock, and barrel to Ukraine.
"In Ukraine, recent history is very powerful. Under the Soviet regime, 80% of all intellectuals were exterminated. And then we have the war with Russia in Crimea and Donbas. It is relatively stable now, the line is not moving and there are fewer causalities."
He teamed up with developer Bohdan Kossak whom Roman refers to as the man with the biggest heart.
"He is endlessly cheerful, full of energy and one of the smartest men I know. We may be co-founders but I am only in the supporting role."
Together they formed CryptoLions and last year became a block producer for EOS.
Asked why EOS and not another blockchain, it's very clear according to Roman. "I have to say I like Dan Larimer. He has a great track record and I really admire Steem and Bitshares. For me, EOS makes a lot of sense."
This is reflected in the opening page of the CryptoLions website (www.cryptolions.io) where the mission statement is very much based on ideals. Respect, competence, and integrity are listed as well as Sophrosyne. I learned by reading that Sophrosyne is an ancient Greek concept of an ideal of excellence of character and soundness of mind, which when combined in one well-balanced individual leads to other qualities such as temperance, moderation, prudence, purity, and self-control.
This sounds very much like the military man cum libertarian balance. In fact, Roman sometimes refers to his way of thinking as pursing libertarianism for grownups.
CryptoLions was launched in March 2018 and has already marked itself out on the EOS community with its Jungle Testnet proving very popular. It also supports the Eos Network Monitor and a full, public history node. Another initiative of CryptoLions is the Deru Truth Bonds, which is sadly on hold for the time being. Deru is best described as an arbitration/escrow process where you can make promises, file claims against them and have whitelisted arbitrators rule on the claims.
In a letter to the community, Roman says he hopes to return to this project, work with another organisation that has similar aims and raise money to complete it. As he says with typical aplomb: "We need about $20k to make an MLP (minimum lovable product) and give it a good push for lift off."
I don't know about you, dear reader, but that is my first MLP and I love it.
In the interim, Roman is working on another ambitious project where collaboration is key – the EuropecChain platform. Here Roman has teamed up with a number of other EOS Block Producers to figure out a problem facing regular businesses – both enterprise and startup – wishing to do business within the EU and on blockchain. There were many impediments despite reports heralding a veritable tsunami of projects lining up to dip their toes into the blockchain water. Deloitte's 2019 Blockchain report noted that only 5% of respondents denied they planned on investing anything into blockchain this year up against 16% at the top end suggesting they would invest in excess of $10million. Even the middle ground of 26% pledged to invest anything from $1million to $5million. So with all this investment poised to splurge what was the holdup? Well, actually it is a four-letter acronym – GDPR.
The consortium identified its mission statement as The stated goal of the project is to build and support a network of open, business first EOSIO blockchains which are EU regulatory compliant.
Roman is very excited about this project – it fits into his libertarian for grownups worldview.
"We know that enterprises are very risk adverse and yet they also know they need to get onto blockchain – so we are offering them a grownup version of the technology.
"The members of the consortium are all experienced, we are tax compliant, and you can come to our offices and meet with us. We will provide blockchain as a service (BaaS) creating nodes that reflect need, from a couple right up 21. We can invoice in fiat – we know how much of a headache it is for accounting departments to try and work in cryptocurrencies and we have created GDPR compliant solutions.
"This is going to fly."
Roman is very happy with his life right now. Newly married with a young son he is looking forward to the family growth – and is actively toying with the idea of implementing homeschooling. He is actively planning his parenting – something that does not surprise me as Roman leaves nothing to chance.
He is also happy with is choice of career – finally. He no longer has anything to prove except perhaps to make the world a better place. As a parent, this is one of his first goals.
Life is a privilege
To find out more about CryptoLions please visit www.cryptolions.io or the EuropeChain project please visit https://europechain.io/