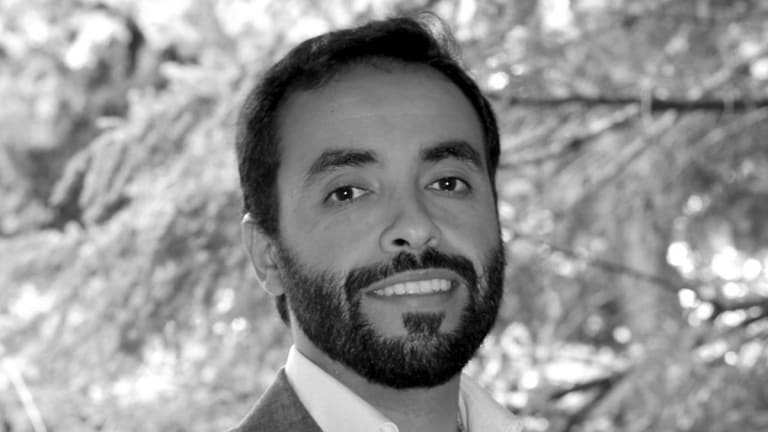 Rabi Boundi - Boldly Using Blockchain to Disrupt the Space Industry
The founder of Space Impulse talks to Blockleaders about the opportunities the privatisation of the Space Industry brings for business, how blockchain sounds like Greek to most people, and how the world's first trillionaire will be a spaced out dreamer.
The founder of Space Impulse talks to Blockleaders about the opportunities privatisation of the Space Industry brings for business, how blockchain sounds like Greek to most people, and how the world's first trillionaire will be a spaced-out dreamer.
Space - the final frontier for blockchain?
Rabi Boundi, CEO and founder of Space Impulse, is building a marketplace for the space industry. He believes that we are at the dawning of a new age in space exploration. No longer the sole preserve of governments and defence forces, the great unknown above our heads is now a realistic, attainable business objective for private companies and the world's super-rich. "I believe that the world's first trillionaire will come from the Space Industry," he tells your starry-eyed Blockleaders reporter. But why now? And what does this mean for us little people on planet Earth?
Smiley and enthusiastic, Rabi's melodious Spanish accent touches down in my speakers from his Athens home with a pleasant, soft landing. He arrived in Greece in 2011, just as that country threatened to bring the Eurozone to its knees.
"I'm here almost eight years. My wife is Greek. We met in Spain but I loved Greece so much I was determined to move here. I arrived just as everything was starting to crash. It's not a high-tech business country, although there have been improvements. Greece is struggling economically but it is not what it appears like on the news. People survive and, to have a good quality of life, you don't need all these material things. You need family, friends, good food, nice weather. Greek people appreciate that they live in a wonderful country and know how to enjoy the most important things in life."
With a portfolio of successful businesses to his name, Rabi decided to return to his childhood dream and plough all his energy in making a space industry marketplace a reality. "I've been a space geek since I was a kid. I watched lots of Star Wars and Star Trek, dreamed of being an astronaut of course. When I turned twelve, I started programming and really fell in love with that. As I grew, my childhood dreams faded away. But now I'm starting again."
The time is right, Rabi continues, because "the space industry now is like the Internet in 1985. Everyone would have loved to have invested or started working on the Internet back then. During the Cold War, it was too difficult for private enterprise to get involved in the space industry. When the Cold War ended, commercial satellite companies started - mainly huge conglomerates backed by government funding, because space is viewed as a strategic sector, both economically and militarily. It is only in the past ten years that commercial space has become more open for private funding. That's why you see SpaceX and other companies coming to the fore now. Although not so obvious, SpaceX will make money from satellites rather than space exploration. It was recently granted permission to launch nearly twelve thousand small satellites for its Starlink constellation. This is more than the total amount that is currently orbiting the planet. Their plan is to make money as a network provider. It is not so profitable to launch rockets, so a more close-to-ground business is required to finance space exploration missions.
"Also, it is cheaper now because it is becoming industrialised. In the past, components were built specifically for particular space missions. Now, commercially-available components are being used to build satellites, and this is possible because companies are launching lots of small satellites rather than one large satellite, as was the case in the past. This means that the risk is spread, as you can afford to lose one or two satellites."
It's a win-win for governments, who have tired of watching their military budgets go into orbit. "Most governments are broke! They are happy to shift things to the private sector. Even in the United States, the military has started contracting new private companies for launching its military satellites, trusting them with their military secrets. This also creates new jobs in the private sector which is also great for the economy."
These days there are online marketplaces for everything from kitchen equipment to whoopee cushions, so a place where space entrepreneurs can pick up spare parts for their satellites is entirely logical. But what added value does blockchain bring?
"When you combine existing marketplace technologies with blockchain technology, you have something very powerful. Smart contracts can act as an Escrow for payments and create self-governing rules for the platform. It is beneficial for everyone. We aim to simplify the legal procedures that make the Space Industry less efficient than other industries. Companies waste so much time and money pinning down small elements of contracts that are basically the same but with tiny differences. Our focus now is to enroll suppliers, so that we have at least two or three suppliers for each business vertical (launch, insurance, components, etc) when it goes live in mid-2019."
So are we counting down to the dawning of a new age for mankind? One where Elon Musk and his ilk act out their Han Solo fantasies, while the rest of us fill the seas with plastic and breed ourselves out of house and home? Not so, says Rabi. "It looks like this from the outside. When you look at Bezos and Musk, one is reminded of Microsoft and Apple in the past. But I don't think it's the same. I believe these are people trying to create a better world for everyone, to make us more conscious of our planet. These guys are dreamers. They want to use the wealth they have achieved to chase their dreams. You can compare it to Bill Gates. He made so much money from Microsoft and is using that money now to do the things that he believes are important to create a better world for everyone. Elon Musk has said that we need a backup planet for humanity. Jeff Bezos is trying to build the infrastructure to allow us to colonize other planets some time in the future."
Space Impulse is part of the second wave of blockchain startups, the post-ICO generation keen to raise capital by demonstrating sound business planning, a genuine working product, and a valid reason for its tokens to exist. To that end, Space Impulse carried out its pre-sale without fanfare, refusing to look beyond the Space Industry for investment. In 2019, dull as it sounds, promising 6000% ROIs on Bitcoin Talk won't tempt investors who saw their crypto holdings crash down to earth in 2018.
But if there is one thing most people can agree on, it is that blockchain has the power to baffle, with the majority of the general public unaware of its potential beyond the Bitcoin-related stories the mainstream media chooses to tell. "There are so many misconceptions around blockchain. People still associate it with illegal activity - Bitcoin is still linked to criminality by the mainstream media. But blockchain is not an easy concept to grasp. Everyone could understand Social Networks when that was the current buzzword. Everyone understood it because those words explained what it meant. But what's a blockchain? People cannot relate to those concepts. People know about Bitcoin in a very basic sense but, of course, they don't know how it relates to blockchain."
Explaining blockchain, getting the Space Industry to turn away from its old bureaucratic ways, raising money after the collapse of the ICO market. Rabi clearly likes a challenge. "We have two battles to fight at the same time. Firstly, the space industry is fragmented. There is no B2B marketplace where you can buy or contract anything for Space missions, which is an opportunity for us, but it is a new concept so that takes time. The mentality of the space industry has always been that a large organ of the State issues a call for tenders and large companies apply, just like building a public service of some sort. This mentality doesn't change overnight, but it is shifting now. The second challenge stems from a general suspicion of blockchain. So we try to explain to the Space Industry how blockchain enhances the marketplace, actually making doing business easier and cheaper."
Just days before we spoke, Rabi was blessed with a baby. He also has a two-year-old child. Is it possible to have a work-life balance, while starting up a business as ambitious as Space Impulse? "I'm working at 200% capacity on Space Impulse! It's not easy to keep a balance. I truly appreciate and admire the patience of my wife."
These are the inherent challenges of following one's dream. And for Rabi, dreamers like Bezos, Musk and others will ultimately challenge us to take better care of our own planet. "I truly believe that, when people realise that our planet is so small compared to the rest of the universe, they will learn to love it more. Maybe I'm a bit idealistic, but maybe when people start to see how insignificant we are, they will stop trashing the planet, and fighting and polluting, and doing all the crazy things we see on the news. This is what I hope to collaborate on."
You can connect with Rabi on LinkedIn. Read more about Space Impulse by visiting their website.