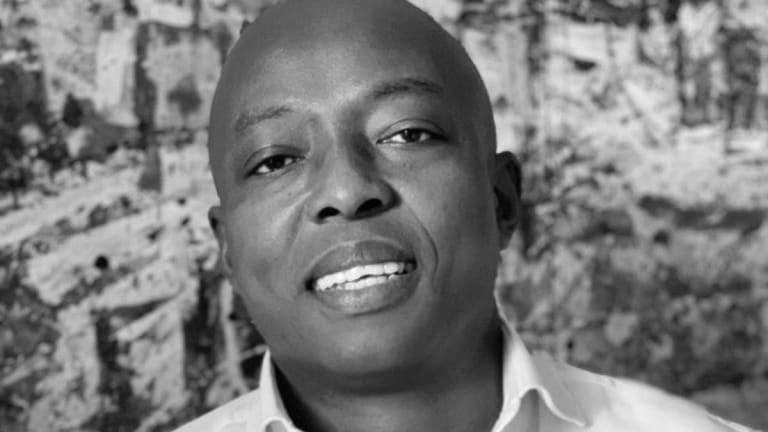 Peter Alfred-Adekeye and the Victory That Redefined the Status Quo in the Networking Business
Peter Alfred-Adekeye speaks about his life as a born entrepreneur, the development of talent-pooling platform Pingsta, and fighting the giant: Cisco.
Peter Alfred-Adekeye speaks candidly to Blockleaders about his life as a born entrepreneur, the development of talent-pooling platform Pingsta, and a drawn-out fight against networking giant Cisco, the outcome of which redefined the status quo of this business worldwide.
The tale of David and Goliath, from the Book of Samuel, describes how the giant Goliath was defeated in combat by David, a much smaller opponent, through cunning strategy, rather than raw strength.
The background to the story is the long-standing conflict between the Israelites and the Philistines, who rely on the imposing presence and sheer size of their champion Goliath to keep the Israelites in check. For forty days and forty nights, Goliath defies the Israelites, led by King Saul, to put a man forward to fight him. But nobody does, as everyone is afraid of the tall and fearsome Goliath. That's until a humble peasant, David, takes up the challenge. David's brothers, who are in the Israelite army, mock him and tell him that he should stay back and look after his livestock. But David perseveres. He puts a stone in his sling and takes aim at Goliath, striking the giant dead center on his forehead. Dazed, Goliath falls face down onto the ground. David picks up a sword and cuts off the giant's head with one easy blow. The Philistine army routs after seeing its champion fall.
David would go on to become King of Israel, but that's a story for another day.
Today, Peter Alfred-Adekeye reprises the role of David as one who stood up against a giant corporation and won a noble victory.
On Pingsta
There is talent everywhere. The perfect professional is always out there but finding the right person for the right job can be a challenge. Peter and the Multiven team developed Pingsta, a knowledge-sharing platform that enables network engineers to share their knowledge and resolve issues worldwide.
"When I founded Multiven in 2005, the mission was very simple: to make the internet work better. But as you can imagine, this was a huge task. So we created an Artificial Intelligence software that would learn from our experts as they solved network problems. The next challenge was hiring experts. At the time, circa 2006, we didn't have the funding to afford the salaries of hundreds of full-time senior engineers. Furthermore, a lot of the most beautiful minds of internet engineering and cryptography don't want to work for anybody. They are free thinkers that cherish their independence.
"So the idea for Pingsta came to me one day when I was at a bar with some friends. I started thinking, when you want to drink beer, you don't build a brewery. You go to the bar and order what you want. In other words, you pay per use. So I thought, why can't we find a way to leverage network expertise on-demand and pay per task?
"So we drew up a shortlist of about a thousand network experts, cryptographers, security researchers and technical leaders from around the world and invited them to sign up to Pingsta which essentially became the world's first intellectual collaborative network, where tasks are routed to experts based on their expertise, compensation paid per task and the resultant knowledge archived for re-use without human intervention by Pingsta's AI, mySolvr.
"The late renowned cryptographer, Hal Finney, who helped Satoshi Nakamoto fix bugs in the original Bitcoin code, was Pingsta member number 62."
Harnessing the power of expertise through mySolvr
The Pingsta platform now holds the knowledge and expertise of about 1,200 experts. And all this data needs to be managed efficiently to make the best use of out it. One of the best ways to manage data is through Machine Learning and Artificial Intelligence, so enough basis existed for the inception of mySolvr, an AI-powered engine that harnesses the power of knowledge.
"The goal of mySolvr is to manage and harness this expertise on demand. So when there's a problem with one of our customer's network, mySolvr attempts to resolve it but when it can't, it multicasts the issue to engineers with matching expertise for that specific problem. This is accomplished by tagging profiles, so the appropriate engineer responds to the query and solves the issue.
"The beautiful part is that the AI will take that knowledge and archive it, so if another customer has a similar problem in the future, the query will not even be sent out to the Cloud. The AI itself will step in and issue the recommendation on how to fix the issue."
Rising against injustice: Multiven v. Cisco
Peter worked for multi-national corporation Cisco for about five years back in the early 2000s, holding a number of senior positions there. But things turned sour, leading to the filing of an antitrust suit against Cisco in 2008.
The essence of the suit was Cisco's monopoly in the Internet network maintenance services industry. Multiven alleged that Cisco maintained a stranglehold on the sector by bundling bug fixes and software patches to its maintenance services. In other words, if you purchased networking equipment from Cisco, you were immediately bound to purchase its maintenance service in order to get access to updates that correct the Cisco-made defects in your purchased software.
Peter took on Cisco's corporate might to challenge the status quo. But being of Nigerian origin, he faced an uphill battle from the start due to the stereotypical 'Nigerian scammer' aspect that Cisco attempted to tag him with.
"To try and paint Nigeria as a nation of scammers is grossly unfair. Contrary to popular belief, Bernie Madoff is not Nigerian. And statistically, no more than 5% of a country's population can be considered rogue.
"So I spent about five years working for Cisco as a technical leader, and when we sued them to open the multi-billion dollar Internet software services market to competition, a number of their lawyers honed in on the fact that I am of Nigerian origin, and attempted to paint a false picture of me as an African scammer. They first tried to undermine our suit, and when that didn't succeed, they resorted to attempting to tarnish my reputation.
"They went as far as fabricating stories that I was of no fixed abode, and that I had attempted to log on to Cisco's public website 99 times. All complete lies. They even printed a rather disparaging black and white photo of myself to show the court in Canada which essentially showed a 'black face' with white teeth."
In the end the truth prevailed and Peter's intentions were vindicated. Cisco settled the suit in 2010, allowing Multiven and its customers unprecedented access to software updates, bug fixes, and patches for all Cisco equipment. Multiven became the first company in the world that was able to compete with Cisco and all Original Equipment Manufacturers (OEMs) globally in the internet network business.
On blockchain
The uptake of blockchain technology grows wider every day, but it will likely be two to five years before we see the results of the current projects. Multiven was an early adopter of the technology so I wanted to find out what led Peter to believe in this emerging trend. It came very much on the back of Multiven's legal victory against Cisco in 2010, and after Swiss regulators enabled the transferability of software licences in 2014.
"One of Multiven's key goals has always been to make the internet work better. When you operate a network, there are three principles at play: you buy the equipment (hardware and software), maintain it with software updates, etc., and eventually you sell it. Buy, Maintain, Sell.
"Multiven's initial target was addressing the 'maintain' market, which it achieved with the 2010 Cisco settlement of Multiven v. Cisco. However, in 2011, Cisco breached this agreement causing us to file a fresh complaint with the Swiss Competiton Commission in 2012 where we asked them to reaffirm the right of customers to free software updates and to allow, for the first time ever, the free transferability of Cisco software licenses.
"In 2014, the Swiss regulators ruled in favor of both our requests and from then on, all Cisco software were freely transferable. This meant that if a customer decommissions its Cisco hardware, they could now extract the installed software and sell it. Bear in mind that software does not age, so it retains a lot of its original value.
"That ruling in 2014 was the trigger for us to go and implement the buy & sell aspect of our long-term vision. So I said let's go and create a marketplace that allows everyone to sell their unwanted hardware and software. So we started developing this marketplace in 2016.
"We realized in 2017 that we were building another Amazon, so we started looking at blockchain technology to make this marketplace completely decentralized. We designed a blockchain-powered marketplace for the free portability of IT hardware software and services market."
The African Network
The victory against Cisco became a pivotal moment in Peter's career. It opened up massive market opportunities and it granted Peter a great deal of pride. As David did before, Peter faced off against his own Goliath and won. I wanted to know how that sense of pride determined the course of Peter's next move.
"You know, that's a great question. I used to work in London, but soon grew bored of it. So I went to the States and worked in California for a while. I was born an entrepreneur, and I've always thought that entrepreneurship is the best way to empower people.
"So when I got to California, I looked around and saw a number of African-born engineers and other professionals. Some of these people would have Ph.Ds., double MBAs, from Stanford, Harvard, Yale etc. Really well-educated people. However, they never ventured into creating their own firms, preferring the "security" of working for Fortune 500 companies instead.
"I met some of them at a party and said to them that they needed to take the leap of faith and do their own thing. I created The African Network as a support structure to empower all these Africans both abroad and at home, and give them the tools to launch their own technology start-ups."
On the entrepreneurial spirit
By his own reckoning, Peter was born an entrepreneur, so the drive to create and work for himself was always there. Peter's father had gone to England to study back in 1939, and ended up volunteering for the Royal Navy to fight the injustices of world war two. I wonder if Peter's upbringing had anything to do with his entrepreneurial spirit, or was it simply in the fabric of his genes.
"I honestly believe that entrepreneurs are born, rather than made. So I believe it's always been in my blood and DNA. My grandfather was one of the first timber tycoons in Africa, back in the 1800s, for example, so he became very wealthy. He was a smart man too. He did his Cambridge exams by correspondence. The point is that the entrepreneurial spirit has always been alive in my family.
"This spirit always inspired me to be the best I could be, and use my skills and knowledge to help make the world a better place."
On the future of blockchain
The future of blockchain appears bright, and I wanted to know what Peter thought of it.
"Honestly, I think blockchain and cryptocurrencies are the future of finance and commerce. In today's world, there is a lot of centralization. For instance, if you want to order a taxi, you have to go through Uber to do that. If you want to buy stuff online, Amazon acts as the intermediary. Blockchain enables a world with no intermediaries, which is very powerful.
"The absence of intermediaries means lower costs for buyers, ability to source products and services globally - rather than locally - and a myriad of other advantages. The emerging blockchain commerce is enabling the Multiven Open Marketplace, for instance, where humans will push the Buy and Sell buttons and smart contracts will fulfill the transactions peer-to-peer. This lays the foundation for a future AI-to-AI commerce, whereby the AI in your fridge will order food from the AI in your local grocery store to replenish your stock, powered by smart contracts and pay in cryptocurrencies."
You can learn more about Peter through his LinkedIn profile, the Pingsta or Multiven websites, or his email address.