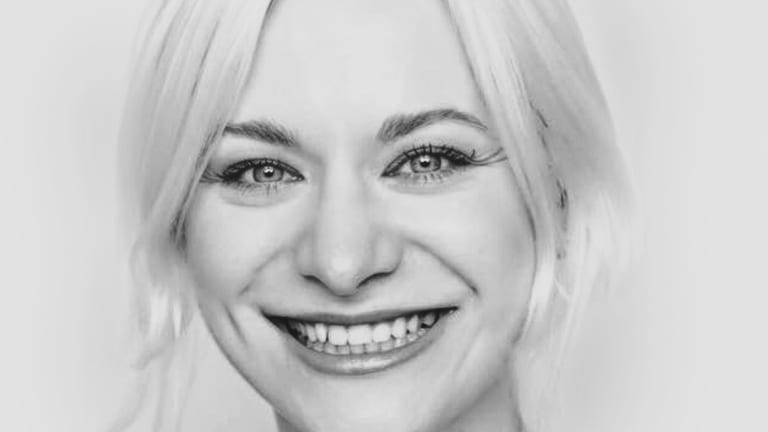 Paulii Good: When marketing and storytelling meet the blockchain
Storytellers share a common bond. Restless creativity. The bond is unseen but strong, and resilient. Creativity drives the storyteller's inner thoughts and motivation for everything they do. Paulii Good has achieved success in her chosen professional path. She spoke to BlockLeaders about the power of storytelling both in work and life, and also confessed her passion for baking nice stuff for her family.
From humble beginnings in her native Poland, Paulii Good has achieved success in her chosen professional path. She spoke to BlockLeaders about the power of storytelling both in work and life, and also confessed her passion for baking nice stuff for her family.
Storytellers share a common bond. Restless creativity.
The bond is unseen, but strong, and resilient. Creativity drives the storyteller's inner thoughts and motivation for everything they do.
Stephen King once said that Stories are artifacts, not really made things which we create and can take credit for, but pre-existing objects which we dig up, and I happen to agree with such idea. We as writers and storytellers begin gathering the pieces for every story we create from childhood. Fragmented memories, images, pieces of overheard conversations, and figments of our own dreams, nightmares, and imagination, are constantly swirling somewhere in the back of our minds. And sometimes, a catalyst occurs, and some of those seemingly incoherent pieces suddenly fall together neatly, and a story is born.
Storytelling permeates every aspect of life of us creators. And whether we write about monsters lurking beneath our beds, or about how to market the latest product, the core idea remains the same. We use words and images to bring that monster or product to life.
Paulii is a natural-born storyteller.
Born in Poland, Paulii's creative drive and desire for freedom of the mind was always there from an early age.
On storytelling
1985 was a momentous time. It would be the first year when you could buy music on CDs, for example. Live Aid concert was held in London and Philadelphia, to raise funds for famine-stricken Ethiopia. And US' Eastern Seaboard suffered one of its coldest winters to date, with record low temperatures recorded as far south as the Florida peninsula.
And a British band, Magnum, released its fifth studio album, titled 'On a storyteller's night'. The album quickly became Magnum's best-selling to date and remains so to this day.
On a storyteller's... is a difficult album to classify, as it doesn't really fit neatly into any traditional category. It is a striking piece of work nonetheless. Every song and melody is beautifully crafted, and every single song tells a fine and enduring story.
Paulii Good's innate talent for storytelling mirrors Magnum's breakthrough album insofar as her every story is crafted to deliver meaning and endure the test of time.
I really wanted to know Paulii's approach to the art of storytelling.
"I've been involved with media for a while. I started with Virtual Reality (VR), and quickly realized that many companies involved in technology struggle to communicate what they have actually produced, and to engage their potential customers and convince them to buy the item in question."
"Many companies simply list the technical specifications of the product, hoping that people will understand, but many customers won't because they may not be technologically minded, so the outcome may be a missed sale. I would suggest that only tech-savvy people would be interested in buying, but what about the wider audience? How to pique their interest? I'd be met with blank faces."
"So that was what spurred my interest, the inability of these companies to create stories to engage their customers and essentially sell their products."
On creativity: A story is born
Everyone's approach to the creative process is different. The creativity of one's mind is wildly different to the next one. I wanted to know how Paulii's creative process works.
"I'm very much into Neurolinguistics Programming (NLP) and behavioral psychology. I look at all aspects of the project and see things that people wouldn't necessarily see. I see outside the box, so to speak. And the process of creating a story just happens in my head."
"Sometimes, when a client describes their product, images begin to form in my mind. I begin to see a story about things that will interest people enough to want to see/hear more. Many times, I see that clients lack a clear understanding of how their product/services will solve a specific problem for a target audience. Maybe the product can be marketed differently to specific target audiences."
"So I begin crafting a baseline of the story that I would think would be of interest to the wider audience, whether it is investors, or whoever else."
"Taking ICOs as an example of this, the people behind the ICOs talk about hash, and smart contracts, etc., but many can't really explain that well what the actual product is. I'm involved with many ICOs, and have seen this time and time again."
"I have also realized that many ICOs feel that marketing is merely an afterthought. When they focus on launching the ICO, etc., with little or no marketing plan or budget, for that matter. So, if the ICO hires me, I usually conduct an audit to see what they have already, then ask them about the story they wish to communicate and see if they are going in the right or wrong direction."
"A common perception among ICOs is that their product is simply the best and that all they have to do is announce it and put it out there, and people will just 'know about it' and buy into it. And they soon realize that there is quite a difference between what founders imagine will happen and the reality of selling their idea to the masses."
"What founders/teams behind ICOs don't realize is that a story is crucial. No matter how amazing you think your product might be, the story is of capital importance, particularly in a bearish market. You need to be able to show how and why your product is better than your competitor's. Why 'I have to be interested in this ICO, this idea, this team. What is so special and interesting to me as a potential investor in the project?"
Eastern stories: Paulii's stint in Japan
Paulii's soul has always strived for freedom, and to stay out of conventions. Some years ago, she traveled to Japan, where she stayed for about 6 months. The trip would open her mind to the wider world, and taught her valuable lessons about herself.
"Japan was just me, trying to see the world. I was born in Poland, remember, where I was raised in a very restricted kind of way. What I mean by this is that you were given a set of rules to follow, and do the same as everyone else, otherwise you would be frowned upon. This never really worked for me."
"So I happened to get a job in Japan as a waitress. I was 19 at the time, and I had my passport in one hand and my luggage in the other. And I just went for my big adventure."
"The trip opened my mind to other cultures. I learned to be respectful, to be careful whom you talked to, and also learned that if you really want something, you can do anything."
"Back then, who could have said that I'd now be working with ICOs, doing marketing and travelling so much?"
"I learned about knowing and appreciating your own value."
On working for big corporations, and discovering her true calling
Paulii then moved to London, where she worked a number of jobs before finding her own way. She worked as a chef, for instance, and occupation which she loved but had to quit due to health issues.
Big firms then came calling, and while working for big international corporations sounds good on paper, the truth is somewhat different.
"I worked office jobs in corporations for like 6-7 years. And one thing that struck me is that the steps involved in actually creating something for these corporations, and to implement any change or new vision, is just an enormous task. A lot of paperwork, meeting after meeting, etc. And at the end of the day, the boss would always ultimately decide which way to go anyway."
"So after working in two different corporations, I decided that working in that environment was not for me."
"I like to think of myself as more of a free spirit. I love having this freedom to not have tasks imposed on me all the time, and be told how to do them."
"I prefer the feeling of working as a freelancer or consultant, as I have the ability to influence the client. So, for example, if a client decides to hire me, they will listen to me and value what I say, my ideas. In a corporate environment, you are placed in a 'box' so to speak, and you cannot think outside of it."
On AcornHub
The core principle behind AcornHub is start-ups & crowdfunding for everyone.
Paulii has been involved in this enterprise since 2018, working as a Social Media Strategist and a storyteller.
"Right now, I'm helping the Hub with marketing and social media, to create a story about how to position their company in the market post ICO."
"They offer a crowdfunding platform which will be available worldwide. So, anyone can apply with their product, or their idea, and seek funding."
"The Hub aims to create awareness of a particular project, and to enable the crowd to raise money for it."
"The platform launches at the end of January, so my work involves the marketing of the company and the creation of a social media story to encourage people to look and participate in AcornHub."
"There are two strands to this story: One strand is aimed at the crypto community, to make sure they understand that our coin is not just a value-less coin but a coin with real utility. It will be used as a token in our platform, which will be dedicated to fundraising."
"The second strand will be aimed at people who want to sponsor the projects seeking funding. Also, there is the third very important branch – the project makers- they need to be convinced that AcornHub is what they were looking for and it's what they need to be successful."
"These three stories must be independently told. There are a number of projects already on the platform, so I'm looking forward to the platform launch end of January 2019."
Baking to perfection: Paulii's love for the baker's craft
A baker's craft is a work of art. From the precise amount of ingredients, to the arrangement of figures on the cake itself, a baked item can become something both a tasty treat and very visually appealing.
Turns out that one of Paulina's hidden talents is baking cakes, which she confesses to not eat because she doesn't like sweet stuff. Yet, she pours love and care into crafting deliciously yummy cakes.
"My dream as a kid was to attend art school, but unfortunately, Poland was very under-privileged at the time and we didn't have many such institutions. It would not have been possible for me to travel over 2h each way just to get to the nearest art school."
On the creative process
We all have one, don't we? Us creative people choose (or sometimes, it is chosen for us) from where creating worlds and new mind spaces comes easy.
I said 'it is chosen for us' because the decision to pick one spot over all others is sometimes not a conscious one. Rather, it is instinctive. We feel the call. It could be the sofa in the living room or your bed. Or perhaps that old desk beside the back window, the one where dust gathers in capricious forms and coffee mug ring marks older than you dot its wooden landscape.
The process of creating something new differs for everyone. What's Paulii's approach to it, particularly within the blockchain space?
"Blockchain for me is mostly ICOs, because that is where most of my experience has been focused on."
"I like the idea of why we have blockchain, which is to change something for the benefit of the larger world. That is a concept that I'm very attracted to: The creation of a lasting change, solving a problem that will make life easier for many people."
"I have been offered a lot of projects that were about money, and I wasn't particularly keen on these. I believe that the core idea of blockchain is change, to make things better. Then, you can always monetize that change, if you do it right. But money should not be the core objective of any blockchain project, because this is not the reason blockchain was created."
"So when it comes to creating stories on the blockchain space, I speak to the project owner and images begin to form in my head. It's like there are a lot of drawers in my mind, and one specific word opens one specific drawer, and so on. I'm also big on notes. I write something, and then when I read back, one of those drawers opens up and a piece of the story jumps out."
"I think that blockchain is also about gratitude for the things we have, and the privileges we enjoy every day. The privileges of going to the shop in our car, pay for any stuff we want and go back home. Many people in the world do not have these privileges, and blockchain can help to change that."
"Blockchain can give something to people who have little or nothing. But until we can appreciate what we do have, we cannot give anything back."
"The best story for me is to be able to relate the product to the target audience that needs this product/service, and to build a narrative that touches their hearts and minds."
On book writing
Marketing, social media, storytelling. and the art of baking cakes, there seems to be no end to Paulii's chest of wonders.
But there's one more ace up her sleeve. We round the conversation with a discussion about Paulii's upcoming book, which will fictionalize her experiences in the crypto world so far.
"I'm trying to write about the things I've seen in the crypto space, things that I have first-hand experience on. It's going to be a deep look at the crypto world, and all the crazy things that happen there."
"And I tell you, a lot of crazy stuff happens with crypto and ICOs! From scams, to paid actors purporting to be CEOs, to handing out bags on money in public spaces, there's quite a few stories to tell, and these stories together could make a good book."
You can follow Paulii through her LinkedIn page or Twitter feed.