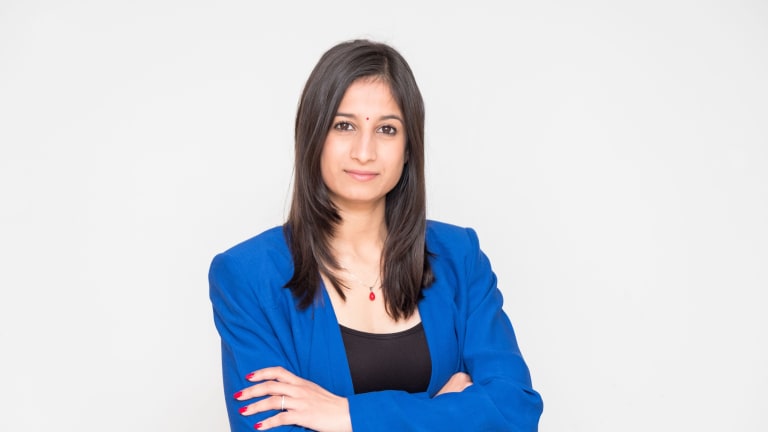 Nerushka Bowan: A Catalyst for Legal Technology Innovation
Weighing law and technology on a scale is bound to actually turn the scale into a seesaw, consequently shooting law, hopefully to the moon. Even in "developed countries", the law has always strolled at a snail's pace when it comes to catching up with technological trends and developments. Nerushka Bowan, today's Blockleader shares her journey in the realm where technology and law intersects.
Weighing law and technology on a scale is bound to actually turn the scale into a seesaw, consequently shooting law, hopefully to the moon. Even in "developed countries", the law has always strolled at a snail's pace when it comes to catching up with technological trends and developments. Nerushka Bowan, today's Blockleader shares her journey in the realm where technology and law intersects.
From time immemorial, human interactions have always been one form of an exchange or the other. Regardless of the century homo sapiens found themselves, a form of exchange was needed to have dealings with another. The agricultural age could be seen as the exchange of food; the industrial age, as the exchange of machines; and the internet age as the exchange of information. Now, we are in the age of digital transformation, where the exchange of value will reign supreme. "The internet allows us to share information with each other, for example, emails, photos and videos. Blockchain technology allows us to share value with each other over the internet, for example, sending digital money without the use of the bank or keeping a verified record of where a diamond originated from."
As the speculation craze dwindles, no thanks to bitcoin being blockchain's first use case, we can expect attention to shift from all-time highs to development of real-world use cases. "Currently, financial regulation and payments – only because there are actual developments in this space", are Nerushka's favourite blockchain industries. "I hope that there will be tangible developments in the legal industry too."
Until you are able to explain to another in simple terms, about something you claim to know, then you do not really know it. This sums up the bulk of Nerushka's activities in the decentralized space. "I teach non-technical people about emerging technologies, such as blockchain and AI, and how they work. I also teach lawyers about the regulatory, legal and ethical risks and questions that arise when adopting these technologies into society."
As a senior associate in a multinational law firm, she honed her skills in law and tech, including business development. "Before starting my own business, I worked as a Senior Associate in Technology and privacy law, & had a dual role as Business Development Manager for Technology and innovation, at a large international law firm based in Sandton, South Africa."
Nerushka's first exposure to blockchain came in the form of developing content focusing on related topics for a global audience, she even got to present on these topics. "While working for an international law firm a few years ago, I was involved in creating global content on the topics of bitcoin, cryptocurrencies, smart contracts and blockchain. I also presented to numerous clients on the topic. After starting my own business, I continued to educate and create awareness on the topic as I can see the disruptive potential. Once you start analysing the changes the technology can bring, it also makes you question the status quo and understand the difference between what is man-made (for example, governments, laws, borders, etc) and what can't be changed. Anything man made can be changed, and has evolved over time as society changes. Blockchain technology may not just be a disruptor in tech but could disrupt every avenue of society. It makes you interested in understanding more about history, philosophy, regulations, economics, mathematics and finance and more!"

Ever curious little Nerushka was always looking to learn something new, something different, every day. "I was always a curious child and loved learning about new, different things. As a child, I collected Dinosaur magazines, wanted to be an astronaut (now I'm just waiting on Richard Branson / Elon Musk to make commercial space travel viable) and my biggest bucket list item was to see a volcano erupt (still want to do this one!). As an adult, finding a fascinating space (emerging technology) where you cannot learn everything is intriguing, as it makes you learn something new and interesting every day."
Virtually everyone in her family is in the science field, little wonder she's got a fascination for technology, although her educational background is in the arts and humanities, law specifically. "I am married for almost three years to a caring husband and talented civil engineer (it is great to learn from him about engineering too!). I am the oldest of three girls, both my sisters are engineers (the civil engineer lives in Sydney, Australia and the youngest, a chemical engineer, lives with my parents in Centurion, South Africa and also helps me with research for the L.I.T.T. Institute). I have a close relationship with my family, and both my parents have a background in law."
There's always this misconception that lawyers are boring people, who've got no joy. The picture Nerushka paints about her extracurricular activities depicts otherwise. "I love keeping fit and enjoy activities such as yoga and swimming. I am also a pole fitness instructor at a local pole fitness studio, and I'm currently studying to become a personal trainer and life coach."

Most cited reasons, why people resign from their job, has been to pursue their own personal dreams. "At the moment, keeping my flexibility is very important to me. If I feel that a project will make me spend too much time on someone else's goals, rather than my own, it is unlikely that I will take it on. I don't take on much legal consulting work, as I am not practising as a lawyer, and my focus right now is on education and awareness, rather than traditional legal work. For example, I consult to the Blockchain Academy to run their "Legal and Regulatory Implications of Cryptocurrency and Blockchain" course, as it was aligned to my focus of education and awareness, and the courses are suited to my schedule. I decline most offers for any advisory roles on startups or ICOs. The few that I do assist, I know the founders and team well and believe in what they are trying to achieve. It's not always easy to say no, but it is important. I have said yes to many things that I later regret or do not do my best."

Nerushka hopes that as she pursues these dreams of hers, her work would impact the legal profession to create a new crop of lawyers, who are bilingual, in law and tech. "The L.I.T.T. Institute stands for "Law. Innovation. Technology. Tomorrow." and aims to catalyse change in the legal industry by creating lawyers of the future. I could go and create an innovative legal tech startup by myself and contribute a piece to the legal innovation revolution. However, if I inspire, 100s or 1000s to create change, the impact on the industry will be exponentially larger. The Institute first defines the skill set that the future lawyer has, and then works backwards to bridge the gap between the lawyer of today and the lawyer of tomorrow. Some courses that we will run include legal design, coding for lawyers, AI and the law, smart contracts for lawyers and various business skills courses. I am looking forward to watching the legal innovation revolution unfold." At the end of the road, she hopes to leave behind a legacy beyond her existence in the form of the LITT Institute, as "a catalyst for change in the legal revolution."
With a philanthropic heart, she still finds time to give back to those in need, in her own teaching/mentoring way. "I volunteer as the co-chair for the Johannesburg IAPP Knowledgenet (IAPP stands for International Association of Privacy Professionals, and is the largest association of privacy professionals in the world), I am a mentor to young law students at the Allan Gray Orbis Foundation, and from time to time participate in probono speaking engagements aimed at the youth. I also make monthly monetary contributions to an old age home from my hometown, and a bursary fund that funds deserving, underprivileged university students. Previously, I enjoyed volunteering at the Constitutional Court on Saturday mornings to teach high school students about our country's history, the Bill of Rights and the Constitution."

Crypto twitter, the land of the ridiculous and the hilarious, is well known among the decentralized folks, Nerushka finds it lives up to its reputation. She briefly touches on things people frequently get wrong about blockchain and crypto. "Most people have only touched the surface and begin commenting on how things work (or don't work). Most people just want 'get rich quick', and fall easily for scams. Most people just want to join the hype and put any idea 'on the blockchain' regardless of whether it makes sense or not. I think it is only a matter of time before 'most people' move on, and the real work begins."
A recent survey by Deloitte on the future of blockchain, among other things, found that 39% of the executives surveyed have budgeted at least $5 million for the investment and integration of blockchain in their business. What does this mean on a career level? It means talents in the blockchain niche will be in higher demand than ever before! Nerushka has some advice for newbies looking to launch a career in blockchain. "There are so many areas to explore. Find your niche in your current expertise – whether it be tax, finance, economics, or philosophy! Apply your expertise to your know-how in blockchain technology and start creating content (for example, blogs and videos on social media). From there, you are likely to start being asked to present at conferences and participate in interviews. Once you have developed your brand, you also need to know what product or service it is you are offering, once people start approaching you. Are you assisting people to file cryptocurrency in their tax returns? Are you creating a new startup? Are you providing consulting services to other startups?" Having clarity is essential.
You can follow Nerushka on her website, LinkedIn and Twitter, to keep up with happenings in law and tech.