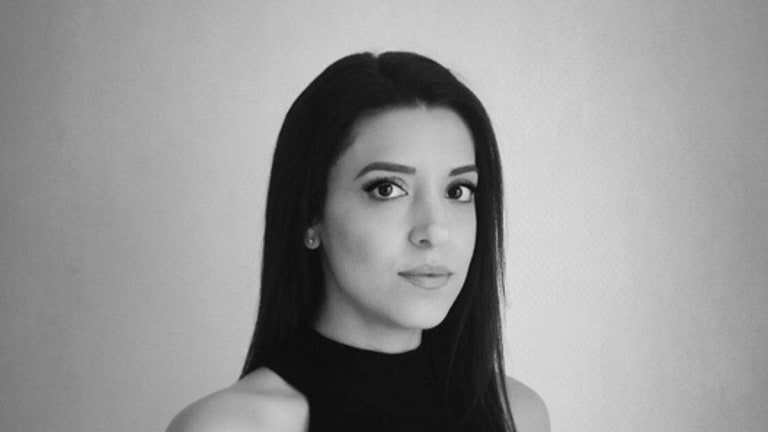 Nelly Moffett - Walking TAAL With Blockchain
Founder and director of TAAL, offering free blockchain courses to women, talks about walking away from a promising career to concentrate on her passion.
The founder and director of TAAL, a Lyon-based non-profit that offers free blockchain courses to women, Nelly Moffet talks to Blockleaders about walking away from a promising business career to concentrate on her passion for blockchain.
When Nelly Moffet moved to France in 2010, she hadn't a word of French, knew nobody, and had never been to Europe. She had studied Foreign Affairs, which might have helped a little, but was hardly a solid foundation for a career in tech. Eight years later, the Mexican native has been nominated as a candidate for the French Inspiring Fifty, the binaurally produced platform for the most inspiring women working in technology. Along the way, she completed a Masters Degree in her third language. In a Europe that is grappling with issues of national identity and multiculturalism, the Nelly Moffet story has the sweep to sting the eyes of many a far-right populist.
Now a French citizen and very much settled in her adopted home, Nelly devotes all her resources to helping others achieve their goals. Her ambitious project, TAAL, provides education on blockchain and other cutting-edge tech to women for free. To get TAAL up and running, Nelly quit her job, moved from Bordeaux to Lyon - which hopes to centre itself as a European Silicon Valley - and delivers classes herself, for no fee. Nelly explains why.
"When I discovered blockchain, it was a turning point in my life. I was already involved in helping women in a professional environment. I created a network in Bordeaux to help women to integrate into the workforce. I organised meetings for them to discover how the economy works in Bordeaux so they could find a job more easily. Because when I arrived, it was not easy for me to find work, so I wanted to share my experience with them. Then when I found out about blockchain, I thought that if I really wanted to help women, it should be through education and technology. So I quit my job, moved to a bigger city and created TAAL, a non-profit organisation to offer classes and learning resources aimed primarily at women but available to everyone."
Nelly's French odyssey began when she found work at the Canadian Embassy in Mexico City. Needing to learn French, she decided to put her career on hold and go to France, with the intention of returning home with a new language under her belt. There were difficulties at first of course. "Being an immigrant is not easy. First of all, I had the language to contend with. I love French but it's a difficult language to learn. Once I crossed the stage of feeling comfortable expressing myself in French, everything became easier. But I have had opportunities in France that I never would have had in Mexico. I have done things here that I could never imagine doing in Mexico."
One lesson she has learned from her immigrant experience is that the relationship with the new country has to work both ways. "Helping people is a great way of integrating into a new culture. In France, we say 'in order to receive you have to give'. You can't expect a country to give and give and not give anything yourself in return. I have worked as a volunteer for many organisations and this has helped me meet new people, identify with them and understand the environment."
When she decided to create TAAL, she was ready to take a gamble. Relocating to Lyon with her husband working on the project alongside her, Nelly has so far managed to go it alone without any state support. "At the moment, all the funding is coming from my own pocket. I discovered that helping other women makes me happy. I found my passion for this in Bordeaux. We will charge a small amount of money for people to join our organisation and we plan to fundraise soon. Google just gave us a grant of $10,000 per month to help promote the project online. But mostly, it is our savings."
For Nelly, education has a transformative power, and the beauty of technology is that we can all share our knowledge. "Our idea is that people who join our project will be able to use online educational resources. The great thing about technology is that with the internet everyone can educate themselves, but you need guidance. We are working with Universities to make this as easy as possible. A lot of people are curious about ICOs and cryptocurrencies. But before you invest in digital currencies, you should know as much as possible about how the market works. We are coordinating with Nicosia University in Cyprus where one of the teachers is Andreas Antonopoulos who wrote Masters in Bitcoin. To have the opportunity, for free, to speak to people like him is invaluable. We are also working with the Lisk Academy in Germany to have their free materials translated into French."
Now a role model herself, Nelly follows in the footsteps of other women who helped her make the leap, without seeking any reward or compensation. "Navroop Sahdev is my greatest role model. She went to MIT, holds three Masters Degrees, she has an extraordinary depth of knowledge. When I spoke with her she was so incredibly helpful and friendly. She wants to see more diversity in the blockchain space. I followed the free online course that she co-founded with the Linux corporation. You can see people on the news, or on TV, but is so important to talk to people who have been there. That's the idea of the Inspiring Fifty project. Their motto is 'if she can see it, she can do it'. You have the right to educate yourself about the things you feel passionate about. It doesn't matter what you've been doing all your life. If you want to be in technology, you can. You just need to find the right tools, the right guidance, and work hard."
Of course, as a young woman in tech Nelly sometimes has to try extra hard to be taken seriously by her male contemporaries. "When I am talking to men about blockchain, I can see that they are not comfortable. I don't have to work harder than men, because the work is the same. But you have to make an extra effort to make a name, or to have a place. You always have to prove why you are there."
And Nelly is audibly excited about blockchain. But what is it about distributed ledgers that is so exciting? "I fell in love with the idea of giving people the power of deciding for themselves. It is so inclusive. Offering services to unbanked people, in countries like Mexico, is a very powerful thing. Moving towards a decentralised internet, being able to trade electricity and data without a central body, these are really exciting developments. The power of people working together, that's what excites me"
Nelly has her hands full sharing her enthusiasm and knowledge with other women. But the difficulties of raising funds and the financial risks she has taken, does she worry that she is doing the right thing? "Of course, some people have tried to talk me out of this. But I was at a point in my life when I felt it was now or never. With all the bad things that happen in the world, sometimes you can feel overwhelmed. I know I cannot fix the problems of the world, but I know that I am doing what I can with the resources that I have to make a difference. And it is now or never. I may not be able to solve the problems of Syria or Venezuela, but I can help the people around me. I can play my part."
You can learn more about TAAL here. Connect with Nelly on LinkedIn.