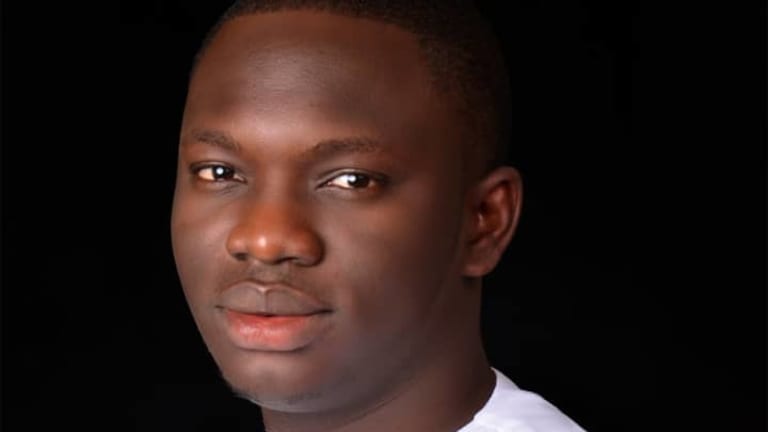 Nathaniel Luz - Spreading the Ideas of Human Dignity, Individual and Economic Freedom
Call me a Libertarian, and an unrepentant believer in Africa rising to become a first world continent.Block Leaders' Demi Oye talks to Nathaniel Luz about his works and journey as a revered Libertarian and his entrepreneurial ventures in the cryptocurrency space.
By Demi Oye
Call me a Libertarian, and an unrepentant believer in Africa rising to become a first world continent.
Block Leaders' Demi Oye talks to Nathaniel Luz about his works and journey as a revered Libertarian and his entrepreneurial ventures in the cryptocurrency space.
Nathaniel Luz is an Award-winning libertarian with Student for Liberty, an organization committed to spreading the ideas of human dignity, individual and economic freedom, and the ability to pursue one's happiness without coercion.
Nathaniel opines that being a leader has exposed him to several new ideas, one of which was the Blockchain in its infancy.
Nathaniel believes in the rise of a new generation of Africans called the 'Cheetah Generation', a generation that will leapfrog African citizens forward!
I believed he would make a great interviewee as he had a lot to share about his forays into the world of blockchain and libertarian ideals through his Dash Project and other imitative.
The Block Leader was enthusiastic about this interview and in less than a minute we veered off and discussed everything that came to mind.
While we established his undying passion for spreading Libertarian ideologies, I was interested in knowing what attracted him to the blockchain space.
How did it all start, Nathaniel?
"It all began with the wonders of cross border remittances. The ability for someone far away in the US to scan a barcode on my phone through Skype and I receive the payment.
"This was an interesting development for me, having seen the amount of time and high transaction fees traditional money remittances systems cost.
"Sometimes in Sierra Leone, I noticed how people were waiting for days to receive cash sent from other countries while paying 8 – 10% in fees.It dawned on me that there was work to be done.
"The question then was, why do people have to pass through this just to get their funds when they could have used bitcoin? This spurred me into a research path and the answer to the question above was either they weren't aware of it, or there were not enough infrastructures to make such viable systems work around them."
Moreover, the effect of technology is penetrating slowly in Africa than it is in most first world climes, so the gap has been widening in recent years. "The poverty gap is a technology gap," says Kwabena Frimpong Boateng, Ghana's science and technology minister. It is also a knowledge and education gap" as reported by The Economist.
Nathaniel and I discussed the importance of mentorship in a relatively nascent space and how it separates the boys from the men. While it's easy to carry the titular 'blockchain evangelist" as a catchphrase on social networks, it is important to understand the underlying principles that drove the earliest proponents of decentralization.
I asked Nathaniel who he looked up to in the Blockchain space.
" Andreas Antonopoulos is the name that does it for me. The passion he exerts into his projects is nothing short of awesome. His commitment to teaching about to blockchain and cryptocurrencies got me interested in his works. I read his books, got his videos in preparations to undertake this adventure of teaching the blockchain and cryptocurrencies all across Africa.
"But there was a fundamental issue with bitcoin – it is not self-funded. 100% of newly mined coins go to the miners in contrast with Dash, which has several improvements over bitcoin. Dash has 45% of its newly mined coins go the miners, 45% to the master node owners and 10% goes to the treasury of the Decentralized Autonomous Organization (DAO).
"The DAO is the governance mechanism of Dash, and the treasury allows to finance such activities, ideas, and projects that promote Dash. This model coupled with other Dash features like PrivateSend, InstantSend, fees of a cent, and others, proved to be the perfect model for my adventures."
The ball does not stop rolling for Nathaniel. We talked about his plans for the future in the blockchain space and beyond.
"To make Africa Dashy, literally. With the limitations of bitcoin, Dash has taken the initiative to be the most used cryptocurrency in Africa and I am committed to spearheading that cause. You need to see the volumes from Nigeria, where I write, in Paxful, Luno, and Remitano, local bitcoins, etc., to understand the level of penetration cryptocurrencies have gotten in Nigeria. You see, I do not understand the missions of companies that are busy building blockchain solutions for other parts of the world and excluding Africa, with the most unbanked and underbanked population in the world
"The commercial banking system across Africa is too complex and the demands by banks are sometimes beyond reachable by customers.
"For example, to create accounts, individuals are usually required to submit a variety of documents including tax files and a record of personal bills.
"Businesses applying for loans almost have to always provide outrageous collaterals and numerous high-profile individuals as guarantors. Cryptocurrencies are way less-stressful and offer more value for money.
"The only requirement is for customers to create a wallet address, and they can start trading with anyone from around the world.
"To leapfrog Africa, towards advanced technologies, just like we leapfrogged landlines into the mobile phone era.
"In my spare time, I am committed to creating and working with existing infrastructures committed to promoting the adoption and use of cryptocurrency in Africa. Some of these are; Yellowcard, a platform that allows you to buy crypto offline from local stores around you, GigaLayer, a domain and web hosting company accepting crypto and a couple of others.
"I believe in building infrastructure that suits the African continent if we really want to see adoption where it's needed.
"I sit as the Executive Director of Cheetah Africa, a non-profit committed to leapfrogging Africa via technology. I also serve as an advisor to Blockchain African Ladies, Blockchain Africa Tech and a few others."
Nathaniel also requested to share a quote from the economist that resonates with his business principles and state of mind.
"The first taste of these new possibilities came when mobile phones swarmed across the continent a decade ago. Within just a few short years hundreds of millions of people were able to phone and text for the first time, bypassing monopolistic state-owned phone companies that kept customers waiting for landlines indefinitely. And leapfrogging over old technologies and business models with mobile phones quickly made other sorts of leaps possible. Thanks to M-Pesa, a service that lets people send money through their phones, everyone with a phone suddenly also had, in effect, a bank account in their pocket. As mobile money has lowered transaction costs, it has brought down barriers to innovation in all sorts of other areas, allowing lenders quickly to assess credit risks, insurers to sell life and medical cover in small chunks and new energy firms to sell electricity by the day or week," The Economist reports.
While trying to transcend above all odds and bring into light his projects in Africa and beyond, Nathaniel reveals the greatest challenges he has faced while clawing his way up and working with people from diverse backgrounds.
"Africa is the most resourcefully blessed continent in the world. But while many of its countries are struggling with financial instability and avoidable economic downturns, the cryptocurrency has all the potential to make them prosper. Unlike before, Africa may have a viable solution to its many problems.
"The continent also needs to address non-economic challenges like the high rate of illiteracy, poverty, irresponsible leadership, and insecurity. Among these, poverty eradication is perhaps the most important.
"The environment doesn't have the necessary infrastructures to spur success without a fight. The scam tag on Africans but those from other parts of the world, the one-sided stories international media tell about us. A quote of Ray Youssef, CEO of Paxful comes to mind "While western media shows us an image of Africa that revolves around poverty and disease, the people of Africa are educating us about the true value of cryptocurrency to create wealth and a truly healthy world economy where no one is excluded"
"I believe in breaking into new frontiers, untapped and under-tapped markets. Fortunately, Africa provides a lot of these to those who can discover and harness them.
"We're turning the tables around. We're rewriting the story of Africa, remember we're the Cheetahs!
Any final words, Nicholas?
"I am grateful to be invited for an interview with BlockLeaders.
"It is an absolute delight and pleasure to be operating now at a high level of service, integrity, and excellence.
"Achieving my personal goals and corporate objectives while contributing my quota to the blockchain space has always been a top priority for me.
"I am African through and through. 
"The opportunities in blockchain technology are limitless. The better news is that the blockchain community work every day to solve its existing and possible limitations.
"If the rest of the world is getting better through smart ideas, it will be at Africa's detriment to ignore the possibilities in a smart framework like the blockchain.
"Keep your eyes on Africa. Her offspring are up to restore her to where she should be, and this transformation will be sudden, quick, sharp, and overnight.
"Thank you once again for this interview."
If you want to look up Nathaniel Luz and what he is up to these days, connect or follow him on LinkedIn.