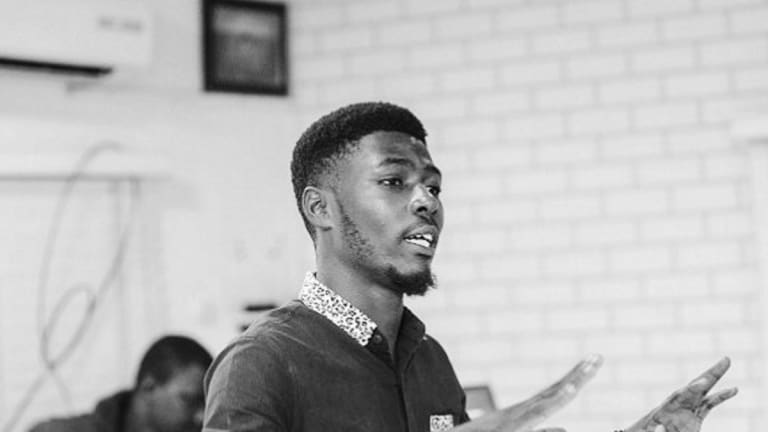 Munachi Ogu-Eke: Engineer Turned Entrepreneur Found His Perfect Match in Blockchain
What career is perfect for someone looking to crystallize his entrepreneurial skills and technological know-how? Munachi Ogu-Eke, Nigeria-based crypto trader and blockchain trainer, shares his story of running a crypto business successfully and, against all odds, finding his perfect-match career in blockchain.

Like most people, Munachi's initial contact with blockchain was Bitcoin. Considering the heavily negative reputation of Bitcoin in the early days, he was cautious and never really developed any concrete interest. "I first came in contact with Bitcoin at around 2014, I was still unsure of it at the time and didn't understand it. I got curious again, in Ethereum, around late 2015. I didn't get bullish on blockchain until 2016; that's when I founded my Over The Counter company and since then I have been very active in the space." No surprise then, that OTC trading and consulting are his favourite blockchain industries to work in.

"It's quite amazing how a concept so simple like the blockchain could be so difficult to explain, hence making it hard to grasp by some people." Munachi's description of blockchain to a child is that "it is a simple way of sending anyone, anywhere in the world, something important without sending another person on the errand." One thing he wishes someone had told him when he first got into blockchain was: "learn as much as possible, as quickly as you can, don't ignore anything."

One particular theory I have never forgotten from Malcolm Gladwell's book was his exploration of how where one comes from has a direct impact on their success. He canvassed strong, irrefutable evidence to support his claims. So, why are we talking about this here? Stay with me. Munachi says: "For me, I had always been entrepreneurial, right from my elementary school days. Over the years, and in school, I have had numerous entrepreneurial ventures." Munachi hails from the eastern part of Nigeria. An area, whose people are well known for their innate business acumen. The 'Igbos', as they are called, are so skilled, perhaps gifted, in sniffing out lucrative business opportunities. Also, Munachi was born and bred in Lagos State, Nigeria, best known as the economic capital of Nigeria. People living here live and breathe business, as it is majorly occupied by entrepreneurs. Back to Munachi. Why would an Industrial and Production Engineering graduate not wish to find some multinational oil company job and settle with the six figures? "I always wanted to work in an environment that afforded me the use of my technological know-how and business acumen. The blockchain space was a perfect match for me."

Founding a startup is hard but, in Nigeria, it is a hundred and forty-six times harder. A recent report released by the World Bank ranks Nigeria 146 out of 190, in ease of doing business. Yet, against all odds, Munachi founded his OTC firm, Cryset, which started with a meager $50 in average trade volume but has now grown to over $10,000 in average trade volume. "When it comes to business, I believe people, not technology makes all the difference. Your customers, your employees, your investors; these are the most important factors in a business. I enjoy working with people that are very proactive, can take the initiative, long-term players, loyal and smart. Building Cryset has come with a lot of challenges, but it's the community around the company: staff, investors, clients, friends and family, that has made all the difference. Our OTC has been one of our most successful services, we move about 200 to 300 BTC monthly through our channels. The market is really growing, and we are amazed at how fast the market has evolved. When we started, we used to have an average trade volume of about $50, now we are doing larger volumes in a single transaction."

It was Nelson Mandela who said: "Education is the most powerful weapon which you can use to change the world." It is a well-known fact that for mainstream adoption of any new technology to accelerate, it must maintain the same pace with the rate of education. Having recognized the peculiar potentials of blockchain for Africa, Munachi is vocal about educating the masses. He acts on this by organizing free meetups and workshops, the most recent was organized in partnership with international companies like Blockchain Training Alliance, Dash and several others.

Other than running "the top crypto OTC firm in Nigeria," he also "builds solutions on the blockchain and consults on blockchain issues for companies and enterprises." Working with his dedicated team at Cryset, "we are also rolling out products that will aid the faster adoption of cryptocurrencies in Africa." One of Cryset's products is Intrupay, a gateway platform for payments and remittances, designed specifically for Africa. "We have organized meetups, conferences, workshops, campus tours and numerous educational programs to spread the word about blockchain and cryptocurrencies. So far so good, we have seen a lot of interest." Although none of his family members are "into blockchain as a business, they understand the technology."

I like to tell anyone who cares to listen that cryptos are inevitable. It appears Munachi and I are ad idem. "For me, I am convinced that cryptocurrencies and blockchain technology are here to stay. Blockchain technology brings a lot of positivity in a world of distrust and fraud. Blockchain technology will change the way value is created and distributed across the world. For me, I want Africa to be at the forefront of this revolution. My work is geared towards empowering Africans on this technology and creating an enabling environment for them to interact with this technology."

He is optimistic that the Nigerian government will "come out of its shell and take a more favorable position in the blockchain and cryptocurrency space." A favourable position would involve passing laws that strike a balance between protecting her citizens and at the same time not stifling innovation.

Satoshi's true aim was creating a system that does away with the middleman. While this promotes advantages of speed and reduction of costs, blockchain enthusiasts usually prefer to sweep the cons under the carpet. A major disadvantage being that, the removal of intermediaries means there will be "no one to cry to when we lose funds." Therefore, we are each responsible for ourselves. To stay safe in the space, Munachi gives some tips. "Always verify everything, including information entered online. Backup private keys and wallet passwords on paper. Try as much as possible to always generate a new wallet address per transaction. And, bookmark sites frequently visited."

In furtherance of his goals to see Africa position herself at the forefront of the fourth revolution, Munachi and his team at Cryset organize educational outreach programs, their own way of adding value to the community. "What I have observed is that lots of people are curious and want to understand. It's really difficult to understand blockchain from Google. All our workshops, seminars, meetups, and trainings have been free. Our goal is to remove all barriers to entry and disperse this knowledge to the benefit of mankind. And if you come for any of our programs, you know we always do free Bitcoin airdrops! Really, It gives us so much joy to see people use this knowledge to create value for themselves and their families." At the last workshop he organized, one of the participants, a lawyer, came all the way from Kano to Lagos, 1139+ kilometers. A clear indication that lots of people are thirsty for the knowledge of blockchain.

Some of the key ideas discussed at these events vary, from what blockchain is, how it works, and what it can be used for. Also discussed are ideas about how blockchain can help with governance, how blockchain can help with Africa's financial inclusion crisis, how the Nigerian government should regulate blockchain and use of blockchain in agriculture.

The example of the lawyer mentioned above is just one of the few people who approach blockchain properly, seeking out correct information from verified sources. "I think there's a lot of misinformation about what blockchain is and how it works, many people seem to only see it from a particular light." In fact, there are those who get high on the hype surrounding blockchain and assume the novel technology can be used for everything and anything. "Blockchain doesn't solve all problems, in fact, if misapplied, it could lead to further problems."

He is "part of the team responsible for the setting up, running and managing of the EOS Nigeria Nodes, running on the EOS mainnet. We are an EOS Block producer candidate, and operate one of the largest blockchain communities in Africa." Leveraging on decentralized love from the community, they have been able to utilize blockchain for good. "Our goal is to spread love and impact society using EOS blockchain." They recently displayed this love by championing a campaign, for helping disadvantaged kids go back to school. This campaign raised over $1500 to feed less privileged or orphaned children this Christmas and send them to school next year.

Perhaps his greatest regret, Munachi wishes he could find ways to minister words of Bitcoin wisdom to his younger self. "It may interest you to know that I am actively looking for ways to tell my younger self in 2009/2010 to buy, mine and accumulate as much Bitcoin as possible."

Recall where we saw earlier how Munachi's origins could be an explanation for his entrepreneurial tendencies? "I started my first real business while in the university. I made nice hoodies for students in my faculty. Because the students loved my designs, sales grew by over ten times from previous years. After a while, I moved on to making hoodies for the whole university." His success at the hoodie-making business helped him see "an opportunity to make a platform that will enable students to buy stuff and connect with student entrepreneurs or SMEs on (or around) campus." Through his team's combined effort, they were able to expand the platform, 'Vasiti.com' to more than three other campuses in Nigeria. Vasiti.com happens to be the highlight of his pre-blockchain entrepreneurial exploits. "Before blockchain, I co-founded an e-commerce platform called Vasiti.com. It is the largest E-Commerce platform for students in tertiary institutions to find, buy and sell goods and services, peer to peer. And on site, to people in the student communities in Nigeria. I was the head of business development and sales during my time. It was a wonderful experience."
When we light another's candle, the world gets brighter. Munachi has those he looks up to as mentors and a supportive community on LinkedIn. "Kris Bennett has been very instrumental in my growth in the space, his advice, guidance and support have been awesome. Also, my LinkedIn community has been really supportive."
A good way to approach pricing is to understand the value offered. More often than not, I find people trooping into blockchain due to FOMO (Fear Of Missing Out). They are simply in search of some get-rich-quick shortcut. Those offering value in the space know very well that there is no such shortcut. This is why Munachi advises: "those looking to get into the blockchain industry, to master a skill, learn and understand the system and industry, connect yourself with the right set of people, and find something you love that is in line with your skillset. Just the way the internet jobs are practically unlimited, so are blockchain opportunities." And the best part? Most of these jobs do not require a degree, just practical know-how.
If you would like to know more about Munachi Ogueke and follow his activities, please connect with him on LinkedIn