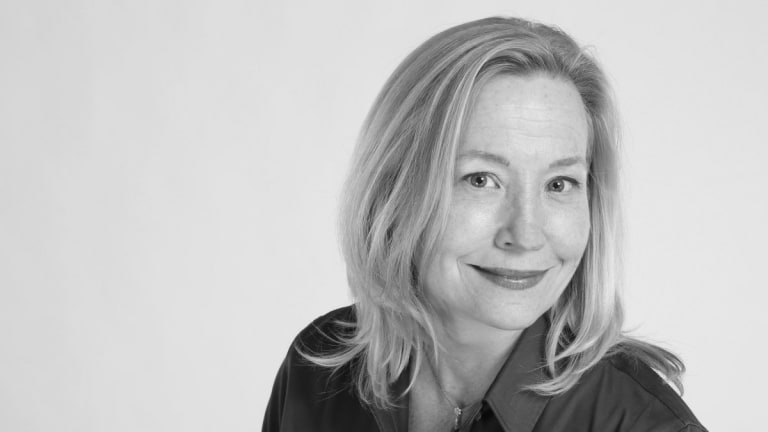 Morgan Pierce: Firestarter
Morgan Pierce, blockchain evangelist and educator, spoke to Blockleaders' Nicola Doyle about the shift towards Bitcoin, the need for clarification in times of uncertainty, and her role as translator between technology and humanity. Follow her journey from the US to Europe and traditional finance to crypto.
Having lived in Ireland for the past 20 years now, since she moved from New York in 1998 to head up online marketing for Oracle Internet Sales Division EMEA, Morgan Pierce is a veteran in the multinational arena of Cybersecurity, FinTech, MarTech, and CRM, more recently reigning on the international stage as a speaker about blockchain and the cryptocurrency ecosystem.
I've been mulling over how this conversation might go; what could I possibly ask this lady that she hasn't already answered with eloquence at one of her many lectures? Throughout her prolific career, Morgan has taken on the role of entrepreneur, venture capitalist, and global speaker. But I wanted to get to know Morgan Pierce, the person, at the heart of all the economic and technological matter, and I wasn't quite sure whether that was going to be an easy task.
I needn't have worried. Morgan Pierce came into my kitchen (virtually, at least) with a bright, beaming smile, warm and welcoming as the cosy fire that's been cheering me these chilly autumn days. So, as we settled in to chat about her life, work and the future of crypto, I soon felt as though I were catching up with an old friend.
This is the essence of Morgan Pierce, a woman who has the innate ability to make one feel simultaneously at ease and excited by life's potential. As her story unfolds, I can feel the determination and conviction emanating from her voice as she speaks about the crypto world and the potential advances it will spark. 
This ambition to motivate change echoes back to Morgan's childhood, spent moving between Mexico and New York, and her mother who raised her children as a single mom in the late 60s early 70s.
"We grew up in a household where she was striving to become something maybe other than what she was in Virginia."
As a mother and step-mother herself, Morgan has had to weather the learning curves that come with parenting, particularly the challenge of watching the next generation carve their own destiny. Her daughter, now aged 17, is on the cusp of heading to university, which she plans to attend abroad.
Despite being a major player in the FinTech industry today, Morgan admits that computer science and economics were not her first choice.
 "Initially I went to school for interior design. It's something that's near and dear to my heart. I wanted to be an architect but I graduated early from high school and I hadn't prepared for applying to architectural schools, so I ended up pursuing interior design."
The move towards technology came for Morgan when she landed a summer job that involved working autonomously, under the guidance of a boss who recognised that 'computers are the future'.
"I got a summer job, and there they had an Apple 3 computer in the corner that nobody touched. It was 1983, and I figured out all by myself how to use it to my benefit, doing my job."
Morgan recollects it was this employer who encouraged her to go to Columbia University to study computer science, which led her down a new career path, although this avenue in itself was not an exact fit. It was an interaction with people rather than machines that appealed to Morgan, and which stands true to her career today.
"I figured out over time that I actually am really a business woman, and that ultimately my real skill is communicating to people what machines can do."
This role of translator between technology and human understanding is the thread that weaves the fabric of Morgan's practice. We draw comparisons between marketing and education, in terms of communication and being aware of your audience, and the interrelationships that exist there. Morgan believes in the importance of listening to her audience, finding out what they need and asking directly the questions that must be asked in order to bear fruitful results. In her eyes, "a good marketer is an educator…understanding what the audience needs to understand."
 The mind is not a vessel to be filled, but a fire to be kindled. - Plutarch
Early on in her career, when nobody had computers, Morgan initiated her first business start-up in data applications, offering a service that would reduce the paperwork headache for small businesses. She tells me an anecdote from her college days, about a friend who was unwittingly running money from a small business through his own personal bank account, and how she ended up starting her first business to keep him from getting into difficulties with the tax authorities.
From initiating something as simple as automated payroll with a band of "geeky guys that were rolling up their sleeves" back in the 80s, to designing the first multi-lingual internet marketing platform to enter the market with Oracle in 1999, Morgan maintains a person-centred approach to what she does.
Taking a brief retrospective glance at a time without email or internet, Morgan recalls with a knowing smile that it was a "really cool place to be", while in the same breath acknowledging how much technology has changed from the days when she first started.
"From that perspective, when you see how much has changed, it makes it completely palpable how much change is coming with blockchain and distributed ledger technology."
Certainly the voice of experience with over 30 years in the industry, Morgan's involvement with cryptocurrency began in 2014 when she bought a few Bitcoin for fun. Then in 2017, she was searching for a new direction in her career and she decided to have a look in on how things were progressing in the new world of crypto.
"I wasn't happy with the lack of challenge in my job, so I wanted to change and was going to focus on consulting in marketing automation, which is something that I'm really passionate about".
A year ago, Morgan took on the arduous process of becoming a Marketo certified expert, passed the exam, and had a job lined up. Then, in an unexpected turn, she stuck her head into the crypto world and emerged with a fresh purpose, feeling a pull toward something that was too powerful to ignore. The exact moment springs forth from her mind, with vivid clarity, when Morgan decided this was the direction she needed to go in – to the unfortunate dismay of her husband, who had been on the periphery of the 90-day intense study leading up to the Marketo certification exam.
"I got up from my desk, went into my husband's office and I said, 'Honey, you're not going to be happy about what I'm going to say… you know there's this thing called Bitcoin...'"
She laughs fondly as she tells me his response: "For fuck's sake, we're not doing that are we".
Once again Morgan's determination and belief in what she does made her forge ahead. "What cryptocurrency is going to do is so fundamental to the future of commerce between humans, that it was just so clear to me."
It was vitally important to Morgan to be there from the beginning and be part of what she refers to as "the plumbing".
"I started to retool myself. I read everything that I could, I got a certificate in digital currencies from the University of Nicosia, and then I started telling everybody in the world about what I thought was going to start happening with crypto. Then I started speaking about it at events."
If you have knowledge, let others light their candles in it. Margaret Fuller
Sharing the knowledge, translating information, lighting the flame and sending it out into the world: this is what Morgan does. And yet, she is in modest disbelief of the recognition she has received for her efforts. When a phone call came from a recruiter representing the role of Chief Marketing Officer for SEBA Crypto AG, aspiring to be one of the world's first regulated crypto banks based in Switzerland. Morgan considers it the proudest moment of her career. This, she states without a doubt as we circle back to the importance of human interaction, is down to the team of people she's working with there.
"I really feel like I've never had an opportunity in my career to work with this calibre of people. I feel honoured to be their translator, to represent this group of talent and what they're trying to do and be their voice to the world."
But it hasn't always been smooth sailing. Morgan has had her share of downfalls and she's not afraid to acknowledge them, choosing instead to rise above and focus on the opportunities that arise. Right around the time that the recession hit, when a handful of her lifestyle businesses went under, Morgan was facing the stage of motherhood that most necessitated her full presence.
"I got refocused by life," she says. She made the choice in that moment to let the chips fall where they may in business, and to dedicate herself to her family. Driving her girls to school, doing homework and preparing homemade meals may not have matched the fast-paced excitement of saving her businesses, but it is a decision she has never regretted. More than coin, virtual or otherwise, Morgan knows where true value lies.
In business, she says, one of the values that she strives to uphold is to recognise that it's very hard to understand somebody else's point of view. "In terms of the dynamic of working with other people," she says "it's important to think about what somebody else's perspective is." For her, this is intrinsically linked to trust.
"The most important kind of value that I try to exercise is appreciating what other people have that I don't have and trusting in them to be the people that make the right decisions."
As an expert in the field of new beginnings, fuelled by her investment in growing business from the ground up, trust is an invaluable asset for someone like Morgan. One of the biggest problems right now, as Morgan sees it, is that there's so much fear, uncertainty and doubt relating to crypto - cloak and dagger stuff - that drives a need for clarification.
"I think we're at this really interesting turning point, and I'm really passionate about trying to help as many people as possible see the technological benefits of what a cryptocurrency is all about and help people become better educated so that they can make a more educated estimate of their own."
I'm reminded of Plato's allegory of the cave with its inhabitants chained, transfixed on shadow puppets, failing to recognise the fire that burns behind them creating the light.
Just as the cave dwellers were freed from their confines by the knowledge of the fire's potential, in demystifying blockchain and crypto, figures like Morgan Pierce can unleash a global freedom from economic dependency as we have come to accept it.
"There's a real need in the case of cryptocurrency for there to be people out there that can really translate why cryptocurrency is a good thing. And what are the benefits of having it flourish? What do we leave behind if it doesn't flourish? What do we leave behind if it does flourish? So that people can decide for themselves." Morgan adds that "right now it's like nobody knows how to classify or quantify it or feel about it because they're afraid to fail. I feel like I can have an impact on helping people use simpler ways to explain what it's all about."
The decentralisation and democratization of wealth is a hefty concept. Getting one's head around that is a huge challenge, but one we cannot shy away from.
"We're at such an interesting juncture in the history of the way that money works for humans, for humanity," she asserts, "it's up to you to recognise the opportunity and to run with it."
To learn more about Morgan, connect with her on LinkedIn and visit www.seba.swiss.