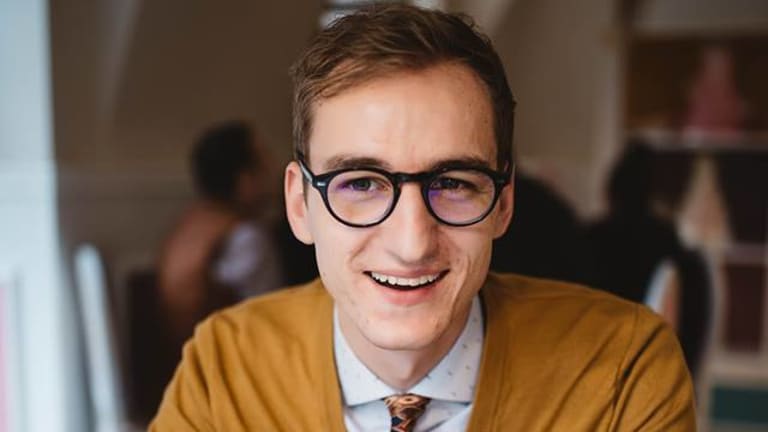 Mihai Herman - "We learn from failure, not from success!" Dracula by Bram Stoker
Follow your dream - whether it is swimming, coaching or blockchain - but know what you want to do. Read this interview where love overcomes adversity with Mihai Herman and his irrepressible energy.
Follow your dream - whether it is swimming, coaching or blockchain - but know what you want to do. Read this interview where love overcomes adversity with Mihai Herman and his irrepressible energy.
Chronic pain is debilitating. Then imagine getting chronic pain on your honeymoon? Could there be a worse time and place? Mihai Herman faced both. He had just married his highschool sweetheart and they were honeymooning in the US when he was afflicted with chronic pain in his eyes and monumental headaches. It was so severe that he attended an emergency doctor in Delaware but nothing was diagnosed.
He returned home to his native Romania and continued to seek medical help. Each time he was told there was nothing the matter – or rather nothing that the medical consultants could identify as the cause of his relentless pain.
This was in 2016. Mihai had been used to wearing glasses; he had been born with astigmatism and had been wearing glasses for at least 12 years. But the constant pain in his eyes and head was something he found terrible to deal with.
By 2017 he could barely work: during the week he could only manage to work for four hours in total. The constant pain left him physically and mentally exhausted. Then he found a doctor who was able to identify the cause – in a very different part of his body; the entire digestive system. The doctor discovered that it was packed with candida, a fungal infection which occurs normally in small amounts. Commonly called thrush, there was so much candida in his colon that it was affecting his colon and by default his liver which resulted in the extreme and constant pain.
"Once I knew the source of the pain then I could work on my recovery and I am glad to say that I am six months healthy now."
Mihai refused to use antibiotics and other traditional medicine to cure his condition but instead went the natural and herbal route. "It is amazing to be where I am now today – I still have some pain but at least I can lead my life and plan my goals."
Mihai considers the experience a great spiritual journey. "I used the time to get well to work on myself in other ways too. I did a lot of journaling and affirmations. I used my time to change my head from the inside out. I wanted to rewire my brain even as I rewired my physical body.
"A big part of my development was self-love. This is so important."
Mihai and I discuss the role of how we view ourselves as part of our overall journey in life and how the body and mind are so intertwined. I share that I am going to do a nude sitting the afternoon after we finish the interview for an Irish artist. The end result will be an oil nude painting to be part of a larger nude exhibition in April. I am both excited and extremely nervous. My sane voice says this is a great thing to do, to celebrate my womanhood. My crazy voice says are you mad? You should have done this thirty years ago. Either way, we both agree that self-love is a critical part of the journey of life – whether in pain or not, whether naked or not.
Mihai's journey could not have been possible without the support and love of his new bride.
"She nurtured me emotionally, physically and even financially. When we got married we should have been in most happy place when this pain struck. And yet with her help, I have got through it."
Looking at the images of Mihai and reading up on some of the work that he has done would never have hinted at the two years of pain, especially so recent. Instead, his websites and blogs are full of energy and joy. Even the title of his original blockchain website – Dogs in Lambo – screams out energy as well as compassion for our four-legged friends. He has since renamed the marketing business Herman Media but the Dogs in Lambos stays in my mind – it makes me smile. In fact, speaking with Mihai makes me smile full stop.
Mihai is born and bred in Romania. I ask him what it is like to live there. In my mind's eye, all I can think of is Transylvania and Dracula. The mountains of Transylvania are indeed located in the centre of the country and I discover they are covered by some of the last virgin forests in Europe. Castle Bran is located at the heart. I mention that Dracula was written by Irish Author, Bran Stoker. Mihai did not know this and both of us confessed that we have not as yet read the classic so there is some homework to be done on both parts.
When I ask Mihai what is it like to live in Romania he answers it is weird. That word sends me to Dracula but in fact, Mihai is referring to the political landscape of the country. Nominally a democratic republic with a titular president, the country, like much of Europe, is heading further right. There are moves by the current prime minister to give greater control to the government and making the Romanian administration more powerful.
However, Mihai loves living in Romania. The countryside, weather, and taxes are all good. It is home to him and his wife. They had tried working in America but discovered they could run their respective businesses just as well from home.
Growing up Mihai while not at the total top of his class hovered in the top ten percentile. He enjoyed school and at an early age discovered swimming. At age six he was discovered and for the next ten years became a professional swimmer, representing his country at international level and also becoming vice national champion. His favourite stroke was the breaststroke and the butterfly – both swimming strokes that put form over speed.
"My greatest takeaway from all the swimming – and there was a lot of it – was persistence. Logging lap after lap either in the early morning or after school gave me a sense of persistence or perhaps even resilience. I have started many companies, I am a serial entrepreneur, and many of them have not gone according to plan. But rather than abandon them I would start again or change tack. Persistence, resilience and discipline were all gifted to me from my early swimming challenge."
Mihai attended college in Romania where he studied power engineering. He didn't really like it and he certainly did not intend to work in the industry afterward. His wife, whom he had met in high school, was studying the same course. "She was a genius at engineering – getting straight A's. In fact, she coached me through my degree and ensured I passed with honours."
While in college Mihai began messing about with web design, WordPress, social media, and marketing. "I am grateful that I finished my engineering degree and it certainly helped with my analytic skills. Plus being a student gave me time to study entrepreneurship, SEO, content marketing, social media, advertising and many other aspects of a successful digital marketing campaign. I knew this is what I wanted to do."
Both sets of parents wanted their respective children to do their masters next, but even A-student Roswitha decided against it.
"Roswitha was very much into fashion and started blogging. I decided I would do her website and SEO work. At the same time, she wanted to learn how to become a success coach, in particular helping women to succeed. She studied for this in America."
They both now work together. I ask if they are a good team – although his story with the chronic eye pain and her support will allow for no other answer.
"We are a fabulous combination. We launched a number of other fashion blogs – both for men and women – and were successful enough to be invited to major fashion shows around the world. We attended New York Fashion Week and London Fashion Week as well."
I should point out that Mihai looks very natty in his profile pic on Linkedin. A mustard cardigan is not the preserve of the ordinary man. Yet fashion wasn't his passion either, despite his success in that field and natural inclination to look well.
While Roswitha studied how to be a success coach, Mihai studied how to be a marketing coach. He really wanted to help businesses be the best version of themselves.
Back in 2017 while on a trip to visit friends in California, the conversation turned to blockchain. "At first I was very sceptical. I had read in the media how it was a Ponzi scheme and a scam and I said as much.
"However, my friend preserved and I listened. By the end of the conversation, I started to see the potential."
This realisation coincided with his illness and while he did not have the energy to work, he could read or watch videos. In April 2017 he started investing small amounts of money in bitcoin. He totally believed in the sector and by the end of the year, he had been invited to the PR Manager of a local Romanian blockchain company called Restart Energy Democracy.
Restart Energy Democracy is an existing company that switched to the peer-to-peer model of the blockchain technology in order to cut middlemen and offer better pricing and the ability to buy energy directly from producers.
This first project was fascinating for Mihai. It ticked so many boxes – touching on his electrical engineering background and love of blockchain. However, he has still not fully recovered and he also realised he was an entrepreneur more than a marketer.
"I also discovered that I was not the best employee. Having created several serial businesses I liked to have my own space, and follow my own directions. I was not so good at taking orders."
Even as Mihai looked around at the industry he saw one huge gap – responsible and measurable public relations companies.
"People were charging for pitches not results and this seemed strange to me. I decided to set up an agency where we identified key credible publications and then worked hard to get mentions and articles in these prestigious outlets – including this one."
Mihai did a lot of research and has teamed up with contractors, freelancers, and writers who can deliver on his dream.
"My team and I have built up reputable connections with credible publications. It is not easy because even when you have good contacts, your clients also need to be credible. There were too many journalists burnt by scams in 2017 and 2018. They don't want to put their name to an article if the company is not going to be around in six months' time."
Currently, Mihai has one full-time employee but 15 freelancer contractors. He only works with blockchain startups and loves this space, especially the 2019 space.
"I see the blockchain community really starting to mature. There are less and less crappy projects and less shilling. The community is becoming more authentic."
Originally he called his agency Lambos for Dogs, a tongue in cheek name that donated a percentage of profits to canine charity. Last year he rebranded to Herman Media and has already won accolades and clients.
In addition to the promise of mentions and not just pitches, Mihai covers off the basic such as strategizing, content creation, successful placement of said content. He is also very sharp on the writing – only using professional writers. This approach has won him clients but he stresses – both verbally and on his website – he only works for clients which pass his quality mark.
So if you manage to pass the quality test to join Mihai's gang then it should be all successful – after all the blood of experts runs in his veins.
"Welcome to my house! Enter freely. Go safely, and leave something of the happiness you bring." Dracula, by author Bram Stoker
For more information, please visit his linkedin profile
or his website