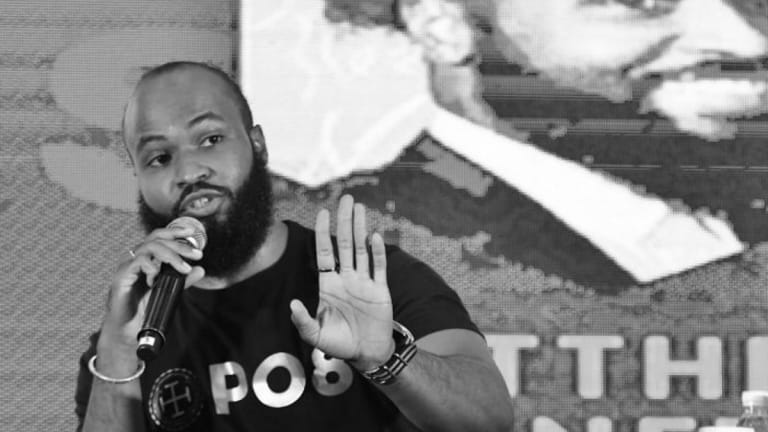 Matt Arnett: Bahamian Rhapsody in NFTs
Did you know there is more than $100billion in sunken treasure in the Bahamian waters? Come and read about this pirate's dream in blockchain with Matt Arnett, who has incidentally hung out with Kayne West and Kylie Minogue, although not at the same time. Yet another great story in blockchain.
Matt is a Bahamian citizen who has spent over a decade in China and, over the past year, has not stayed longer than a week in any given country. He literally lives out of a suitcase and has visited 30-plus countries so far this year. He is on the private sale trail and is searching the highways and byways for funding for his disruptive project, Fort NFT. When I ask how he has managed to find so many investors in so many countries to even pitch his ideas to, he answers that people who believe in him have just opened their little black books. That's a lot of little black books.
But then Matt has always been a self-described over-achiever. Growing up in the Bahamas, he sat many courses over the summer in the US, in the Wharton School of Business for one. He was accepted into the Junior Achievement programme while in his teens, which taught the young delegates how to set up a company, from legal, to finance, to HR. This programme originated in Canada but has subsequently opened chapters across the world. At age 16, he was given the accolade as the most distinguished student in the country.
He graduated from high school the same year and managed to be awarded free tertiary tuition in China. He proudly boasts he never cost his parents any university fees.
"The Chinese education was
part of a very strategic decision on the part of China in 2005," he explains.
"They set up a Latin American programme, which included the Bahamas, where they
sought to give scholarships to the brightest students. I was picked along with
three others.
"Their thinking was very
clever. Twelve years later the delegates they picked have all been educated in
China, speak Mandarin and understand the Chinese culture. The delegates are
also, without fail, all holding leadership roles around the world."
Matt studied an initial degree at the University of Tsinghua, which has a dual degree programme with MIT. He studied international economics and business. He then moved to UIBE, which is considered the equivalent of Harvard Business School and is linked to Dartmouth University, to study an MBA.
In 2007, a year after he had
arrived in China, Matt spotted a problem and commercial opportunity in the
music promotions industry. There were major music acts arriving in China but
these were only marketed in Mandarin to the local Chinese. Matt could see an
opportunity to market these acts to an international community. He set up a
company to manage this and his first customer was Kanye West.
"Yeah we hung out for a
couple of days," he says nonchalantly.
Kanye West was not his only famous client, Matt worked with, and hung out with, other artists such as James Blunt, Kylie Minogue, Usher, Justin Bieber and others. Five years later his company was bought out by a major Chinese promotion company.
Matt's mind works in many directions. In addition to offering promotional services to foreigners, he also set up his own events for mid-tier artists, selling tickets for venues holding 2000 or 3000 seats. Then he decided to set up a ticketing system to manage this new business.
"That was my first dot.com,"
he says. He sold it the following year.
It was a strange lifestyle that he enjoyed. Often being out until three in the morning at gigs and then getting up early to attend lectures. It also taught him how to be flexible in business as he held a student visa, not a business one.
"I had to get creative to stay on the right side of the visa issues but I believe it made me a more flexible businessman."
I ask if he is still friends with the stars but he shakes his head, or at least I imagine he does, over the telephone from where he is based in Paris this week. "No, but I remain friends with the other promotors, which is better. Stars come and go but promotors go on forever."
I suddenly stop and ask –
where did these ideas about promoting artists and concerts come from in the
first place. He was a student in a strange land and only learning the language.
It turns out that Matt was also a teenage TV celebrity back in his native Bahamas. 'Teenscene' was the TV show which featured young performers. His role was to host the angst section where teenage issues were discussed, but he was also involved in promoting the concerts around the island. He learned his promotional skills at this stage.
As a young high school student, his parents were strict; his mother is a doctor and his father a pastor. Siblings also went down the medical route and in school Matt opted for the sciences rather than business. "It has made me a more rounded person."
He has also, for the record, attended culinary courses and even got involved in a local protest in the Bahamian university which he attended for one year, where he served as the Vice President of the student union. The absence of proper procedure in the appointment of a President inflamed the student population. There were sit-ins, protests, and demonstrations in which Matt was actively involved. The politicians did not listen and were voted out the next election as a result.
"That taught me two things:
cause and effect and a confidence in my interaction with politicians."
Back in China, Matt had finished his degrees and sold both companies, so he moved into consulting. He worked for some big names such as Uber and WeWork. He also mediated between major capital projects for Chinese companies wanting to site banks, hotels or casinos throughout the Caribbean.
In 2010 the Prime Minister of the Bahamas came to China on a diplomatic visit. Matt was chosen to be his official interrupter and that afforded him an opportunity to speak at length to him at dinners and while in transit. Matt used this time to argue that the Bahamas should grant full access to Chinese people and waive the requirement for a visa to visit the island. Despite calls that it was impossible, the Bahamian Prime Minister and government took his advice and accordingly became the first visa-free country for the Chinese in the Caribbean.
Matt now had the ear of the
government in the Bahamas. "Tourism is the biggest industry in the Bahamas,
some 75c out of every dollar comes from tourism. I was able therefore to
connect Chinese companies wanting to bring projects such as hotels to the
island."
Looking at opportunities and connecting people and indeed government is very much Matt's core talent. And then he met blockchain.
"It was in 2012 when a business partner, a real techie, put me onto mining. I didn't really understand but I agreed to invest in a number of rigs. Many of the rigs and video cards are produced in China, where I was living. I felt that this was an omen and a strategic opportunity."
This proved successful and more rigs were added. Matt says, when asked, that he didn't lose this early Bitcoin, nor did he spend up to 70% of it when it was virtually worthless. Why does this piece of information not surprise me?
However, Matt was not interested in mining, he was interested in the blockchain technology. He could see the value and the future. At the same time, the Bahamian government issued a tender to introduce a new focus on technology. This was in 2016 when Matt conceived of PO8, a blockchain project to protect the lost treasures sunk in Bahamian waters.
"I didn't want to create an idea on the back of napkin. I looked at many of the projects at that stage and some 90% of them were not going to pan out in my opinion. I wanted a tangible project."
Perhaps now might be a good time to explain that the sovereign waters of the Bahamas are literally awash with sunken treasure. Think Pirates of the Caribbean and then add some. UNESCO estimates there is $100 billion of sunken treasure lying there under the shifting sands. Historically, the Spaniards, then-conquerors of the known world, would pass from their colonies in Peru, Mexico, and Cuba via the Bahamas back to Europe. With the ships swollen with gold and other treasures, they traversed through the treacherous waters. If the storms or the shallows did not get them, then pirates might, who, in turn, could fall foul of the storms themselves. What sunk the ships was one thing, but the shifting sands could then swallow up the ships without leaving a trace. When sailors returned with fresh ships to try and find the treasure, it was impossible to find any landmarks, signs, or the sunken ships themselves.
This rich Bahamian seascape has naturally captured the imagination of would-be treasure hunters from across the world. As a result, twenty years ago, the Bahamian government banned all search and rescue missions as any finds were typically being taken out of the country by sea-looters.
Matt had a plan to remedy
this situation, restore an ordered search for historic treasures and not lose
the physical assets.
"I wanted a project that would have economic and social impact. I wanted to be able to hire people, create jobs and remedy the treasure rescue impasse."
Matt brought together an
experienced team of divers, oceanographers, marine historians, marine
engineers, and technologists. He has even been invited to present this idea to
Monaco by invitation of the Prince.
This is a long-term project that will provide jobs and an ability to rescue the artefacts in a safe way.
"We are working with Non Fungible Tokens," explains Matt. In PO8, he uses non-fungible tokens as a unique digital representation of an asset, in this case, the artefacts.
"This way we can raise funds to begin the exploration and recovery work. The non-fungible tokens can be purchased and traded as normal. People can own the assets – just via a digital ownership. That way the actual physical asset can be installed in a museum, lent out to global exhibitions, but will not be lost to the Bahamas. It satisfies both an ownership – a non-fungible ownership – and the security of the artefacts for future generations.
PO8 is well on the way to beginning the first exploration but, as Matt warns, this project will take years.
Matt is now taking this idea of using NFTs to represent other classes of assets, in particular, traditional financial instruments. This includes instruments such as bonds, equities, and funds.
"NFT offers a unique representation of digital ownership," he says. "This can apply to anything. And it has two very powerful attributes: it promotes liquidity and can provide early exit of investment. These are two hugely disruptive and significant features."
Matt is building a protocol
that offers custody and security. "Early NFT projects were concerned with
provenance and registration. We have moved on from there. We are NFT 2.0."
One of the first assets Matt will tackle with his new venture Fort NFT is gold. "We shall do some simple NFTs. You may choose to buy $1000 in NFTs that represent, say, x.y.z in grams of gold. The actual asset will be held in a secure gold vault such as provided by the likes of Brinks or Lloyds. The gold will be insured and the NTF comes with a KYC / AML wrapper.
"We are developing a terminal
for the NFTs where they can be traded."
In time Matt will look for developers to build DApps so there could be millions of NFTs (asset-backed) located on his terminal.
"The important thing, too, about NFTs is that they are less volatile as they are asset-backed – liquidity without the rollercoaster of cryptocurrencies."
So far, Matt is a third of the way through fundraising with a total of $30million as his target.
He is also looking at an IP project in the film-making business. This is traditionally high-risk, possibly high-reward, but tied into a fixed return only when the film hits the screens. Matt is planning a Master IP for the film and then to release subtokens. The subtokens can be traded in advance of the release date delivering instant liquidity for investors.
"But we are not stopping there. We are looking at banks and the financial markets. Consider the issue of Funds: there are many fingers in the fund pie, taking fees and commissions all down the chain. Imagine creating NFTs to digitally represent the fund that would cut out 25% of the costs and again increase liquidity."
Matt has so many irons in the fire it is hard to pin him down to one project. He hints at a major one coming down the line – a $50 million bond, gold-backed, as providing headline news when it breaks.
I for one will be watching
him very closely – wherever in the world he is.
You can too. For more information visit Fort Network here, find out more about PO8, and connect with Matt via LinkedIn here.