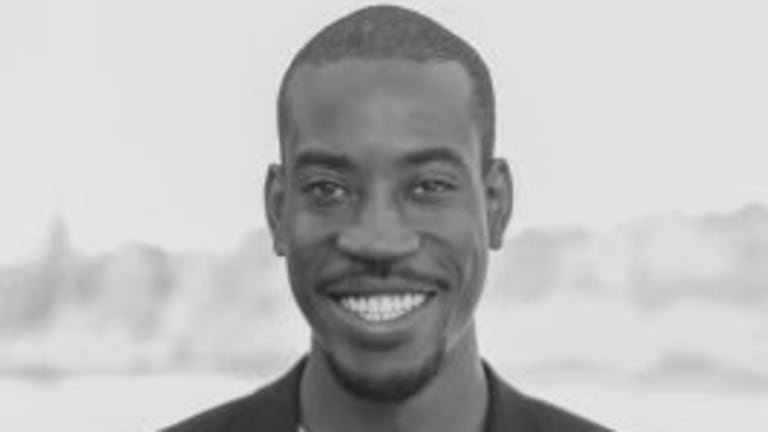 Marcus Howard: Playing the Game of Life on a Blockchain
Pro game developer Marcus Howard, will be giving us a replay of how he plays the game of life and developed a passion for technology and blockchain.
Gamers create their own reality, complete even with a government and financial ecosystem. Long before bitcoin became known, online gamers were already familiar with digital currencies, after all, they used it to purchase 'lives' or won it when victorious. Pro game developer Marcus Howard, will be giving us a replay of how he plays the game of life and developed a passion for technology and blockchain.
Is it by design or a random act of fate? Marcus' passion for technology began at a very young age when he and his identical twin brother were introduced to a video game. "My twin brother and I got "Super Mario 3" for Christmas when we were six, and have been playing video games ever since. At an early age, video games inspired me to learn more about technology; they're the reason I chose to pursue a technology degree and career." By the time they were in High School, they had made their first game which unfortunately got deleted by their teacher. "My brother and I actually started making our first video game in high school, on the TI-83 Plus graphing calculator. Unfortunately, our Calculus teacher deleted our game, because she said it as a distraction to her class." Thankfully, this unfortunate incident did not kill their passion for making games. In the words of Donovan Bailey: Follow your passion, be prepared to work hard and sacrifice, and, above all, don't let anyone limit your dreams. "Though the game we were creating was gone, our interest in making games survived. Video games are an activity that spans generations, genders, and borders. The video game industry has also used digital items and currencies for decades. With over 2.5 billion gamers worldwide, I'm excited to see the amazing opportunities that will develop at the intersection of video games and blockchain."
His early childhood passion for tech survived into adulthood, reflecting in his choice of a college degree. Marcus has a BSc in Information Technology from the Georgia Southern University and is currently running a Masters Degree program in Information Technology at the Southern Polytechnic State University.
The gospel of blockchain first reached Marcus through stories about Silk Road (a digital black market) and Bitcoin, but he didn't find the concept interesting and paid less time exploring it, not until 2014. "I graduated from college in December of 2008, and over the next couple of years, began hearing stories about Silk Road: the digital black market. Every few months afterward, I would occasionally see tech articles about Silk Road, and how it was using a digital currency called Bitcoin for "anonymous" payments. At the time, I didn't find the concept of "yet another payment system" interesting, so I didn't really spend much time exploring it. In 2014 Bitcoin hit $800, and it seemed like the ecosystem had some long-term potential. So, I bought half of a coin, to learn more about the different platforms involved (and hopefully make a little change on the side)."
No, he didn't get to become a crypto millionaire. "Long story short: I traded it for some altcoins on a Russian server, and ultimately lost it all to maintenance fees when the exchange stopped supporting my digital wallet. Ironically, the following year, my brother and I filed a patent for a tokenized gaming platform, before I even heard of the word "blockchain". After getting his hands burnt, it took a while before seeing if anything good could come out of crypto. "About 2 years ago, I started investing more time into building my LinkedIn network, and began regularly seeing "FinTech". I had assumed Fintech was related to banks, and I didn't have a personal interest in the banking/finance industry, so I didn't properly research the concept at the time. I don't remember exactly when/how it happened, but one day, I stumbled on the word "blockchain". The idea that technology could mathematically introduce trust into networks intrigued me, and I spent the next few weeks feverishly learning everything I could about the potential applications of the technology, which are much larger than just payments. Now, I'm sharing blockchain's potential with anyone who is also willing to learn."
According to Marcus, "Blockchain is the greatest invention since the internet; it will fundamentally change how our apps and society work. Blockchain can help people to take back control of their data, and provides the transparency that can hold governments and large businesses accountable to their customers." His main activities in the space are educating others about the purpose and potentials of blockchain. "Though I'm a software developer by trade, I'm itching for a chance to start building my own blockchain apps."
The marriage between the video game world and blockchain has been going smoothly for Marcus. As a pro gamer, it's not surprising that his most favorite blockchain industry is the gaming industry. Marcus says that with nearly 2.5 billion consumers worldwide, the gaming industry is the best growth opportunity for blockchain and cryptocurrency. "The gaming industry has also used digital items and currency for over 30 years, so its users don't have to be educated about the practical value of cryptocurrency. Blockchain mathematically eliminates fraud, and unfortunately, the gaming industry has fraud in spades, so there are several real-world applications for the technology." Perfectly explains why the first users of bitcoin were online gamers.
It is said that many good things come in pairs. Being an identical set of twins is not just all Marcus and his brother have in common. They are both tech inclined and are building their own startup, ProjectMQ, to solve the discovery problem in the video game industry. "We've been bootstrapping ProjectMQ for the last five years, with the salaries from our day jobs." Although Malcolm is involved in technology and video games, he is not enthusiastic about blockchain, unlike Marcus. "While Malcolm understands the technical value that blockchain provides, he also recognizes the nauseating hype around it and doesn't want our startup to be pegged as a bandwagon tag along for buzzwords. Though, as the hype dies down, I wouldn't be surprised to see him start working in the decentralized space. He's a talented developer, and is looking to expand his career beyond building web apps."
Forming the right team is critical for the success of any startup. Marcus philosophy is "work with good folks, who know what they're doing and get shit done. Basically, I look for people who have different skills sets but the same standards and work ethic." Citing Sebastian Burton as a perfect example, "He was a professional esports player for 8 years, and has spent the last 4 years working as an international esports consultant. Before recently moving to Los Angeles, he was a key component of operations for Turner Broadcasting's esports series "ELEAGUE", which is based in Atlanta. Last month, my company worked with Sebastian and Pharaoh's Conclave (another Atlanta-based esports company), to co-produce iHeartMEDIA's esports event in Marietta, Georgia." Sebastian is the first to be added to ProjectMQ in the last three years. "Since my son was born earlier in October, I was no longer able to travel to Atlanta for the esports event. Thankfully, Sebastian rose to the challenge and covered the bases for me in my absence. He worked 18 hour days for a 3-day period, to make sure that all of the equipment was properly configured (and then later, disassembled), and also served as the event's emcee. I have an identical twin brother, and we always joke about being in two places at once. Thanks to Sebastian's efforts, it was as if I never missed the Atlanta event; he's the first person that we've added to ProjectMQ in nearly three years, and we're honored that he's part of the team."
Marcus is happily married to his wife Sadiee, and they are blessed with two children. A lovely two-year-old daughter, Mattie Shay, and a newly arrived son, Johnny Marvel. Yeah, I'm sure from their names you can deduce that their dad is a pro gamer! Marcus ensures he spends quality time with his family. "On the weekends, Mattie and I go for walks around the neighborhood. We live close to the coast, and now that Johnny's old enough to leave the house, we all look forward to trips back to the beaches and parks in the area." He also tries to squeeze time to watch a cool anime or play an indie video game.
Perhaps the coolest job I've ever heard of, I'm biased anyway since I'm a foodie. Before taking on his current role, Marcus day job involved digitizing restaurant menus. "For 5 years, I worked as a full-stack web developer for a company called MenuPad. We turn iPads into mobile point-of-sale devices and digitize restaurant menus so that guests can order and pay at the table. Blockchain is a vast concept with many components, and I can't wait to understand more of this technology's ecosystem, but I don't have much bandwidth for R&D at the moment. Demand for blockchain is begging to grow here in the Tampa Bay market."
As Marcus dug deeper into the tech, he began wishing for a full-time career opportunity in blockchain. The universe granted his wish faster than he expected. "I got laid off from MenuPad on November 2nd, 2018, and started with Gerdau December 2nd, 2018. Gerdau is a multinational steel company headquartered in Brazil; Tampa is the headquarters for their North American division. I've joined their innovation team and will be leading their blockchain projects which kick off next month. We're revolutionizing the steel industry with blockchain and other cutting-edge technology; this is the career opportunity of a lifetime!"
Success is not measured by the number of dollars you make, but the number of lives you impact. Marcus wishes to solve discovery problems for independent artists, starting with indie game developers, so they can build sustainable careers out of their creative passions. "While I prefer video games to music or film, discovery is broken across all forms of media. Because most indie artists can't afford TV ads or other types of traditional marketing, they struggle to compete for visibility against projects backed by popular media companies/studios/labels. I think creatives are the next generation of entrepreneurs, and I want to help build an ecosystem where they can be successful. I'm also eager to help solve the race and gender bias that's rampant in the venture capital industry. I've got a few clever ideas on the back burner, and hopefully, I can share more about that soon."
Technology's ability to exponentially improve society is what drives Marcus to keep doing what he does. It's his WHY. "From the wheel to the lightbulb and the internet, technology has exponentially enhanced people's quality of life. I'm driven by the potential of new technologies like blockchain to do the same, and I'm excited for what the future holds (hopefully I'll discover/play some EPIC indie games along the way ?)."
As much as he could, Marcus tries to do everything in his power to help those around him. Life's most persistent and urgent question is, 'What are you doing for others? - Dr. Martin Luther King, Jr. Marcus and Malcolm have been involved in philanthropic work for the past three years with the purpose of impacting more lives. "Malcolm and I have been volunteering our time, to teach independent game developers the core business concepts to make their game studios successful. Most of them are so hyper-focused on creating their indie games, that they often ignore the equally critical business responsibilities, which unfortunately ends in their games being commercial failures. We also have a partnership with Kinguin, the Ebay of video games, to support their "Indie Valley" program. We're donating 100% of the proceeds of that partnership, to nonprofits that directly support indie developers, STEM programs, and improving minority representation in the gaming industry. In addition to both of these efforts, I'm now leading a new initiative that uses video games to teach programming skills to at-risk youth. We've got strong support from the local community for that program."
"All that glitters is not crypto," aptly sums up a plagiarism incident of which Marcus was a victim on LinkedIn. "LinkedIn is highly underestimated as a networking tool. In the last couple of years since I discovered blockchain, I've used LinkedIn to connect with excellent thought leaders around the world. Sadly, I've also discovered that some of the "blockchain thought leaders" I admired, weren't as reputable as they appeared. One day, with a rare stroke of genius, I posted on LinkedIn that "The next 'Silicon Valley' won't be in Atlanta, Boston, or any specific city. It will be a series of IP addresses and Telegram groups. Ironically, the industry celebrating disruption will soon be disrupted itself. #VentureCapital #DiversityInTech #Innovation #GrowthHacking #Blockchain". The next day, I saw the exact same text as a post online from somebody else. The 'do your own research' rule in the blockchain space applies to people too. All that glitters is not crypto."
Career growth in the blockchain space is rapidly accelerating as more newbies enter the space every day. Marcus advice to newbies is to "Learn everything one can about blockchain online (for free) and start building a basic "hello world" blockchain app, and connect with your local blockchain community." There are no shortcuts if one desires to offer value. "Even though blockchain is 10 years old, very few business executives understand it. In order for you to help your prospective employer understand the business/technical value, you'll first need a solid grasp of the concepts yourself. There are now a plethora of paid certification programs, but much of that information is also just a (free) google search away. The next step is to get your hands dirty writing code. Administrative roles like project management are in much lower demand that technical roles like software development, so you much more likely to find jobs for blockchain developers. Though, as my brother always reminds me, your portfolio is the most valuable part of your resume. I agree with him that anyone can get "certified" these days, but having example projects shows your prospective employer that you can actually get the job done. Version control software like Github is free to use, so I'd recommend writing a few small projects, to show that you understand how smart contracts work. Nothing complicated like the next Facebook or Uber, just something that uses the same fundamental concepts you would need at the job you're applying for. And last, but not least, plugging into your local blockchain community is a great way to learn about upcoming blockchain projects. For example, there's a blockchain co-working space in Tampa called Blockspaces, that maintains a list of projects that have been requested from them, or that they're currently working. Once I have my work samples on Github, they would be the perfect place for me to find work related to blockchain." Marcus will be speaking on a blockchain panel (and a gaming panel) next week, at the Synapse Innovation Summit: www.synapsesummit.com
You can follow Marcus' activities in the space on LinkedIn. And learn more about ProjectMQ.