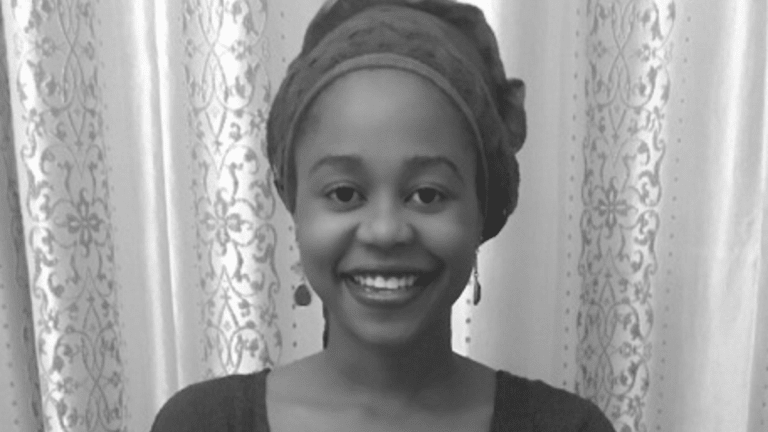 Mandy Shemuvalula: Youth is Not Wasted on the Young
That old saying about youth being wasted on the young has never had more relevance than it does right now. Mandy Shemuvalula's hectic race to take on the world's youth highlights the main impediments to young people getting ahead in business – too many old farts blocking their way. You have been warned. If you are of an ageist bent then this article is not for you. (hint, check out if you are a youth or old fogie in paragraph three).
We look back today to one of our earliest interview subjects - Mandy Shemuvaluha - who is flying the flag for Women and for Africa
That old saying about youth being wasted on the young has never had more relevance than it does right now. Mandy Shemuvalula's hectic race to take on the world's youth highlights the main impediments to young people getting ahead in business – too many old farts blocking their way. You have been warned. If you are of an ageist bent then this article is not for you. (hint, check out if you are a youth or old fogie in paragraph three).
Mandy talks as fast as I do, rarely drawing breath. We have established after 15 minutes of chitchatting that we are both as eager to jump into the conversation; there only needs to be a slight pause by one and the other is in-like-flynn. I have not as yet begun the formal interview process, so I am just as keen to comment on this industry, this world. However, this is not a competition but a form of short-hand as we can both finish each other's sentences. It's like being separated at birth, but this time the birth of blockchain and we both are as passionate as the other on the topic. This is not an uncommon connection in the blockchain world but we seem to have outdone ourselves in our connectivity.
When we finally do get back to the interview, we have agreed emphatically on another theme: there are real people and real stories in this blockchain world. This one is Mandy's.
First of all, we have to get a definition out of the way. What is a youth? A youth, as defined by the United Nations, is a person aged between 18 and 35. Over 50% of the people on this planet fall into this category and Africa has the largest youth population and it is growing faster than the rest of the world. By 2050, 1 in 4 persons on the planet will be a young African.
Mandy is African, from Namibia and is 31 years of age – so a youth.
One of three children, her family suffered terribly from two separate car accidents. In both cases, members of the family were travelling in the same car. In the first accident her father died while she was just six years old. In the second, a short two years later, her older brother died. While Mandy minimises the impact these losses made on her by virtue of her young age at the time, it is obvious they touched her spirit. There is steely core to Mandy that can only have been wrought in the fierce fire of tragedy.
Her mother, by all accounts, was a powerful woman who shouldered these losses and did not burden her remaining children with her grief. Mandy remembers her mother being up first every morning from 5am, and showing only a happy face to the world.
Her mother was a force of nature, running her own furniture business empire. She purchased furniture directly from manufacturers and then opened retail outlets across the country and the African continent. Her industrious work proved profitable and she was able to send her children to private schools and universities. Mandy attended Windhoek International School, then went on to Monash University (Australian founded) in South Africa for an initial degree before transferring to Monash Malaysia for a secondary international business degree.
"I definitely learnt from my mother's bravery. In a way it trained me to be the person that had to do it for themselves. If I wanted something then I had to go and get it for myself. And boy, did I get it."
After college, Mandy knew she wanted to work in her own business but still joined an international company in a marketing role. When the company failed, that catapulted Mandy into the entrepreneurial space. "I now had no excuse."
Her first company was to arbitrage between Africa and the rest of the world. "In 2013 I looked at products coming on stream – any products – and could see the time lag between the rest of the world and Africa. I wanted to bridge that gap for African consumers and so I set up Gloca. This basically allowed me to source new products and fast track their availability in Africa."
After four months her company won a best business idea accolade. However, things were going to get very interesting. Spurred on by this win, Mandy attended a Global Entrepreneurial Week in Namibia. At the event, she discovered the existence of a new youth programme for Africa launched by then-President Barack Obama. The programme was called Young Africa Leadership Initiative or YALI, before being renamed to the Mandela Washington Fellowship. To apply for this programme, applicants had to go through an extensive online application including an essay on why they should be chosen. Mandy wrote hers and, to her astonishment, she was accepted.
"Five hundred young people from across Africa were selected to go to the US for a six-week fellowship at top universities, divided into three steams: business and entrepreneurship, public management, and civic leadership. Then a three-day summit in Washington with Barack and Michelle Obama."
The course was intensive. They were lectured by top professors from American universities in the morning and then had site visits during the afternoons according to each stream. Mandy found herself visiting Google and other tech giants. Evenings were given over to networking with the local business community.
"Up until this point I had always felt different in my life," says Mandy. "I struggled to find people who thought like I did. I desperately sought deep conversations about life, purpose, everything. I didn't want to do frivolous things. Now I was surrounded by 499 other young people who wanted to change the world as well. It was a life-changing experience. I no longer felt alone."
After the six weeks and three days, 400 delegates went home but Mandy and 99 others were given a further eight-week internship. Mandy was selected to intern at the world headquarters of Coca-Cola in Atlanta, joining the global public affairs and communications team.
"This was an amazing experience and part of my journey. I asked, and was allowed, to sit in on all departments so that I could learn everything possible during my stay."
Mandy was also brought to India on a five-day visit and was the only delegate on the programme to get to work outside the US, where she followed the Coca-Cola team in their empowerment programme for women entrepreneurs.
"We visited five cities in five days and the contrast between the five-star hotels and rural villages where we met with the employees working in the bottling plants was vast. But I got to see first-hand how women were being given opportunities. I also saw the social impact projects that Coca-Cola ran, for example providing a solution in one village that delivered clean water for the next two years.
"I began to see a different way of doing business where the local community was empowered around a supply chain. I was also struck by the sheer invasiveness of the brand. At every tiny local store there was a Coca-Cola sticker. How had they done that?"
Mandy has a huge faith and believes her steps are guided directly by God. "I began to understand my role and how I could put my learning and education to good use. This was when I came up with the initial idea for Youthia."
Mandy spent the next three months researching her idea at Microsoft. She travelled to Nairobi in Kenya, which is regarded as the Silicon Valley of Africa. She wanted to understand the SME world. She wanted to get to know what the youth were doing in this world.
"I realised I wanted to economically empower one million youths (initially) and provide them with economic opportunities. We began by organising events and inviting young entrepreneurs. We held the events in real local businesses, not hotels, so people could see first-hand what a business might look like. We even printed 'play money' in brightly coloured bills so people could exchange value. This was before I discovered blockchain."
When Mandy did meet blockchain it was like coming home. Everything suddenly clicked and the world of play moved up a notch to become reality.
"I also knew my vision was not just for Namibia or even for Africa but it was global from the get-go."
Mandy is building her youth commerce platform on a hybrid chain – both Ethereum and Quorum. "But that is of very little importance, we are platform-agnostic and since things are changing all the time, we can jump chains to whichever technology proves best for our model."
Youthia is made up of two tiers. The top tier consists of Youth SMEs and Buyers. The second tier exists to accelerate the top tier by providing finance. Youthia is democratising access to the twin needs of SMEs – global markets and finance.
The second tier will be populated by entities deploying funding such as banks, VCs, business angels, etc.
"Did you know that over 44% of total global SMEs are youth-owned? Interestingly, if you are a youth and want to get into business or the digital economy, access to both markets and finance is very difficult. The further you move from Silicon Valley (in fact, it isn't all rosy in Silicon Valley either), the more difficult it becomes to access markets and finance.
"We have created a new method of validating SMEs. Rather than asking to see five years' worth of trading history, banking statements and other traditional documentation to verify if the SME can be successful and should therefore be funded, we turn that long-winded and slow assessment on its head.
"Instead we look for Verified Transactions, or #VTs for short. This is going to disrupt how traditional finance flows into business. SMEs on the chain can submit sell orders and their customers can match them with buy orders. Each order is then finalised and settled on the platform. If an SME can prove 100 #VTs a day, they are already proven to be successful.
"On the second tier, financers can put up funds and set up #VT based criteria for accessing these funds. Matching can happen very quickly. I'm talking about 90% less time."
Mandy speaks about the time and cost of seeking funds in traditional ways. She should know as she is conducting her own private sale for Youthia. She is looking to raise $2 million which will be enough to build out the network but her geographical location is most definitely an impediment.
"Potential investors have told me to my face, if I were based in Silicon Valley, I would have the money already."
There is a truth that says talent is equally distributed but opportunity is not. Mandy is solving a massive problem through Youthia that she too has experienced.
"I have a big vision but I believe my journey is taking me to this place. I want to introduce and pioneer a new paradigm to break down systemic barriers for SMEs and youths everywhere. And I believe that blockchain will put the power back into people's hands."
Mandy believes passionately that economic freedom is as important as any of the other human rights.
"I want to question the type of funding often available. If you go through a traditional VC then that VC will be looking at an exit strategy within five years. That puts huge pressure on the SME.
"However, if the SME knew the funder was interested in seeing the SME go all the way, the relationship is very different. This is the type of funding I want to match up with youth SMEs or begin to introduce a new way to open the conversation to trade differently."
Mandy knows she is on the right track. Her faith in God and her amazing trajectory so far has proven she is onto something huge. Then she is looking to solve a problem that impacts her directly. "I am a youth entrepreneur and I need access to funding. If I can solve a real-world problem for myself, then I know hundreds of millions of others will also need this solution."
Currently, Mandy has an early adopter user base of 2,200 youth SMEs, corporate buyers, and financiers across the world and this is growing. She is still a bit off the 4 billion pool of potential youth SMEs but she is confident she will make it. Her energy and determination would have it no other way.
For more information please visit www.youthia.co
Connect with Mandy on LinkedIn here.