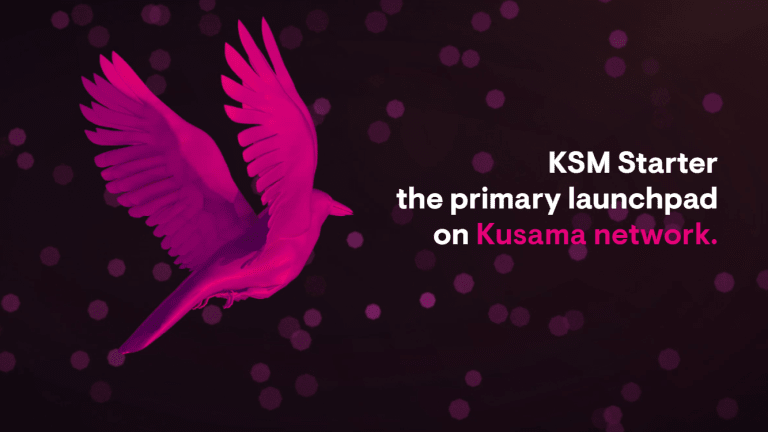 KSM Starter - a launchpad that doubles as an incubator
Just before the off, I tease Siwon about broccoli. Siwon is a South Korean born but raised everywhere entrepreneur. And he doesn't like broccoli because it reminds him of a small tree. When it comes to cultural integration, he is much more inclusive and on his travels often finds a way to integrate different cultures. Case in point, when studying in Qatar he worked to bridge the expat community with local students, serving on a local Council to create events that introduced both communities.
That interest in inclusiveness is reflected in his new project – KSM Starter, the primary launchpad on Kusama.
"There are launchpads springing up every day but I think it is in reaction to scarcity rather than need. People are rushing to be first movers without really considering the why."
The why for KSM Starter is to be transparent. Sounds simple but in this era of multiple launchpads seemingly awash with coins there is very little feedback or guidance for projects which get rejected.
"If a project is rejected, the project is not told the reasons. They can toot their idea around to different launchpads hoping for a yes but the flaws are not discovered in these rounds and a good idea might not ever get off the ground for the want of minor adjustments."
On KSM Starter if a project is rejected, they are told the reasons why. And in addition, they are then given real guidance and practical help on how to fix those problems.
"We are a cross between a launchpad and an incubator. Projects that launch on KSM Starter will have access to advice from our ecosystem, our partners, investors, and various experts to make the project stronger. This benefits everyone and can also boost the value of the project by 10, 50 times.
"We can help make the project become superior and everyone benefits."
Transparency is key to the KSM Starter model which stems from respect for the community. Many projects launch with governance tokens but they are not actually used, it's more a nod to governance without practical utility.
On the KSM Starter platform, the permission to proceed is based on the project getting enough votes. KSM Starter token (KST) holders will stake their tokens only when they feel the project is ready for launching. It works like a democracy.
In addition, there is an Ecosystem Council made up of investors, stakeholders, and experienced players in the crypto world – essentially they work as an advisory team.
Finding members for council involves asking the community to report back on helpful individuals active in VC, tokenomics, legal etc.
Another interesting aspect to the launchpad is the auto invest function. Siwon sees the benefit of having guided investments.
"Not everyone wants to go into lotteries or watch Twitter feeds like a hawk or time your day so that you are online just as the IDO starts. Especially if you are in different time zones that mean you have to get up during the night to participate in a round.
"So we came up with this idea that people could stake a certain sum in stable coin, say $5000, and you are automatically invested in different projects on the site until your money runs out. You can choose to top it up, but this service is for busy people who want the convenience of investing without the normal hassle associated with it."
KSM Starter calls itself the most protected launchpad. When it comes to IDOs there are many reasons for delays. This can be really difficult for investors waiting for the start of the IDO and Siwon and his team felt it was also disrespectful to these investors too.
"We checked into the reasons behind the delays and most of them were caused by technical faults. Mostly the projects had faults in their smart contracts which had not been audited. And so we have a step hard-coded into our process that ensures the smart contract is 100% audited prior to setting any dates."
The other layer of protection to be investigated in insurance against coin volatility.
"We are working on a prediction model for people who are already whitelisted for a project. So, say they want to invest $1000 into a project, by investing a further $100 into an insurance premium, you can partially hedge against future potential losses."
The prediction project is being worked upon but it's a testament to Siwon and his team's thinking. They want to make sure projects get the best advice, iron out any potential issues, and create the best possible project. At the same time they want to support and protect the community that is investing in the project. It's a win win for everyone.
It is also transparent and democratic; twin ideals that are core to KSM Starter. It is an IDO platform made to work for both projects and investors.
The team has finished building their smart contract on Ethereum and received audit from Omniscia. They recently have finished porting the smart contract over to Substrate. Next step testing, extensive testing. Then they will launch the KSM Starter project on their own launchpad – ironing out any kinks as they go.
"It'll be both a learning opportunity and a proving opportunity for us."
Once this is achieved, then the insurance and prediction models will be next worked upon.
"We want to build an inclusive community where the common goal is to succeed. We are creating a unified force when the end goal is to make every project as polished as possible and for everyone to have a positive return."
KSM Starter – a launchpad that operates as an incubator and a DAO. From little acorns grow big (broccoli) trees.
For more information, visit @KSMStarter or join the Telegram channel on KSM_starter.