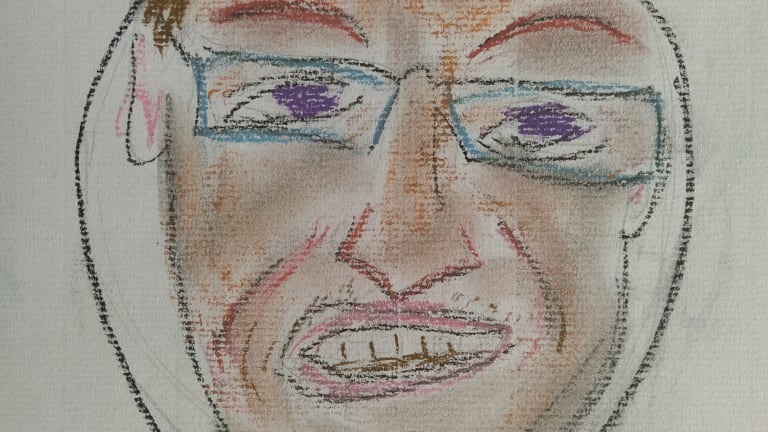 JPB Liberty files David and Goliath Class Action with Andrew Hamilton
Persons of Interest, Volume 1 by Jillian Godsil This interview with Andrew Hamilton was first published in the 2020 critically acclaimed book of Web3 Founders.
Before I get to the big news I want to explain about the name of this company. In a recent interview I kept on stumbling over the initials JPB. In exasperation I asked the founder, Andrew Hamilton, why on earth had he chosen those initials, could he not have gone for something that tripped off the tongue more easily. Instead I got a history lesson which I want to briefly share with you.
JPB are the initials of course of the American John Perry Barlow, a giant of a man across technology and music, being both an internet pioneer, cyberspace activist and long-time lyricist for the Grateful Dead. Barlow came from a ranching background but used his huge energy, curiosity and intelligence to first discover the internet and then to protect it. In 1990, he founded the Electronic Frontier Foundation (EFF) to defend the independence and sovereignty of cyberspace and later founded the Freedom of the Press Foundation with Edward Snowdon. His career spanned politics, lecturing, touring and even cattle ranching. He died two years ago leaving behind him a legacy of music, celebrities, drugs, politics, women, words, essays, lectures and change, huge change.
So, it is appropriate that the founders of JPB Liberty are also looking to shake things up by bringing a class action against tech giants Facebook, Twitter, YouTube and Google for banning cryptocurrency ads in 2018. This class action, which argues the bans effectively killed the ICO movement, is now representing claims in excess of $700 million. The action was launched three days in Australia, chosen for three reasons. The first is it the home territory of solicitor Hamilton, secondly he has worked there on a number of other anti-competition cases and thirdly, small litigants are protected from paying defendants costs where they are not successful. It is a perfect battleground on which to launch this audacious David versus Goliath bid.
JPB Liberty is not a legal firm but a litigation funding firm – legal firms are not able to take a share of the potential damages as is structured in this case.
If successful, and the upper reach of damages could go into the multibillion stakes, claimants will receive 70% of the final awards with JPB Liberty receiving 30% as they are operating on a no foal no fee basis.
Hamilton is a tech lawyer from Australia where he studied both computers and law: making him half geek half lawyer. His early career saw him working for Telstra, the big Australian teleco, doing competition and regulatory law, before he relocated to Israel in 2008. He was an earlyish adopter of bitcoin and began mining Bitcoin on his balcony but when Facebook initially banned the cryptocurrency ads in January 2018, his competition antenna popped up.
"Straight away I knew this was wrong and when the other giants moved to ban the ads as well, I could see it was a cartel and anticompetitive. I checked the law in Australia – it was definitely a breach of Australia's competition law."
Initially he wrote to the regulator, but they ignored him. "I don't think they understood the sector but it was causing huge damage at the time. The markets dropped 53% in that first week, then another 30% after Google followed suit. And it wasn't just the market prices but the different businesses and projects that had the rug pulled from underneath them."
Hamilton, as well as having experience on the corporate side of dealing with competition law has also run a class action in the Federal Court in Australia. It wasn't successful because the funding dried up.
"From that experience I learnt the hard way that you need to control your own funding – which I why I set up my own litigation funding firm."
Hamilton has been working on this for two and a half years. "At the start people still considered crypto was bad and only scammers used bitcoin; they believed Facebook over crypto."
Hamilton knew he had a very strong case, but he admits it was tough in the beginning. Then when Facebook launched Libra, he knew he'd made the right decision.
Hamilton is joined by Dr Brian Bishko, vice president of technology for JPB Liberty. A friend of Hamilton's Bishko initially had not been involved in bitcoin but he holds a PhD in physics so he understood the basics, just not the breadth of the project until he interviewed Hamilton. From that point, he went from being a journalist into an activist overnight.
While the markets have recovered significantly since COVID, Hamilton points out that many projects failed during that early period. He recognises it is going to be difficult to crystallise the actual damages owed to each claimant as there are many different people impacted. It's a whole ecosystem that was damaged.
Hamilton points out that Mark Zuckerberg stated in his annual statement on January 4th 2018 that he was going to get into cryptocurrency, saying it had the means to bring back power to the people. His project Libra was already established although not public, and the following week he just went ahead and shut down the competition.
"It's all there in black and white."
Hamilton argues that the big tech giants were operating a killer acquisition strategy – a process whereby they purchase any companies that threaten them – and create their own monopoly.
"How come a search engine controls the entire internet? They found a way to monetize websearching and then bought out the potential competitors going forward. In the same way crypto threatened them and they needed to be taken out – or at least slowed down. Facebook knew it was behind the curve and it needed time to catch up."
Hamilton finds it super ironic that the tech giants have managed to ban the legitimate companies but not the scammers impersonating big names in this space. Binance for example cannot advertise on Youtube but scammers impersonating him on that platform are numerous. "
"By banning the legitimate companies they have in effect opened the door for the scammers. It's like a double whammy and not protecting anyone, quite the opposite."
Having filed papers, Hamiliton is at the off. When asked how certain he is of success, he says. "While nothing in court is 100% guaranteed, this is as close as a bullet proof case as you can imagine. I've had lawyers go through the details and no one has seen any legal weakness so far. But it is more than just the money, it's about bringing freedom back to the internet."
To end with a word from the great John Perry Barlow himself, taken from the Declaration of Independence of EFF;
"We will create a civilization of the Mind in Cyberspace. May it be more humane and fair than the world your governments have made before."
Click here for NFTs from Persons of Interest