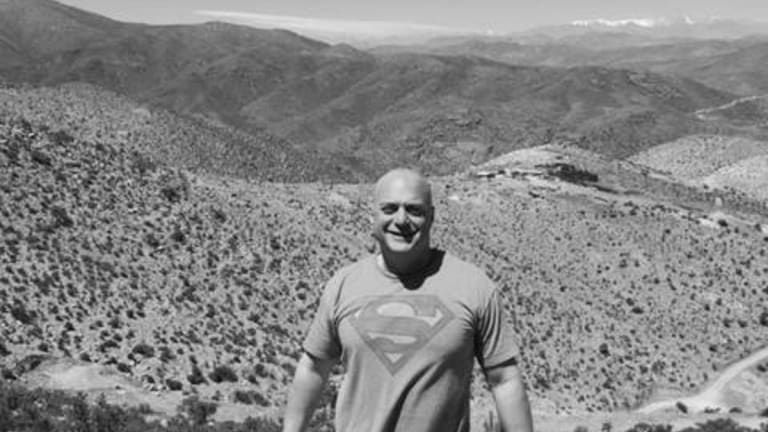 Jordan Gitterman – Taking on World Hunger and Global Parity Valuation with the Power of Blockchain
Jordan Gitterman spoke to Blockleaders' Demi Oye about his past in real estate, oil and gas, and how reading Virginia Robertson's "Information Currency: The New Green" triggered his interest in blockchain and misnomers of valuation he had witnessed.
The Old Economy is gone and the New Economy is here, defined by double-digit unemployment, currency decline, and world poverty. Only a few are moved by the gloomy economic fog but in the world of Jordan Gitterman, challenges are opportunities.
For my first interview as a Blockleaders' writer, I wanted to get Jordan to speak on every element of inspiration, direction, and conviction. I have known Jordan for quite some time now. We met on LinkedIn and I immediately noticed his thirst for challenging the status quo and getting things done.
I believed he would make a great interviewee as he had a lot to share about his forays into the world of blockchain and Global Parity Valuation via his project, Item Banc.
Mr. Gitterman is developing cryptocurrencies, smart city, and blockchain technologies that have a positive social impact. He possesses over 30 years of business management and finance experience with a considerable amount of it in hard asset projects.
Jordan started out as a real estate broker, buyer, and seller in New York City where he grew up. When he noticed the appreciation in real estate value caused by expansionary monetary policy, it irked him and sparked his desire to get into a fairer and more realistic business model.
I wondered why he wanted out of the real estate market; a market where top players are supposedly making a killing in income and commissions. In his words, he relayed his displeasure for the real estate model.
"Capitalizing on loose money and speculation seemed like musical chairs, and I did not want to work hard and at the end not have a chair."
That was the end of the road for Jordan and the real estate industry.
He gravitated towards mining, oil and gas production because he felt the real value was being created.
Most recently in Chile, Jordan founded Latin American Mining, a copper and gold production company. He worked on developing oil and gas, gold, silver, copper, antimony, and iron ore mining, processing, and trading projects.
Still unsatisfied and yearning for more he plunged his mind into other fields.
On Jordan's foray into blockchain and founding Item Banc
Jordan always had a passion for creating real value. He was determined to further distance himself from existing systems that caused misnomers in global parity valuation.
When he returned to the US, he began to study cryptocurrencies and blockchain technologies in earnest and realized that the peer-to-peer nature of their transactions was essentially electronic barter.
"I was attracted to blockchain early on because it offers transparency and provides value in any scenario where trust is an issue. Blockchain can automate trust as it provides mechanisms for consumers, businesses, and even governments to manage and automate transactional relationships when doing business involving data or other assets.
"Trust is automated and provided by technology removing the need for an intermediary. The blockchain and smart contracts reconcile the data, reducing the time and the cost of transactions. This can change the world for the better.
"Most people know that there are miss-valuations in the market. It is very apparent in the peer-to-peer trade markets otherwise known as barter. Items that otherwise wouldn't realize their fair value when exchanged for fiat retrieve their value when traded for other items.
"Item Banc will inform the market with data that shows correct and miss-valuations. By taking the data of the trades of BHN, entering into the Item Banc Engine, and offering more accurate valuations every transaction could be affected by informing the parties in it allowing for fair exchanges which everyone wants."
On transitioning from a realtor and trader to a blockchain advocate
Jordan is a trader at heart; whether he was buying or selling properties or mining minerals via his exploration companies. I asked Jordan what made blockchain the 'IT' thing for him.
"I was inundated by the power of blockchain and cryptocurrencies because of their ease in dealing internationally as opposed to transacting under the current banking system which made everything arduous and expensive.
"I wanted to take the 50-year-old barter model and improve it or, as they say in cryptolingo, disrupt it."
In fulfilling this feat, he met Virginia Robertson when he returned to the US. Robertson authored Information Currency: The New Green. Jordan recollects that this meeting reinvigorated his Item Banc concept which had been birthed 20 years ago. I asked why it had taken so long to get started from the time he'd first had this gem in mind.
He replied he was waiting patiently for the proverbial 'perfect timing'.
"With the advent of cryptocurrencies and blockchain technologies, Item Banc could now be brought to the market and work as intended. We are delivering global parity valuation by taking Item Banc and its Information (crypto) Currency, which is asset-backed, initially in Rwanda to the market. The project will spread and has great humanitarian attributes."
What had attracted him to tackling world hunger and distress? This question is an important tangential to Jordan's story and I wanted to know why he was particularly interested in helping solve world hunger and distress. Was there a personal connection? Is it a 'larger than life' affair?
"I was always empathetic towards the plight that poverty spreads. As I mentioned, I became interested in misnomers of valuations in my real estate business and the economy at large and how they are behind much of the global poverty epidemic.
"Global systemic challenges such as poverty, pollution, hunger, social injustice thwart humanity and the world's progress. With the incredible advances in technology, ideas can become reality and remedy business problems while simultaneously solving earth's biggest problems. When I realized that, with Item Banc, I could make a substantial difference and really help the world, it made my work a mission.
"Item Banc is a technology engine designed to create global parity valuation information. Data for the engine is derived from a basket of basic human need goods exchanges that are captured and tokenized by smart contracts with producers and organized by Nation.
"The entry-point and growth plan for Item Banc in a community proves a realistic acceptance that to create robust trade, the technology must first address the basic needs of the people and their incentive to produce. Item Banc can deliver confidence, security and freedom in a currency-challenged community with a new currency that can grow smart, productive economies.
On why he started in Africa?
In pursuance of his personal goals and Item Banc's objective, Jordan has started laying the ground works for Item Banc in Rwanda, Africa. While there is poverty in every continent, I was interested in knowing why Jordan took on the Motherland.
"I started with Africa because Africa has the most pertinent economic needs. Africa is made up of 54 countries which trade in 56 different currencies. Only Morocco's currency is rated BBB, the other African currencies are rated below. African countries are endemic with inflation and a disconnect between economic performance and currency value.
"The disconnect is deepened due to the inability to trade directly across borders. There is no common trade currency but the US dollar and this creates a worrisome friction in the way of fees, exchange rates, and time delays. With Item Banc I will be able to assist in removing much of the friction in trading and misnomers in valuations that plague the world but Africa the most.
"As a founder of Item Banc which is preparing to go to market, I do everything from administrative tasks such as setting up banking, fund-raising, hiring and guiding our team, working with the blockchain and crypto community to forge partnerships, marketing and much more."
On future plans
Why does starvation exist in the world today? What are some of the causes of world hunger? Are citizens of developed countries donating monetarily to ongoing relief efforts?
Jordan hopes that by addressing these questions to create an understanding of the current world hunger situation, morally-conscious individuals will do their part in contributing to an eradication of this suffering. I asked if he feels like he has achieved and he replied that this is a starting point.
"I have met with a number of Rwandan Governmental Agencies and they have responded positively, especially their Ministry of Trade. The growth plan for Item Banc is expected to be over 20 years. The future is mapped out in expanding Item Banc into every community that can benefit from it and wants us there.
"Using the technology of Item Banc's Global Parity Valuation Engine to assist the market by giving relative valuations and to address the basic needs of the people and their incentive to produce in as many communities as possible."
Jordan wants to spur on strong trade systems, deliver confidence, security and freedom in a currency-challenged community, and there are so many, with a new currency that can grow smart, productive economies.
If you want to look up Jordan Gitterman and what he is up to these days, connect or follow him on LinkedIn.