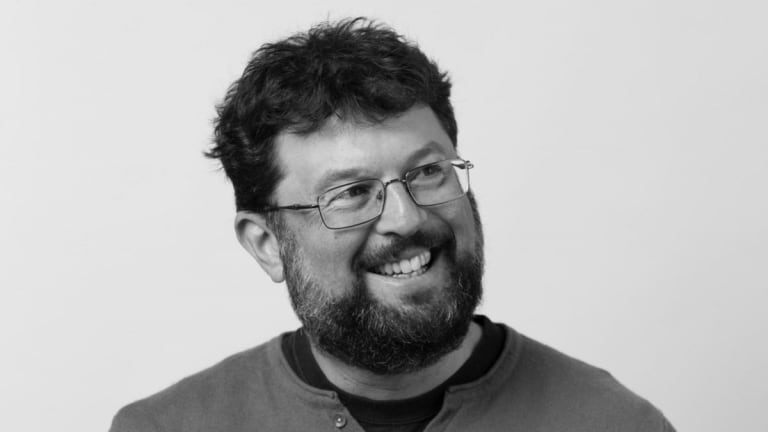 Jesse Ratner: Using the Power of Storytelling to Make Blockchain Real
An idea, and a typewriter. That's all that was needed before the indecorous age of the internet. The din of this mechanical contraption would fill my favorite writing spot for hours on end and I like to think that Jesse Ratner was doing the same at the same time, thousands of miles away, as he's the same age as me. Such are the vicissitudes of fate that I recently found myself interviewing this man of many talents We discussed blockchain, movies, and of course, typewriters. Enjoy.
The art of storytelling
The classic 1998 movie Saving Private Ryan depicts the dogged determination of a US Rangers detachment led by Captain Miller (Tom Hanks) to find a man bound for home. It is a gritty and accurate portrayal of warfare full of military action, poignancy, and drama. But it's also a tale of the human side of war and the will to complete a mission no matter the odds. And while Jesse Ratner actually wrote the tagline for that movie — The Mission is a Man — its mantra is apt. Jesse certainly is a man with a mission.
Jesse has lived a successful life as a content creator, copywriter, creative director, and has taken a shine to blockchain as of late. I caught up with Jesse on a rare sunny Irish afternoon in mid-October and he opened up about his passions, the influence of storytelling on everything he does, and movies, of course.
"From a very early age, I wanted to read and tell stories. And I don't think that reading is the only way to become interested in storytelling. I'm trying to tell a story in the best way possible. My career has been a series of challenges to fit a story into a format. My career has been to find the right words to fit into the space provided," Jesse told me.
This journey began through writing taglines for movies. It may seem like a simple and straightforward job but the reality is rather different. A tagline is meant to convey the essence of the story and act as a hook to draw audiences in. The tagline itself may only be a few words long but a lot of work and thought goes into it. In many cases, the copywriter has to read through a script that may run into the hundreds of pages, just to capture what the story is about, to draw out that vital essence that makes a tagline be effective and memorable. Then there are the multiple options put forward, writing and re-writing and submitting to the relevant agency, until a final eight or ten words are agreed upon, and become the tagline printed on a mass-produced movie poster. This process highlights the minutiae that a writer must sometimes go through in order to produce a seemingly easy piece of work.
Jesse has had big spaces to work with at times. His tenure at Google, for instance (another thing we shared), enabled him to have his written work seen by billions of people, due to the prominent position of his assignment. This high-profile job earned him some great exposure and experience working for big industry names.
Still, Jesse knows of the painful grinding that one must sometimes do in order to attain one's goals. While copywriting for Saving… and other projects, Jesse was also working for the L.A. Times as a salesman and newspaper collector. His job, as he recollects, involved driving around in a Ford Ranger collecting unsold newspapers from liquor stores, newspaper stands, and supermarkets around Hollywood. His usual run coincidentally (and perhaps unfortunately) meant that he had to collect newspapers from the gift shop of the building where the copywriting agency he was working for had an office, several floors up. So he dashed in to collect the papers and hoped not to be seen by the people upstairs, not wanting them to know that he wasn't a full-time writer. Life takes hard work indeed.
On music and stumbling upon blockchain
Jesse's youth in 1990s America developed against the backdrop of change and technological evolution. Cable TV made its first appearance in this decade, as did the internet. Both would soon become cornerstones of entertainment across millions of households. Abroad, the First Gulf War got underway, as did the now-infamous L.A. Riots.
Jesse's take on life was much more relaxed and laid back. He spent a lot of his time playing jazz music and being active in the LA jazz community at the time. "I would often go to this center of jazz activity started in LA by Billy Higgins, a famous jazz drummer. Higgins had a poetry and jazz workshop and ran a jam session on Thursdays and Sunday nights called The World Stage, which still goes on today. Billy Higgins passed away, but some guys -- like Kamasi Washington and Terrace Martin -- who were there would go on to become famous musicians and personalities."
Jesse gravitated towards copywriting and similar work patterns, so never quite made it as a musician, but he believes that he'd have had some success if he had persevered down the musical path. Indeed, his career veered towards marketing, so he was able to put his creativity to good use. Jesse now has his own agency and has done a lot of work on the blockchain, an ecosystem which he came into contact with pretty much by accident.
He tells me the tale of how he ended up becoming part of the blockchain space. "So I had two long stints as a creative agent, working mostly for Google Ads and Google Maps, five years all told. I was living in San Francisco at the time, and one goal of my wife and I was to buy a house in the city, which would have been very hard to do due to property prices at the time. A writer's salary alone would probably not be sufficient. So, in order to fund the purchase of a house, I started taking freelance gigs on the side, so I was working at Google and doing other things at the same time, just to get enough money to purchase a good house for my family. One of the things I worked on was a blog for a guy who worked at a different business unit in Google. As fate would have it, this guy was doing ICO consulting, so he connected me with Status.IM, a fun app that has a messaging facility, wallet, and DApp portal. It's an interesting product. My friend at Google introduced me to the Status.IM team and I started writing content for them back in 2017. That's really how I got involved in the blockchain space.
"Getting involved with Status.IM made me realize the potential of the blockchain technology, along with its innovative capabilities."
Jesse quickly grasped the concept of blockchain tech and embraced the decentralization trait and accompanying sense of community.
"There was a very interesting community and a palpable enthusiasm in the blockchain space. I found that everyone wanted to talk to each other about their job, which doesn't always happen in every industry, 'cause jbb sucks, or the industry is stale, or whatever else. The blockchain community is really vibrant. There's a lot of really smart folks there.
"The industry needs to be professionalized. It's slowly maturing, and I'm really proud to be involved in the blockchain industry right now. The more involved I get in establishing the blockchain space, I hope to become a leading contributor to educating the market. We focus on branding and creative, but we can also do PR, marketing, optimization, and much more."
By now, Jesse has done a lot of work which has garnered good traction within the blockchain community.
The mission continues
Passion for perfection is the name of the game for Jesse. Working on the tagline for Saving Private Ryan, for example, Jesse was bound to secrecy as the movie was still in production. The studio did allow him to read the script, but that script could not leave the building. Yet, a small price to pay indeed for such a significant piece of work. Jesse confesses, with the hint of a well-deserved smile on his face, that writing that tagline was his proudest moment as a copywriter.
But while great content is king in the copywriting world, Jesse's determination goes well beyond that. "The other thing that drives me, apart from creating excellent work, is the sense that we are on a mission. I think our mission in the blockchain community is fairly unique in technology, and across many industries."
One can almost hear Captain Miller speaking there. Tom Hanks' portrayal of that character in Saving Private Ryan won international praise and acclaim. Hanks had long been a household name, but the world saw yet another dimension of his acting ability in his representation of a school teacher turned Army Ranger by a quirk of fate. Jesse's own grandfather fought in World War 2.
The Blockchain Agency
Jesse Ratner knows a thing or two about storytelling, and this knowledge permeates everything he does. His latest venture is the Blockchain Agency, an entity that has been operating since the middle of 2017.
"Our mission is how do we make the blockchain real so that, if I want to go to the corner store and buy gum, I can pay with crypto? We believe there's real value there, and we want to make it real for people. With Blockchain Agency, our mission is to educate the marketplace. We want to become the premier communications agency for the industry, so that startups, established players, incumbents, and traditional industries like IBM, Microsoft, etc. come to us. We want to be the go-to thought-leader for governments and NGOs that may not understand the blockchain space. We want to partner with publications and writers that want to look for authoritative, informed commentary on the blockchain space and new developments in it.
"We have a lot of goals, but all rolled into one. I want Blockchain Agency to be a primary and significant contributor to making blockchain real."
Final word
Storytelling frames and shapes one's life, giving meaning and coherence to existence.
Every life is a story and these stories can be told in many ways. Spielberg uses the medium of cinema to talk about the lives of others while fulfilling his own. We all know of E.T., Oskar Schindler, or Private Ryan, for example. It's all planted deeply into our collective imagination.
Jesse and I once used typewriters to tell our own tales of terrific naivete. Now, he uses blockchain to speak his truth while I bring you stories of the people working in that very space. Technology, no matter how advanced, will never be a replacement for a good piece of storytelling.
You can follow Jesse through LinkedIn or his business website, The Blockchain Agency.