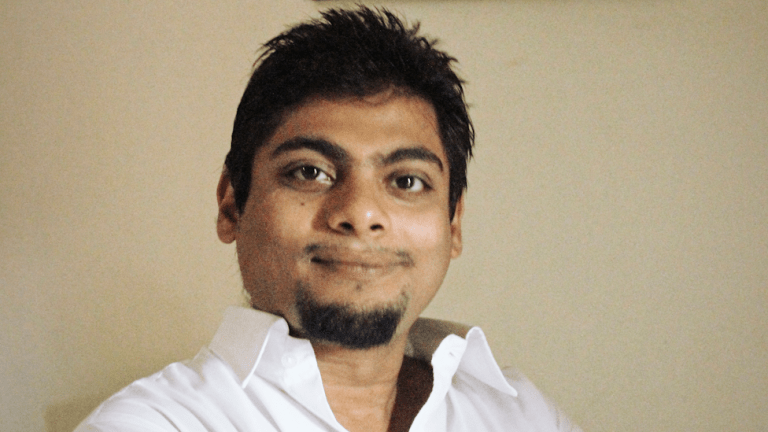 Jason Fernandes, XREX Exchange
My first introduction to Jason Fernandes is via an old MTV clip. The interviewer is dressed in purple (which I discover afterwards it is a homage to Prince, silly me) and seems enormous by comparison with his floppy purple cuffs as he interviews a young, confident 14-year old Jason. It's not about music but technology as Jason had launched a web portal with a search engine to navigate the emerging internet. The website, ZeoCities.com, was even before Google was incorporated and one can only wonder what might have happened if the paths of the emerging tech giant and this young inventor had been crossed earlier.
Indeed, previous business excursions documented in a 2015 Times of India article recount how Jason charged fellow pupils for rides on a school rocking horse and purchased newly dislodged teeth to put under his own pillow at home for the tooth fairy; a practice only flummoxed when his mother counted his remaining teeth.
Jason suffered with multiple conditions under the learning disability spectrum and used his personal experience to lead public information programmes with technology the key delivery vehicle. His learning disability non-profit, LDkids.org, won him numerous awards but more importantly helped explain how other subjects and their families could best navigate paths together. He was still only a teenager. In a filmed segment on local Indian television, the young Jason exudes a calm air as he explains how to best interact with fellow dyslexic children. At the end of the programme he is seen creating a sculpture, which is not unusual since both his parents are accomplished and indeed famous sculptors.
What is interesting that we are now speaking almost 20 years later, and Jason is still a very calm speaker but with a huge back catalog of TV and media appearances under his belt. The multiple diagnosis of dyslexia, dyscalculia, dysgraphia and hyper-activity attention disorder have been largely overcome and certainly have not disrupted his serial entrepreneurialism. He has only left one pastime in the past, sculpting. After that filmed segment, he never attempted this art again, at least thus far.
During our conversation he is abandon sculpture, but he is very honest on how he was a nerd in his formative years.
"I was definitely a nerd and I had the whole gamut of learning disabilities. What people don't realise is that while these are medically diagnosed, they are in fact social disabilities. I found it difficult interacting with other kids and certainly wasn't winning any popularity contests."
A lack of external distractions delivered an internal life for Jason. In turn, he developed a lifelong fascination in UFOs and using his computer skills built a software program that was a repository of information on the phenomenon, including a function that enabled users to report their own sightings.
"At that time in India the best-selling computer publication was called CHIP magazine. They also published a monthly free CD with copies of programmes on it. I submitted my programme, "The UFO Story" and they included it on the CD that month. The internet had not really arrived yet in India and most people here relied on the CHIP CDs for their monthly fix of programmes and games etc."
In fact, both Jason and the magazine were based in Bombay, so he jumped into a rickshaw, entered the office and found the employee in charge of posting content onto the CD.
He liked it, added it to the CD and more than 100,000 people installed it directly from the CD with another 400,000 installations on computers across the country. It was so popular, the magazine published another of one his products a couple months later.
"So that's how I came up with "Cheaters Heaven"; basically, cheat codes for gamers."
This was also another smash hit and despite his young age (15 years – a lot happens when Jason is 15) he began contributing to their monthly column, "Dr Chip"- where he responded to readers PC troubleshooting queries and was an editor on their "Tips and Tricks" special. He also reviewed games for the magazine as part of their test-center.
"I was writing for a national magazine while still at school. That gave me a buzz."
Soon ZeoCities.com emerged with a search engine, a free email service and instant messenger. The site also featured a full-blown e-commerce store featuring books, music and videos and increasingly Jason was signing partnership and co-branding agreements with other companies.
"Of course, I was way too young to sign these legal documents, but I did and faxed them back. One time a company called the house and my mum replied and said I was in school. The caller was like …whaaaat?"
Despite his growing business, Jason's parents maintained old fashioned ideas about education. They wanted him to concentrate on his exams but Jason was not very happy.
"I was not good at traditional school exams. Even when I was diagnosed with dyslexia my parents were told that I might be an Einstein, but I would still only get rotten grades within the school system. "The specialists who diagnosed me said that if I worked hard, I could be a tailor."
Here I stop the conversation, blinking. 'A tailor' I question. 'Yes, a tailor.' It's a bit of a jump from serial tech entrepreneur to tailor I suggest. Jason agrees and confirms that it was a suggestion he ignored. A loss to the brethren of tailors all over the world, not.
Even with his diagnosis, Jason found school difficult and the teaching staff were not helpful. Even lightly suggesting he join the National Open School project so his exam results would not pull down their school average. The irony was that, armed with tools to overcome his dyslexia, Jason excelled in his new environment, polling first out of 500 fellow pupils at his exam centre. It was around that time that he founded his non-profit LDkids.org, so that no other child would suffer the same lack of support and understanding.
Jason later attended college in the US, enrolling in the University of Texas in Austin. A large school with over 50,000 students, Jason found it lonely at first. He worked jobs in his spare time and struggled with schoolwork. At one point he even dropped out and was homeless for a period. Hitting this low was enough to galvanise him back into action. He doubled jobbed, hustled, freelance programmed, found an apartment, saved and soon had enough money to put himself through school. He finally graduated, scoring a perfect 4.0 in his final semester.
While in college, he was part of the the founding team for Perceptive, a company that developed patented ECRM software for Fortune 500 Clients and later (along with his brother Carlos), was granted a patent for RecordTV, the world's first legal web DVR (known as the Network DVR[1]), For context, RecordTV was streaming television in 2007, while Netflix was still shipping out DVDs. Because of the novel nature of streaming technology, the company faced DMCA copyright claims from media giant, MediaCorp. A 5-year legal battle ensued and RecordTV lost the initial case in the High Court of Singapore, but had that ruling overturned by the Court of Appeals in a multimillion-dollar landmark copyright decision later cited by WIPO and awarding RecordTV costs and damages. The protracted legal battle did however kill off the company.
This might have finished off the habitual entrepreneur, but he bought bitcoin in 2013, some of which he sold in 2016/2017 and that alongside an investment from his co-founder and another by a former college friend, helped fund another project, SmartKlock for a number of years. At the same time, he was invited to write a monthly technology column for Indonesia-based business magazine, GlobeAsia. He continued to do this over 5 years, writing 60 columns, and loving every minute of it. He also began writing for several local and national publications including Man's World magazine (India's largest selling Men's magazine) where in June 2013, he wrote a now infamous article titled "Bitcoin for Dummies" that introduced many Indians to cryptocurrency, a full 6 months before India's first crypto exchange began operations.
At the same time, recognizing that SmartKlock was failing, he pivoted the software behind the project into a blockchain based platform known as FUNL. Despite many friends telling him to get a job Jason ignored them (along with the invitation to train as a tailor) and struck gold when FUNL was awarded a major startup award, at the Seaside Startup Summit, organized by Startup India and the Armenian government. This won him international attention and investors, including the attention of an old friend who in turn connected Jason with Gene Hoffman.
Gene Hoffman was the youngest ever CEO of a NASDAQ company, founder of eMusic.com, and a serial entrepreneur. He has sold his companies for millions of dollars and was featured on the cover of July 1999 edition of Forbes Magazine as a member of their "E-Gang". He was launching a project in blockchain, AEToken, and asked Jason to join him.
"Of course, I said yes."
This led Jason directly into the heady world of cryptocurrency and blockchain. He's trained thousands of people in this space. In 2019, he was conferred with the Karmaveer Chakra, a UN global civilian award for his work in promoting social and financial inclusion through blockchain technology. As co-founder of AEToken he also received first place award at the Malta Blockchain Summit pitch competition. After a stint as a regular guest on the Crypto Now show aired by Bloxlive.TV Malta, he founded crypto-media outlet TokenJay.TV which is an aggregator for fintech focused content.
While Jason dove deep into blockchain technology, he was very aware of the social aspect of cryptocurrencies.
"I am very conscious that cryptocurrencies are not always solving problems in the countries that need it most. Countries like China, here in India, Pakistan, and Indonesia are very hostile to cryptocurrencies while at the same time possessing the largest populations of unbanked. What is the point of democratising currencies if it is not reaching those that need that most?"
That's what convinced Jason to sign on to lead India Operations for XREX Inc, an exchange that provides professional access to spot, futures and options trading. Officially launched in September 2020, XREX took just 6 weeks to clear a daily volume of $1 million USD and doubled that in a mere 10 weeks pulling $45 million USD in volume for December. XREX also offers a P2P product, MyXchange, that makes it simple for influencers, money transfer organizations (MTO) and other crypto firms to operate a safe crypto-fiat exchange that includes complete KYC, liquidity, fiat (US Dollar, Indian Rupee) on-off ramps, AML and wallet security
 "XREX can effectively provide banking/remittance services to the poor and disadvantaged while also providing an extremely secure multi-currency insured wallet"
This is relevant when one considers that India's fourth largest bank collapsed last year, denuding people of all their savings and with little or no chance of recovering them. In 2016 India demonetised its currency, (not a new phenomenon as similar happened in 1946 and 1978) declaring 80% of all circulating currency worthless. The 500 and 1000 denominated notes were declared valueless with people forced to line up to swap these defunct notes with new ones. The queues were such that many people fell ill and indeed some even died in line.
"Only 1% of Indians pay income taxes, so 99% of people use cash to pay for things. The demonetisation of money disproportionately and negatively impacted poorer people and it was quite apparent then that crypto could be a solution"
"People can buy bitcoin or hold INR/USD on XREX in a secure wallet and need not be worried about fat cat loan defaulters collapsing the entire system. This allows ordinary folk to have a safe money option."
XREX is a 42-person Blockchain TradeTech company audited by KPMG and backed by monies from the Government of Taiwan via their National Development Fund, the same fund that helped setup TSMC, the largest semiconductor manufacturers on the planet. XREX also counts CDIB Capital and the Founders of Skype as investors. Headquartered in Taiwan, the company is deeply focused on serving cross-border businesses operating in emerging economies like the Indian, Africa and the Middle East.
XREX has another secret, hidden in plain sight, weapon. Considering many Indians may be unable to complete the KYC process, registering at a traditional exchange or financial institution may be difficult or impossible. XREX offers a peer to peer escrow-based transfer system known as Bitcheck which protects both parties without them needing to trust each other. In December, XREX users traded over $15 million USD in Bitchecks
"I always knew I was a technology guy, but I never thought of myself as a finance guy until recently. I do know though, that both industries together can make a huge difference to the little guys."
[1] https://en.wikipedia.org/wiki/Network_DVR