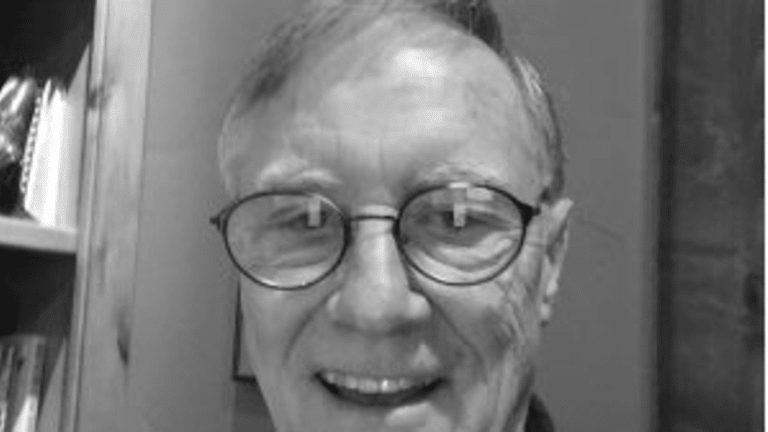 James McKenzie – Learning is forever
Where to start with James McKenzie, 77 years of age and resident in Bend, Oregon? Follow me on this trip of standing up, common sense and a real sense of achieving in a meaningful way. A road less travelled...
Where to start with James McKenzie, 77 years of age and resident in Bend, Oregon? Follow me on this trip of standing up, common sense and a real sense of achieving in a meaningful way. A road less travelled...
We speak for the guts of two hours and only slow up when the time was chiming and other calls were waiting. It is ironic that the majority of his career was to create a huge electronic business that turns over in excess of $100million and is a publicly floated company and yet we spent less than five minutes on that topic. We would have spent less again only his son recently transitioned to President of the company and we talked about him more so than the Plc. Which seems to point to the fact that the really important stuff in life happens in the beginning and the end; with the middle being – well maybe the middle is for "just" living.
Of course, before James attacks me with a poker let me also add that we are not talking about endings, not in that sense, just the timings of life. James has said he is not afraid to die which is not the same as being prepared to die; he has a lot to do before he reaches that plateau. A lot.
As a result, I am not sure if I should begin at the end, as in the story, or the beginning. However, as I am feeling mischievous today I think I may start at the end. Spoiler alert: contains blockchain, mining, and gold.
James is the CEO of Tokenoro, an asset-backed blockchain platform, based on Worbli which is the sister chain of EOS. Worbli terms itself the financial district of EOS where the community is already KYC'd. TokenOro is addressing the need for precious metal mines, especially gold mines, to raise capital to extract the ore. Often if the mine is located in Western Africa is it seen as too risky an investment for many financiers.
All investments tokens will be backed by gold and linked to the assets creating investments having "a solid floor but a flexible ceiling." When you purchase a TokenOro token, 50% will go to purchase gold bullion, gold bullion certificates and/or cash that will be placed in a secure, insured gold vault and 50% will go into mining production and company operations.
The company has multiple mining partnership projects. They are located in North America in Montana and Nevada, and also in Africa in the country of Guinea. Each mine has gone through extensive geological surveys, costing millions of dollars. Based on geological surveys and NI43-101 reports, the company is targeting deposits that have inferred and indicated resources of more than 10,000,000 ounces of gold.
The token sale is due to go live in April and will run until June or until it is sold out.
James is also the author of a book of reflection and memoir called 'Searching for Jesus', a tome that has taken him the last two years to write. He has also written a book entitled "The Pond Scum Gospel' a rambling history of key points in the development of civilization as told by Fred, the Frog.
So there we have the end, or rather then, end of the story, but it all really starts with a double degree and a Scottish proclivity to cautious financial husbandry.
77 years ago James McKenzie was born to a family of hard working, God fearing, Scottish and English immigrants in Portland, Oregon. The McKenzies came to East Oregon as sheepherders. The other side of the family came to the US through Canada from Britain after the First World War via Canada. He has a younger sister born, born 18 months later than him. James reflects that he is not religious in the sense of exclusion but is a believer. He believes that his life has been directly impacted by God's word. He shares this view with late parents who each had a thirteenth commandment.
His father's additional commandment was to respect everyone and his mother's was never lie to me. A Scottish mammy is very like an Irish Mammy.
James points out also that his parents experienced post-war Europe where scarcity, poverty, and hunger were daily occurrences. He was brought up to save his money, work hard and respect everyone. Later on in our comprehensive conversation, James brings up the idea of respect and equality. He muses that people are constantly demanding their rights nowadays. In a simpler era, when and where he was growing up, they existed without demand.
As a young boy of six or seven, he worked in his father's butcher shop sweeping the floor. His first girlfriend, of around the same time, was African American – with pigtails, he remembers. She was brought home and no one batted an eyelid. To see colour but not be affected by it is maybe the great loss we suffered with as a result of political correctness. This is a theme that resonates during our conversation, whirling around topics like cream stirred into black coffee. James actively worries about the world now, for his grandchildren. He is not sure the world is a better place than post World War II for all its accompanying privations.
James attended the University of Chicago where he studied chemistry, physics, liberal arts and business where he received and BA and a master's degree in finance. He also managed to have at least three Nobel Prize winners as teachers.
But let's go back to the double degree and yes it was to do with parsimony. By combining the two conferrings, only one flight was needed by his mother to go to Chicago and only one cap and gown rental were needed. The rental was about $25. Twenty-five dollars was still important in 1966 given that there were times where he only had a dollar in his pocket. The solution? Find more work at school. This included taking care of lab rats, raking the track and eventually getting a job working for Kemper Insurance Company while in Graduate School.
When he was graduated in 1966 (as his English high school lit professor advised him on the correct use of the verb[1]) he was faced with the Vietnam War and was about to be drafted.
"I decided to make an active decision and looked at joining the military service as a Direct Commissioned Officer. There were three different enrolment packages for the Army, Navy and Air Force. I chose the smallest stack of the three which was for the Army. It also included the shortest tour of duty-three years, and so I began my officer basic training at Ft. Sam Houston, Texas, as a Medical Service Corps Officer."
James swiftly discovered during examinations he was placed in the top ten percentile of the intake of which included a mix of new officer recruits, enlisted conversions, warrant officers and West Point cadets. After finishing his training, James was given the choice as to where he wanted to be assigned.
"Vietnam was the elephant in the room and so I asked to go there. I thought it might be good to get it out of the way." James was the only graduate from the 500 officers in his year who directly volunteered for Vietnam, but he did not have enough experience to be posted to that conflict zone as an initial assignment. Instead, he was offered four other conflict zones– West Germany, Turkey, Thailand, and Korea. He chose Korea.
He did not know much about Korea and felt it might be interesting. This seems to be a pattern of James' choices. If he was going in a direction, he may as well choose an interesting direction. Being master of his career even in a limited way was more powerful than simply being carried along by the current.
Korea proved a very tough assignment. He volunteered to be assigned to a difficult Colonel near the Demilitarized Zone. So far Medical Service Corps officers only lasted a few months in this slot before being transferred. The job included venereal disease control, field sanitation, food service, water supply, blood collection, surgical assistance to the doctor, and general administrative activities of the medical services operation for five artillery battalions near the border of North and South Korea.
"Any time I objected to anything, I was assigned extra night duties and extra special assignments. I did not mind since it kept me busy. It beat sitting in the Officers' Club watching many of the officers get drunk every night. There was not much to do out in the middle of nowhere.
"I did not find these tasks onerous, but I did find myself in conflict with my superiors. I preferred to deal with logic and regulations, and they had a convenient changing set of rules. They followed rules as they saw fit and sometimes criminally broke them. Hypocrisy was also the order of the day. For example, after a while, I stopped going to church as I felt uncomfortable that 50% of the officers attending church every Sunday were suffering from VD. That got me into a lot of trouble as I was disobeying a direct order from the colonel to attend church. When pushed on the subject, he backed down."
James does not reveal if the colonel was on the right or wrong side of the VD percentage.
The colonel now had it in for James. As it happens a five-star general was visiting in three days' time and the colonel asked James to prepare a presentation of the financial status of the battalion units. These were in disarray, if not bankrupt, but the colonel had not realised James had a Master's degree in finance from The University of Chicago. The presentation was a hit and the colonel left James alone after that. Later that same colonel asked James to come to work for him at the Pentagon, an offer he did not take up.
James left Korea with a black belt in tae kwon do, the ability to read and write Korean and a great respect for the culture of the Korean people.
James' next assignment was the Walter Reid Army Medical Centre. This he enjoyed much more as the work was intelligent as opposed to merely carrying out orders. During that assignment, he earned an Army Commendation Medal for his work. He also met his wife-to-be, Fran, an Air Force nurse. It was a good time. They were married in 1970 are still married after 48 years.
After completion of his military service, James was offered a full-time position by Kemper Company with a very decent starting salary. He turned down the lucrative salary for a very reduced income. He had a vision that the Japanese electrical/electronics industry would be huge and began by importing electronics and electrical products directly from Asia into the States.
This insight would prove accurate and when he stepped away from the business ten years ago it was, as noted earlier, a $100million publicly traded company.
And as also noted we did not speak about this business much. James' son is now president and his daughter has a multi-million dollar business also related to its beginnings. Both his children followed his path and were sweeping floors at a young age – earning the right to rise through the ranks.
So, we now switch tack to mining. James was running a growing electronics company so how did he get into mining? This switch happened through a friend in the mid-1990s and James found himself growing a telecoms company in West Africa with 13 African nations signed up. However, this failed when contracts were not honoured – an issue with investing in this region. An initial foray into gold mining is also being advanced today but continually encounters problems with funding
"I began to realise there were huge opportunities in the sector, but access to substantial financing was a big stumbling block for a range of reasons, not least of which was risk.
"Moreover I had bigger plans – I didn't just want to extract the precious metals. I wanted to make an impact on the environment and help the community. There were issues like clean water, education, employment, food, and malaria.
"In the last two years I heard about cryptocurrencies but I was not a crypto trader and so I had no interest in the technology – all I saw was speculation. I was also pretty sceptical about the ICOs seeming as they appeared to be led by young kids with little or no business experience.
"However, the more I thought about the mining space, the more I realised there actually were assets, with real people and real work within the community and blockchain could be the enabler to advance this real business."
The challenge for mining in West Africa is to create credibility – that is a missing link. James now found as he began to explore the region that many operations wanted backing – mines that were streaming gold that needed finance to extract the metal. James knew he could channel the finance and very swiftly he found more mines wanting to join the programme than he could ever have guessed.
"Cryptocurrency is the secret sauce here. Not only can we back the investment, but we can also offer an opportunity for much bigger returns. A solid floor and flexible ceiling as it says on our website."
As many West African countries use French, James took three years of French self-learning. Already fluent in Spanish, he is also familiar with Japanese, Korean, Chinese and classic Hebrew, Currently, he is reading the Bible in French and in Hebrew.
"Once you stop learning, you start dying."
The idea of death rears its head again. Not ugly just there. He sharply contrasts the world of his youth with the world of today and today does not come off well. People lack accountability, respect and an inability to hold divergent opinions without belittling the opposite view or person.
However, all is not gloom and doom. TokenOro has very much excited James and it's not the money. "If I make a positive impact on these communities then that will make me very happy," he says.
He must be a libertarian after all.
For more information visit the TokenOro website
[1]Note on graduate and best English practice
This word, when applied to one who receives a degree from a college, is a past participle of the verb to graduate, (to mark with degrees, to confer a degree,) and requires some part of the verb to be before it: yet it is, oftener than otherwise, used in the past tense of the active verb. In the memoir of Webster, at the beginning of his dictionary, it is said that "he graduated with reputation in 1788." The biographer might as well have said that "he born on the 16th of October, 1758."
—Edward S. Gould, Good English, 1867