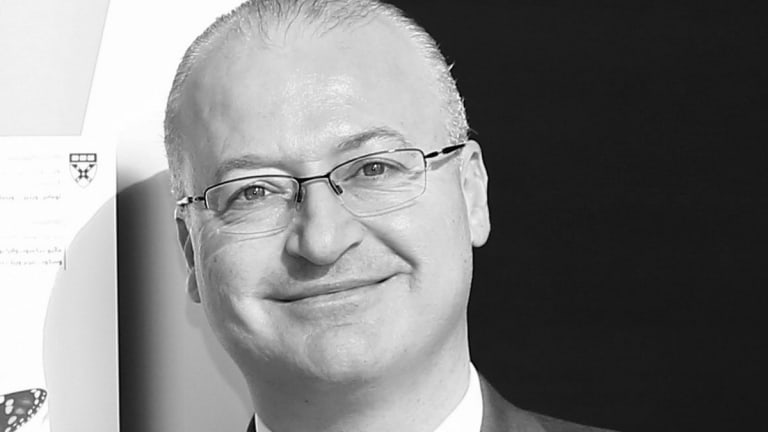 Hadi Malaeb: Honest to Goodness Sales
Matchmaking investors to ICOs - find out how it is in done in the Middle East.
Matchmaking investors to ICOs - find out how it is in done in the Middle East.
Contrary to popular opinion, to be a sales professional is to be employed in one of the most ethical of all careers. So says Hadi Malaeb and momentarily I am taken aback. Perhaps I should clarify the comment by adding the adjective 'successful' before sales professional. And Hadi goes on to explain.
"While the sales profession is not normally associated with ethics, consider this fact: if a sales professional tells lies or pushes unwanted product on people, then once the buyer has completed the sale and realised the product or service is not good for them, do you think they would ever purchase from that salesperson again?
"A dodgy sales person may pull the wool over someone's eyes once or even twice but not on a consistent basis so he or she would always have to look for new customers – or victims. However, a sales professional who looks after their customers and only sells them that which they need, then they will retain a customer for life."
I digest this a bit and realise what he says is true. There are very few careers where the execution of your duty is directly graded in terms of honesty and ethics. A bad plumber may lose customers but it is unlikely he would be branded an unethical plumber. So, too, an office executive may be poor at their job but the term unethical is unlikely to be used in conjunction with the quality of their work. But sales professionals – these are targeted with ethics at every turn. Terms such as a used car salesman are both pejorative and universally understood to infer lies will be told about the quality of the car. It's shorthand to calling someone dishonest.
Hadi has a bit of a bee in his bonnet over this classification. "I'm a very good sales professional," he says with emphasis. "In fact, every conversation between two people is a sales call. There might not be a commercial imperative but one person is trying to sell the other an idea, an emotion, or a thought, but it is all about the sale."
Again I digest and I find myself agreeing, emphatically and ethically. I, too, would consider myself a good salesperson but it is not something I put on my CV. Why not? Why ever not? I shall in future.
But back to the conversation with Hadi. Born in Lebanon into a wealthy family, Hadi admits he had many privileges growing up. In fact, this honest trait is very endearing in Hadi and informs his approach to work and relationships. His father was a successful entrepreneur and when the war broke out in 1982 with Israel, they moved to Saudi Arabia. From there he was sent to a private boarding school in Cannes in the south of France, before moving to Canada to study Business at Ottawa University. The family settled in Canada and on trips home to Lebanon, he met his wife Rim, who had coincidentally also studied business at Ottawa University.
"We, Rim and I, finally decided to settle in Dubai fifteen years ago. At that stage we had a son and we wanted him to understand his culture. Lebanon was not viable economically and so we chose UAE instead. It's been a good fifteen years."
Despite studying business and majoring in accountancy Hadi did not spend one day in that job. "I am very much a people person and I gravitated to a career that involved working with people not numbers or figures."
So he moved into event management and for the next fifteen years he headed up global conferences in Dubai. He was variously CEO and managing director of different high profile event companies and conferences including the Dubai World Trade Centre, IQPC, MEED Aura Events and Haykai Media.
Then in February of 2018, Hadi took a leap of faith and decided to set up his own business. With his wife Rim and another partner, Abdo Achkar, he established the Agora Group, for which the tag-line reads: bridging gaps, we connect international companies to Arab and African markets.
"From my fifteen years working at senior levels, I had a very good network of investors and companies. My little black book, if you will, is very extensive. I know the CEOs of Venture Capital companies, Family Offices and Equity Funds as well as many Angel investors
"Investors began asking me if I understood the emerging technologies, in particular things like AI and blockchain. They wanted to meet opportunities in this space but while they had heard about the impressive returns from ICOs they had also heard about the scams. They wanted to meet vetted ICOs if you will."
Hadi decided to create a conference that was unlike any other. Normal KPIs for successful conferences tended to include the number of people attending, high profile speakers and lots of noise about the event. What is not mentioned is that very few deals are done at these high profile conferences. And the audience tends to be passive, listening to speaker after speaker but not actually cutting any deals.
"I wanted to create quite the opposite," he says. "I was going to set up a sales conference where the ultimate aim was ICOs to find investors and vice versa."
To that end, he only invited CEO level executives in the investor community. He charged them nothing but he warned them that they would be pitched all day.
"These executives cost us a huge amount of money putting them up in the best hotels and minding them. We would not make a single souk from them. However, they were the reason we could then turn to ICOs and ask them to attend."
Typically Hadi wanted to run an event with only 150 people, which his first event in September achieved. There were 31 ICOs attending. The ICOs paid between $10,000 and $25,000 to sponsor the event.
Hadi is very transparent about the sponsorship, cost and aim of his event. "I want the ICOs to have a tangible return. I wanted them to raise money."
Accordingly, each ICO has given a team member in support who ensured they made all their meetings and kept to the strict schedule. Even if a pitch was going swimmingly, time was called and the ICO went onto the next meeting. It proved very successful. 17 out of the 31 ICOs raised $78million between them. This transparency is part of the reason why Hadi and his conferences are in now in demand.
I asked which ICOs did better and why. Hadi explained that he had attracted a wide range of ICOs, from pretty much every industry, from Wedding Planning to Gaming. So there was something for everyone.
"The successful ICO pitches had clear business plans. They were articulate in outlining the vision for their company. They had already projects under their belt or were very clear on how they would run their own business. They had long-term goals and their business plans would stand up to traditional VC interrogation. On the other hand, the ICOs that failed to attract investment were too focused on tech."
Another issue was over-valuation. Some ICOs that had already raised large sums earlier in the year attended and were looking for secondary funding. "However, most investors questioned where the first $20-odd million had gone and declined to invest any more money."
The response to the conference was overwhelming. Hadi had originally thought to run another conference along similar lines in six months or so but such was the interest from both investors and ICOs that he is now planning one for the end of December, only three months from the first one.
"If you consider that most ICOs will pay big money, much bigger than $10,000, to sponsor a major event and yet not see any financial return then it is hard to justify intangible networking. But when we posted the moneys raised everyone took stock and wanted to attend the next one – hence our hosting it in December, again in Dubai."
Still, despite or perhaps because of the great success of his original conference, Hadi has now added in another aspect.
"While ICOs need funding, they also need to find buyers for their tech. This is especially true in the enterprise sector where projects looking to solve issues for large corporates or public entities need customers.
"Such is the interest in adopting new technologies that we have attracted major organisations looking to find strong projects. And for some ICOs a good customer is better than a pure investor."
Hadi is confident in his ability to create memorable, value-for-money conferences. So now I ask him how does he find working with his wife; are there tensions at the end of the day?
Hadi laughs. "I do sales and my wife does everything else. She manages the sponsors, the event, the procedures – everything."
I am not sure who is getting the better deal but it is working so Hadi doesn't need to fix it. Hadi is already expanding the business but not in the normal fashion. Instead, he has opened a rural Lebanon office, about a mile from where he grew up. There is a real reason behind this.
"Our business does not need to be located in a particular geographical location, except for the actual event itself. But the business of working with investors, buyers and sponsors can all be done remotely. We live in a world where face-to-face is replaced by the internet, video calls, hangouts, and all manners of ways to connect. As long as we have broadband we can base our support office anywhere."
As a result, Hadi decided to place the office in a remote rural location where the presence of highly-paid, professional jobs would make a big difference to the local community.
"I could have opened the office in Dubai but placing it in rural Lebanon makes a big difference to the employees and the community."
Currently, the office employs 20 people which would be a large company by comparison. The idea of providing something back to the community he grew up in is as valuable for him as any other business imperatives that he wants to achieve. The idea of community fits well with the Agora Group planning. Attendees at the next conference in December will be matched in advance of the event, with meetings arranged all day. This is no hit-and-miss affair but a very tightly-organised series of meetings arranged for buyers and sellers. A very much watch-this-space event with successful results, especially important in this bear market.
Note – David Atkinson, co-founder of Blockleaders will be speaking at the event as will the author. Expect updates in the new year.
For more information visit the Agora Group website.