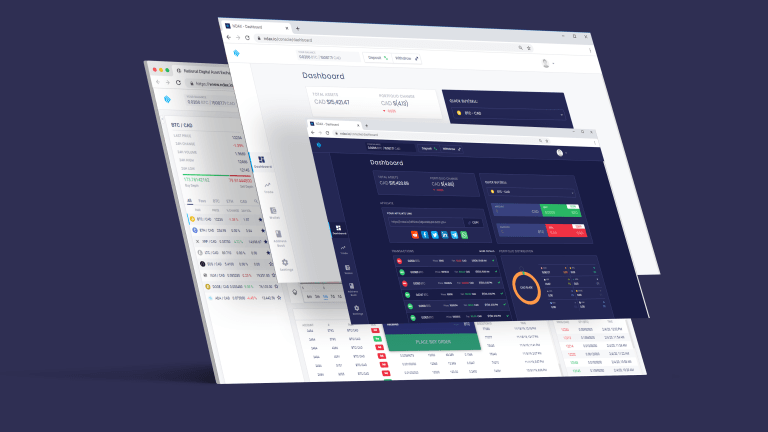 Getting it right - Canada's Top Cryptocurrency Exchange
Interview with Bilal Hammoud – President and CEO of National Digital Asset Exchange (NDAX)
It turns out that the co-founder, President, and CEO of Canada's popular and trustworthy Crypto Exchange does not hail from a traditional tech background. Bilal Hammoud studied to be a chemical engineer and worked mostly in the oil and gas industry and civil engineering after graduating.
"Yes, I'm an engineer by training, but I have been trading stocks and shares over the years. And during the dotcom era I set up a company to do this – even while I had my full-time engineering job. I saw Bitcoin around 2011 but I didn't buy it then, not until 2014 when I first dipped my toe in the market."
Bilal witnessed first-hand the volatility of the cryptocurrency and also the difficulties in trying to set up an account with crypto exchanges. Sometimes the KYC process could take several weeks, then if money was wired it might not appear for several weeks. Often, the company details were not obvious and so that created a lot of uncertainty.
"I struck up a conversation with a number of Canadian banks and initially they were very skeptical about working with cryptocurrencies. Finally, I found one bank that was willing to take a punt on my idea but only if I put in all the regulations required for a traditional financial exchange."
Meeting the needs of Canadian crypto buyers
So began Bilal's journey to compose an Exchange that would act like a regular financial institution. He hired a compliance officer with 15 years' experience in a regular bank. Then he hired other staff with strong financial backgrounds, financial qualifications and accreditation. And he partnered with some big players in crypto wallets.
In 2018, when Bilal was pulling the team together there was no regulation in the Canadian marketplace, not even guidelines. Then the 2019 scandal surrounding the death of Gerard Cotten, founder of Canada's, then largest exchange Quadriga CX, and with him the missing funds in excess of $135 million, changed the landscape. Cotton had benefitted previously from the collapse in 2014 of Mt GOX and had been frequently quoted as saying "People like the fact we're located in Canada and know where they money is going."
As it happened, they didn't, and the funds have still not been retrieved.

Ahead of the curve for compliance
It was as if Bilal had been planning for something like this to rock the system. As the Canadian government began to cautiously bring in regulations, NDAX was already ahead of the game. To all extent and purposes, it was an exchange that followed exchange rules: regardless of the assets traded.
Part of the journey was to limit the number of coins listed on the exchange with the top 8 only available, including Bitcoin, Ethereum and Litecoin.
"We are focusing on only offering quality coins – and providing one of the most feature-heavy exchanges so that users can really appreciate our service."
While developing NDAX, Bilal partnered with a technology company based out of New York utilizing a technology similar to that used on the New York Stock Exchange and now offers many features only found on tier one stock exchanges such as volume of trades per second, trailing stop limits, and ten different advanced trading orders.
In the search for transparency, Bilal has also divided the retail customers from the institutional OTC users. The latter are dealing in much larger volumes and do not have to use the actual exchange platform and can avail of an OTC trading desk instead.
"What we have noticed is a growth in retail traders. There is a real interest in looking at the crypto market. Having said that, with only 5% of all Canadians interested in trading crypto this is still overall a relatively small number of people.
"In time we will expand outside Canadian borders and have plans to open offices across many countries including the US. But as each jurisdiction has different rules and licenses, we need to take our time."
Making access easier for retail users is a priority for NDAX. The KYC is simple and effective. Users do not need to even upload a picture, instead NDAX has partnered with a third-party credit history company. The user input their name, address and date of birth and the checking is done automatically.
Bilal notes that how someone looks is not a great authenticator of who they are – consider the change in hairstyles over the lockdown he wryly says.
While verifications for most users are instant, It normally takes less than two days for the KYC to be completed for the rest of users that require further verifications, and this is overseen by the compliance officer.
The value of the human element
"Another big difference with NDAX is that we can be contacted. People can email us, call us or even come into our offices. We are a real entity populated with real people."
NDAX has a large office in Calgary with a conference centre. They have been working closely with the University of Calgary and SAIT, and present regular in-person or webinar educational courses and introductions to cryptocurrencies.
"People ask us which coins to invest in but that is not our purpose. We aim to educate and explain that the market can be volatile. The only advice we might give is not to put all your life savings into crypto."
Safety and transparency in crypto
Given the very public concerns about hacking, NDAX has put in place several strategies to ensure this does not happen. As Bilal explains, it starts with banking. NDAX has segregated banking accounts. In fact, such is their adherence to standards, anyone can walk into any bank branch in the country and ask to transfer money to NDAX.
"The banks know who we are and can handle these transactions. No other exchange can offer that."
NDAX keeps the monies separately too. They don't mix customer funds with NDAX funds. These are basic financial standards operating in fiat banks and this is reflected in NDAX as the people supervising the operations are licensed fiat officers using the same high standards.
A further division is implemented between crypto assets on the exchange and wallets. There are cold storage wallets and hot storage wallets with firewalls separating the funds. If people want to withdraw money, then an employee will authorise it – it is not just automated but checked by humans. And there are different levels of authorisation depending on the size of the withdrawal – higher amounts demand more authorisation and oversight.
As a further defence, NDAX runs an active bug bounty program engaging with ethical hackers who can anticipate potential issues. NDAX is vigilant in responding to these issues. 
"People need to be able to sleep at night without worrying about their money," says Bilal simply.
A path to growth
Right now, Bilal is focused on putting liquidity into the marketplace. Canada is not the most populous country and those engaged in crypto tend to HODL more than trade. His eye is on expanding to serve the American population. Already, NDAX has created a reputation for trust and this is combined with low fees for transactions. In fact, NDAX offers the lowest fees in the marketplace.
Moving into the States will take time as each individual state has its own regulations but that's okay as Bilal is not in a hurry. Everything he has done has been done with care. His strong relationship with the Canadian government, his early adoption of financial standards and his focus on people.
"If you go into our reviews you will not see one negative customer review. And that is down to how we do business and how we treat people. We don't want to be the biggest exchange, we are not after Binance or Coinbase, it's not about the money. We just want to be the best option for our clients -- providing easy usability and the ability to handle complex transactions quickly and securely."