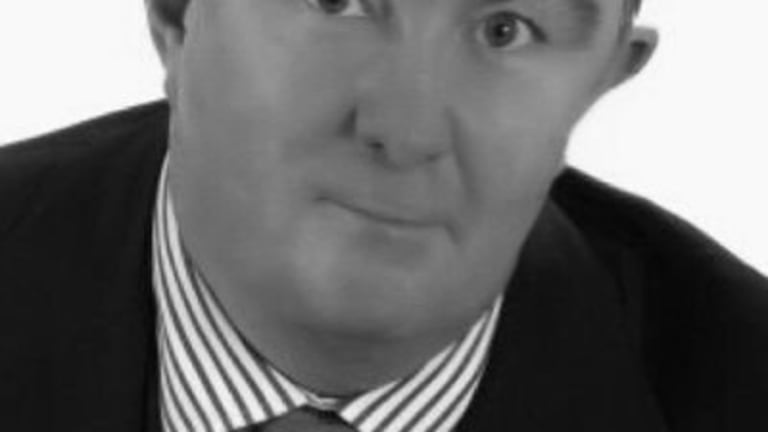 Fran Rooney: Raising the Bar for Technology
Fran Rooney, businessman, barrister-at-law and Chairman of Blocknubie spoke to Blockleaders' Nicola Doyle about the use of Artificial Intelligence, the value of Blockchain, and his predictions about regulation and security which are vital for the industry.
Fran Rooney, businessman, barrister-at-law and Chairman of Blocknubie spoke to Blockleaders' Nicola Doyle about the use of Artificial Intelligence, the value of Blockchain, and his predictions about regulation and security which are vital for the industry.
Football, finance, technology and law. What do these things have in common? Well, Fran Rooney for one. On paper, this man is a multifaceted jewel in the crown of Ireland's tech empire. Referred to as 'the emperor of the Irish technology era' (thepost.ie, 2001) -a moniker with which Fran himself has never identified- he has indeed risen, reigned and reinvented himself in the ranks of technological advancement.
True, Fran Rooney has experienced a shining career as Ireland's economic golden boy; fast-moving, constantly changing, and goal-oriented- but there was no silver spoon handed to this Dublin born entrepreneur. Fran earned his success the old-fashioned way- through hard graft and sheer ambition. The eldest in a family of seven, growing up in Ringsend Fran learned the value of an honest day's work from an early age.
"My parents were hard-working people. They had a strong work ethic so that was well ingrained in us. While we were still at school, we took on part-time jobs to help out. I did a number of jobs, working in supermarkets, bringing in goods and packing. I would have only been 12 at that stage."
Fran tells the story of one of his first part-time jobs, in his early teen years, which involves the calibration and restoration of metal weights for grocery shop scales, and with the telling travels an echo of genuine pride and investment in the task.
"my summer job was fixing the weights, re-calibrating and getting them re-stamped as validated."
An interesting job for a thirteen-year-old; one that uncannily foreshadows a lifelong career beginning with accountancy and culminating in the scales of justice with Fran's current practice as a barrister-at-law. Even now, after decades of success in business, Fran is continuing to work and educate himself in new directions.
"I was always capable of study and it came very naturally to me. I was fascinated by the law and I loved it, but it was difficult trying to get back into it, going to work coming home studying."
The challenge of returning to education at this stage was not a deterrent for Fran, and he doesn't believe it should be when it holds such great potential for change.
"I'm a great believer in education worldwide. I think education is the great leveller."
Having been on the board of the international aid charity, Goal, Fran has overseen the work of volunteers "going out there, doing the work to help the underprivileged in other countries through education".
"Some people see education as a commodity now. While people here have the opportunity to get educated, going back a generation we didn't have an opportunity like that.
"I think it's of utmost importance that people should fight for education, embrace the value of it and maximise its potential for personal growth -even those who go through the system must make full use of what it has to offer. My concern is that many people go through the process of educating themselves yet still do not develop these values in their lives in general, and therefore fail to benefit from the experience."
The reality is that 'commodity' is a relative term, depending on one's proximity to the breadline, a sad fact that Fran is mindfully connected to through his ongoing support of his charity of choice with Brother Kevin at the Capuchin Day Centre for homeless people in Dublin. Hunger, lack of shelter, social exclusion and loss of dignity are harsh and unnecessary truths faced daily by the hundreds of people to whom Capuchin offers support in the form of food, clothing and hygiene facilities- "in contrast to the "inaction of the government" to the Homeless Crisis".
As our conversation gets going, and Fran unfolds each chapter of his prolific career in turn, I can't help but feel as though I'm reading several biographies at once. A protagonist in such renowned titles as Baltimore, Vimeo, FAI and Blocknubie, Fran is a leading figure in the story financial technology. But where does it begin? I ask Fran where this burning sense of entrepreneurship came from that has driven him so far. He answers with absolute certainty and self-awareness.
"I believed in striving to achieve things, improve things, wanting to work at improving myself and learn new skills. That's something that was always there, even at school."
It's no surprise then that the main attraction for Fran to starting his career with the civil service was that the job came with the option to further his studies -something that was not particularly common for the working-class Irish back in the day.
 "Very few of my generation had the means to go directly to college. Many of us went into the civil service, the banks or similar institutions."
Progression and attainment were a constant force, driving Fran to move higher through the ranks and setting the wheels in motion for whatever it took to succeed.
"Every few years you had an opportunity to go for promotion and get a higher grade. I was always thinking of the next promotion and the next opportunity, and what I had to do to get there."
This persistent ambition is the bedrock of Fran's business philosophy, underpinning an astute foresight when it comes to the next big thing. During the 90's it was Fran's discerning eye that cast a spotlight on the need for security as being a market gap between finance and technology. Enter Baltimore, a global heavy hitter headed up by Fran, which listed on both NASDAQ and the London Stock Exchange (FTSE 100) with 1400 employees and a market capitalisation of over €13 billion. At its zenith, Baltimore received worldwide recognition when Bill Clinton and Bertie Ahern signed an Electronic Commerce deal using technology developed by Fran and his team. Fran considers this to be one of the proudest moments of his career, but at close second is leading his team of employees to fulfil their aspirations and earn a better life, before the dotcom bust drove Baltimore under.
"I personally interviewed the first 70 people employed by Baltimore, all Dublin based, and I asked each of them "What would you like to achieve?". They hadn't got massive expectations; things like being able to pay off a mortgage, having money for the kids' school or pay off credit card debts. They were all very frugal aspirations, but each of those 70 in fact became millionaires."
During the dotcom boom, while everyone wanted to be the star who made the game-winning goal, Fran Rooney knew instinctively that a leader needs to put people in a position that can match their ambitions.
While the demise of the dotcom sector, and subsequent implications for Baltimore, has been well documented in the media, this humanising insight suggests that a more pivotal factor in the equation has been left unwritten. Helping real people to get off the ground and get going is of genuine concern to this man who, immediately after the bubble burst, forged fearlessly ahead toward higher ground. Business, just like football, is a game of adjustments. Yes, there is strategy involved, but leaders must anticipate that things will go wrong. That's when they have the players huddle up and try to get it right. This is the heart of achieving success.
"Yesterday is not ours to recover, but tomorrow is ours to win or lose."– Lyndon B. Johnson.
Nothing kills ambition like a fear of taking risks, and Fran's unyielding fortitude for jumping on board is living proof that it pays to have the courage of your convictions. Yet make no mistake, every venture is made with astute calculation and backed by an innate foresight. When blockchain first appeared on Fran's radar, he admits he had initial concerns. "Some of the early papers written were inaccurate. I was very impressed from the technology perspective, although I was very worried about the security aspects. There were lots of questions I had in that regard, and over time I satisfied myself. It took it a lot of research."
For Fran, once his interest was piqued and he recognised the potential that was waiting to be mined, any effort required to get involved in blockchain technology was a sound investment. Hard work and earnest ambition -each in perfect balance on the weighing scale of success.
"Without ambition one starts nothing. Without work, one finishes nothing. The prize will not be sent to you. You have to win it." —Ralph Waldo Emerson
In expressing what precisely it is about blockchain that has Fran so enthused, he puts it into very accessible terms;
"Blockchain itself, as a technology, means being able to split up data and distribute it so that it's not in only one place. It has serious potential to make colossal innovative changes to how we do business in the world." Simple enough.
"The major potential is for blockchain to be able to have an intrinsic value; in this way, it can be the cornerstone of developing values such as cryptocurrency." Ingenious. So why aren't more of us getting in on the action? As an example, Fran points to the simplicity of having cold hard cash in your crypto wallet, from the basis of the process of mining and exchanging that cryptocoin; just like gold. He continues his analogy in saying;
"To mine an ounce of gold, somebody has to go out and spend considerable time finding the gold mine. They have to dig it out, make proper gold nuggets, bring it to the market and sell it. So there are pieces of labour that give that piece of gold an intrinsic value. There is an intrinsic value too in the into crypto coin because you can't just produce it- they have to be mined, marketed and be capable of exchange. I think there's quite a number of steps that have to take place in the meantime for crypto coins to become stable."
Fran shares his prediction that the ease and accessibility of exchange will be paramount to the rise of blockchain. So too, he anticipates, will be the importance of the regulation of Blockchain to unlock its full potential.
"Legal, jurisdictional, national and corporate regulation will come into place and make it a more regulated environment so that individuals will be able to use Blockchain and its derivatives, such as cryptocurrency, with greater confidence."
If we can learn anything from Fran Rooney, its to never let the prospect of exerting effort be a deterrent from enterprise, and that fortune does favour the bold.
"We're very close to a new world order, and quite a number of people are already availing of it. But it has issues for government because it negates government's knowledge, and thereby control, of what's happening in the financial world. Big Brother's influence could be jeopardized. That could be a very positive thing."
The most impelling aspect about Blockchain technology, for Fran, is that it poses a challenge to the praxis of autonomous control of data currently upheld by the status quo.
"The most exciting thing about blockchain is being able to split up data and distribute it across a number of locations so that no one individual can retrieve that. And that's fascinating."
"Leaders who do not act dialogically, but insist on imposing their decisions, do not organize the people--they manipulate them. They do not liberate, nor are they liberated: they oppress."
― Paulo Freire
As Chairman of Blocknubie, Fran is currently working with his team towards "the democratization of complex, expensive and out-of-reach technology solutions to business users en-masse…and enabling start-ups and established business to avail of a suite of advanced Artificial Intelligence solutions to integrate, accelerate, automate and scale their blockchain business."
With this venture, Fran has added another string to his bow, drawn in the direction of integrating AI and Blockchain by the attraction of "developing smart contracts to enable market interactions to be used with artificial intelligence and robotic natural language processing."
Fran tells me it's "a bit scary, but fascinating at the same time", which could almost be the mantra for any one of his endeavours -right before he takes a giant leap into unknown territory.
For a man with such a prolific and diverse career path, there has to be a common line that traces the map. Fran pins it down to "just being honest, and having integrity, treating your people well."
Honesty. Integrity. Trust. It goes back to his love of sport, even prior to his undertaking as manager of the Republic of Ireland women's soccer team, and as CEO of the Football Association of Ireland; the work ethic, the seizing of opportunities, never taking your eye off the ball, and team mentality. Football teaches you to seek the contact, go for the hard tackle where necessary, and to make it happen.
"One of the greatest sounds you could hear as a child was somebody outside bouncing a football, because it meant a game was about to start. When we were kids, we just went out and ran races… I really got a fantastic life out of running companies, and the people that I met running companies has been phenomenal."
A real sense of community and empathy for the everyday man reflects an image of
Fran in balancing contrast with the "Raging Bull" portrayal of him in the 2006 RTÉ documentary. Tenacity and a desire to succeed does not negate community of interests for Fran. In fact, a leaf from his playbook shows us it's the power of both in equilibrium that drives us forward.
"If everyone is moving forward together, then success takes care of itself."– Henry Ford