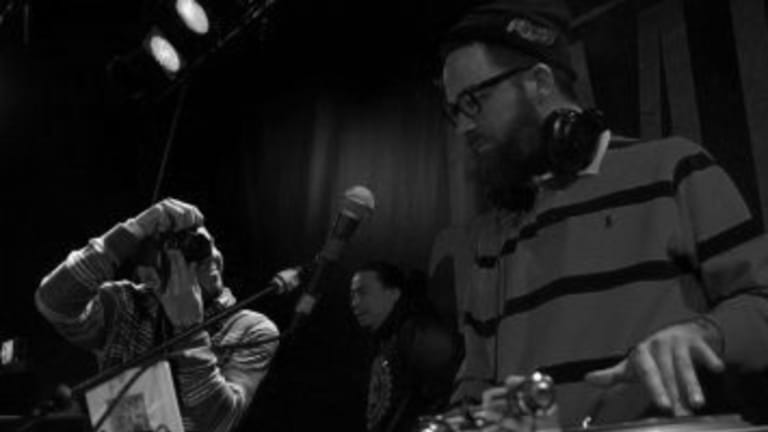 DJ J Scrilla - Smoking Bitcoins For The Sake Of Art
The DJ, hip hop producer and artist guides us through the emerging world of crypto art, dissects the entertainment value of Fake Satoshi and mulls what it means to be a meme-maker.
Andy Warhol once said that "good business is the best art." Warhol knew a thing or two about using art and business to his own ends. A shameless self-promoter with a fascination for capitalist excess, Warhol's most iconic artworks borrowed images from America's booming consumer culture of the sixties - from Coke bottles to soup cans - and transformed them into some of the most enduring (and valuable) examples of modern art.
It is fitting that when Maecenas became the first platform to tokenize and sell a portion of artwork using blockchain last July, it offered buyers the chance to own part of Warhol's 14 Small Electric Chairs. Art collecting, unless you have a rare eye for burgeoning talent, is the preserve of the super-rich. An original Warhol painting sold for $105 million in 2013. That's 1700 times the annual salary of the average American household. But even at such prices, well-heeled and canny art investors can turn extraordinary profits on the art scene. Last year, Irish racehorse magnate John Magnier sold a Modigliani nude for $157.2 million, having bought the piece for a bargain basement $26.9 million only fifteen years previously.
Tokenizing artworks allows ordinary investors to own shares in works of art that seem guaranteed to increase in value. But this is only one way in which blockchain is disrupting the art scene. Musician, podcast host and artist DJ J Scrilla is heavily involved in the blockchain art scene, and is ideally placed to describe how artists are using blockchain to democratize art, find new ways of creating art using the technology, and how the art industry big beasts are seeing the benefit of using blockchain to record sales and providence for posterity.
Scrilla came to blockchain through music. "Back in 2014 I made an album about The Silk Road and learned about Bitcoin through that. That was my first dive into it. When I put it out in December 2014, I wanted to sell it for Bitcoin. I didn't see any platforms for doing that and it took me time to find my way to the community.
Eventually, I discovered Poloniex. They had a troll box there and that's where I learned about blockchain and crypto, mainly from anonymous people. It was a good way of deep diving into crypto - I grew a beard to the bottom of my chest learning about Bitcoin. Then, at the end of 2016, I went to a meetup in Washington DC, where there was a guy from talking about Ethereum. I explained to him that I was experimenting with tokens on Counterparty"
The audience was intrigued to learn that there was a community using tokens to trade cards and people were buying and selling these trading cards. They'd never seen anyone use blockchain to sell artworks. They gave me a speaking role in January 2017, along with Cynthia Gayton, who became my co-host on the Art On The Blockchain podcast. I spoke on tokenization in art and music"
Scrilla found it difficult to find his way into the crypto art space. "We started the podcast in March 2017. We interviewed the people we knew in the crypto art scene, but it was hard to find people because the scene hadn't really developed to any great extent. But in January 2018, the Rare Art Festival was created by Joe Looney and the Rare Art Labs team and that amplified the community. Sotheby's, Christie's, people from Ethereum and CounterParty were there. From then on, the scene really exploded, and there's a crypto art meetup now practically every week."
Indeed, anyone who turned out to hear what Scrilla had to say at the Rare Digital Art Festival in New York last year won't forget the sight of Scrilla's alter ego, DJ Pepe, on stage in cardboard cutout form being voiced from the wings by the man himself, much to everyone's amusement.
The real Scrilla sees great potential for artists with blockchain, even if the scene is still fairly niche at present. "There has been a lot of publicity around providence and chain of custody, with Christie's and other large companies investing millions over the past twelve months, but what I'm more interested in the art itself. There is great work being done in the world of gaming and VR, where tokens can be used within the game universe. I have a trading card that unlocks a private playlist, which gives exclusive listening to token holders. The token doesn't have any monetary value but has a real utility.
My favourite Ethereum crypto art site is superrare.co, which is run by Pixera. I also like what Coin Artist is doing with video games. Then there is Joe Looney, who doesn't get enough credit. He has contributed as much to create the crypto art scene as nearly anyone else."
Scrilla has been behind some of the most entertaining music video memes of the past few years - most memorably Can't Smoke A Bitcoin - and delights in mocking some of the larger than life personalities clogging up crypto twitter. His latest musical poke at a crypto sacred cow is I Wear Gucci (My Name's Craig Wright). "There is a soap opera within our community, which I enjoy. We're watching these people going full billionaire on each other. Craig Wright is a showman. I'm not a fan of his but he is entertaining. The whole Bitcoin Cash thing has captivated me. For me, I Wear Gucci and Can't Smoke A Bitcoin - is about taking music, art, and blockchain, and using a lot of different platforms as possible. I'm trying to use all aspects of crypto to see how it works and then documenting it later."
Crypto in-joke tracks are never going to get you to number one in the pop charts, so isn't Scrilla afraid that he is limiting his audience a bit? "I am 100% limiting my audience! But look, this tech is boring. It's a database. My goal is to take it out of the dev world and spread it out to people beyond this fringe network. It's a total niche thing, I realise this." But there is a whole lot more to Scrilla's music than the creation of zany memes. His hip hop career has seen him work with the likes of Raekwon, Nipsey Hussle, and Mobb Depp.
Scrilla favours Counterparty, and has a healthy cynicism towards ICOs and Ethereum. "There were a lot of made-up problems they were trying to solve. People were throwing millions of dollars at mostly worthless tokens. The hype was crazy. Money was being sunk into companies that didn't even have a product. But a positive of the bear market is that it has weeded out some of the pump and dump investors who were looking for a quick gain. There is a lot of community building happening now and advances on the technology end."
While investors who handed over their hard earned money for tokens at the height of the ICO boom should be well accustomed to paying to own digital information of no utility or value, what would tempt an art lover to buy crypto art? "When you buy a piece of crypto art, you don't own the image. Think of it like buying a limited edition print. But it's more than just about the art itself, these tokens can be used to access other content and platforms."
So what does the future hold for crypto art, or art on the blockchain in general? "I'm not convinced about providence and custody, which is where the larger art movements are focussing their investments, because there are still going to be issues with human error at the inputting stage. But for artists and musicians, being able to track when your music is used through tokenization could make it much easier for artists to benefit financially from their art. I'm excited to be part of something that is growing and changing every day and looking forward to seeing what the future will bring to this space."
Catch up with Scrilla on his website, where you can view his videos, access the Art On The Blockchain podcast and buy some crypto art.