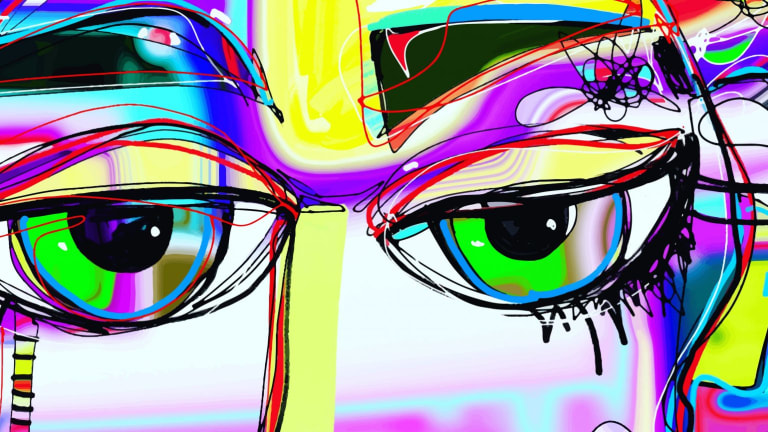 Disrupt everything - especially Art (for the Artists)
KateVass Galerie is a well-known contemporary gallery in Switzerland, which represents established, middle-tier and young emerging artists who are engaged with new technologies in their artistic expression. The founder is a Russian entrepreneur Ekaterina Vassilieva – who shortened her name to Kate Vass for easier pronunciation, Growing up in Russia, she received both a classical Soviet Union and modern Russia education including music, literature and several languages, and afterwards she entered the European Business School in London, where her interests in business, entrepreneurship and marketing developed.
Her first job started in the real estate market with the well-known "big brand" firm Knight Frank. It was 2005, shorthand for boom time in property, and Kate became successful in the field of international luxury property sales. Looking back to the heady times working with Knight Frank, Kate comments:
"I think when you are very young – and hard working – sometimes you attribute more to your talents and ambitions than to the business brand or the state of the market you represent. In hindsight it is easier to realise my success was very much predicated on the environment I worked for and the timing, which I now highly appreciate. Also, the Knight Frank experience gave me the base for the future career development and equipped me with skills of HWC/UHWC communication, market knowledge, and networking"
I interject to say that sometimes ever more mature people fail to attribute the favourable elements that contribute to their success – a lack of modesty and awareness that may later trip them up when things are not so smooth.
Her success did not go unnoticed, and she was headhunted to join a newly formed real estate company in 2008 as Department Director, but she sensed the market was about to turn for the worse
"I refused to let clients purchase if I felt it did not suit them. I could already feel there was a long-term crisis waiting for us in the whole global financial market and I became increasingly cautious for my clients. In this kind of situation, you have to rethink the values and attitude towards money and success."
Kate always sees a crisis as an opportunity to learn. She reviewed her career to date, successful if short, and decided that what she was missing financial and investment markets knowledge to be fully capable of satisfying HWC/UHWC needs.
"It's not just buying a property – there is the financing of the deal, the tax implications, financial restructuring perhaps – it's a complex mix and to offer the best advice I needed to understand all the moving parts."
So, Kate decided to shift her career into the private banking industry and set the goal to become a professional banker. In 2009, she was employed by the City Group in Moscow at the junior position and simultaneously began an MBA in Banking based between Russia and Switzerland; a two- and half-year part time course that demanded her time in the evenings and 100% of her time on weekends.
"I was so desperate to get into the banking field and to get my MBA but I was beat, I did not have any free weekend or holidays for the entire two years, I looked at myself in the mirror totally exhausted and I thought to myself – never again. That's where I began to understand the 'work-life balance' thing."
Kate had now settled permanently in Switzerland. Her employer UBS was sponsoring Art Basel, the biggest contemporary art fair in the world. Kate was captivated both by contemporary art and the high price tags. She recognised that different cultures appreciated different art genres and she wanted to understand more. Her ambitions, great amount of curiosity and natural intuition of the business opportunities drove her study for the third University degree, this time in the field of Art and business.
The University of Zurich had just launched a two-year, part time, executive MBA in Art markets, combining an appreciation and history of art with commercial requirements including taxation and law. Kate signed up, but it was not met with approval from her employer. She was basically told she should not enrol and so initially she told no one. Her classes ran from Friday evening and encompassed her entire weekend. Again she sacrificed leisure for study.
Ultimately, she has mixed feelings on the value of this degree. The first six months proved interesting and her class was a mixture of professionals from different sectors and gallery employees. When the course turned to the commercial aspects Kate came into her own as she already had experience in many of these areas.
The degree did, however, help her change her career out of banking and into consulting. She graduated from the MBA in 2017 but had already begun collecting art. She travelled to the main art fairs and forged good relationships with galleries. Quickly she realised it would be impossible to work with classical art as she did not have the financial resources for such expensive opportunities and the majority of the real gems are already in private or museum collections.
"Not only could I not afford to collect the masters of contemporary or modern art, there is always an issue of provenance when a discovered painting pops up. The art world is full of forgeries. So, I looked instead at photography and then alternative art. This was something I enjoyed, and I could afford to work with."
Kate also discovered that she was unimpressed with the bad treatment of artists in general. She wanted to create a business where the artist is respected. And she wanted to be innovative and cutting edge; travelling to the Art Basel Fair that year nothing excited her.
"There were identical things every year, every gallery had a similar program and art fairs were full of the same faces and similar artworks. I wanted to change this. As we all know, the change should come from ourselves, and only by doing, one can set a different example."
Sometimes it's the chicken and sometimes it's the egg. For Kate it was the stumbling over an unconventional, contemporary building for rent in Zurich, actually it was classified as residential, but with its vaulted ceilings and acres of glass, Kate saw her gallery.
"I had a very clear idea of what my gallery would be like – it would be accessible. None of this snobby treatment where visitors can feel intimidated; a gallery should unite client and artist, not create an unnatural border which only the rich or the privileged can cross. I wanted to remind people that one of the gallery's purposes - is to exhibit for a broader audience and educate a new generation of collectors as well as discover new talents."
In just three months Kate went from renting the space to launching her first exhibition. She opted to go with a photographic exhibition, pieces of which she had already largely assembled, however she quickly realised that no one needs another traditional photography gallery.
Kate was getting to where she wanted to be, but there was a missing link. Back in 2013 as a financier, she discovered cryptocurrency and blockchain. It fascinated her from the beginning. Her career subsequently had not endeared her to traditional financial markets, and she had a view on how blockchain and cryptocurrency might be the missing piece in the puzzle. She sought out technologists and artists working in blockchain and digital art. Someone approached her after her first successful photography exhibition and asked if she wanted to do another.
"No," she said. "I want to do a blockchain art show. This was in August 2018 and I planned my blockchain show for two months' time with the curator who had agreed to help me with this challenging task. Everyone thought I was crazy."
The exhibition was successful, helped in no small part by the inclusion of world-renowned
Irish artist, who later became a friend, Kevin Abosch.
"Kevin is one of the most talented contemporary artists of our time, having recently launched his I'm a Coin project and working with another established artist Ai Wei Wei. So I named the exhibition after him 'Perfect and Priceless. Value systems on the blockchain.'
"Quality contemporary art has the ability to challenge society – it's ahead of its time, new and exciting. My first set of digital artists were just entering the scene and the work was more engineering than digital. For example, we had a Chaos machine by Distributed Gallery, which consumed money and produced hashtags and we had cyber punks, called 'Cryptopunks' by a duo of artists from Larvalabs producing sealed envelopes which once opened gave the holder access to a digital token. It was exploratory and new back in November 2018."
Many works were sold out within a few months.
Next stop Kate wanted to do an AI show which opened in May 2019. Entitled "Automat und Mensch" which in translation from German means "Human and the machine". By now museums were venturing into similar spaces and Kate knew she was on the right track. The main aspect of the show was generative art, defined as art being produced by a machine or with the help of the computer.
"The interesting aspect about generative art is the placement of the artist in the creation of the art."
This time the number of artists had more than doubled from 13 to 29 which was very ambitious. It was a retrospective of the history of generative art of the last 70 years. The showroom was divided into 2 parts: pioneers and contemporary-emerging artists. It was not 100% commercially successful; however, it still plays the role of being among one of the best exhibitions on generative art produced by a gallery. At the same time, many museums such as the Barbican centre in London, ZKM in Karlsruhe Germany and HEK in Basel have subsequently shown AI exhibitions, with many artists overlapping.
This year with COVID the gallery is closed to the public and Kate has gone completely online with a digital show called "The Game of Life-emergence in generative art' curated by Jason Bailey. This is inspired by the mathematician John Conway, creator of the theory Game of Life, who sadly passed away from COVID this April 2020. The four artists taking part have used the Game of Life theory in their work.
Kate has also purchased a virtual decentralized land slot on Somnium space to set up another small solo artist exhibition within VR crypto space. This is more "an artist experience" that helps to reach out to a new type of crypto collector. When the gallery works with cutting edge artists, it's obligatory to use the newest tools to deal with collectors, as well as build the marketplace to enable 100% provenance and transparency, which is mostly avoided by the traditional art world.
For now, Kate is busy running two jobs; her consultancy and her gallery. She labels her career disruptive. Her focus is on female artists whom she feels are largely side lined in terms of support and remuneration. Her last show which she introduced at the Vancouver biennale this year is dedicated to female generative and crypto artists
A celebration of the woman" is a part of the community that she found under the hashtag #womensupportingwomen, to empower women in art and create more opportunities, and change in the new media art world. And after that?
"The sky is a limit. In the fast-changing, volatile environment at least 30% of businesses will die in the next 10 years, the only option you have is to disrupt or be disrupted. Any entrepreneur should figure out how to accommodate new technologies and unconventional thinking."