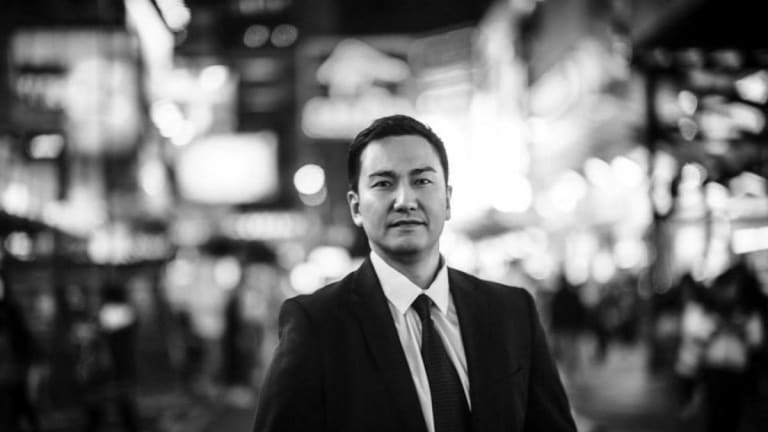 Desmond Marshall - Adventures in Venture Capital
The founder of Rouge Ventures talks to Blockleaders about the future of Bitcoin, what China has in store for 2019, and offers a unique insight into the thriving Asian crypto market.
The founder of Rouge Ventures talks to Blockleaders about the future of Bitcoin, what China has in store for 2019, and offers a unique insight into the thriving Asian crypto market.
2018 will be remembered as the year that crypto investors grew tired of the colour red. Red arrows pointing downwards, red double-digit percentage losses. An appropriate colour for the carnage and bloodletting, perhaps. When I spoke with Desmond Marshall of Rouge Ventures, the markets were enjoying a pre-Christmas bump. Bitcoin is up 10% today. "Is this the end of the bear market?" I ask, more in hope than expectation. Desmond reminds me that things can change quickly in the world of cryptocurrencies. It's too early to get excited. Unfortunately, he is proven right when just a few days later the market sinks like the heart of a child returning to school after the holidays.
Desmond understands investing. He regularly appears on Chinese television to offer his expert opinions, and he is an in-demand speaker at crypto events. Can he comfort those who have to close one eye to count the number of digits after the decimal point to gauge the value of the tokens they bought in an ICO last January? You know, the ICO that was going to completely revolutionise how we live today, but now only exists as an angry Telegram channel? Well, no, he can't.
"If you have the top ten tokens, you should be thinking about why you bought them in the first place. If you bought them for a short-term gain, you should have a strategic plan in place, and know when you want to sell, or buy more when it's dipping low, or cut your losses. This will be different from person to person. Each investor is at a different phase. For myself, it's hard to advise on whether to hold or cash out, because the major coins are growing now compared to the last few months. But for the other coins, you have to think of how the companies operate. These coins are representative of the company's operations. People should be looking at what the company is doing as if they are traditional investors. The token may not be growing in value, but there is a real business in place, that is growing and doing well, then there is some hope going forward."
Serious investors, Desmond tells me, are only looking at the top ten currencies. He is only currently interested in the top two or three. "From my point of view, and from the conversations I've had with other investors, we are really just looking at very few coins. If I'm looking to buy right now, I am only looking at Bitcoin. Bitcoin is the one that is least manipulated."
Bitcoin still captures the imagination because it is unsullied. Humans are great at coding but finding consensus for the fruits of their labours has proved very difficult indeed. You only have to look at Bitcoin Cash and its evil twin Bitcoin SV to know that there are some who reject change. Ethereum faces a backlash whenever it whispers about the possibility of altering how it operates, despite the fact that everyone seems to agree that it must change in order to scale and grow.
"You just have to see what has just happened to Bitcoin Cash. Ether is heading in the right direction, but there is a lot of skepticism about the changes that it hopes to make. I don't think Ethereum will ever overtake Bitcoin. The organised structure within Ethereum is not a bad thing, but every time there is an update - Byzantium or Constantinople or future upgrades - there are those who will have their own agenda and will resist change, or even the discussion about change. Finding consensus is very difficult, which ironically is an underlying principle of blockchain."
Although he clearly favours Bitcoin, Desmond does not foresee a time when we will use the coin to do our grocery shopping. "I don't think it will happen, because it is too free of the market. When I'm asked if these cryptocurrencies will take over the world, I say no You must ask yourself, why doesn't the US dollar, the yen or the Euro fluctuate like crazy? Because there are government controls. It would be hellish to use a currency that fluctuates as much as Bitcoin to buy a can of Coke. The value of Bitcoin comes from its structure. It has a set table of rules, and the traction and appeal - even the hope - that it becomes a uniform world currency still lingers. But can everyone in the world agree on one currency? I doubt it. What's most likely I believe is that Bitcoin will work in some areas, but Anti Money Laundering rules and regulations make using Bitcoin on a practical level difficult. Having said that, countries themselves are developing cryptocurrencies and they will become mainstream. Bitcoin will remain for certain tech-savvy users in specialised fields or in the speculative investment field."
Desmond was born and resides in Hong Kong, the child of a British father and Chinese mother. He is ideally placed to analyse China's attitude to blockchain technology, which it has embraced to some extent, and cryptos, which it forbids. "Of course, people are still buying and selling cryptos in China, but with the demise of ICOs there has been a fall in interest. People here are dumping their mining machines. But the government is testing controlled tokenization processes, which will bring some real changes in 2019."
Given the number of crypto conferences that take place in Asia, one would be forgiven for believing that this is the region that is leading the way in blockchain. But it is not quite so simple, as Desmond explains. "These conferences are populated by people from Europe, the US and the Middle East looking to exploit the Asian market. Any company I talk to is looking to expand into Asia, because they believe they will have a better chance of funding here, and they flock to conferences in Singapore, Japan, Korea and so on."
Of course, in China it is more complex again. The State forbids the buy and sell of tokens with fiat currency, although Desmond knows that the Chinese government has some surprises in store for 2019. "When people say that issuing tokens is a no-no in China, they will be surprised to learn that we are doing tokenization in a controlled environment. Cultural artifacts - calligraphy, pottery, antiques, art - are being traded in a cultural stock exchange. This is happening already, but the State is using this sandbox to examine tokenization for use under this cultural stock exchange environment. This is something to look out for in 2019."
Apart from this hush-hush project in China, Desmond is also embarking on another major blockchain project for Asia Pacific. "Self media, like the vloggers, KOLs, etc, are gaining tremendous traction amongst consumers for direct sales. Retail brands, however, have difficulty linking in a systematic and structural way with such individual powerhouses for sales and SKU tracking. Retail brands have no data for tracking visibility whatsoever when they try to sell through these vloggers". This lack of visibility has long been an issue in the retail industry since the emergence of omnichannel marketing, and blockchain is the perfect tech for the job. Desmond has now implemented a blockchain-driven retail inventory system (BRIMS) which allows retail brands to work systematically with KOLs in Asia Pacific, allowing cost-efficient and effective selling, and immediate expansion to APAC markets. "The most important part is that this is not a concept but we have actual parties using the blockchain tech already," added Desmond.
For people in China, state-censorship of the internet is an everyday reality. Luckily, the State's tentacles do not extend as far as Hong Kong. "It's a big plus. But in the rest of China, if the State wants to close something down, they don't issue a warning, it will just close overnight. VPN's are spotty, you need to have a few on hand. For most people, they have no choice in how the State controls the internet. In international business, you just have to follow the local rules. It's not just China, different countries have different ways of censoring the internet, or have other regulations that are difficult for doing business."
To compound matters, China is embroiled in a trade war with the US, which is developing at the whim of the US President. "This is causing real problems and not just in China. As citizens, we have to just see how it goes. Many overseas commercial trading companies rely heavily on exports to the US, and it's still unclear how the relationship between the two countries will develop. People are trying to figure out where to go to source alternative suppliers. Take soybeans for example. Canada is acting as a middle agent and buying and selling soybeans between countries. Fortunately, China has a massive internal market, but any company that is trading with the US has had to freeze its production, which is naturally causing them huge difficulties. But unless you are doing exports to the US or are involved in manufacturing, the average Chinese person doesn't care much about Donald Trump or the trade war."
While it is difficult to determine the exact reason behind the massive fall in crypto prices in 2018, many commentators have pointed to the security flaws in Asian (and other) exchanges that led to a series of highly publicized crypto thefts, particularly in the early part of the year. "Nobody thought about cybersecurity. A lot of the people who started exchanges, particularly at the height of the bull run, were looking to make a quick return and didn't want to invest in security. There was a perception that hacking only happens to large corporations, and wouldn't happen to a small exchange. But last year, with Bitcoin rising to record levels, suddenly these small companies were holding big money assets. Also, criminals started by hacking companies and demanding money in Bitcoin. But many of these companies didn't know how to operate Bitcoin, and the hackers found themselves having to teach their victims the process of getting wallets and such in order to pay their ransom! Then they thought, wouldn't it be easier to just hack the exchanges themselves?"
With ICOs all but dead, what sort of blockchain project does Desmond look to invest in? "I'm looking at architecture these days. In the old days, people came to me with B2C solutions, telling me that everybody will be using their service in years to come, that day has passed. I'm more interested in B2B. The foundations, the wires and pipes, the architecture. The structures whereon companies can build their own permissioned blockchains. There is a lot of demand for improved and efficient inventory management systems, and this is where blockchain comes into its own. Companies want to track their products, particularly with so much global trade and e-commerce happening now even so on an individual level. Inventory management systems can work regardless of the type of business - manufacturing, retail, health, energy, etc."
The clock is edging closer to midnight, but Desmond is used to working long hours. He normally gets up early and works through to the early hours of the morning. It is far from a nine to five life, but he manages to find some balance, squeezing in socialising and family life.
We have just enough time to muse upon where we go from here. Will a thaw in the crypto winter bring green shoots, and green arrows back into our lives? Will Wall Street and their ilk bring their billions into the crypto space, as has been promised for quite some time? And what about an ETF? Is it coming? Does it even matter? What does Desmond see in his crystal ball?
"Major banks have already launched applications using blockchain, and this will continue into 2019. We will see more adoption from major companies. There are a lot of people trying to develop blockchain solutions in their own industries but have been met with obstacles so far. I believe we will see the downfall of many crypto exchanges, particularly those who arrived late in the market. ICOs will continue to decline, for now. New companies won't consider this funding model. They will have to scramble to find the way forward.
"I'm not convinced that Security Tokens will gain much traction this year at least, because the regulation requirements will take a long time. Regulation will continue to be vague, but control of cryptocurrency will develop, making it harder to use the cryptos as a natural currency. I can see the top ten coins sticking around, but many of the other tokens will continue to decline. As for ETF's, I've been hearing about this for more than two years. If you have to attach Bitcoin with other coins from outside the top ten, it will not be very tempting to investors. I don't think this is important anymore.
"I still believe in Bitcoin. A lot of private banks have hoarded Bitcoin and it's only a matter of time before prices start to recover. 2018 was a wild ride, here's to 2019!."
You can connect with Desmond on LinkedIn. Read more about Rouge Ventures here.