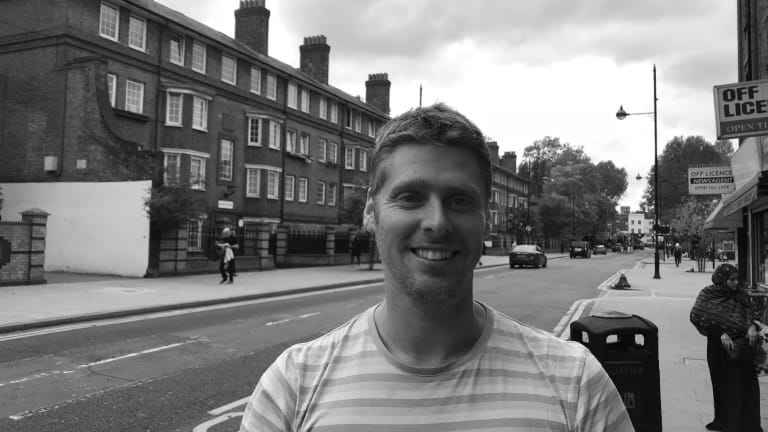 David Atkinson: Casting a Human Light on the Crypto World Through BlockLeaders
David Atkinson recently spoke at length to Fernando Sanchez about the challenges of thriving in the cryptoworld, his life-long passion for helping others, and how he aims to capture and share the heart of those blockchain pioneers through his new project, Blockleaders.
On finding balance
Journalism is literature in a hurry - Thomas Arnold
Thomas Arnold was a man who always seemed to be rushing from one place to the next. His job as Inspector of Schools kept him traveling away from home for a large chunk of his life. He is probably one of the first people to have highlighted the need for a balance between work and life.
David Atkinson is no stranger to the hectic lifestyle of a hard worker. He has been involved with companies and organizations across a wide spectrum of skills and responsibilities, from small two-people companies to large multinationals such as Heineken.
This busy disposition, however, always came at a price. A Melbourne native, David experienced the harsh reality or working 100-plus hours a week in an earlier iteration of himself. Work became an endurance marathon that took over his entire life. Mounting pressures both within his professional and personal life made David realize that there had to be a better way of working with life and living with work.
"I'm always looking for new tools or ways of thinking or being that can create more capacity. Firstly, it comes to knowing who I am, that's the main thing. If I know I'm working hard but I know I'm in harmony and listening to my emotions and intuitions, then it's ok. But if I'm working hard and pushing against myself, then there is a problem. Usually, my wife tells me as she senses my emotions before I do."
While researching the solution to this quandary, David stumbled upon the concept of the Viable System Model (VSM) through his soon-to-be mentor, Trevor Hilder.
VSM includes any system organized to meet the demands of a changing environment, including a high level of adaptability. Extrapolating this demand to adapt to rapidly changing professional environments in his situation, David understood that he needed to build viability both into his company and his own life.
And so, with the help of the VSM framework, David was able to find a solution to the riddle of bringing balance.
On ambition and helping others
David Atkinson always wished that his life meant something, and made sure to take steps to make that happen.
"I always thought that I should have really big ambitions and big dreams, and I was frustrated when I didn't have them."
From early youth, David was fascinated with the ideas of transformation and helping others. These would become constant themes later in his life. David had many insights to share on the issue of helping both yourself and others.
"I just want to help people solve problems. But the problem with helping is that it is a very subtle thing. For example, as parents, if we help our kids and we take that literally, we end up doing everything for them, which is no help at all. So my idea of helping others includes finding the balance of what you should do and don't do. This is one of the reasons I've enjoyed learning about this throughout my career, because when thinking about helping others, you have to look much deeper about what help is, and what help means, when you are of service for something, when you're not of service, and when you need to stop and let it go.
"This process of learning helps me also to learn about myself, so I can help better, or more, or differently. That is a lifelong practice."
On journalism as a medium to impart knowledge about people
The journalist's job is to fill white space - Steven Birmingham
Birmingham's quote is only partially true. Journalists do fill the blank spaces allocated for their words, but they also fill blank spaces in minds with knowledge about many different subjects. David's focus is people.
David has a professed love of long-form journalism as a means of communication. He is inclined to acquire deep learning about people and journalism, in his words, is a good method to learn about people.
This trait would later become the main driver behind David's latest project, BlockLeaders.
From managing aboriginal artworks to blockchain entrepreneur
The Aboriginal people of Australia had dwelled on the continent for tens of thousands of years, so their culture is rich and entrenched in the land. For a long while, this culture was limited to their own societal environment, with little to no exposure beyond local borders.
David became interested in Aboriginal Art while working in Alice Springs, in the middle of the central Australian desert. He traveled to over thirty remote community art centers and developed a love of the characters of the bush and the stories of the art world. He and his now wife collaborated on the Aboriginal Art Directory project, which collated artists, galleries and artworks from around the world.
The Directory was founded with three goals in mind:
Exposure for Aboriginal artists, art galleries, and art centers
Promote Australian Aboriginal art nationally and internationally
Educate the consumer about ethical and authenticity considerations and ensure the potential buyer makes informed decisions when purchasing Aboriginal art
The Directory became a central hub to connect local artists with members of the international art community (both foreign and domestic), buyers, and sellers of art pieces.
The connectivity aspect is key here.
One of David's most powerful motivators is the desire to establish connections and interactions between systemic projects, and the integrations of different worlds through one single and coherent platform.
This raison d'etre would become a constant throughout David's professional career.
The Viable System Model framework led naturally to David's foray into blockhain, through Holochain.
Holo will provide distributed application hosting powered by Holochain, a framework for building and running distributed apps. Holochain enables greater scalability and hosting capabilities for "mainstream" internet users, thus establishing a technological link between the crypto world and everyday users. Critically, Holochain is designed with agents, primarily people, in mind.
Holochain is a technological representation of shared ownership, which plays an important role in David's professional ethos.
The general desire for Holochain is to be able to build tools that allow for collaboration to happen in new ways. The internet has enabled global communication, but crucially, there aren't many structures that strengthen both local economies and facilitate global interactions such as payments.
Holochain has this local/global element where everything is interconnected. It enables us to move towards a world where both the local and the global have healthy connections, designed for the world as it is today.
Holochain combines a few things. It is a new economic system, built on cryptocurrencies, that enables a new way of trading and transacting which allows for reputation and currencies to be directly related to each other
The platform also provides a framework for creating distributed applications (DApps) and distributed hosting, so that anyone can participate in the economy by contributing to applications or projects that they love.
Blockleaders: the human faces behind crypto anonymity
Blockchain enables the connectivity and integration of local economies into the global financial system and, once again, this connectivity element attracted David's attention.
The crypto world may have been compared with the Wild West but, as David sees it, if there's something that these seemingly disparate environments have in common, it is that they are filled with interesting characters.
Blockleaders is David's brainchild. The project brings human stories to life and puts faces to the voices that speak from within the blockchain ecosystem. Blockleaders highlights the people who are working to build new economic systems and laying the foundations for the future.
But this is much more than a mere website featuring people's profiles: it will connect people, attracting viewership and drawing attention to the personalities behind the projects, which will lead to understanding and, ultimately, investment.
David's intention for Blockleaders is to enable an element of human and personal transformation for both the technology itself and those featured each day.
Blockleaders portrays the blockchain from a human perspective, facilitating the transformation from a core technological issue into a human story of hard work, dedication, and faith in oneself.
On the future of blockchain technology
Mankind's evolution has always been inextricably linked to advances in technology. From the invention of the wheel to the mobile phone, and everything in between, people thrive in a technology-rich environment.
A tech-savvy society tends to evolve faster and in ways that lead to further avenues of research and development.
But people remain at the core of every single community and every single society. Technology and people go hand in hand, and neither can exist without the other for extended periods of time.
The issue of people is central to David's take on the future.
"My vision of myself and blockchain technology is very much shaped by my experience with Holochain. I'd like to move to a world of distributed applications but, for me, I'd like to build new forms of collaboration, new forms of working in communication, and new forms of community. Specifically, ways to organize and coordinate people to work together better in a way that they can own and control. That is a future I'd like to support."
David has a keen interest in people, in helping his peers reshape their own world and the world around them. He has worked within Indigenous cultures in Australia and Mexico, in corporate cultures during his time in strategy consultancy, Marakon, and within the world of behavioral change at Mind Gym, which offers human insight into topics like diversity & inclusion, performance management, and manager development.
In David's view, connecting strategy and behavior change with systems and individual mindsets and motivations with the right mindset is the key to creating a paradigm shift.
David proposes that the future of blockchain is heading towards a more distributed application landscape, which is the focus of Holochain.
Conclusion
The diversity of David's capabilities is notable. From a platform providing a marketplace for Aboriginal art, to his tenure in the blockchain ecosystem with Holo and Blockleaders, David has always approached his professional endeavors from a human perspective.
He remains driven by self-knowledge and the passion to enable himself and others to make the best out of life.
"I'm always searching for new forms or systems of learning. I spend a lot of time learning about myself and improving my ability to exist in the world, and deal with all the complications, stresses, and challenges."
His latest project, Blockleaders, will serve as a social step for the adoption of distributed technology at a larger scale. Busy as always, but good busy, David accepts that he loves the challenge of working and is always looking to try something new.
"The problem for me is that I'll always try to take on more projects within the existing space, and then everything collapses, and has to be rebuilt again. That seems to be the cycle."
And just as with most of David's former undertakings, people are the very core of what Blockleaders is and stands for.
"I have a strong feeling that, through Blockleaders, we're going to capture and share the heart of the people who work in the cryptoworld.
"When people visit the Blockleaders site, they know that an emotion will be stirred within them, and that this is the place to have that emotion. I think that's eventually where we'll get to."
You can follow David via LinkedIn or the Holochain Twitter handle.