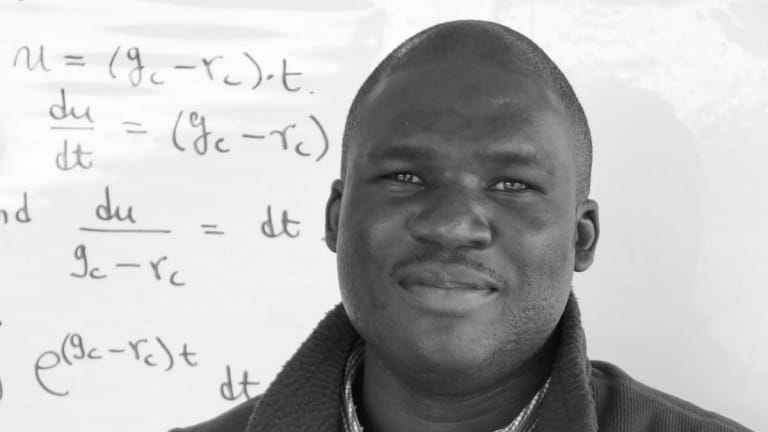 Brian Laung Aoaeh: The World is a Supply Chain
Brain talks about his upbringing, his multiple degrees, and how his passion for supply chain will change the world
Brain talks about his upbringing, his multiple degrees, and how his passion for supply chain will change the world
When Brain Laung Aoaeh was a young primary school pupil, he helped his entrepreneurial mother to make meat pies for students in Kano, Nigeria. His job was to peel the potatoes and he might peel between 100 to 300 potatoes daily. Irish potatoes. The nationality of the spuds drew my attention. Who knew that Irish potato farmers exported their spuds to Nigeria of all places? I certainly did not.
Brian comes from a Ghanaian family who moved to Nigeria for work. However, when it came to secondary schooling, his parents wanted him to return to Ghana and so he was sent to a boarding school in Wa where his paternal grand-uncle, the local Catholic bishop, was the proprietor of the school
Two things jumped out to me at this stage. The first was that he was sent home to boarding school. When I quiz this move (bearing in mind he was peeling Irish spuds as a youngster) Brian tells me that, in contrast to other counties, the great majority of secondary school students went to boarding school. The second was that a family member was on the board of management which might have proven handy. "It certainly did," declared Brian and he reckons he might have been expelled without his grand-uncle's presence.
However, upon further digging, the misdemeanours practiced by Brian turned out to be minor: studying after lights-out, raiding the mango orchard on campus - which he's quick to point out was planted by his father many years earlier - or missing mass when it was compulsory. The boarding school was Catholic and strict in its rules.
"During my first week in school, my Mom came by to say goodbye as she was returning home to Kano. She found me cracking jokes and telling stories with a group of boys. Most of them were from the nearby villages but I had lived in the city. The city boys were telling stories when my mum arrived at my classroom. We should have been studying. I could tell immediately that I had disappointed her. She said to me: "Brian, I did not bring you here to tell jokes."
Year one was tough for a young city boy. For the first year, he cried almost every night going to sleep. He was told to work hard, advice which he tried to follow. Often he did not go home to Kano during the holidays as it was too expensive. Rather he spent most of his holidays living with his relatives in his village, which was about 20 miles from the town in which he went to school. It certainly was a fast way to grow up.
"I would start off the school year with provisions and funds to last all year. That meant I had to be very grown up in my spending. As I did not have my parents close by, I also needed to learn how to make other people want to help me. I was prone to non-specific seizures and needed help when these happened so I learned to make other people feel invested in me – it was a survival tactic."
Today Brian puts down his seizures to too much coffee, a view echoed by a neurosurgeon who treated him when he moved to Accra, the capital of Ghana, for his GCE Advanced Level studies. But it didn't really stop his lifestyle of over-working, drinking too much coffee, and then reading through the night. "My mum would call me stubborn."
Looking at university, Brian was faced with a challenge. Most of the Ghanaian and Nigerian universities were wracked with frequent strikes, from students to lecturers, administrative staff, and to government officials deciding to shut universities down. At one stage, all three Ghanaian universities were closed as a result of different unrests. Brian realised that it might take him as much as six years to do a three-year degree, so he decided to look abroad and set his sights on the US instead
"I needed financial aid to study abroad but I applied to nine different American universities. I was lucky as Connecticut College accepted me and gave me a full scholarship for my undergraduate studies"
Brian studied maths and physics and was the only student to graduate with that double major four years later. Another friend of his, Erik, graduated with a double major in chemistry and mathematics. Many others began with two subjects but often the sheer workload wore them down and no one else graduated with a double major in mathematics and another science subject. Brian on the other hand not only carried on the joint honours but spent some of his spare time working as a laboratory research assistant for the physics department, as a teaching assistant for the mathematics department, as a private tutor in mathematics and physics, and he discovered the financial joys of DJ-ing.
"I could make $50 an hour working as a DJ and typically I would work four hours for the night – that was a lot of money."
Soon Brian had established himself as the resident campus DJ. He worked DJ-ing campus parties Thursday, Friday and Saturday and presented a reggae show on the campus radio station - WCNI. He worked as a lab assistant when not in class and yet was the only student to graduate with a double major in mathematics and physics. He certainly had proven himself worthy of his mother's advice to work hard.
2001 was a big year for Brian. He graduated and got an H1-B visa. He worked as an actuarial analyst at Watson Wyatt. He got married in 2003 and later got his green card. He joined UBS in early 2004, as a data analyst in HR. While he was working at UBS, in 2005, he started studying at New York University for an MBA, as a part-time student. In 2007 he left UBS and moved to Lehman Brothers. He and his wife had a baby later that year but then, as we have already discovered, he is well able to multitask. In 2008, Lehman Brothers was hit by the financial crisis and Brian was let go in March that year.
Then, in a quirky turnaround, he was hired via LinkedIn and soon found himself managing investments at KEC Holdings, a single family office.
"The family office had mainly made indirect investments up till that point," he says. "The office didn't engage in much direct investing. I was recruited to start a direct investing effort. There were, however, two direct investments at that stage: a private jet charter company and a fine dining restaurant company. As you might imagine, in 2008, they were in dire straits, as was every other company in those industries. My first assignment was to keep them alive and turn them around by working with executive management at both companies. I managed these turnarounds and even in the worst recession on record managed to make it work. I used the people skills learnt from my previous experience and helped both companies survive the recession."
As Brian grew in experience, KEC Holdings hired more people to join him on the investing team. They were tasked with building a venture capital firm, with the goal that the VC firm would ultimately become an independent entity. The first fund was funded entirely by the family office and the second was funded by the family office as well as outside investors.
It was at this stage that Brian started thinking that he should stop being a generalist VC and became focused on supply chain management. He conducted in-depth research studies into operations, trucking, and shipping. After talking to many startup founders, supply chain professionals, and economists he decided to become a supply chain specialist.
"After talking with economists who study the subject, I discovered that the supply chains that enable the movement of goods are rife with problems and opportunities for technology to make a big difference. Economists I spoke to say supply chain inefficiencies in the developed world impose an additional overhead cost of between 10 and 20%. However, to my horror but also not to my surprise, I discovered that the hidden overhead cost of moving goods in the developing world could be as high as 70 and 80%. One economist told me that 70 to 80% is highly optimistic!"
This was a real eye-opener for Brian. "I thought about my late grandfather and my relatives who live in the village I come from in northern Ghana. People like them probably live on as little as 50c a day but they are basically paying twice what things ought to cost because of the hidden costs that arise from inefficiencies in the supply chain. Once I learned that, I knew I had found a problem to which I should devote the rest of my life.
"That really opened my eyes. I like to do things that are difficult and that I believe in and things that will have a big impact if I succeed. And so I thought there is nothing that is bigger than focusing on this problem.
"Another way I began to look at things is that you can consider the global economy is an $80 trillion economy and this is built entirely of supply chains that bring us the physical things such as the shirts, the Irish potatoes, but there are also the supply chains that enable the transfer of information from one person to another. And these are connected. For example, the Irish potatoes will not be delivered without a transfer of money.
"This is a very complex problem with a lot of moving parts. But if we could just improve supply chain inefficiencies by 1% that would result in value creation of some $800 billion. Now that would be impressive."
Brian thought about the two sides of the equation. On the one hand, there are technologists and entrepreneurs working on their startups but with little or no comprehension of the day-to-day realities of the supply chain. Then on the other are supply chain professionals, those that work on the frontlines of the supply chain. Their jobs can be mission-critical; if they don't get the goods out on time people will move elsewhere. But how to get them both together in the same room to talk and develop a better understanding of one another, what actually happens on the frontlines of the supply chain, and what new technology like blockchain can accomplish?
Brian realised there was a need for a community to bridge the gap. He went online but there did not appear to be any such groups. So, he set up a meetup called The New York Supply Chain Meetup and decided to think about what might be done next.
What happened next was a message on his LinkedIn the following morning with a stranger saying well done on the new community. Brian was puzzled: how on earth had anyone found out about his nascent idea? It wasn't even a thing as yet. It turns out his meetup page and idea had been flagged in The Mattermark Daily; an online newsletter for startups with a readership of some 150,000+ people at that time. Sadly, The Mattermark Daily has since been shut down.
Brian laughs as he recalls this. "When I read the note I guessed that I really was doing this, but I needed some help."
Back in 2016, Brian had met Lisa Morales-Hellebo, who shared his passion for supply chain and with whom he had developed a friendship. He called her up directly.
"Lisa you are going to have to help me," he told her. "150,000 people know I have set up this meetup – will you become my co-founder?"
After laughing at his naiveté, she agreed. So they started building up The New York Supply Chain Meetup and launched it in November 2017, with the help of about 10 volunteer co-organizers. Originally Brian thought they would be lucky if they got 20 people to the first meetup, instead 150 people showed up with the result that it was a standing-room-only affair. Even after the event was over, people would not leave, with between 50 and 60 people hanging around till they were finally kicked out.
"We had to chase them out as the building was shutting down."
On November 15 they celebrated the one year anniversary of the meetup with a big party. Over the year they have organised nine events, of which two were blockchain-specific and were packed. In the meantime, the first two funds of KEC Ventures had some $98m of Assets Under Management (AUM) with 51 investments. The team had hoped to raise their third fund, but that did not work and so they disbanded.
After working with Lisa on the Meetup, they decided to team up on their own early-stage supply chain venture capital fund, beginning with a focus in fashion retail supply chain, which is Lisa's area of expertise. They are starting from ground zero but without personal wealth it is not as straightforward as it is to start with the backing of a family office.
"We are working on a number of different ideas to overcome that problem." says Brian unperturbed.
Blockchain is a pivotal part of their gameplan. "It's all the things that everyone talks about. It's decentralised, it's "trustless" – those big things – you are no longer beholden to a middleman or landlord that can increase rents on a whim.
"There are problems too – it's not easy to implement and it's slow. But I think with any technology that makes a big difference in the world it takes time. First, there is the invention, then there is the period where the technological invention is refined and the issues that make it difficult to use in the real world get fixed. And then you get to a point where it can now actually be used by big companies, small and medium-sized businesses, and people. And moreover, it works such that people do not know they are using blockchain – it just helps them solve their problems."
Brian is very pragmatic when it comes to technology and this is reflected in his blog. One key article looks at where centralised solutions can be more beneficial than decentralised, depending on the application.
The same practicality emerges when he discusses the history of money and fiat versus crypto usage. "It's nice to think that we will all migrate over to crypto but, in reality, I don't think that is going to happen. The amount of disorder will be too much for people to bear. IMHO I think we will get to a point where we will have government-controlled cryptocurrencies; maybe they'll be called fiat cryptos. And it'll be up to people like me, investors focused on supply chain, startup founders and technologists in this space, to figure out how blockchain, supply chain, and trade finance fit into the continuum."
Where next for Brian and his blockchain supply chain world? Right now he is boot-strapping his community. First stop New York, and from there to the World Wide Supply Chain Federation, which now has a chapter in Bangalore, with others expected to launch in 2019.
One small step for man, one large step for supply chain.