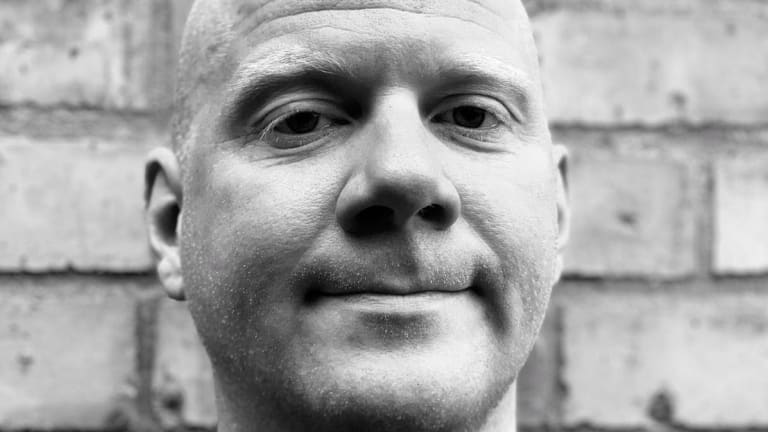 Ben Churchill - Blockchain is a Must Have Not a Nice-to-Have
Find out how Ben Churchill grew in construction services before a pool party gave him the strategy to build a meaningful project in Health and Safety.
Ben Churchill is not afraid of change or of making innovation work for him. Find out how he grew in large construction services before falling over blockchain - where a pool party provided him with the strategy to build a meaningful project in the complex world of Health and Safety.
Day one in a new job in the Middle East as CEO of Emrill, a joint venture between two Arabic companies and the UK Carillion Corporation (now in liquidation and under a cloud but, back then, one of the biggest construction companies in the world) Ben Churchill looked around his new empire. A portacabin stretched in front of him with open plan offices up front and then eight executive offices to the rear. On the wall were corporate slogans and banners with all sorts of motifs including openness and general worthiness extolled as corporate mission statements.
On the Thursday of his first week, he sent the employees home early. When they returned the following day, it was to find the private offices flattened and the entire office space now open plan with Ben's desk bang in the middle.
"This is how we roll," he told them. He was 32 years of age.
And so they did. In the following four years, Ben went on to win many awards including CEO of the year while Emrill won the coveted Facilities Management Company of the region twice – an award it had never won before. Emrill has since continued to win this accolade four more times, only missing one in the past seven years.
This was not the only change. Ben doubled the company's revenue in a two-year period and increased the profit fourfold. At the same time, he grew the employee population from 3000 to 6000 people.
"Cultural change comes from the top down," says Ben from the beautiful surroundings of his new offices in the Powerscourt Estate in County Wicklow, Ireland. "It was not just a case of moving the furniture around – although that did send a strong signal – I also looked at the personnel working at Emrill.
"In particular we had one manager who was very abrasive to staff. However, he was also the manager for our top account. A man of senior rank and years, no one was able to stand up to him and his style of management was undermining the inclusive atmosphere I wanted to generate."
Ben's solution was to visit the top account. He arranged a meeting with the CEO and, when settled in the conference room, asked the CEO's opinion of the account manager.
"To my complete surprise, the client's CEO literally said who is he? That blew my mind. Back at the ranch we thought he was indispensable and yet the client's CEO was not even aware of him."
Ben approached the account manager and discussed retirement plans with him. "When?" the account manager asked. "Now," said Ben and that was that. Ben smiles, for he has a very gentle manner. "He received a generous pension and departed without rancour."
I begin to suspect there is a steely core to this man, coated as it may be in a gentle veneer. Ben knows what he wants and gets it, not at the expense of others but with their compliance. It's quite a gift to deliver an instruction and yet have the compliant person believe it is almost their idea and certainly of great benefit to them.
This ability to make friends (and influence people) probably has its origins in Ben's upbringing. An only child of an only child, this family was by necessity very small. However, what he lacked for in cousins, he made up for in friends. Unlike children born with many siblings, he did not have the luxury of relying on family members for entertainment. If he wanted to play with another child he had to make an effort and make friends. This came easily to him.
After school, he studied Engineering at Loughborough University. He secured a bursary from the Mechanical Machinery Company JCB. This covered his tuition and provided him with a gap year and internships during term-time. He completed his Masters and discovered he did not like engineering at all.
"I worked in offices, in R&D, and on production lines. I had great exposure to the whole gamut and after five years I knew I was cured." Here Ben laughs but I can still imagine that JCB left thinking they had the benefit of his input over the years.
Of course, not all career paths are smooth. Ben was poised to join Arthur Anderson Business Consulting in 2001, the same year the Enron scandal broke and so looked for alternatives. His fiancée Edel obtained a job in Preston, in the North of England, and he followed her without knowing what he might do next.
Then he got a job he not even applied for. This was a pretty funny circumstance but he got a letter in the post saying he had been accepted for an interview for a government-run scheme whereby SMEs were given grants to hire professionals. It was with a company looking after commercial vehicles and he accepted.
A keen hockey player, his hockey pals also told him of an opening as Innovation Manager with GTRM looking after railway maintenance. Ben got the job and the company was subsequently bought over by Carillion, then the second largest contract services company in the UK.
This allowed Ben the opportunity to develop his interests and skills within a large corporation that fostered executive education. He had found his niche and began to thrive. He worked in innovation – an area he enjoyed – and brought in a software solution to help streamline rail maintenance. By combining innovation and software he began to be noticed.
Carillion ran a corporate leadership programme. It was in demand and of the 50,000 or so employees only 10 to 15 were accepted each year into the programme. Ben was one of the chosen few. He was only in his second year working for Carillion. Entry on the programme was only through recommendation of a manager and Ben acknowledges he was very lucky.
"The programme, in addition to the obvious educational aspects, gave me a leg up in two key ways. Firstly, every six months we had to report to senior management about our own personal journey so this was not only a way of reviewing how we were benefiting from the programme, but also a way of meeting senior management and forging bonds with them.
"Secondly, the programme insisted we apply for work outside our comfort zones – it was part of the conditions of acceptance. And so I ended up working with the St John Radcliff Hospital in facilities management (FM) – an area in which I thrived."
The success of Ben's work in FM led to him being offered a role in something completely different in China.
"Carillion had a policy of moving high potential managers around the place. It kept us on our toes."
Ben accepted and took on a new way of living, commuting long-distance. He travelled to Hong Kong, Shanghai and all around China, hiring a local team and building local offices. He held this position for three years before he was created operations director of Emrill in Dubai, and when he moved his family (wife and first child) to join him. Five months later he was promoted to MD.
However, all was not well in paradise. Despite the huge achievements and awards Ben received while MD for Emrill, Carillion had frozen pay increments worldwide and no bonuses were paid, regardless of success.
"This was galling," says Ben. And as a response, he looked for other ways to thrive. His restlessness led him to partner with Irish company Crowley Carbon headed up by serial Irish entrepreneur Norman Crowley.
"We were introduced by common friends and hit it off," says Ben. And so they set up Emrill Energy, a joint venture to offer large corporates and building a means to reduce their energy bills. By now Ben had been in situ for four years and Carillion was making noises about moving him again, as per their management revolving-door policy.
The lack of financial remuneration coupled with a desire for autonomy made Ben unhappy with such a proposition. "Not only had I turned around one business, created another, and not been rewarded financially, now they wanted to move me onto another area? Well, I reckoned if I wasn't allowed to play with my own train set I would look for something else."
The something else came in the form of an invitation to become CEO of an Australian software company looking to IPO.
"I did not have to consider this offer for long," says Ben. "Who would not want the opportunity to be CEO of an IPOing company?"
As it happens, Ben probably would eat his own words. Although the experience was amazing and he learnt a huge amount, he also discovered that doing an IPO was largely selling to investors and not running the company. The base employee count was not large enough to service both and as a result, while the IPO was successful, maintaining share price was less successful. After three years, both the company and Ben agreed that a permanent CEO in Australia was needed to carry the company on to the next stage. The parting was amicable.
Ben's CV in the Middle East was still powerful and he was headhunted by Al Futtaim, one of the largest Arab companies. Al Futtaim had also been one of the shareholders in the Emrill JV and so they knew Ben's calibre.
Ben began travelling the region again and then, at an SAP conference in Frankfurt, he was first introduced to blockchain and that got him thinking.
"We were big clients with SAP and I knew our account manager very well. At this conference I heard about blockchain and I asked him to explain the technology. As he explained, I had this ah-ha moment. Do you think it could change everything?  I asked.
"Let me put this ah-ha moment in context," says Ben patiently. "We had a fire in Al Futtaim. As we went through the documentation to discover the cause, we happened across so many unknowns and blanks. For example, had there been a recent risk assessment? Was the person who carried it out qualified to do the assessment? Had the premises enjoyed the full rigors of maintenance? We were unable to determine if all procedures had been properly managed and this was by no means a unique situation for Al Futtaim.
"At the same time, another good friend of mine also called Ben (we call ourselves Ben Squared) was in a senior safety position for a multinational construction service company when a similar incident occurred. This time, a crane collapsed killing workers. There was a litany of procedures that had possibly fallen through the cracks. We both wondered if blockchain was something that could address these issues."
Shortly afterwards, Ben Squared and their wives went on holiday. Instead of small talk, they found themselves discussing blockchain the entire time. "We'd be sitting by the pool but the conversation kept on coming back to blockchain and how it might positively impact on FM. The more we spoke about it, the more it seemed to fit."
When they got back to Dubai, Ben followed up. He kept on asking their SAP technical questions until finally one day he asked what it was all about. "I showed him our idea and he instantly wanted in."
The result is a major project called BeSure to tackle health and safety and quality issues initially in the construction industry but not restricted to that sector.
"There are a number of elements of blockchain that really suit this assurance. For one, the immutability is core to Health and Safety records. Something either happened or it didn't. This protects both employer and employee or contractor.
"Then our system allows each individual contractor or employee to own their personal reputation, records, and certs. This personal data is attached to the individual and moves with them, regardless of the project. This is the antithesis of modern centralised systems such as Facebook where your data is owned by the platform.
"Health and Safety systems are crucial for two main reasons. Get it wrong and someone dies. Get it wrong and the employer can go to jail. The one unifying force is blockchain to make it work."
Right now, Ben has been headhunted to run C-Cubed for Crowley Carbon in Powerscourt – hence the beautiful offices – but he is also building up his team to launch BeSure. The British Safety Council has come on board as a partner, recognising and legitimising the important work needed to bring accountable H&S systems into the mainstream.
"Many of the bigger corporates do have systems in place but these tend to break down when they bring in contractors to projects and that is always going to be the weakest link. However, we are not looking to replace existing systems but to add a seamless layer across the entire project to provide full accountability.
"It's pretty amazing to think we can change everything. Well, with blockchain we can change everything."