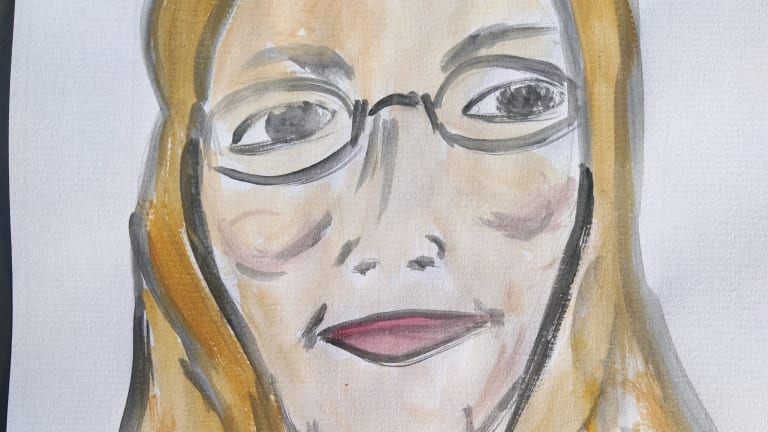 Baking a Bigger Pie for Women with Bridget Greenwood
Persons of Interest, Volume 1 by Jillian Godsil This interview with Bridget Greenwood was first published in the 2020 critically acclaimed book of Web3 founders.
Bridget does not like to stereotype but to nurture is a core component of her being. As founder of The Bigger Pie she puts into action the vision she has of an empathetic world where diversity is embraced, and women help grow the pie. She sees her role as allowing others to have a platform and as a result, despite nurturing many high-profile women in this space, she is less well known. Hopefully, today this interview will go some way to rectifying that balance, giving her a chance to explain her mission, needed more than ever as we struggle to move past COVID.
We both agree that women have been hardest hit in COVID, in some cases advancement has been pushed back by decades. To acknowledge this fact goes some way to help ameliorate it, or at least to signal this regression.
Bridget's background is in finance, but accidentally. Moving from the midlands to Norfolk in her native UK, she found her salary halved but her living expenses doubled. Life was financially precarious where she counted her income in terms of 'beer tokens'.
"None of the vacancies available could match my previous salary, so when I was asked if I'd like to sell finance, I replied I didn't know what that meant, tell me more… Ultimately it meant becoming a financial planner, so I said yes."
Originally Bridget was trained as a tied agent, a circumstance where she could only offer advice and products from one company. She trained and received her qualification as an IFA and was based in the field. Her role was to help people look at their current finances, talk about future plans and then navigate a route to attain those financial end goals.
"I never recommended anything that did not match my client aspirations, and I often left money on the table, but I loved my job. One couple said to me that their house was the one they bought with Bridget's money – they did it themselves of course but it was very satisfying to be able to help them achieve their goals."
Bridget was enjoying her role when she took maternity leave to have her son. In the interim, the company reorganised and decided to only keep high earners. This meant that she wasn't able to return part time, and firmly believes if she'd been at the table when management were making the decision, she could have represented her needs as a new parent and the only female adviser at the firm. Alas, it wasn't considered.
Being kind, I counter that it is like asking a bald man to consider what hair products to purchase in a grocery shop; unless it is pointed out to him that other people still have hair, he might not realise the omission. As I said I am being kind, Bridget has that impact on people.
However, we both agree this is an example of needing women represented at board level, otherwise unconscious bias can result in unintendedly excluding women and negative outcomes.
Forced to create a new job that honoured her parenting needs, Bridget founded her own company called Financial Social Media which she ran for many years.
Bitcoin entered her life in 2016, however she did not buy any at this time.
"It was just too hard to physically buy Bitcoin, so despite liking the concept sadly I did not invest."
Over the coming years Bridget discovered more about Bitcoin; information was drip fed to her, mostly by men, and then she made the discovery that would change her life: Andreas Antonopoulos.
For those not familiar with Mr Antonopoulos please refer to his interview at the beginning of this book. A Greek/British entrepreneur, he has evangelised about Bitcoin from the beginning and is the author of many books, including Mastering Bitcoin. He reached further fame in 2017 when Bitcoin Jesus, aka Roger Ver, allegedly mocked him for not getting rich off early Bitcoin. As a result, a slew of online donations ratcheted up a tidy sum of $1.5million in 100 bitcoins over a number of days.
Bridget's admiration of Andreas is based on his ability to clearly and simply explain how Bitcoin works: "He is obviously a genius."
Around the same time, Bridget stumbled across the American Caitlin Long, now ex-Wyoming Blockchain Task Force and 22-year Wall Street veteran. Caitlin spoke earnestly about how post the 2008 crash nothing had changed in traditional financial systems, no one was to be held accountable and moreover, Joe on the street was again being asked to pick up the cost.
"This is more relevant than ever as we enter into the biggest global recession in living history."
"My friend Oliver von Landsberg-Sadie, now CEO BCB Group, offered to help me buy my first Bitcoin back in 2016, I sent him some fiat and he bought it for me and helped me set up my wallet and transferred it to me, and said he wanted to help other people do the same."
This was in June 2016 just before the start of the ICO craze where everything was blowing up due in part to lack of regulation, although as Bridget aptly points out, regulation alone is not key. Her interest in Bitcoin and cryptocurrencies was based on the opportunities for ordinary people.
"Going back to what Andreas was saying, he pointed out that the status of underbanked or the unbanked is mostly down to their name or place of birth."
Bridget also quotes the Israeli historian and author Yuval Noah Harari who points out terrorists use fear to fight their enemies. Bridget aligns this approach to traditional banking using AML to 'protect' ordinary people, whereas it acts as a barrier to participation of ordinary people. We haven't yet found the right solution.
Bridget's interest in the new world of possibilities surrounding cryptocurrencies was tethered by the lack of women getting involved.
"I reached out to women who were active in this space and their knowledge, passion and competencies just blew me away. But when I spoke with them, I discovered that while they may have known other kick-ass women in their own field, they found it hard to find other women across different industries with blockchain and crypto."
And so The Bigger Pie was born. It celebrated its first anniversary in September and it is based in a WhatsApp group. Bridget is keen to move it to a more structured platform which is imminent.
In the interim, COVID hit. At first, Bridget was knocked sideways as were indeed many people on a personal level. Professionally she also received a blow as investors that had stood in the wings now pushed back commitments as the crisis grew.
"Fear – that concept so clearly articulated by Yuval Noah Harari – can stifle. It took a while but then I started to see people in The Bigger Pie offering to help each other, source PPE, offer support in their local communities, come up with some really innovative ideas, and allay anxiety. That inspired me."
The result was a two day on-line conference called 1Society which ran in June. Key to this innovative conference was diversity of speakers and Bridget achieved gender parity among the 100+ strong speaker panel of which she is justly proud.
"The only space I had difficulty in finding female speakers was in Smart Cities. This is a huge issue as that means our urban populations are being designed by a very small cohort of people who will naturally see the world through a narrow lens. As it is estimated that by 2050 some 70% of the world's population will be living in cities, we need to have more women and diversity at the design, develop and deployment stages to ensure we're building an inclusive future."
Along with giving women more platforms to have a voice, and getting female founders funded, Bridget is actively looking at ways of transcribing ISO for Diversity & Inclusion onto the blockchain to allow for transparency of data and responsibility of decision making. Her other focus right now, is finding a new platform that can accommodate more content and structure and also allow for men to be involved in certain areas.
Nurture and inspire are certainly the twin pillars of Bridget's philosophy, oh and Mr Antonopoulos.
Click here to find NFTs from Persons of Interest