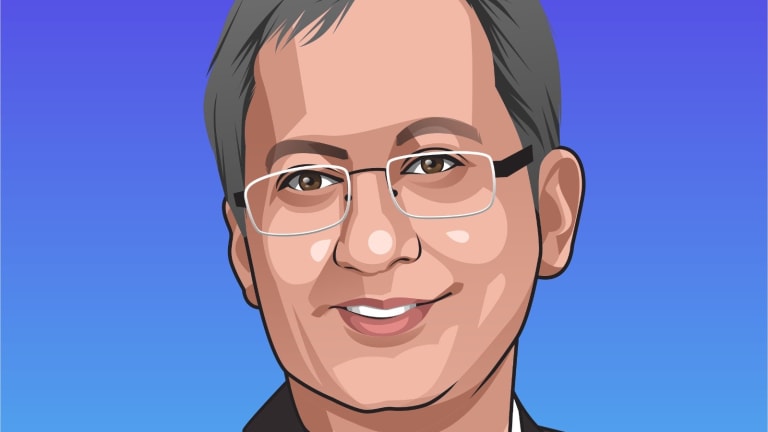 Asset backed DeFi - Gold
Mru Patel – CEO Sapian Group and COO of Flash Group.
Before COVID19, Mru Patel, CEO Sapian Group and COO of Flash Group, was one of the best-known speakers on the international Blockchain circuit, travelling to 30plus conferences in more than 15 countries over an 8 month period and catching more than 100 flights. He has covered more miles than Santa Claus on an average Christmas Eve night.
When the world went into lockdown, Mru turned his not inconsiderable energy into a DeFi project with a difference; one that was asset backed by gold that he was involved in 2 years prior. The gold asset in question had been bought two years ago and used to peg the OZTG coin. The coin, so pegged, has more than doubled in value. With a rising gold price continuing during the pandemic, Mru assures me that even if the flight to quality falls off, the OZTG coin will never fall below $0.13. The main reason is the intrinsic value of the gold at the time of the peg with a conservative price that was set in the blockchain not to fall below $0.13. This does not account for the true market price of Gold versus the OZTG coin as 1/20th gram the price of gold.
It is not surprising that Mru and his partner Serge Lobreau have come up with another innovative product, indeed a suite of products, because he is not a man to sit still, even when in lockdown. A serial entrepreneur, he has worked in fintech and property investment related businesses before the terms were created. His entire career began with Plessey /GEC, Sony and Motorola and their smartphones, dabbling in VoIP. He also worked with leading bluechip companies the likes of Siemens, Nixdorf, Unisys, IBM and Sun Microsystems during the prime days of dot com and Java.
"Innovation doesn't come every day; it comes in waves like the dot.com boom. Blockchain has existed a long time – it's just a lot of transactions on blocks made secure by cryptology. In fact, when I was first told about bitcoin, I said it'll never catch on, governments won't allow it – they still hate it."
It took a crazy night clubbing about nine years ago to change his mind. He met someone who said it was cheaper to buy bitcoin than all the champagne he had bought.
"But it was the disruptive nature of the technology that caught my interest. During the 2008 crash I had lost millions of dollars in my real estate investment fund. Post crisis, I wanted to find a way of rebuilding my business, using my talents but also to disrupt what I saw was an inherently corrupt banking system. I originally wanted to do proptech but it was too soon and I saw fintech as the way to go."
Mru was very present during the chaotic years of the ICO, speaking at several conferences around the world, and he used what he learnt there to build a better model in time for the true digital banking and DeFi bubble.
"The biggest issue with the crowdfunding championed by the ICOs is that they were managed by smart tech people with little business acumen, and even less idea on how to manage investment and investors."
"Another aspect was the anonymity of the team. If I am going to invest a million dollars in a project, I want to see the team and understand the businesses they have run before. Another issue was to see what they had developed already. I was not in favour of investing in an idea where no coding or product development had even started. That's a good way to lose your shirt."
Which led Mru to assemble principles for building in this space: have the project asset backed, run by an experienced team and let the platform be built already – not just an idea.
"Many of the projects in DeFi are totally anonymous and are not original - having copied another project's open source code and then used a humorous food-based name. That's just lazy and is primed to pump and dump."
Mru points to some basic business investing tenets. Is there a real USP? Will they survive, Is there liquidity in the project. Do they have an office?
"A lot of these early DeFi projects are copy-cat, no-hopers, but this is just the first wave – they will mature."
Backing the OZEETY blockchain and ecosystem project with gold has led people to ask to see video of the gold but Mru reckons that means nothing. The company plans on getting one of the big six to provide an audit of the gold held in a vault in Dubai.
"My partner owned several gold mines so it was acquired at a lower than market price. With the increase in the price of gold, that has almost doubled and we now have more than $100 millions' worth of gold."
Mru and Flash Group are in growth mode. The company has plans for cryptostations, where people can find Crypto ATMs. The first concept store facility will open in Luxembourg. Payments and Crypto purchases can be done by a card which bypasses the banking system. The card is biometric and holds four gigabytes of cold storage, allowing people to hold their different crypto in one place. His team is also building out a smart wallet, and an omnichannel exchange. The latter is due to go live within a month; they are currently going through security audits.
"We have a financial Institution, wallet and exchange license in Europe for all our products – something I wager none of the existing DeFi products can claim."
The company's vision is to offer paid banking to the clients. "We want to pay people to bank with us. Say you stake 10,000 coins with us, for a specified period, you get a return that is calculated daily and which you can see increasing in your wallet on a compounded basis.
The company is also building in affiliate sales and marketing to quickly build a community. "People can choose a package that suits them and earn passive income. It starts as little as €126 to invest and you are put into a pool with other investors. It will deliver between 250% and 300% per annum, which is shared across the investors in the pool. The Masternode programme has a higher entry level and greater returns – but again the project does not spend the investment on fancy offices and large corporate salaries – the returns are shared on the platform."
 The income is created through the OZEETY blockchain platform taking a very small fee off transactions but relying on the volume of transactions to deliver the income. For this to work, the company is adding many layers onto the platform; the exchange, health products, and validation operations and about 8 more features which are currently in train.
October sees a mobile offering where people can also earn money. Again, Mru stresses it is with the same OZTG asset pegged. To find out more, just ping Mru a message or join one of the community's active platforms. "Come and have a look, do your due diligence. So far we have in excess of 300 people involved in the Masternode and Pool nodes passive income program and it's growing all the time.
"We're building a proper digital banking organisation that gives you money for banking with us – only it's new age banking with much more features and fairness. The mission and goal of the company is to truly deliver "Financial Vision and Beyond".
For further information visit:
Discord groups: FlashXchanger, Ollorun Network (the sales arm of the network marketing community) 
Telegram group - https://t.me/FLASHMONI_ANNOUNCEMENTS