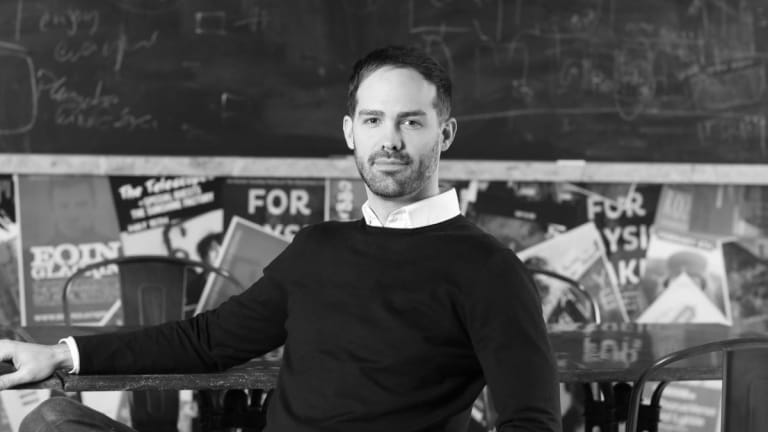 Anthony Day: Piloting Deloitte's Dublin Blockchain Lab
The twenty-five-minute walk from the Point Theatre, at the northernmost part of Dublin's Docklands, to O'Connell Street in the centre of the city, once took straggling concert-goers past the dark shells of abandoned buildings and derelict houses. Dubliners over a certain age remember the traipse home along the Liffey; the feeling that the light of the city would never relieve them from the overwhelming depression and darkness of this forgotten corner.

The Point Depot is now the modern 3Arena, a tram system connects it to the city and the journey by foot takes today's revellers past Dublin's busiest economic hub. Dubbed the Silicon Docks, the area has been transformed beyond recognition. Google, Facebook, LinkedIn and Twitter base their European headquarters here. Dublin's financial district threatens to give the city a skyline, while the bold architectural designs of the Convention Centre and the Samuel Beckett Bridge have embedded the transformation with a modern style.

Renewal and regeneration are woven into the fabric of the Deloitte Digital and Blockchain Lab, located on the south side of the Silicon Docks. Wood from old dockland pallets and material salvaged from a Tipperary bridge have been used to infuse the bright, spacious building with a warmth missing from many modern workplaces. COO Anthony Day delights in showing guests around the different spaces: a welcome area complete with intimate booths, an open white room where ideas are hatched and scrawled on the walls, past a computer that looks more like a modern art installation (it is being used to teach developers and clients about how cryptocurrencies are mined Anthony tells me with relish), through busy workers helping themselves to coffee and snacks.

Despite his youth, Day has undergone more than one career transformation. As a student in the University in Northumbria, he wanted to be an airline pilot but he found the limitations of the job too great to countenance. "I remember at age 20, coming out of Undergrad, thinking this isn't something that I want to do. My office would be tiny, I only have one person to talk to, the rest of the crew and the passengers are locked behind a door - literally - physically locked away from me. I had my crisis of conscience and went away and did a Masters in E-Commerce. I came out with Management Consulting being a nice way of getting as much air travel but without any of the constraints of the confined workspace."

Flying is in Anthony's blood and he confesses to still being something of a "petrolhead". His father was a Fighter Pilot. "My grandfather was a navigator. My mother was an air traffic controller. My grandmother on my mother's side was an Airforce Nurse in the war. My father was sent off to Malaysia at the age of twenty to fly Javelins. I remember what I was doing at twenty-three and it certainly wasn't flying missions to prevent casualties in the Indonesian War. He was in the Red Arrows for three years, then he moved into Civil Aviation with KLM and from there became a Chief Pilot. So even in a previous generation, my father has had about five careers."

Anthony speaks in full paragraphs, rarely hesitating between sentences. His accent is English but definitely not from Norfolk, which is where he was raised. And certainly not from Newcastle, where he fondly recalls living while studying at Northumbria University. "I wanted to study in a good University. I wasn't drawn toward Cambridge and Oxford. I applied and was accepted into Cambridge but that was a little too close to home. Newcastle just resonated with me. It's a very small city, so you can walk everywhere. Wonderful, wonderful people, warm and fun-loving, they work as hard as anyone I've met but they enjoy life as well. And there are many parallels with Dublin in that regard. Newcastle has a very relaxed pace of life, it's a safe place to be with a big student population. I think, at the time, had I been offered a job there I probably would have stayed because there are very few people who are as genuine and relaxed as Geordie people. And the accent - well, it took me a while to come to grips with it. They have a whole range of beautiful slang words and phrases."

It was quite a change from his rural upbringing in Swaffham, Norfolk. "It's kind of at the crossroads of everywhere else in the Eastern counties. Half an hour from the beach, half an hour from Cambridge, half an hour from Essex and the Fens. It's a lovely place to grow up, great countryside, great coast, very slow pace of life. It's a lovely place to go home to but it doesn't have a particularly big native consulting industry around it!"

After securing his postgrad, Anthony spent a decade at Monitor Group. He was greatly influenced by how approachable the management was. They were never above knocking on his door and checking in to see how he was doing. The recruitment process, he found, tried to bring out the best in him. "They didn't come in and try to trip you up or ask questions that would 'catch me out'. They asked questions to discover how to bring the best of who I was at that point, at age 21. I've taken that approach into every interview I've ever done. You've got an hour to understand the best of a person. If you trip them up and fluster them, you will prove that they are flusterable. But when you are 21 and coming into a consultancy firm, everyone is flusterable up to a certain point. What I want to know is how well they fit the team, how their mind works, how they think. It's my responsibility to help them share that information with me."

The popular image of a stressed-out management consultant, working sixty hours per week certainly doesn't fit Anthony and he credits his mentor at Monitor, Alex Curry, for instilling in him the value of communication and work-life balance.

"He was a wonderful model for work-life balance. He was always in the office at eight or eight-thirty every morning and out the door at five every night. For his entire career, he managed to balance work and family impeccably. At no point did I ever think that he wasn't there for me. As a father of two now, I have kept as a reference point his way of balancing life and work. I eat breakfast with my kids and we have dinner together every night. His way of making sure that he was available to support his team, but also appropriately prioritising seeing his family and being with them, was inspiring to me. I regularly tell people that there is no limit to the amount of hours you can work on a project. It's not always about working hard, it's about working smart and understanding what your client wants."

And what do clients want? At the Blockchain Lab, clients want to know how blockchain can help their businesses but with blockchain being the buzzword of the moment, are some clients trying to ram nodes and distributed ledgers into their businesses just for the sake of it? Well, yes actually.

"The industry itself has done a wonderful job of hyping up the technology, but not a great job of providing an empathetic framework for how to think about blockchain. So you'll see lots of process diagrams of 'When Should You Adopt Blockchain?', and they are fine and technically correct in terms of should you centralize or decentralize data. But it's not a checklist for creating a technology-based platform that can create value for your business. Are there enough factors in the work that you do and the problems you are trying to solve to suggest that a platform would help? Now let's explore objectively if blockchain makes any sense. Five years ago some clients had a similar eagerness to have an App."

"The underlying digital capability that blockchain provides is connectivity, security, anonymity of transaction, speed, the ability to create an autonomous platform. All of those things are useful in any industry. One must ask, what is the customer experience that I am trying to enable? Or what is the business proposition that I am hoping to bring to market?"

Dissenting voices often accuse blockchain evangelists of failing to demonstrate a coherent use-case for the technology beyond enabling cryptocurrencies and tokens. Put simply, if blockchain is everything it is cracked up to be, why hasn't the world caught on? We have working, centrally-controlled platforms like Amazon, Uber, Ebay to name but a few, that businesses and customers can interact with. Decentralisation by itself does not carry an inherent value.

"Uber, for example, is a centrally-managed platform. Any driver or customer can link in with it but Uber is taking a large cut of any transaction that takes place on the marketplace. A decentralized version of Uber is easy to imagine but what Uber brings as the centralized party are the services it provides in KYC, distribution, management, development of the platform. The question is: would you end up with a better product if you decentralized Uber, or is it okay for it to be centrally managed? And then there are the questions of regulation. Bitcoin didn't need permission to exist. When you start getting closer to the physical movement of things, regulation and law must be considered. Uber is a marketing machine and they still have people in every country, because of regulation and disputes."

We are still on the long thin start line in terms of adoption, Day explains, but growth will be exponential. Everything is getting faster and better. "The fundamentals of what customers and businesses want to do haven't changed and probably won't change. We want to pay for things, move places, survive, have fun, talk to our friends and family. We want to report because we are regulated. None of those things have changed. Technology has allowed us to do them faster, more efficiently and more securely. Blockchain is the next evolution of that."

Anthony relocated to Dublin three years ago with his wife, who is Irish, and now lives happily in the suburbs. "There is a choice between driving for ten minutes to Sandymount and building sand castles on the beach, and jumping on the bus and going to the Science Museum. Dublin has always felt modern and progressive. You see the companies moving here. You see the development on the canal and the riverside. It has always felt like a continually developing capital city but not one that is huge and hectic and stressful."

But it is difficult to imagine Anthony Day being stressed by anything. As I leave, Anthony reminds me to read Peter Diamandis' writings on the future of education. I had raised the issue of fake news and misinformation online with Anthony and wondered how he, as a parent, could prepare his children to handle the online world. For Anthony, it is all about critical thinking. "We are told as consultants, never trust the data. Interpret it. Challenge it objectively. Understand why it is different from what you expected. I believe there will be technology that will allow us to better manage fake news. Blockchain is just one of those technologies."

The advice he would give his children is the same as the message he delivers to his team at Deloitte and, through hackathons, meetings, projects and think-ins, to business leaders from around the globe: "Ask good questions, be curious and don't take things at face value."