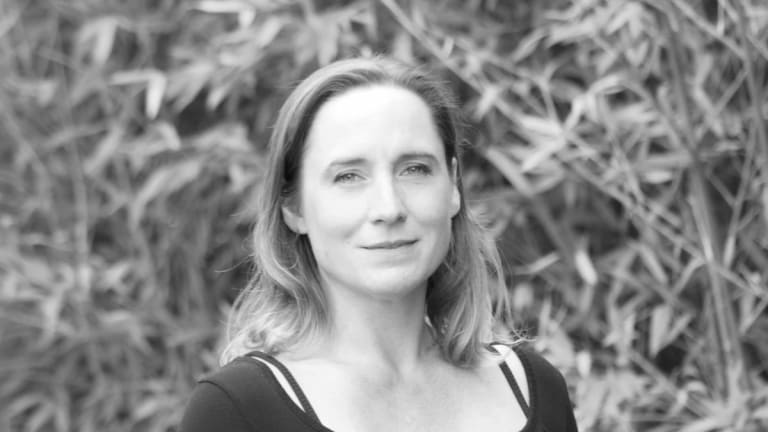 Alison McGuire - A Life of Subversion, Literature, and Blockchain
Blockleaders founder and editor invites you into her library, where her beloved books, family, and a lost hungry caterpillar await.
Alan Bennett once said that "a personality is stamped on a library just as a shoe is shaped by the foot." Should Mr. Bennett ever pay a surprise visit to the County Wicklow home of Blockleaders editor Alison McGuire, he would be well advised to clear his diary for a day or two. For here, ordered neatly on shelves from the ground to the ceiling, are clues to a personality that resists easy categorisation.
From potboilers to classics of world fiction, the McGuire family library dominates the living room. Alison never gets rid of a book. "I once had a boyfriend who suggested a one-in, one-out policy." The relationship was doomed to fail because, for Alison, these books are precious relics, each one possessed by the spirit of who she was when she first pored over its contents. Some volumes are annotated with details of the train journeys, cafe stops, and holidays she spent in their company.
When I carelessly ask if she uses a Kindle, Alison looks genuinely horrified, like I'd suggested replacing her children with Tamagotchis. "No! I love the look and the smell and the texture of books. And the history! I once tried reading with a Kindle, but the books kept sliding off onto the floor."
She recalls how distraught she was when her childhood copy of The Very Hungry Caterpillar was destroyed in a house fire. "It was bought for me by my aunt who has lived in Australia most of her life, so I don't get to see her very often. We had a fire in the house we live in now and we managed to keep our entire library because it was kept locked away in a room that was quite far away from the fire. But it just happened that I had been reading the Very Hungry Caterpillar to my children and had left it in the utility room, and that went up in flames." She has taken the precaution of replacing the book with two copies, because no household should risk ever being without the insect eating disorder classic.
If reading was her passion, it has been tempered somewhat in recent years. "I frequently read between forty and fifty thousand words per week professionally so I don't read for pleasure at the moment."
Editing may seem a natural career choice for a voracious reader with a keen eye for detail, but how did she become part of Ireland's growing blockchain community? Born in Hertfordshire and the product of a "fairly standard comprehensive" education, Alison found she was naturally drawn to subversion. When studying English Literature at the University of Sunderland, a period of her life she recalls with great fondness, she was particularly taken by her Women's Studies lecturer. "She pushed us beyond the realms of what we were comfortable with every time we met. She was the first and only professor during that three years to get us up and presenting, justifying our position on a text. For a nineteen-year-old girl from Hertfordshire, this was quite frightening for me but it was good for us."
Having spent her college years consuming all the nutrition that her coursebooks had to offer, she explored the literary world more widely after graduating. She loved nothing more than losing herself in a tome, like Shantaram by Gregory David Roberts. She read Wuthering Heights every year at Christmas. It may seem curious, then, that she found herself working in tech. But she has always been drawn to new things. "Not new gadgets, new ideas. When I discover a different approach or a novel way of working, that really does it for me."
When she began working in the industry - firstly at AVC Europe and later at Dell Computing - she found she was taken by those who were "striving, pioneering, looking for not only the new tech, but also the new ways of doing things, the business processes."
She discovered she had a talent for teaching and mentoring. "I used to love new-hire training because you can take this nervous, new group of people who are going into sales, most of whom have never worked in sales before, and to see them go from that to confident, competent sales people was a huge kick. A huge kick "
Teaching, she says, is a great way to learn and "to stay on top of your game, to keep up to date and be able to articulate what you know." She certainly made an impression on one of her protegees. Her husband, Alex, made his entrance in Alison's life as a Dell trainee. He was one of the workers who she knew was going "to be extraordinarily good at what he does". Four children later, she is still in awe of him.
Relocating to Ireland fulfilled a childhood dream. Picturing an island with palm trees and beaches, she found - like Humphrey Bogart who came to Casablanca for the waters - she had been misinformed. But Ireland has been her home now for 18 years, apart from an aborted period of Berkshire living. She loves Ireland's art and literature and has been moved by the entrepreneurial spirit of the Irish, and even more taken by the backing on offer. "There's support for entrepreneurs at a government level. I saw it every day in my work for Irish Tech News. I see funding for every idea under the sun, many of which are contributing to technology on every level, from financial to inventions. That's all coming from here, from Ireland. It's part of Ireland's DNA and I love that. People are into other people's entrepreneurialism here."
Now working from home and a mother to four children, Alison is happy to stay behind the scenes, editing the work of others. "I'm at a really different time of my life now. When I was in my twenties, it was about connecting with lots of people, partying, working really hard. Now I don't feel the need to do that so much and I have a rather large family to look after. Kids of all different ages, all with different needs. So Alex and I have found a way to make that work. Now, we both work from home a lot and it's really good for us, for our children. We're there when they need us."
About 60% of Alison's editing work is now focused on blockchain writing. This is particularly impressive when you realize she knew nothing about the technology when she was appointed editor of CryptoCoin.News in January of 2018. "Whenever I get a phone call from Jillian Godsil asking me how busy I am, I know something exciting is coming down the line. In January she told me that there was a vacancy for an editor at a news site, all about blockchain and cryptocurrencies. I immediately said, 'I can't do that! I know nothing about it'. But when I went on to the website it was clear to me that I could add some value to what they were doing." From there, she learned what an ICO was, how blockchain works, and everything in between. She learned from reading the articles she edited and was impressed by the endless invention of those behind the extraordinarily rich and diverse projects on offer.
Her work on CryptoCoin.News brought her to the attention of Irish Tech News. She is excited now to cast her net wider with Blockleaders, but will there be a market for long-form journalism in a world of three-minute reads?
"Blockleaders is the project that, eyes wide open, knowing what I've learned in the past twelve months, screamed to me that this is where I need to focus, once I learned that this is about people, about that entrepreneurial spirit... It's about people who aren't afraid to say that just because we have always done something one way, that's no reason for it to stay the same. Those people, how their minds work, what their focus is, this is where my interests lie. From entrepreneurs, to people who are inventing, to the criminal element at work in the crypto space: only by examining these people deeply will we be able to fully understand the impact they are having on society."
People, after all, are the link between Alison's passions of literature, family, and technology. She continues to be amazed by an individual's ability to surprise. "The thing that fascinates me about people is that just when you think that you've 'got' them, they show you their capacity - if you let them - for learning and growing and transforming their lives. You can never put anyone into a box. It's a mistake."
It is difficult to imagine, even with all his learning, that Alan Bennett, or anyone else for that matter, would dare single out the box that could contain all that Alison McGuire has to offer.
Read more about Alison on LinkedIn