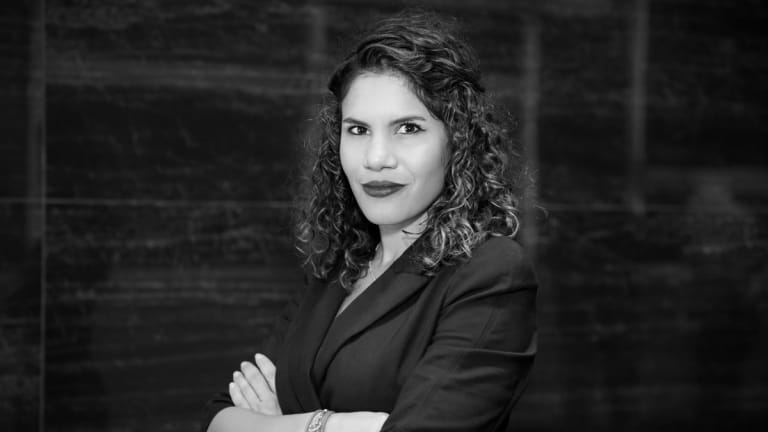 Alexia Hefti: A Life of Transition and Transformation
Explore how blockchain is the key to sustainability, as Deloitte's Blockchain Tax Lead takes Blockleaders on a journey from Switzerland to Canada, via Syria, Uganda, and the United Nations.
Alexia Hefti is the Blockchain Tax Lead at Deloitte. Yet after spending an hour in conversation with her, during which she is engaging, relaxed, but also thoughtful and precise, I discover we have barely broached the subject of taxation. The reason is simple. Alexia fluently recounts her experiences working with returning combatants in Uganda, her spell in the United Nations, how she qualified as a lawyer in New York, but somehow ended up on the Syrian border. She describes blockchain projects in Africa and the Caribbean that have the potential to make a substantial difference to people living in those regions. We also discuss glass ceilings, President Trump, the difficulties of preserving evidence, the UN Sustainability Goals, and discover - with disappointment - that we don't have the solution to the migrant crisis in Europe.
Taxation was on my list, but it really never stood a chance.
With her obvious passion for social justice, sustainability, and human rights, it may seem surprising that she now occupies a senior position in a global superpower like Deloitte. The contradiction isn't lost on Alexia. "The truth is that's what's very interesting about the type of firm for which I work." she says in an accent that would never lead one to suspect that she is originally from Switzerland. "The type of firm that would say, 'look, we understand that you come from a human rights background. We understand that you worked in the Middle East, North Africa, and East Africa reintegrating former combatants into society. Yet we are going to allow you build a blockchain and cryptocurrency tax practice, which we've never had before'. That demonstrates openness. Is it contradictory? Perhaps. But, it could be indicative of an increasing openness towards the diverse experiences of the millennial generation, and an understanding that we can bring value even if we don't fit right into one clearly-defined box."
Deloitte may be a hugely successful company, but it is immediately apparent that the projects Alexia finds most exciting are those that are not only about the bottom line. "I've probably vetted about 300 projects and a lot of them are ways for people to make money through Initial Coin Offerings but don't solve fundamental problems in our society or contribute to our global advancement. I am fascinated by companies that also meet social impact objectives, and this has drawn me back to my previous work, which is in emerging markets like the Caribbean and Africa, because companies are often solving problems that have an impact in the day-to-day lives of the average person."
One such project is Bitland, which is working towards a blockchain-based solution to land injustice in Africa. "I met them at the inaugural Blockchain Africa Conference in Uganda and we decided that I would buy a plot of land, the title of which would be secured on their blockchain, as a demonstrative pilot project to the government."
Simply being able to prove who we are and what we own are matters of little consequence in the West, where government-run registries and civil systems of recording data are, by and large, transparent and widely trusted. But for refugees, victims of land grabs, and the dispossessed in the developing world, blockchain affords a real opportunity to create a recording system that is tamper proof, trustless and indestructible. Stationed on the Syrian border in 2014, Alexia heard the stories of those whose identities and possessions had been obliterated by warfare.
"I was deployed to the border of Syria by the government when I was 24. When I was there, I took testimony from various opposition activists. Some of the Syrian activists that were coming in at night would tell me about what was happening. One of the biggest issues with which they were dealing was rebuilding registries. Marriage, land, and birth registries were being destroyed by ISIS, so there was no record of people's existence. These human rights activists who were my age were taking records back and attempting to rebuild the registries. Blockchain can help prove their identities. For many of the Syrians I met, as well as many other vulnerable groups, that's important. Most of us take our identities for granted."
We can only imagine the difficulties that await the millions of displaced Syrians upon their return when that conflict finally comes to an end. Alexia has some idea, having assisted with the integration returning combatants in Uganda and worked in the arena of transitional justice with the United Nations and Lawyers Without Borders (Avocats Sans Frontieres).
But for women, the struggle to assert land ownership is difficult even in peacetime. Projects like Bitland have the potential to help end the injustices they often face. "Once their husbands die, the land statutorily should be passed on to them. But from a customary law perspective, the chieftains often take their land away. You have a tension between these different judicial systems. You have the informal system that is driven by tradition and then one informed by the courts. At the end of the day, while blockchain may not solve this long-standing legal contradiction, and a woman may still have issues getting back her land, she has evidence of land title ownership on a blockchain so may be able to seek legal recourse."
These blockchain projects that bring tangible benefits to people and solve real-world problems are rolling out across the developing world, while investors in the West bemoan the falling price of Bitcoin. The maximalist vision of a decentralised world with no banks and little or no government isn't beyond the realm of possibility in some regions, where the central power of the state and judiciary are far from trustworthy. It should come as no surprise, then, that founders in the developing world view blockchain as a tool with which to obtain justice and human rights, rather than as a medium for dApps of dubiuos utility.
Moving rapidly through different careers, Alexia was called to the bar in New York and led the Innocence Project for a time at McGill University in Montreal. "I entered law school because I was doing work in international criminal law, but I wasn't a lawyer. I had done my undergraduate and went to work in Uganda and New York and had a moment of realisation when I was sitting in a courtroom in Kampala. I was in the Supreme Court listening to a proceeding involving Thomas Kwoyelo, a former child soldier, and I realised I wasn't really understanding what the judges were talking about. It hit me that I had to become a lawyer to truly contribute to the international criminal law discourse. So I studied International Criminal Law and took Criminal Law as well. As the Director of Innocence McGill, I went to court every day with my mentor. I was shocked to see that, despite the fact that the average person you see walking down the street in downtown Montreal is white, when you go to court, minorities are predominantly sitting in court. I could see similar tensions reflected in my work in international criminal law where the defendants at the International Criminal Court were from emerging markets and were primarily people of colour. Following my deployment to the border of Syria, I decided to leave that field."
It sounds exhausting. Does she ever just lie in bed and binge on Netflix? "Maybe while I'm cooking or washing the dishes," she laughs, ever the multi-tasker. Not being much of a TV viewer, she is momentarily lost when I ask her about Donald Trump's assertion that it is a scary time to be a young man in America. Trump was, of course, referring to the Kavanaugh affair that has divided public opinion in the United States and beyond. Trump has been heavily critical of Dr. Christine Blasey-Ford, whose allegations of sexual assault against the judge sparked - amongst other things - a senate hearing and a very short FBI investigation.
"Is it a scary time to be a young man in America? I believe it's a scary time to be a young black man in America. I think it's a very scary time for certain types of people. I would not like to be a young Muslim man, or a young black man. I lived there for two years and saw what it was like and I think it's getting worse. But is it a scary time for the average young man? It depends on the context. Perhaps they should be scared because of the prospects they have and the economic opportunities that are available for them. Should they be scared because a woman might make an allegation towards them? That's ridiculous to me."
Alexia's travels have allowed her to assume a global perspective on the Me Too movement. "I've definitely seen a lot of support for the movement in every place I've been to. It's definitely spreading and is actually continuing to spread."
But it would be an exaggeration to say that it has opened boardroom doors for females. "I don't think the impact has been that vast. But the question is a broader one and relates to the whole area of women in business. Would I have been able to create a practice a year and a half into joining Deloitte as a woman of colour, in any country, twenty years ago? No. Even five years ago, I don't think so. It has something to do with Canada as well, being more equal in terms of gender. Not perfect whatsoever, but it's very different to the other countries in which I've lived and worked. And that includes the United States, Uganda, and Hong Kong. I've definitely seen a change, having seen my mom, and women of her generation. I think we're going to continue to improve, with people seeing the value of women as leaders in business. And movements like Me Too are reminding people that they need to be conscious of how they act in very male-dominated workplaces."
Alexia surmounts barriers the way others chew gum. She strikes me as a realist but never crosses the fine line between pragmatism and cynicism. Where many bemoan the state of things, she acts. Problems are there to be solved and making a difference to people's lives is at the centre of Alexia's philosophy. Self-improvement is her way of life.
"Since I was eighteen, I was very deliberate about always having a one-year, three year and five-year plan and I would revisit it every birthday. It included my career, personal desires and what I wanted to do. But interestingly, since my involvement in blockchain - a field that is moving so rapidly - I feel that each day disappears so quickly. I wake up and the day is gone, and then I wake up again, and the day is gone."
Having already achieved so much, is Alexia still setting goals?
"I think that certain goals still remain. I want to continue to be a leader and a mentor for young women because I was mentored by many women, and they really pushed me and encouraged me to follow so many passions. While my passions may have changed and the direction of my career continues to evolve, it has always come down to 'what am I doing to change the world?'. The idea of continuing to encourage women to create economic opportunities for themselves for their social and economic advancement. I will try to continue to do that in whatever context I am in."
Alexia Hefti is the Blockchain Tax Lead in Deloitte Canada. You can connect with her at LinkedIn, or follow her on Twitter.
Learn more about Bitland.