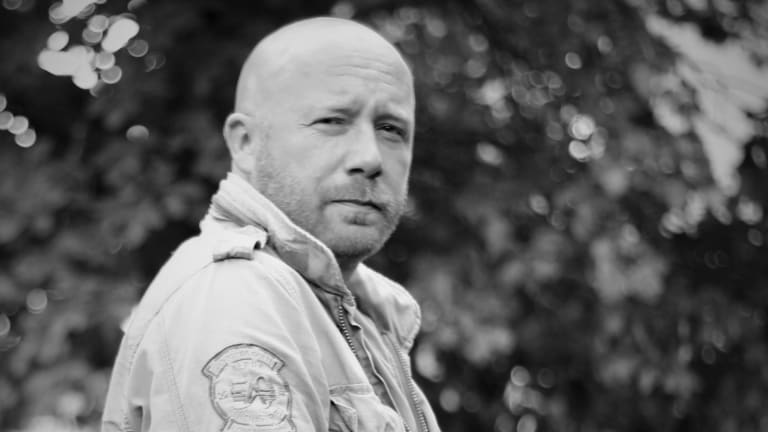 Alex Bertlin: From Sweden to Pakistan, The Borderless World of Blockchain
Alex spoke to Blockleaders about his past in construction, how a dead-end job led to a shift in his life, a major project in Artificial Intelligence, and how Sweden is dealing with the issue of cryptocurrencies.
Alex Bertlin perfectly epitomises the proverbial rise of the underdog.
From construction worker to board advisor at several high-profile blockchain organizations, this man's professional career has taken him down sometimes inscrutable paths.
Sweden-born Alex Bertlin is a self-made man. Everything he's learned and accomplished he's done it pretty much by himself. And he's made the right choices, too. Well, most of the time. He began training to become an electrician, but quit six months into it because he feared he'd become a cellar-dweller, repairing TV sets. So he shifted his interest to computers and began doing research, web design, and other similar work.
This is Alex Bertlin's story.
On Alex's accidental landing on the crypto airstrip
Alex Bertlin's professional life can easily be divided into two stages: pre- and post-crypto. He had spent a large chunk of his life working in non-technical jobs, which led to stagnation, boredom, and the need to break away from this routine and do something else.
Then, the crypto door opened its magic threshold, and he was sold.
"To understand my current life, I think I need to step back and talk to you about where I come from. I worked in the construction industry for about 15 years, and I reached a point where I got really, really fed up with my situation. I had spent too much time in the same space, and I had long since stopped learning, because there was nothing more to learn.
"So I took a year off, which I spent trying to find a new direction for my life. At the end of this period, I pondered whether to go back to construction or do something completely different. My last construction job was in Norway, so I thought I might have to go back. But the day before I was due to get on a train to Norway, I met an old friend and we went for a coffee and chat. We caught up on the past, and he started talking about Bitcoin, which was the only cryptocurrency available at the time.
"I told my friend about my situation and he said, well, perhaps you should look into Bitcoin. I knew next to nothing about Bitcoin or cryptos. In fact, I always had the belief that cryptocurrencies and ICOs were just a huge scam.
"But I was in the mindset for change, so I decided to go for it, totally believing that I was heading into a scam. Still, the alternative was a dead-end job, so it didn't matter to me. I needed to do something else."
On educating and connecting the blockchain community
Alex is a self-professed and self-taught educator and connector. I was curious to find out more about this aspect of his life, and how he became a blockchain connoisseur.
"After I landed on the crypto space, I began to research everything related to Bitcoin and quickly realized that there were no schools, nor were there college courses, educational platforms, or in fact any 'official' tuition available. I also realized that it is very difficult for new people coming into the space to understand the blockchain ecosystem. We have multiple groups talking to each other, but newcomers are left in the dark.
"So I began to seek out people on the space, to form a network, and to learn from people who knew more than me. In short, I was looking for people to educate me in the blockchain lore. And over the years, my network grew substantially. Once I learned enough, I was able to become an educator myself.
"At one point, I was asked to become a mentor in an online classroom, to speak to younger people about entrepreneurship. At the time, most attendees were from Pakistan, India, and a few other eastern countries. So I would do a live classroom every Sunday.
"This helped my network to grow quite dramatically, and the classroom also increased in size. So the network effect happened, and I started receiving more offers and propositions, etc., which enabled me to get into the ICO Advisor role."
On becoming Board Advisor for the Blockchain Forum of Pakistan
Alex became a Board Advisor for a leading Pakistani organization focused on blockchain technology, the Blockchain Forum of Pakistan. I was curious to know how Alex made the jump from his native Sweden to Pakistan.
As it turned out, his stint as online educator led down some interesting paths.
"I made contact with one of the leading personalities in the blockchain space in Pakistan, Muhammad Ahsan, through the online classroom. We talked for a few months, and established a really good connection with each other. The blockchain infrastructure in Pakistan was just being established, so he asked me to become an Advisor to the Board. Essentially, I became the link between the Nordic countries and Pakistan, in terms of blockchain."
Sweden is a well-developed country with a good standard of living. Pakistan is currently under-developed and the country's infrastructure needs updating.
I wondered how Alex perceived the state of the blockchain space in both countries. His answer was rather surprising.
"Pakistan is way ahead of Sweden in terms of blockchain. Way ahead. Perhaps it's the lack of regulatory systems and the different needs in each country. Here in Sweden, for instance, there's very little interest in cryptocurrency payments. We have a very traditional and solid banking system. People here do trust the banks, maybe more than in other countries, so Swedish people see no need for any other means of payment. Cryptos are legal in the country, but there's very little happening here."
On becoming Advisor for NAi Technologies, a blockchain-AI company
The world's currently in the midst of the Fourth Industrial Revolution. Big Data, machine learning, the Internet of Things (IoT), and Artificial Intelligence (AI) are fast becoming the drivers of a brand new technology-based world.
Alex recently became Advisor for NAi, a firm that has created a market prediction tool built on blockchain and AI.
"So I joined the company, NAi, fairly recently. I'm still in the learning stages, so to speak. I will handle most of NAi's interactions on the social media space. Their product is a blend of blockchain and AI, a market prediction platform for all investment types, bonds, cryptos, etc.
"My work, apart from the social media stuff, is to streamline information and help people understand what the project is about."
Disrupting the Swedish status quo through decentralization
One of the inherent powers of blockchain is its decentralization trait, the capability to disrupt the establishment. Sweden's financial system is solid and trusted, so it may not lend itself to disruption becoming prevalent.
"Sweden's central bank is currently developing e-krona, which will become its proprietary digital currency. They believe that by developing this framework, they will be able to counter the adoption of 'foreign' digital currencies, so to speak. The framework will include one centralized and one decentralized form of digital payment.
"Talking about decentralization itself, it took me some time to fully grasp the concept of decentralization, and to understand completely. And it took me even longer to understand and unravel the web of ramifications of this decentralization aspect, what it means from a global perspective. I think we're about to reach an intersection where we're going to have to choose left or right. In other words, what governments are going to do about this.
"Swedish society is pretty much divided into two halves: one half welcomes change, the other half does not. Sweden as a whole is a rather conservative country, but one sector of the population is open to change.
"Swedish mentality is very, very difficult to shift and adjust. Because we have had peace here for such a long time, we had no need to change or adjust to anything else. Swedes live a peaceful life, for generations now. We'll have to see what happens in terms of cryptocurrencies, but change, if it happens at all, will be much slower than in other countries."
Let's talk ICOs: the Bitdepositary community
Alex is currently involved in diverse blockchain projects. One of them is Bitdepositary, an ICO/ITO crowdfunding community that connects project developers with investors. I began to realize that the idea of community building is a common thread throughout Alex's blockchain career.
"Bitdepositary is a launching platform for ICOs, whose main goal is helping ICOs to launch while preventing scams that are so commonplace in this space. So the core team will go through the proposed ICO's details, will consult with a legal and a financial team, etc., to ensure the ICO is legitimate. If it is, the ICO will go to the community, for voting. The 17,000-strong community will vote on the ICO, which needs 55% of votes to pass through. Community members vote using Bitdepositary tokens, so the ICO receives immediate funding, if approved by the community."
At this point of the conversation, it occurred to me to ask what the ICO market in Sweden was like. The answer was in line with a Swedish conservative stance.
"Basically, there is no ICO market in Sweden. There are a lot of regulatory barriers for ICOs to exist here right now. Effectively, this means that millions of dollars in capital are going elsewhere."
On the future of blockchain
Cryptos may come and go, but the underlying technology, blockchain, is here to stay. I wanted to hear Alex's take on what blockchain holds for the future.
"Borders are being erased as we speak. Social media kickstarted that trend, but I think that we're now going into the next phase. Now, we can really co-operate on a global level, thanks to blockchain. So I see a good future for the technology."
Final words
Sweden is a beautiful and relatively unspoilt country, full of picturesque towns and cities populated by a peaceful society. Blockchain and crypto have yet to make a meaningful impact on this environment, and it is up to the Swedish Government to dictate and legislate one way or the other.
In the meantime, blockchain pioneers like Alex Bertlin do all they can to bring this technology into a very traditional and settled way of life.
You can follow Alex through his website.