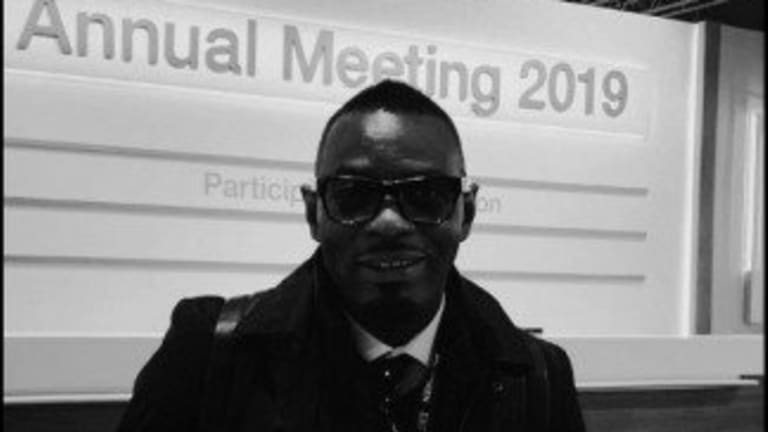 Adewale Daramola – Accentuating the Power and Potential of the Gig Economy
Block Leaders' Demi Oye talks to Adewale Joseph Daramola about his works and journey as a technology savant and his experience in advanced product development across several fields including the blockchain space.
The Global market size of the gig economy stands at $ 1.5 trillion. One-third of the American workforce (over 50 million Americans) are either part-time or full-time freelancers. With the advancement in the freelance space, millions of lives have changed.
The ability to accommodate so many people (about 77 million) all over the globe further elucidates the robustness of the freelance economy. Freelancers easily penetrate various industries and integrate into the workflow seamlessly.
Block Leaders' Demi Oye talks to Adewale Joseph Daramola about his works and journey as a technology savant and his experience in advanced product development across several fields including the blockchain space.
Having worked with and alongside the likes of Virgin StartUp, (FDA) Food Development Associates Cambridge, Senoble Uk, Gate Gourmet UK, Bryt Cambridge (now Wonderstruck Brand Innovators), Adewale is quite the "must have" talent for companies looking to beef up their product development efforts in both the primary and secondary markets.
Adewale is now a blockchain architect with a developed product. Adewale is partnered with latoken and Swift blockchain; a San Francisco Bay investment.
Adewale also shares ties with the Draper Dragon and is also a core member of the Draper's investment portfolio which includes Tesla, SpaceX, Twitter, Hotmail, Coinbase, Bancor, Skype, Baidu and more.
Adewale Daramola and his teams (GigEcoin) And Gig Platform Economy are focused on building Peer to Peer Services with a tax filing, DLT feature, and a dedicated crypto asset coin.
Adewale believes blockchain and the worldwide web is designed for legacy and human longevity.
On What attracted him to the blockchain space:
I have always studied technological solutions in all spheres and fields. Like what the mobile phone did to never missing an important message to the advancements in space exploration.
We're at the beginning of a wave – a revolution; A wave of new speculators flooding into the cryptocurrency market.
2019 is going to be the year for mass blockchain adoption, and if you are prepared, then this could be a very financially rewarding year for you indeed.
Of the many technological advancements over the last few years, cryptocurrency with its heightened privacy features and decentralized nature has caught the world's attention.
We at GigEcoin believe deeply in the very first crypto white paper ever written.
We hope to contribute our quota and utilize the power of blockchain in meeting our goals.
On who his Influences are in the blockchain space:
The core potential of the blockchain lays in human exchange of value and transparency the Gig Economy. Freelancers deserve meaningful reinventions via the blockchain and other technological advancement aimed at improving lives and facilitating trade.
Trust levels are low in many loyalty schemes due to the distinctions in regulatory and operational landscapes such as cases of multi-party and cross-border transactions.
I have been influenced by several forces but to keep it simple; I will give due credit to Satoshi Nakamoto and all the blockchain communities across the globe.
Why the freelancing and gig economy?
Freelancing to some may be classified as an end to a means or a viable business model.
Adewale understands the market as a participant, a spectator, and an investor
With the increase in demand for the skills marketed in the freelance industry, the market capitalization is set to grow sporadically. Talk of a job market that allows for suitable employment and also contributes directly to the economy of any country with a massive number of freelancers.
16.1% of the population in the EU region are freelancers, and the number keeps growing. The demand for freelancers does not only come from corporate bodies; creative employees use the services of freelancers as well. Freelancers embrace the market for the fact that it allows for flexibility in working while getting paid for completed tasks.
The GigEcoin Ecosystem was thoughtfully designed to favor the freelancer and their potential clients. To attract users, we have created a platform that is trustworthy and effective, with digital currency being the basis for the difference. We have designed the ecosystem platform such that clients can list their jobs and freelancers can bid in their various niches.
Gig Economy Coin "Abbreviated" GigEcoin wields the most powerful infrastructure for decentralized jobs by outsourcing smart contracts with individual tax filing protocol and multinational transfer pricing ledger for the enterprise under common ownership or control.
GigEcoin is developed as a stable coin with the lowest possible transaction cost or fee, High liquidity, and a well-defined regulatory structure.
GigEcoin is Scalable, Flexible and usable.
We at GigEcoin want to make a working person love their job better.
I envision a way of working that is based on people having temporary jobs or doing separate pieces of work, each paid separately, rather than working for an employer.
On Adewale's Plans in motion
How many products hit the market and are too expensive, too big, don't have the desired features or take too long to develop?
Product development is a thing which was earlier never thought of as a chore which can be outsourced as the privacy aspects and intricate processes involved in the procedure. Product development is a vital aspect of a corporation's growth and survival.
We are developing the world's largest decentralized digital jobs market place, an easy tax filing protocol, and an enterprise exchange.
We already have some crypto assets on exchange platforms and other exciting partnerships to announce soon
The vision for the future:
Our partners and we envision a future where there is value, trust, transparency with no requirement of proof asides the blockchain
On cues for overcoming adversity
Even in blockchain technology, a large percentage of participants must agree on the sort of data to include before it is included in the definitive blockchain.
This situation is pretty different from the central (often secretive ledgers) which are usually regulated centrally.
When several parties can join the process of decision making over what data is written, the removal of dubious data or the ability to alter data, a more transparent system has been created.
To put simply, nothing comes easy.
This, in one word I will say – continue ideating, implementing and updating as success is a marathon, not a sprint.
His Childhood drivers:
My Parents are a dominant driving force to whatever I have achieved and yet to achieve. They imparted in me the fundamental knowledge, grit, ethics to succeed and create value wherever I find myself.
Over the years, I have worked in some of the most diverse working environments and executed projects with some of the most brilliant minds.
My social network is also full of important and vital contacts in various fields of business and public service.
Does it take a village to raise a child? Yes, it does.
On his biggest challenges:
I think not being able to speak more than one international language is definitely my biggest challenge. I would love to express my thoughts in several languages.
Making a presentation in front of an international audience is not for the fainthearted. People from different cultural backgrounds with varying language skills are definitely more challenging than a homogeneous local audience.
I admire Polyglots and would love to make the world smaller by being able to address any audience.
Final words from Adewale:
Working remotely is nothing new in this age. Clients (individuals, small companies and big corporations) have gained confidence over the years of working with freelancers/remote workers.
In recent times, the freelance economy has become better structured. In fields as taxi driving, companies like Uber and Lyft offer great opportunities. Airbnb is a popular company in the hotel management space that allows individuals to provide freelance hosting services.
Anyone with a good internet connection can tap into this wealth, especially with the advent of various freelance sites.
The competitiveness of various freelance sites is an advantage for companies and big corporations that hire freelancers, as it serves as a tool to lower their cost. Furthermore, big companies also aim to focus on more crucial portions of their businesses while outsourcing other portions that could be settled efficiently within the freelance space
We are now living in vast spaces close or far apart by jurisdictions but today's world is shrinking to a very small world.
Over a martini drink at a backyard party, you run into someone whose neighbor turns out to be your football teammate from high school.
Or somebody who is starting a company with your first boss of many years ago.
Or somebody who just got married to someone you met at a marketing conference.
It shows that memories are created on the go with strong connections to the past that can forge a meaningful future.
Where anyone has or comes up with a light bulb moment, my advice is to act on it.