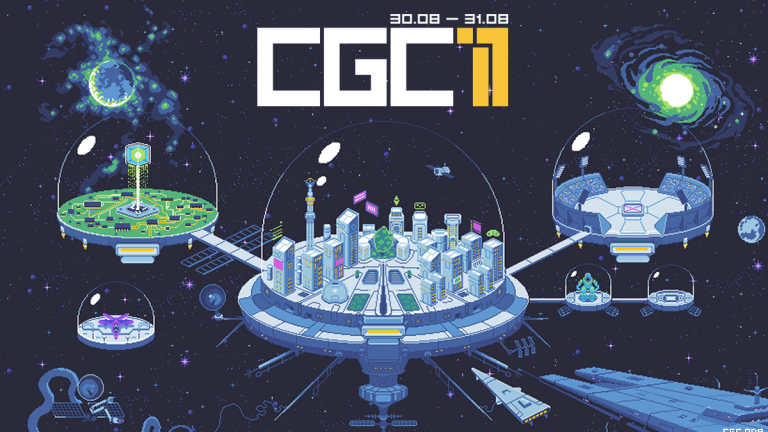 Premier Blockchain Gaming Conference CGC11 Opens on Aug 30
Cutting-edge Games Conference is leveling-up! The eleventh edition of a renowned event, a two-day virtual show, will be held on August 30th and 31st, powered by the next-gen events platform.
Established back in 2018, CGC runs both offline and online conferences dedicated to exploring and promoting the synergy between videogames and cutting-edge technologies, including Blockchain, NFTs, VR and AR.
CGC is arranging a brand-new experience for its participants! Create a unique avatar of your own to explore the 3D expo area filled with a variety of exhibitors and activities. Listen to presentations by industry leaders, view videos and live streams, learn about new games and developments. Mingle with friends and industry peers, get in touch and mix on your own terms and time.
In order to attend CGC11, all you need is a ticket, a web browser and an Internet connection.
Who Is It For?
CGC11 is a must-attend show for everyone interested in games, entertainment, new technologies and fusion thereof. Everything you need to know about Play-and-Earn, Web3, NFTs and the Metaverse will be conveyed by inventors and creators of the most successful projects in the space. Become a part of a next-gen gaming paradigm.
Immerse yourself in a world of gaming and entertainment. Get familiar with breakthrough projects developed by startups and distinguished developers. Participate in activities, support favorite games and find out about blockchain gaming trends of 2022 and beyond.
Blockchain Gaming going from strength to strength 
As many industries are beginning to feel the pinch and inflation are hitting all-time highs, gaming is remaining bullish and makes up 52% of all active crypto wallets according to DappRadar's latest report. With the continued influx of investment and creative NFT gaming utility, the gaming vertical of blockchain technology is performing well. VC investments in gaming projects remain high with $2.5 billion committed in the second quarter of 2022 and gaming NFT sales have increased 19% year on year.
Gaming activity and projects are spreading across a number of ecosystems. Wax blockchain has positioned itself as a go-to protocol for game developers, Solana is getting an influx of capital from leading gaming projects, and Binance consistently releasing new gaming projects.
Learning and Networking from leading games and gamers
CGC have been running the premier blockchain gaming conference since 2018, bringing together more than 20,000 delegates from over 100 countries. All participants can enjoy networking with gaming enthusiasts and pros from all over the world privately or in public areas using text, voice, video, or screen share. Make new acquaintances and discuss opportunities for future gaming projects.
Learn from industry leaders as you listen to words of wisdom from 50+ expert speakers. Explore the interactive digital venue to meet and network with founders and C-level executives of major companies shaping the modern games industry. Discover the latest blockchain games and gaming services to play and invest in.
Designed as a global knowledge center, a showcase of emerging tech and trends, as well as a platform for networking, CGC endeavors to drive dissemination and mass adoption of disruptive technologies set to change video games and entertainment industries. 
More information at www.cgc.one