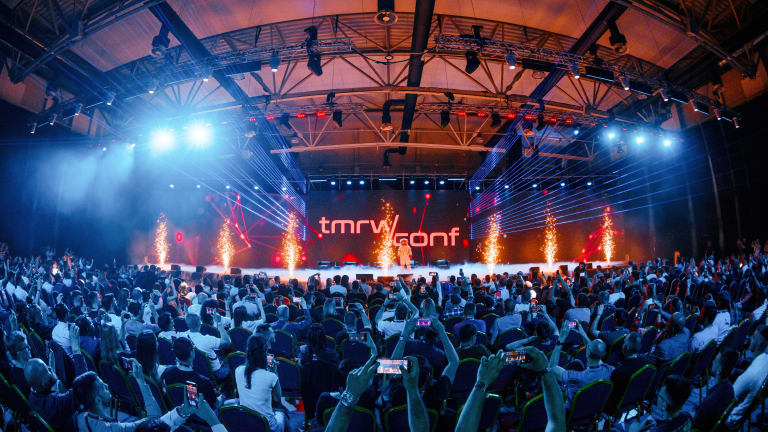 Leading Emerging Technology Conference, TMRW Dubai takes place Feb 8 - 10
Global technology leaders will gather at TMRW Dubai from Feb 8 - 10, 2023 to discuss the latest trends.
Following last year's groundbreaking debut success in Belgrade, TMRW conference, the world's largest emerging tech event, will be making its debut in Dubai, from February 8  - 10, 2023 at Dubai Festival City. 
The TMRW conference, the world's largest event for emerging technology, will be held in Dubai from February 8-10, 2023 at Dubai Festival City. The three-day conference will showcase the latest trends in emerging tech industries, including Crypto, NFT, and Metaverse, and feature lectures and keynotes by nearly 80 world-renowned experts. Additionally, there will be networking events, VIP dinners, and the conference will be streamed online. The conference program will cover a wide range of topics in emerging technologies, including blockchain development, AI, ML, IoT, AR, and VR, and will delve into the future of cryptocurrencies, NFTs and their potential uses, and legal implications of blockchain technology.
Speakers at the TMRW Conference 2023
The TMRW Dubai speaker lineup brings together global industry leaders, such as Craig Sellars, Founder of Tether, alongside Dr. Marwan Al Zarouni, Strategic Advisor at Digital Dubai, ranked by CoinTelegraph as one of the top 100 most influential people worldwide in blockchain and cryptocurrencies in 2022 and Caner Sevinc, Regulatory Counsel of Wirex and is responsible for Wirex's global regulatory affairs. Next up are Joel Dietz, CEO of MetaMetaverse, Mark van Rijmenam, better known as The Digital Speaker, Dr. Michael Gebert, chairman of the European Blockchain Association, Konstantinos Adamos, Senior legal counsel at Revolut and Dr. Naveen Singh, the CEO of Inery. They will be accompanied by Anita Kalergis "KryptoGranny", CEO & Founder of Ipsum Consulting, Nik Kalyani, Founder of NftyDreams DAO, Taylor Ryan, Founder of the Layer Three Ventures, David Bundi, Partner and Metaverse Strategy & Regulatory Leader at EY Switzerland, Anndy Lian, an all-rounded business strategist and serial blockchain entrepreneur from Asia, Loretta Joseph, global regulatory advisor at AP Capital, Jenny Zheng from Bybit and many more. The most renowned Dubai based speakers include Sharad Agarwal, Chief Metaverse Officer of Cyber Gear, Paul "The Profit" Dawalibi, Robert Lonsdorfer, CEO of Dubai based Hundred X and Nikita Sachdev, CEO & Founder of Luna PR.
Regular tickets for in-person attendees, as well as virtual tickets, for those who can't make it to Dubai in February, are available via website tmrwconf.net.