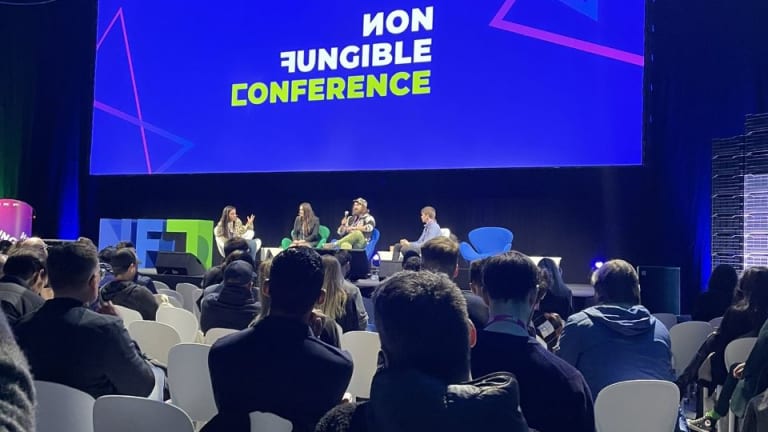 Dancing in the Metaverse
NFC Lisbon April 4 &5, 2022
Inaugural events can be tricky. It can be hard to create the right balance, energy and matching of speakers and audience. It takes a steady hand to steer the inaugural ship out of harbour and into the sea. Back in 1928, John A Shedd said: A ship in harbour is safe, but that is not what ships are built for. This quote has also been attributed to Grace Hopper and Albert Einstein and used by President Roosevelt but can also today be employed in reflection of the first Non Fungible Conference (NFC) held in Lisbon Portugal on April 5 and 6, 2022.
Opening the conference, the captain John Kang took the stage with a large smile that would launch a flotilla of ships. He asked the packed crowd if anyone had minted an NFT last year, a few hands popped up. He asked if any had this year, and everyone punched the air.
"You are now all OGs," he said beaming again.
This enthusiasm set the stage for the journey through the conference. Fully sold out, there was a buzz across the two days which never dragged or lessened. The main stage played hosts to big names and excitable panels. The side stages were also fully attended, with people moving up and down stairs, across floors, into side areas, and out into the sunshine. The venue, an historical Palace called Carlos Lopes Pavillion named in honour of a gold marathon medal winner from 1984 LA's Olympics, turned out to be an inspired choice with galleries and nooks and crannies in which to hang art, hang out and hang loose.
Sponsored by overnight metaverse success The Sandbox (TSB), co-founder Sebastien Borget was active across the two days. Of course, TSG is not an overnight success but the result of ten years work, first in gaming and the last four paired up with Blockchain.
"We feel the Sandbox is like a teenager now," Borget shared during a packed media conference. "It's starting to form its own personality and independence."
Sandbox is progressing to a fully decentralised DAO as it approaches adulthood.
The shopping and exhibition centre was packed with interesting projects including wine NFTs which proved strangely popular. Artentik was also exhibiting its historic NFTs from medieval religious art and the body parts of saints. A joint venture with US Boloro payments firm and Lisbon's Santa Casa, the popular charitable, museum and lottery organiser, it was arguably the first platform for religious artefacts launched last year.
While NFTs were the order of the day, metaverses were also prominent with Somnium Space's founder Artur Sychov talking and showing off his new wheels. We remarked it was strange to see him without his trademark avatar – he looked almost naked in regular clothes.
Some of the side shows were technical – Versum talked about building on Tezos and the words python-esque, rust-like and solidity-based bounced around like marbles in a children's game of throw. Others tackled climate change, doing a deep dive into the costs by Greg Zaitsev of Unique.Network.
Twin Flames creator Justin Aversano, who sold one of his NFTs in November for 871 Eth, spoke about Quantum Art, a new platform to support photographers. He also gave Lisa Gibbons, moderator and journalist, and I, free teeshirts. He said media get free stuff, but we replied not always. When asked about what photographers can join his DAO, he explained the other members operated as a peer review system. Seems fair.
Lisa moderated a panel of Ombeline Rosset, Curator at Objkt.com, Alex McCurry, Founder of Solidity.io and Colborn Bell, Founder of the Museum of Crypto Art. It was a lively affair with some sparks but no fisticuffs in the end.
We met two Brians. One, Brian O'Hagan, growth lead at Sorare, actually has an Irish father and Irish accent when speaking with people from the old sod. The second, Briyan Cessac, CEO of Screenshot, who hails from Brittany and possibly shares Celtic DNA; his colouring is definitely Celtic.
DAO Records was there hosted by Jason Vandal and he passed out cards for a bit of a rave on Monday night. We met Lord Truffington, NFT trader, who was great fun. Despite his influencer status, he claimed he'd been turned away from an official after party. He seemed happy enough at Arroz Estudios though.
This is where we danced in the metaverse. 
Tuesday morning, we attended the VERSEverse presentation in the Playground. Presented by founder Kalen Iwamoto, with Gisel Florez and Kevin Abosch as advisor and poet respectively (although Kevin said he was less a poet than an innovator). 
Poetry is art too and VERSEverse is the home of poetry in the metaverse. Lisa and I were very moved by the presentations and afterwards I spoke with Gisel about becoming an artist at age 57 and I cried. Lisa spoke with Kalen about helping her Limerick Festival poets get online and she cried.
Maybe because we were also standing next to a muerto tribute to the late AlottaMoney, an avant-garde crypto artist from France. Can emotion be held in inanimate objects, in crypto art? Maybe.
Finally, at a lunch organised by Arianee in a Michelin starred restaurant, we bumped into Gonçalo Perdigão, journalist and entrepreneur. As the afternoon wore on, we discovered he had founded an innovative company called Pixel Panties.
And this week dear reader, I am wearing one of his creations.