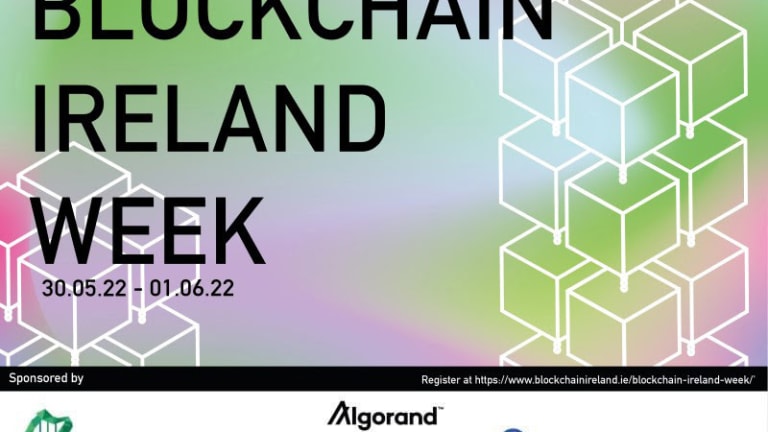 Blockleaders supports Blockchain Ireland Week 2022 as Media partner
The 3 day IRL conference brings together leading voices from the world of Blockchain, crypto, NFTs and the Metaverse.
The biggest blockchain conference of the year is just around the corner. Run by Blockchain Ireland, Blockchain Ireland Week brings together leading voices from the world of Blockchain, crypto, NFTs and the Metaverse.
Blockleaders is proud to announce that we will be supporting the event as a media partner. Blockchain Ireland week will run from May 30 to June 1 and is packed full of interesting keynote speakers and side panel discussions.  There will be something for everyone.
The three-day IRL conference will cover a wide range of topics, ranging from the future of Blockchain technology, DeFi, NFTs, gaming and the Metaverse.
Blockchain Ireland Week 2022 will explore the developing role of these technologies in Ireland and globally, examining their value, understanding their impact and asking how Ireland can take full advantage.
Key speakers include Andrew Howell, Senior Director of Blockchain Engineering at Blockdaemon, Daniela Barbosa, Manager at the Linux Foundation, Jillian Godsil, Aileen Carville, Commercial Director at SKMMP virtual showrooms, Lisa Gibbons, Joyce Moloney, International Storyteller/Poet and NFT artist, Brian Elders, Founder of Sors Digital Assets, Shane Kehoe Managing Partner at Swissborg Ventures and many more.
Sponsors for the conference include Algorand, ICT Skillnet, SIA Partners, Fidelity Investments, Coinbase, Blockdaemon, Sors, W3bCloud, BNY Mellon, TokenTraxx, Mastercard, Eversheds Sutherland, Defactor, Matheson, Valentia Parnters, Morgan McKinley, Swissbord and Zodia.
There are also some entertainment and social events each evening. 
Blockleaders is excited to be involved in this conference that covers the leaders in Blockchain. We hope to see you all there.
#blockchainIrelandweek on Twitter