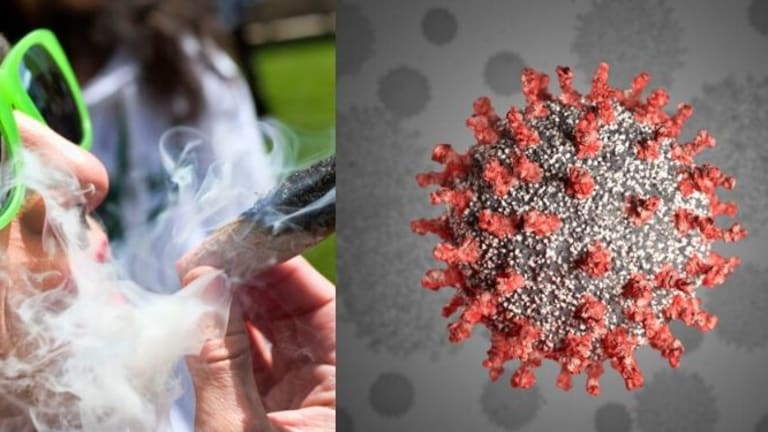 The Influence of Covid-19 on Marijuana Smokers (Survey of 1000 Americans)
ARTICLE first printed here
It's been 5 months now since the coronavirus outbreak started. Due to the lockdown policy that was implemented worldwide, people had to come up with ideas to keep themselves healthy, safe and entertained indoors.
Needless to say, people had adapted to the change but not everyone dealt with it effortlessly. We've conducted a survey that involved 1,000 weed smokers in the U.S. to understand the change in their habit, perception, and behavior.
Table of Contents 
Overview
Our Respondents
Age of Respondents
Our 1,000 respondents are aged 21-59 years old and we divided them into 4 categories:
21-29 years old
30-39 years old
40-49 years old
50-59 years old
According to the data, the largest share of marijuana users in the U.S. is aged between 21-29 years old, taking up 38.5% of the share of survey takers. Followed by people aged 30-39, which represented 35.2% of the share.
Only 16.7% of the survey takers are aged between 40-49. Surprisingly enough, there are only 9.6% of the survey takers aged between 50-59.
Location
To get a general idea of where our survey takers are from, we asked which states they live in.
Most of our survey takers are from California, which took up 13.8% of the total number of takers. It's no surprise to see that many survey takers who live in California since it's the first state to legalize medical cannabis with the approval of Proposition 215.
10.1% of them were from Texas, which is followed by Illinois, representing 8.3% of the survey takers.
Only 1.8% of our survey takers are from Minnesota which is then followed by 6 states which represent 2.8% each of the survey takers:
Indiana
Washington
Oregon
Massachusetts
Ohio
Maryland
Changes In Smoking Frequency
Participants were also asked about their smoking habits during lockdown.
Across the board, it was found that most of the pot smokers had smoked more weed during the quarantine. 
This explains why 37.34% of pot smokers smoke weed rarely or just once a weekbefore quarantine but went down by 5.51% during the quarantine.
The same goes for 21.55% of them that smoke below 3 times a week before quarantine. Which also went down by 5.26% during quarantine.
Looking at pot smokers that smoke weed 3-5 times a week, there were 13.03% of them before quarantine which increased by 5.27% during quarantine.
Those who smoke weed 6-10 times a week before the quarantine was around 12.03%. This didn't change that much as there was only a 0.25% increase during quarantine.
The biggest change can be seen in heavy pot smokers that smoke above 10 times a week. Before quarantine, there were only 16.04% of pot smokers that smoke more than 10 times a week but this increased by 5.26% during quarantine.
Changes In The Amount of Weed Smoked
We also wanted to know just how many grams of recreational weed do they consume before and during quarantine.
The consumption of less than 3 grams per week of recreational weed dropped by 11.3% during quarantine. From 59% before quarantine down to 47.7% during the quarantine period.
On the flip side, there's a 3.2% increase in taking 3-5 grams of recreational weed per week before and during the quarantine period. On a similar note, there's a 2.3% increase in taking more than 10 grams of recreational weedper week before and during the quarantine period.
But the highest increase in taking recreational weed before and during the quarantine period lies between taking 6-10 grams per week. It went from 10.3% before quarantine to 16.1% during the quarantine period.
Main Reasons For Smoking Weed During Quarantine
To get a better idea why people decided to smoke weed during quarantine, we asked our survey takers and found that…
The main reasons why Americans turned to weed during quarantine is due to stress, anxiety, and sleep deprivation.
Specifically, 27.6% of U.S. marijuana consumers smoke weed during quarantine to treat stress/anxiety amidst the coronavirus outbreak. In a similar case, 21.7% of them do so to sleep better.
While 10.3% of them smoke weed to be more productive during quarantine, 23.4% of them do so out of boredom.
Lastly, 7.7% of them smoke weed during quarantine to have better sex during quarantine while 9.3% of them do so for other reasons.
What Is Safer To Consume in this Global Pandemic?
We asked our survey takes which they think is safer to consume during quarantine and these were their answers:
According to the 1,000 survey takers, the safer products to consume during quarantine are edible, representing 31.8% of the answers.
25.8% of them also think medical marijuana is the safer option during these pandemic times compared to 23.1% that said recreational weed is the safer option to take.
12.3% of them said CBD is safer while only 5.0% of them claimed alcohol is safer. The remaining 2% said it's safer to consume other marijuana products that are not on the list.
Additionally, 32% of smokers admitted that eating edibles is the safest way to consume THC. They also consider drinking alcohol amidst COVID-19 to be dangerous.
Smoking Weed vs Coronavirus Infection
We also asked our survey takers whether or not smoking weed is safe or just puts them at risk of getting infected with coronavirus
Right off the bat, 45% of them don't care about the coronavirus. It's surprising to see how many of them don't care, especially since the World Health Organization released a statement how smokers are likely more vulnerable to getting COVID-19.
35% of them do believe to some extent that this increases their risk of getting the virus. But they said they'll continue smoking compared to 15.3% that believe how this directly affects them as smokers, and said they will smoke less for the time being.
There are only 5% that faithfully believe that this affects them and will quit smoking for a while.
To Weed or Not to Weed?
Finally, we asked our survey takers how this pandemic affects their weed consumption.
About 50% of them would not change their weed smoking habit compared to 11.8% that said they will withdraw from weed smoking and will focus on other things.
The data also shows that 31.8% of them would consume less compared to 6.8% that will consume more after the outbreak.
Nearly half of them would still keep their smoking habit after the lockdown.
Should Recreational Marijuana be Deemed "Essential" During Quarantine?
56.4% of our survey participants agreed compared to the 19% that don't want recreational marijuana to be deemed essential during quarantine.
24.6% of them just aren't sure which side they should take.
Methodology and Limitations
We used MTurk to gather survey data with the intent to specifically reach 1,000 marijuana users that live in the United States.
After changing the location setting to U.S., we included a qualifying question "Which is not the slang for weed?" to make sure respondents are all weed smokers. There are four answers, which are:
Mary Jane
420
Hemp
Pot
Those who chose Hemp were qualified.
Note that the survey heavily relies on self-reporting and that issues such as telescoping and exaggeration can influence such responses. Also, survey results do not reflect the writer's opinions.
Fair Use Statement
Do you know someone who might benefit from our data? Feel free to share this project with them. The graphics and content are available for non-commercial reuse.
But to give proper credit to all the necessary information and our contributors, we kindly ask that you link back to this page.