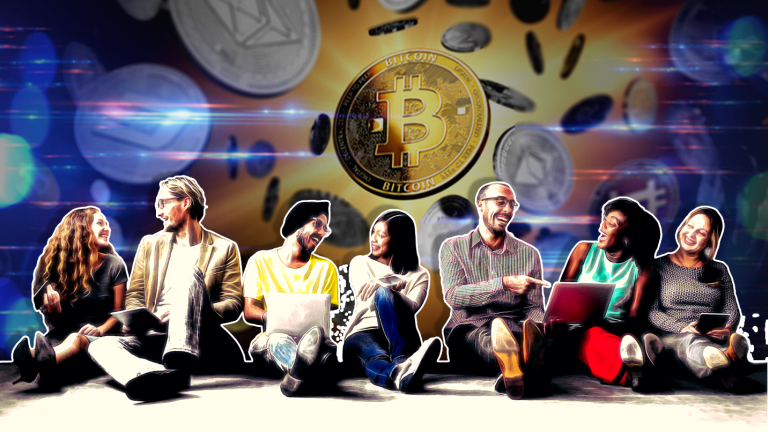 Crypto Tokens: A tool for the unification
by GUEST COLUMNIST Mary Schwartz of CoinIMP
Recently a congressman from Arizona, U.S, representative Paul Gosar said that "Cryptocurrencies offer a way for forgotten and oppressed people to participate in the global economy". He also expressed his personal interest in working towards the U.S remaining as an important piece in the growth of the crypto world.
Most certainly during times like this, we can see clearly that crypto represents not only an alternative but the tool behind the unification of nations and egalitarianism, and despite the long way through since its appearance in 2009, what we are seeing now is very fast-growing, and powerful nations and corporations are aware of it.
It's interesting that when we talk about equal participation and unification we are talking about the blockchain and this is precisely the concept behind many projects of the likes of mintme.com - the token trading and crowdfunding platform that is based on its own blockchain called MintMe Coin.
Maybe you are wondering how you could join the crypto movement or what kind of requirements are there for you to tokenize your project and start being an active part of this world. The answer to that is simple: Your disposition and some device with Internet connection are the only two things you need to get yourself started. But then how can this technology be a unifying tool and how can crypto and tokenization boost your business and personal projects and initiatives.
Have money everywhere
In the first place, as we said before, the blockchain technology has opened up a worldwide network of connections where everyone can participate, you don't need to have a bank account or a huge capital, you don't need to work with a huge staff or have the best contacts to be able to make transactions around the world using crypto. And not only for business-related transactions, but blockchain has also encouraged mutual support, bringing a new approach to the donation field, by incurring in the crowdfunding world, opening the road for more free and faster transactions with philanthropic purposes.
Donating to groups or nonprofit organizations that work for the benefit of thousands of people in situations of real risk has never been simple. Since every country has its own law and fiat currency managed by a central bank authority, it is sometimes impossible for normal citizens to participate freely with the worldwide community. Blockchain technology makes it possible for platforms like mintMe.com to offer an opportunity for everyone to participate in crowdfunding campaigns, through the creation of tokens and the free exchange of digital coins.
Many countries without the free exchange of foreign currencies were left aside, but now they can participate in a crowdfunding campaign without the limitations of credit cards or international bank accounts. By opening the doors to more free and easier transactions in a person to person relation, blockchain has brought mutual support to the table, bringing people together while filling our society with a lot of hope.
A token is a symbol, something that can represent an asset, physical or not, a project or idea you have, even shares of a company, gold certificates, loyalty points, etc. But most of all, a token can become a personal crypto coin/ currency which can be used to pay for goods and services or be exchanged for another crypto/fiat.
When it comes to making business and creating a personal brand or becoming an influencer, human interaction and mutual trust are some of the most important things we should look forward to protecting. To earn recognition we need to look for ways of making our services accessible to everyone. I mean really accessible, that the products (services and goods) offered can be pursued everywhere, at any time and by everyone. This is what tokenization means and why tokens are a tool for unification. By creating a token, you are giving everyone an opportunity to pay for goods and services from any part of the world that allows fair use of the Internet and blockchain technology. Payments are made at any time of the day and regardless of any social position that could condition people's possession of bank accounts or credit cards, considering the fact that bank account ownership varies among economies and by individual characteristics like gender and income.
Before crypto, payment methods were still limited despite them being multiple. According to Forbes 1.7 Billion adults do not have access to a bank account, such a percentage of people are unable to purchase products or support projects if they are only allowed to pay with credit cards or fiat money transfers, which also becomes a limitation to e-commerce and online shopping since newborn businesses find it hard trying to comply with the requirements for receiving payments through their websites. By creating your own token/coin you are welcoming a very new and wider clientele, since tokens are based on blockchain technology, like the ERC20 tokens that you can create at mintMe.com, tokenization can allow you receive payments without delay and from any person through the blockchain network because people will have a chance to pay from any part of the world without the mentioned limitations.
International recognition
Furthermore, tokenization can grant you full international recognition since you'll be able to reach a bigger community of clients, followers, and business partners, gaining full access to the benefits of cooperation with other international companies and a worldwide community. Every company aims to expand towards higher recognition and level of influence. The benefits of global expansion are uncountable: You would be able to extend the sales life of any existing products and services by finding new markets to sell them in, reduce your dependence on the markets you have developed in your homeland if your business is suffering destabilizing fluctuations in your markets due to seasonal changes or decreases in demand. You can even out your sales by tapping markets with different and more appealing fluctuations. It will also help you exploit corporate technology and learn how to compete against foreign companies and even extend the battle to them. Help wider communities, depending on your services, to develop; gain influence in your niche to encourage other people to grow. Those are just examples of what would be possible for you, thanks to crypto.
Many new brands and companies are increasingly relying on very expensive social media advertisements, partnerships with social media influencers or digital marketing specialists to capture the attention of the audience and engage with thousands or millions of attentive consumers immediately, by leveraging the unique position these methods have in the digital world market. Yet, there didn't seem to be a lot of alternatives that could help you develop your company or promote your brand effectively within the reach of your hands as a startup easily and without any third-party intervention also for these alternatives to fit into their economic possibilities. This is why even a powerful country like the U.S wants to remain on top. They have recognized that the possibility of offering something better, reaching a lot more clients is huge and the prices are lower.
I would compare blockchain technology with a door to which you do not require a key, just the will to open it. Accessible to everyone and with the amazing potential to improve trust, mutual support, international transactions, data security, and much more. But the best of it is equality, the chance to be part of it despite the level of your company. Whether you are starting, in the middle, or right in the major leagues, blockchain initiatives like MintMe Coin are made to bring equal opportunities to everyone.
Bringing people together
Also, for brands wanting to kickstart their success, the process of creating and launching a successful marketing campaign involves identifying specific campaign goals and working closely with people to develop, implement, promote, and assess the success of each campaign, getting to know the people's needs and letting them give feedback. Thanks to blockchain, people can be closer to each other since they don't need any middle man to choose for them or to tell them the way they should make a business that is better for them hence incentivizing mutual support and increasing trust.
Tokens are also the perfect tool to engage in social media platforms. People spend 1.7 hours per day scrolling on social media in the U.S (according to We Are Social) much less time watching television or reading magazines. The new market of the next generation is setting strongly in the Internet world. New brands looking to make an immediate impact in the marketplace could surely find a great advantage by creating their own digital coin to rule in their niche. For both startups and established brands looking to connect with consumers across social, personalized tokens could be the tool to engage more directly with your followers and potential clients. Tokens can ultimately help companies gain immediate traction in ultra-competitive markets attained to the limited fiat world. Tokens can help you create "meaning". You aren't only selling a product and trying to satisfy impossible requests, you are offering people something real with which they can relate with honesty.
When people buy from you using your own coin they are engaging more than using any other fiat currency. This means that they care about you and your brand enough to pay for your services using your own currency, directly to you and without other interventions. This is very significant.
The world of blockchain and cryptocurrencies is bigger than we think. Even though it's still in the process of developing and growing to become mainstream. We can already see all of the potentials behind it. As a new starter or promising entrepreneur, you cannot lose the chance to participate in such an inspiring movement. Maybe you won't get into it 100% but since platforms like mintMe offer such an easy process of token creation and since mintMe Coin can be mined easily through any device with IoT access then, you shouldn't think twice to try it out.
Blockchain appears as the perfect method to bring people together, to bring businesses together, connecting them, encouraging egalitarianism and mutual support, increasing trust, because Blockchain creates more personal communications and transactions of all kinds through a decentralized proof of work network of people, fulfilling the role of establishing trust and identity because no one can edit a blockchain without having the corresponding keys. Every person is equally responsible for everything happening in the network. This means that the major functions carried out, for example, by banks like verifying identities to prevent fraud and then recording legitimate transactions, can be carried out by a blockchain more quickly and accurately ensuring that the money reaches those that are meant to have it. Blockchain allows you to be in complete certainty of where your money is going. It's because cryptocurrencies, in contrast to fiat currencies, can't be revoked, also, cryptocurrencies give you the chance of expanding your business to the world without borders. Smart contracts are transforming our view of the property, exclusivity, and data disclosure because it allows both parties involved to have a deal that will be done without delay after meeting the settled requirements thus being irreversible, secure, and highly reliable.
Whether you want to invest in cryptocurrencies, trade, mine, hold, save or avoid political blockage and economic crisis, crypto can be your ally to secure your income while being able to invest in the best way in your own country or elsewhere within the security of the blockchain. By any means, I invite you to get to know more about crypto and create your own token starting today.